🚚 FREE SHIPPING NEXT BUSINESS DAY
The WideWheel just got better: larger battery, better display, dual brakes, reinforced design. Meet our best all round electric scooter with an extra punch of power. Guaranteed to put a smile on your face when you take off.
Two powerful 500W motors deliver strong torque and acceleration and make this the best electric scooter for hills. Tackle 30% inclines with ease. Ride away with 26mph top speed and count on 22+ miles of range, powered by an all new 48V 15Ah high efficiency Li-ion battery.
Uniquely designed, the Mercane WideWheel PRO comes with ultra-wide airless tires with front and rear suspension to ensure a smooth ride! The re-designed frame provides added stability and durability. The new smart display shows speed, total mileage, voltage, and enables intuitive gear selection as well as cruise control on demand.
Folds down compactly for easy storage or transportation in your trunk. With 54 lb it is no lightweight but can still be carried in one hand and integrated into any commute on train or bus.
Mercane puts safety first with bright head and rear lights and dual 120mm disc brakes for much improved braking performance.
Experience a new feeling of freedom while cruising around on this stylish and powerful machine. Change the way you roll and upgrade your commute!
Available in two versions: Standard version or CLE edition (with keylock). Note that the key only disables the scooter's power - it can still be rolled away.
Satisfaction guaranteed!

26 mph

30 miles

2x500W

48V 15Ah

54 lbs
Superior dual motor power for exhilarating acceleration
Stylish design that will turn heads
Free Shipping
Scooters Ship Free within the Continental US
12m warranty
Plus Lifetime Service (Parts 50% Off for Your Scooter)
us-based
Friendly Service and Support
pay as you ride
Select Affirm for affordable monthly payments
SUSTAINABLE
You Go Green and We Plant Trees
15 Day Returns
Return Your Unused Scooter Within 15 days of Delivery
WideWheel PRO
Your Electric Scooter for Commute & Play
POWERFUL AND FAST

The huge 48V 15Ah Li-ion battery and a 2x 500W base / 800W peak motor, deliver a top speed of 26 mph.

HILL CLIMBING TORQUE

Two 500W motors deliver superior torque compared to single motor 1000W electric scooters and will get you up any hill.

LONG RANGE

The high efficiency 15Ah Li-ion battery delivers up to 30 miles range

INTUITIVE CONTROLS

The smart display shows speed and mileage, and allows for easy gear selection. Also, it comes with cruise control.

STYLISH AND DURABLE

With a dark seamless design and reinforced sleek frame sitting on ultra-wide tires this scooter is built to last and will definitely turn heads.

FUN RIDE

Extra wide wheels with great traction make for a unique riding feeling on asphalt.
fluidfreeride rating
portability

higher scores mean higher portability: lower weight & smaller footprint when folded

Heavy & Bulky

Ultra Portable

Power

higher scores mean higher power: stronger acceleration & higher topspeed

Range

higher scores mean longer range: the amount of miles you can go on a full charge

RIDE QUALITY

higher scores mean better overall ride quality due to better suspension systems and larger tires (also better off-road capacity)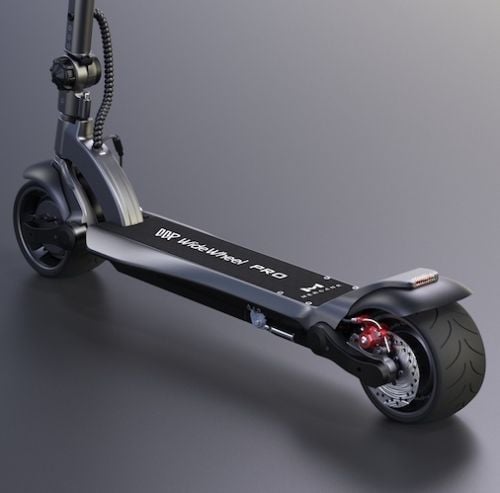 HIGHLIGHTS
Unique Design and Dual Motor Power
powerful acceleration to tackle 30% inclines with ease
seamlessly designed, the batmobile of scooters will turn heads
ultra wide tires and dual suspension for a stable ride at high speeds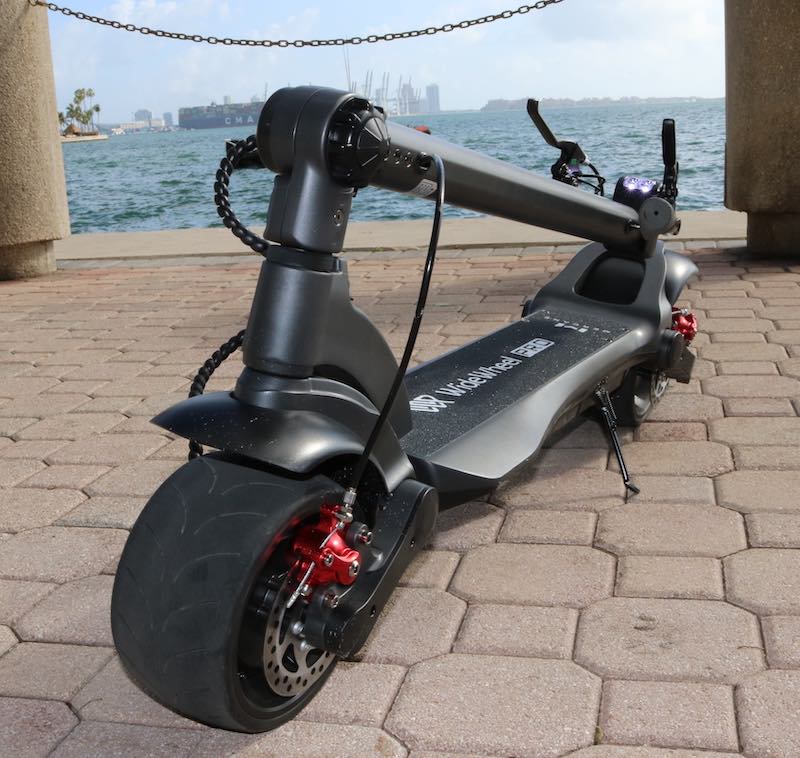 COMMUTE WITH JOY
Powerful, Portable And So Much Fun
The WideWheel Pro and its two powerful 500W motors feature excellent torque and powerful acceleration. Guaranteed to put a smile on your face, the Pro is the perfect scooter to combine commute and play. With a small footprint when folded and only 52 lbs, you can decide if you want to chase the bus or take your WideWheel on the bus.
Micah Toll, February 2019

"Hilariously Powerful and Fun"

"I've ridden a ton of electric scooters, but I've never ridden anything quite like the Mercane WideWheel electric scooter from FluidFreeRide. With dual 500 W motors (that are almost certainly each putting out closer to 1000 W), dual front and rear suspension, crazy acceleration and high top speed, this scooter is just too much fun!"
How it Compares
The WW PRO is a fast and fun entry level dual motor scooter with thrilling acceleration
ALTERNATIVES:
- something more reasonable with similar range but less power? HORIZON
- also 1000W but with a single motor, better suspension, faster speed: EXPLORE
- next level dual motor with double the power and much better ride quality: MANTIS
Power
2x 500W base / 1600W peak
Battery
48V 15Ah (720 Wh)
Tires
8" x 3.9" never-flat foam filled
Drive
front & rear wheel drive
Suspension
front & rear springs
Charging Time
8-9h with incl. charger
Physical Brakes
front & rear disc brake
Lights
front and rear LED
Throttle
thumb throttle with keylock
Since range of electric scooters varies greatly by riding style and rider weight, here are some examples for this particular model so you can judge:
30 miles
Optimal Conditions (165 lb rider, 15 mph constant speed)
This is the range you can get under optimal conditions. Usually manufacturers quote this type of range. We expect real world range to be lower since you will not go at constant slow speed.
19 miles
Real World (165 lb rider, aggressive riding)
This range has been tested by electric-scooter.guide under real world conditions. Quick acceleration, multiple stops, some inclines. All ESG range tests are done by the same rider and on the same circuit. . See video
17.5 miles
Real World (180 lb rider, aggressive riding)
Tested by fluidfreeride on the 2019 WideWheel. Mostly top speed riding on flat ground on a windy day.
Customer Reviews