12 MONTH WARRANTY

All our scooters come with 12 months warranty on all major components for full peace of mind. After your warranty expires, you can make use of our Lifetime Service Program: Parts and Labor are 50% Off for fluidfreeride customers for the lifetime of your scooter.

15 DAY RETURNS

Unpacked your scooter and noticed it is not the right fit? No worries, we will return your unused scooter in original packaging for 15 days after delivery. We will issue you a label and you are only responsible for for return shipping fees.

FREE & FAST SHIPPING

We ship in stock scooters same or next business day. Depending on your location, your scooter will arrive within 2 (West Coast) to 5 (East Coast) business days.

US-BASED SUPPORT

Need a part? Have a question? Our team of experts is there to help. With broad spare parts availability, three self-operated service centers in Brooklyn, Miami, and San Francisco plus many service providers in other states, you can count on help when you need it.
Features
Perfect High Performance Scooter for Rough City Streets
SPEED AND PERFORMANCE

Two powerful high-efficiency 1200W (Peak 1600W) motors deliver thrilling acceleration and a top speed of 38 mph.

LONG RANGE & FAST CHARGE

Up to 40 miles of range for extra long commutes and fast recharging on two charge ports.

HIGH PERFORMANCE BRAKES

The 160mm disk brakes make for ultra short braking distance. Available with mechanical or hydraulic brakes.

PHENOMENAL RIDE QUALITY

The quadruple spring suspension and 3.25" pneumatic tires make for a smooth ride even on rough road conditions.

SAFE AT NIGHT

The 1000 lumen headlight, ample deck lights and turn signals enable a safe ride also in the dark. No lighting accessories required!

EXCELLENT STABILITY

Multi layered aluminum reinforces the structure of the stem and an all-new folding mechanism design ensures long time durability and absolutely no wobble in the stem.
fluidfreeride rating
portability

higher scores mean higher portability: lower weight & smaller footprint when folded

Heavy & Bulky

Ultra Portable

Power

higher scores mean higher power: stronger acceleration & higher topspeed

Range

higher scores mean longer range: the amount of miles you can go on a full charge

RIDE QUALITY

higher scores mean better overall ride quality due to better suspension systems and larger tires (also better off-road capacity)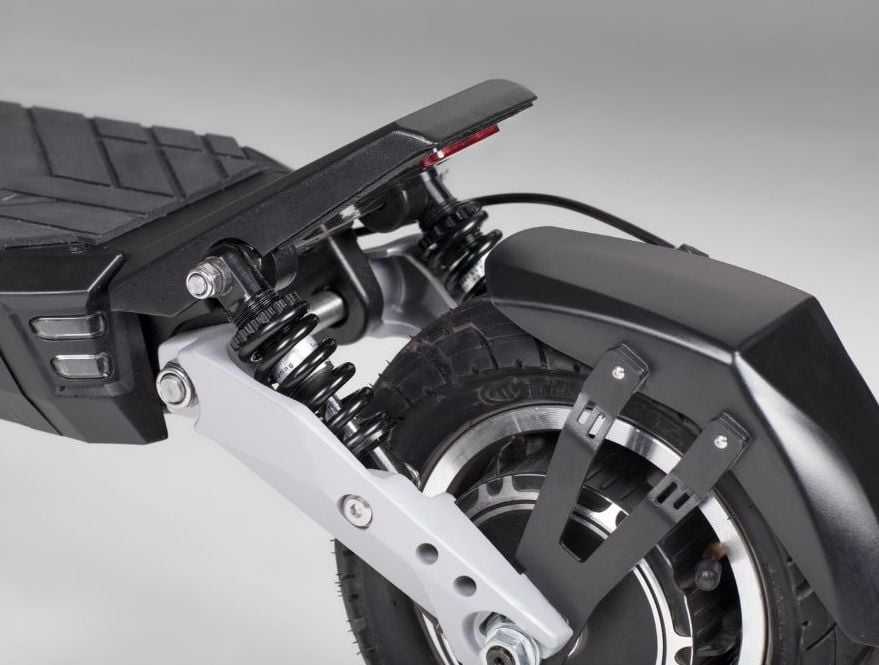 VEHICLE GRADE TECHNOLOGY
Experience Best In Class Ride Quality
Adjustable quadruple spring suspension with 7 inches of deck clearance
Even at high speeds or when it gets a little rough, the scooter feels stable and confidence inspiring
Innovative cockpit with thumb throttle and adjustable performance settings puts you in control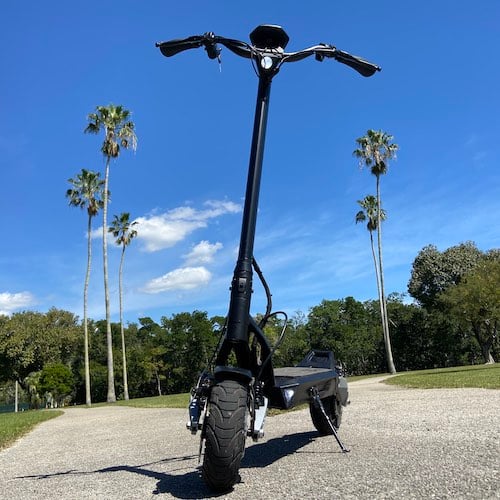 BEST ALL ROUND PACKAGE
Performance for the Demanding Rider
The Phantom has everything an advanced rider could wish for, while still offering a safe and comfortable city commute. Two high-efficiency motors provide you with the thrill of silent yet insanely powerful acceleration up to 38 mph. Impressive range of up to 40 miles and two fast charging capable charging ports eliminate your range anxiety. Charge with two optional fast chargers in 2-3 hours. While relatively heavy with 77lb, it folds in 5 seconds and is portable in one hand.
ESG REVIEW MAY 2021

"Most Innovative Electric Scooter of the Year"

The Phantom has so many signature features of a standout high performance scooter that we're not exactly sure what to compare it to, as it's almost in a class of its own. The display and folding mechanism are next level, the comfortable cockpit and lights make it great for commuting, day or night, and its road-biting performance keeps it fun. Not to mention, it looks really, really good, too. Read Full Review
How it Compares
The Phantom is a very sturdy high performance scooter with quadruple suspension and badass looks
ALTERNATIVES:
- lighter weight and higher portability, similar power and ride quality: MANTIS V2
- more intuitive handling, slower acceleration, best in class ride quality: OXO
- even more tank like riding experience and significantly more power and weight: WOLF
Power
2 x 1200W base / 3200W peak
Battery
DYNAVOLT 52V 23.4Ah (1217 Wh)
Tires
10" x 3.25" pneumatic tires
Drive
front & rear wheel drive
Suspension
adjustable quadruple spring
Charging Time
12-14h with incl. charger, 2 ports in deck, 5h with opt. fast charger
Physical Brakes
dual disc (standard or NUTT hydraulic or ZOOM hydraulic)
Electric Braking
adjustable regen. braking
Lights
ultra bright front, rear LEDs + turn signals
Throttle
thumb throttle (V2 without keylock!)
Display
sleek centered smart display
Since range of electric scooters varies greatly by riding style and rider weight, here are some examples for this particular model so you can judge:
40 miles
Optimal Conditions (165 lb rider, 15 mph constant speed)
This is the range you can get under optimal conditions. Usually manufacturers quote this type of range. We expect real world range to be lower since you will not go at constant slow speed.
28 miles
Real World (165 lb rider, aggressive riding)
This range has been tested by electric-scooter.guide under real world conditions. Quick acceleration, multiple stops, some inclines. All ESG range tests are done by the same rider and on the same circuit.
22 miles
Real World (200 lb rider, aggressive riding)
This has been tested by fluidfreeride mechanic Jay who rode the Phantom in a circuit in his neighborhood.
RECOMMENDED GEAR
Accessories
Customer Reviews