🚚 FREE SHIPPING NEXT BUSINESS DAY
A true people's favorite, the INOKIM Light 2 perfectly combines portability and performance in an aesthetically designed package. Perfect for anyone who wants reliable and safe transportation in urban environments. Lightweight and easily foldable for loading in your trunk or taking it on bus and train.

Designed for short to medium commutes at moderate speed, the 350W motor delivers a top speed of 21mph. Small inclines can be tackled with ease. The large 10.4Ah high efficiency Li-Ion battery lasts for up to 20 miles. Re-charge anywhere in 4-5 hours.
INOKIM puts safety first: high quality materials, dual drum brakes, front and rear LED lighting as well as smooth and consistent acceleration ensure you will have a safe riding experience.
If you need reliable transportation and long lasting quality, look no further. INOKIM designs scooters for daily use. With proper maintenance and care, your scooter will last you for many years.
Now available in the 2022 version with improved water-resistance (IPx4) and never-flat rear tire for better maintainability. 
FREE SHIPPING within continental US.


21 mph

20 miles

350W

36V 10.4Ah

30 lbs
Fast-folding and lightweight for maximum portability
Beautifully disgend, super intuitive and easy to use
Free Shipping
Scooters Ship Free within the Continental US
12m warranty
Plus Lifetime Service (Parts 50% Off for Your Scooter)
us-based
Friendly Service and Support
pay as you ride
Select Affirm for affordable monthly payments
SUSTAINABLE
You Go Green and We Plant Trees
15 Day Returns
Return Your Unused Scooter Within 15 days of Delivery
Features
Ultra-Portable Performance with Gorgeous Design
FAST FOLDING

The perfectly designed folding mechanism enables quick folding to a compact size for maximum versatility.

LIGHTWEIGHT AND PORTABLE

At only 30 lbs., you will not break a sweat if you need to carry your scooter around.

SMOOTH AND COMFORTABLE ACCELERATION

The 350W rear motor delivers smooth acceleration and a top speed of up to 20 mph.

EXCELLENT RANGE

With a range of 20 miles, it is one of the longest range ultra-portable scooters on the market today.

COMFORTABLE RIDE

The spacious board with low center of gravity provides excellent stability. The front and rear foam filled tires compensate for bumps on the road.

LONG LASTING QUALITY

Designed for the daily commuter, this scooter will last you for thousands of miles with the proper maintenance.
fluidfreeride rating
portability

higher scores mean higher portability: lower weight & smaller footprint when folded

Heavy & Bulky

Ultra Portable

Power

higher scores mean higher power: stronger acceleration & higher topspeed

Range

higher scores mean longer range: the amount of miles you can go on a full charge

RIDE QUALITY

higher scores mean better overall ride quality due to better suspension systems and larger tires (also better off-road capacity)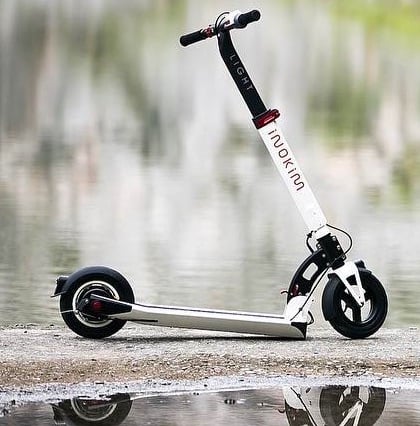 SMART DESIGN
More than just good looks
Sleek lines, subtle branding, and vibrant colors
quick folding for maximum portability
low sitting deck for stability and comfort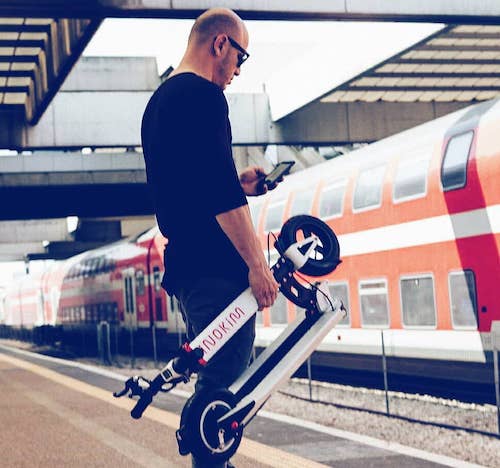 Broad Appeal
Enhance your Lifestyle With a Versatile Companion
With only 30 lbs, the INOKIM Light is truly versatile. Use it for your commute, to run errands, or just to ride out for some fun. Fold it up to take on a train or put into your trunk. Wherever life takes you, your INOKIM Light will be your reliable companion.
Micah Toll - June 2020

"A scooter built for daily use (and abuse)"

"On the surface, the Inokim Light 2 has specs that are comparable to other scooters in its class. [...] But the major difference between the Inokim Light 2 electric scooter and others in the field is the build quality and the design. [...] These are scooters that can handle all of a rider's daily commuting tasks for easy commutes in the city, yet are small enough and easy enough to fold that they won't cramp your style when you get to your destination." Read full review

Chuck Temple - June 2020

"The longest range of any ultra portable scooter in the market"

Our Take: a Premium, Near Perfect Ultraportable The Inokim Light 2 is a premium scooter designed by the legendary Nimrod Sapir, which many consider to be the father of electric scooters. The Light 2 is an ultraportable electric scooter that is designed to be very easy to use and ride. It incorporates a lot of features like the thumb-style throttle, easy locking slot, and low center-of-gravity deck, which make it a pleasure to use and a smart city commuter. It's the type of scooter you'd expect to see businessmen (and businesswomen) riding in nice clothes and bringing them into their offices. Read full review

How it Compares
The Light2 is ultra-portable, very easy to ride and beautifully designed.
ALTERNATIVES:
- on a tight budget and ok with lower range and less speed? CITYRIDER
- more riding comfort, faster, and with dual suspension: HORIZON
- equally lightweight and portable but much faster and with dual suspension: MOSQUITO
Power
350W base / 650W peak
Battery
36V 10.4Ah (374 Wh)
Tires
8.5" x 2" front/rear foam-filled never flat
Charging Time
5-6h with incl. charger
Physical Brakes
front & rear drum brake
Lights
front and rear LED
Throttle
thumb throttle + palm ring
Since range of electric scooters varies greatly by riding style and rider weight, here are some examples for this particular model so you can judge:
20 miles
Optimal Conditions (165 lb rider, 15 mph constant speed)
This is the range you can get under optimal conditions. Usually manufacturers quote this type of range. We expect real world range to be lower since you will not go at constant slow speed.
16 miles
Real World (165 lb rider, aggressive riding)
This range has been tested by electric-scooter.guide under real world conditions. Quick acceleration, multiple stops, some inclines. All ESG range tests are done by the same rider and on the same circuit.
28 miles
Slow Riding (190 lb rider, < 10mph defensive riding)
Tested by fluidfreeride on mostly continuous riding around 5-8mph. Defensive riding by an e-scooter beginner..
RECOMMENDED GEAR
Accessories
Customer Reviews