12 MONTH WARRANTY

All our scooters come with 12 months warranty on all major components for full peace of mind. After your warranty expires, you can make use of our Lifetime Service Program: Parts and Labor are 50% Off for fluidfreeride customers for the lifetime of your scooter.

15 DAY RETURNS

Unpacked your scooter and noticed it is not the right fit? No worries, we will return your unused scooter in original packaging for 15 days after delivery. We will issue you a label and you are only responsible for for return shipping fees.

FREE & FAST SHIPPING

We ship in stock scooters same or next business day. Depending on your location, your scooter will arrive within 2 (West Coast) to 5 (East Coast) business days.

US-BASED SUPPORT

Need a part? Have a question? Our team of experts is there to help. With broad spare parts availability, three self-operated service centers in Brooklyn, Miami, and San Francisco plus many service providers in other states, you can count on help when you need it.
MANTIS PRO V2 - fluid Edition
KAABO
ADVANCED COMMUTER SCOOTER
Performance AND Portability for the Demanding Rider
ELEGANT & PORTABLE

With relatively slender design the Kaabo Mantis is a sleek high performance scooter that 'only' weighs in at 65 pounds, making it the lightest in its class. It folds down and is still portable in one hand, despite its strong performance. Only available in all black from fluidfreeride.

HIGH SPEED AND CLIMBING POWER

This 2000W electric scooter with dual brushless hub motors in delivers a top speed of 40 mph and can climb steep hills with ease. Due to the higher 27A of the Minimotors controllers inside your Mantis PRO, you can expect an even punchier acceleration than on the standard Mantis V2.

SMOOTH & COMFORATBLE

The front and rear advanced swing arm spring suspension in combination with the 10" pneumatic tires delivers a smooth ride on rough city streets and trails. The high sitting handlebars and the rear foot rest allow for a comfortable and secure stance.

STABLE FOLDING

In its third version, Kaabo has created a zero wobble folding mechanism that is super sturdy even when it gets a little rough.

LONG RANGE & LONG LASTING

The extra large 60V 24.5Ah Li-ion battery includes higher density cells manufactured by Samsung or LG so you can get up to 45 miles in range. Compared to the standard Mantis V2 with 18.2 Ah Chinese battery, you can expect your battery to degrade more slowly over time.

SAFETY FIRST

Now with a bright handlebar mounted headlight to light up the road ahead of you. The newly added horn and turn signals plus ample deck lighting make for optimal visibility and safe riding in traffic. Dual Zoom hydraulic disc brakes provide full control and stopping power during your ride.
fluidfreeride rating
portability

higher scores mean higher portability: lower weight & smaller footprint when folded

Heavy & Bulky

Ultra Portable

Power

higher scores mean higher power: stronger acceleration & higher topspeed

Range

higher scores mean longer range: the amount of miles you can go on a full charge

RIDE QUALITY

higher scores mean better overall ride quality due to better suspension systems and larger tires (also better off-road capacity)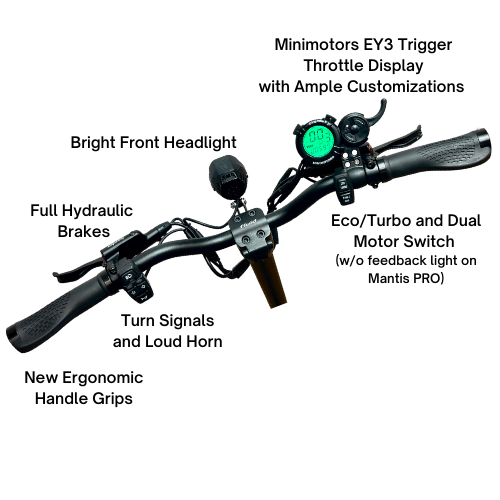 PERFORMANCE AT YOUR FINGERTIPS
Ergonomic Cockpit With Easy to Use Controls
The hydraulic brakes can be operated with just a light pull of your finger, giving you excellent control in traffic and on trails.
Quick access button for ECO mode to extend your range and to toggle single/dual motor mode.
The advanced EY3 display allows for configuration of electric braking, ABS, cruise control and advanced motor torque settings.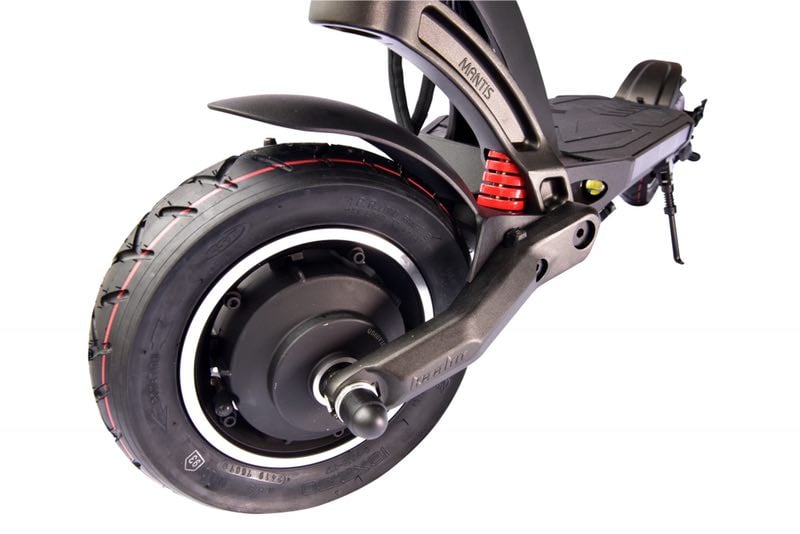 COMMUTER FAVORITE
Made to Delight the Demanding Daily Rider
With enough range and speed to eliminate public transport altogether, it is still foldable and versatile. So if need be you can take it on the bus or transport it in your trunk. Need to ride at night? Count on ample lighting and turn signals for safe riding in traffic. Want to ride in the rain? No problem, the Mantis PRO V2 is now IPx5 certified and comes with a mud guard extender pre-installed so no water will spray up your back or run inside the deck. We still do not recommend riding in heavy rain as road conditions become dangerous.
Justin from elecric-scooter.guide

"Striking, Durable Build + Awesome Speed"

"The Kaabo Mantis Pro is one of the best electric scooters in the world — striking the right balance of functionality, power, range, and weight. [...] it's no cheap scooter; however, it's probably the best value out there if you're looking for a high-end beast scooter. [...] The Kaabo Mantis Pro has exceptional build quality and is on par with the best scooters we've reviewed. Construction is hefty and uses many thick metal parts that are tightly assembled. The scooter is very quiet, with no rattling or squeaky parts. Read Full Review
How it Compares
The Mantis PRO V2 is a high end performance scooter with superior range and still portable
ALTERNATIVES:
- lower cost in samller battery version, slightly less power: MANTIS V2
- sturdier build, better lighting and design, slightly less power: PHANTOM
- Next Generaltion - stronger performance and better controls: MANTIS KING GT
Power
2x 60V 1000W / 3300W peak
Battery
LG/Samsung 60V 24.5Ah (1470 Wh)
Drive
front & rear wheel drive
Suspension
front & rear springs
Charging Time
15-17h with incl. charger, 5-6h with opt. fast charger
Physical Brakes
dual disc (Zoom full-hydraulic)
Electric Braking
adjustable regen. braking
Lights
bright headlight + white front/side & rear red LEDs
Throttle
trigger throttle
Display
EY3 Minimotors display
Since range of electric scooters varies greatly by riding style and rider weight, here are some examples for this particular model so you can judge:
45 miles
Optimal Conditions (165 lb rider, 15 mph constant speed)
This is the range you can get under optimal conditions. Usually manufacturers quote this type of range. We expect real world range to be lower since you will not go at constant slow speed.
33 miles
Real World (165 lb rider, aggressive riding)
This range has been tested by electric-scooter.guide under real world conditions. Quick acceleration, multiple stops, some inclines. All ESG range tests are done by the same rider and on the same circuit.
RECOMMENDED GEAR
Accessories
Customer Reviews