🚚 FREE SHIPPING NEXT BUSINESS DAY
The Kaabo MANTIS electric scooter just got better: With a new lighting package, full hydraulic brakes, and IPx5 waterproofing, it is designed for the demanding rider who wants it all! Swift inner city commutes with strong acceleration, excellent trail performance for those fun weekend rides, up to 45 miles between charges, and still allows carrying in one hand.

With 65 pounds this scooter is one of the lightest in its class. It folds down easily and is still portable, despite its strong performance. 
The two powerful brushless 60V 1000W motors deliver fun acceleration and climb up to 30% inclines with ease. Ride in single motor mode up to 30 mph while conserving your battery or switch on the second motor for extra acceleration and 40 mph top speed.
The front and rear advanced swing arm spring suspension delivers a smooth ride on any terrain. Ride over grass or on dirt trails, jump a curb in the city, this 40 mph electric scooter can handle pretty much any reasonable ground condition.
Dual hydraulic disc brakes provide full control during your ride. The advanced display/throttle combination allows configuration of speed limit, cruise control and regenerative braking strength. 
The brand new bright headlight at handlebar height lights up the road ahead of you while the two front and rear LEDs plus the bright lateral LED strips inside ensure you will be seen at night. The newly added turn-signals and horn make for safe riding in traffic.
Charge overnight with the included charger in 10-12h. 5A Fast Charger available to reduce charging time by 60-70%.
Available with 18.2Ah standard battery or 24.5Ah LG/Samsung battery for more range. Also available as the fully re-designed MANTIS King GT, with new cockpit and 30A controllers (vs. 25A Kaabo controllers in this model).
Satisfaction guaranteed!
40 mph
33 miles
2x1000W
60V 18.2Ah
65 lbs
Lightest Weight High Performance Scooter. Powerful AND Portable!
Excellent ride quality & high value for money
Free Shipping
Scooters Ship Free within the Continental US
12m warranty
Plus Lifetime Service (Parts 50% Off for Your Scooter)
us-based
Friendly Service and Support
pay as you ride
Select Affirm for affordable monthly payments
SUSTAINABLE
You Go Green and We Plant Trees
15 Day Returns
Return Your Unused Scooter Within 15 days of Delivery
MANTIS V2 - fluid Edition
KAABO
ADVANCED COMMUTER SCOOTER
Performance AND Portability for the Demanding Rider
ELEGANT & PORTABLE

With relatively slender design the Kaabo Mantis is a sleek high performance scooter that 'only' weighs in at 65 pounds, making it the lightest in its class. It folds down and is still portable in one hand, despite its strong performance. Only available in all black from fluidfreeride.

HIGH SPEED AND CLIMBING POWER

This 2000W electric scooter with dual brushless hub motors in combination with the 25A Kaabo SineWave controllers deliver a top speed of 40 mph and can climb steep hills with ease. Acceleration is smooth but punchy when desired, making the Mantis a ton of fun to ride.

STABLE FOLDING

In its third version, Kaabo has created a zero wobble folding mechanism that is super sturdy even when it gets a little rough.

EXCELLENT VALUE

The Mantis 10 with 18.2Ah Battery is available at an entry level price point into the world of hyper performance scooters. If 20+ miles real world range is enough for you, look no further! Choose the 24.5Ah LG/Samsung battery version for even more range!

SMOOTH & COMFORTABLE

The front and rear advanced swing arm spring suspension in combination with the 10" pneumatic tires delivers a smooth ride on rough city streets and trails. The high sitting handlebars and the rear foot rest allow for a comfortable and secure stance.

SAFETY FIRST

Now with a bright handlebar mounted headlight to light up the road ahead of you. The newly added horn and turn signals plus ample deck lighting make for optimal visibility and safe riding in traffic. Dual Zoom hydraulic disc brakes provide full control and stopping power during your ride.
fluidfreeride rating
portability

higher scores mean higher portability: lower weight & smaller footprint when folded

Heavy & Bulky

Ultra Portable

Power

higher scores mean higher power: stronger acceleration & higher topspeed

Range

higher scores mean longer range: the amount of miles you can go on a full charge

RIDE QUALITY

higher scores mean better overall ride quality due to better suspension systems and larger tires (also better off-road capacity)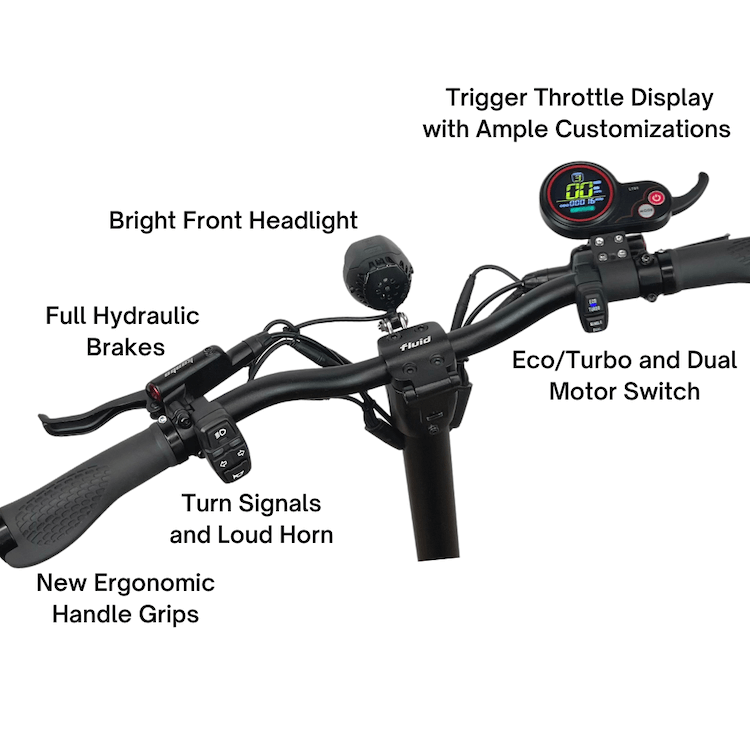 PERFORMANCE AT YOUR FINGERTIPS
Sleek Cockpit With Easy to Use Controls
Quick access button for ECO mode to extend your range and to toggle single/dual motor mode. Now with feedback light so you know which button is pressed.
Now with full hydraulic brakes for more direct stopping power and lower maintenance requirements.
Customizable riding settings in the advanced display allow you to customize initial acceleration or electric braking, as well as set up cruise control.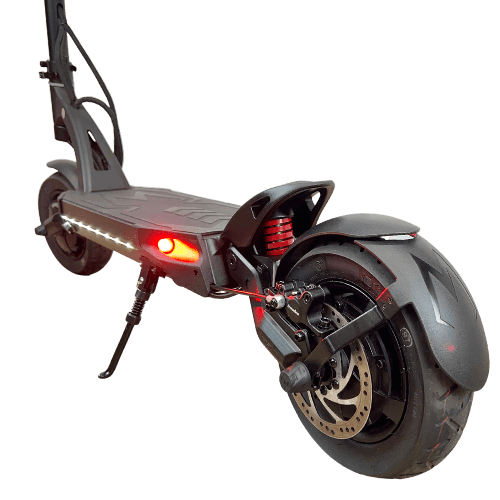 COMMUTER FAVORITE
For All Weather and Demanding Applications
With enough range and speed to eliminate public transport altogether, it is still foldable and versatile. So if need be you can take it on the bus or transport it in your trunk. Need to ride at night? Count on ample lighting and turn signals for safe riding in traffic. Want to ride in the rain? No problem, the Mantis V2 is now IPx5 certified and comes with a mud guard extender pre-installed so no water will spray up your back or run inside the deck. We still do not recommend riding in heavy rain as road conditions become dangerous.
Paul from ESG

"Everything we have ever asked for in a dual motor scooter"

Pro model performance at a base model price. Ever since the Mantis came out it has been the industry standard in terms of dual motor performance per dollar. The ride quality on the new Mantis V2 is exceptionally well balanced. Watch the full review

Justin from elecric-scooter.guide

"The #1 Best Electric Scooter of 2021 (as Voted on By Riders)"

The Kaabo Mantis is one of the newest electric scooters on the scene and packs a lot of power, range, and features at its very competitive price point. In fact, it was voted as the best electric scooter of 2021 by actual scooter riders. First off, the Mantis is a rocket and scored some of the better acceleration and braking times we've seen. Not only is it fast, but its large pneumatic tires and quality suspension keep the scooter pinned to the road and permit precision carving. The smaller capacity "base" version we tested can also go the distance — scoring nearly 30 miles in our rigorous max-power range test. Read full review

Explore the Mantis
Stylish All Black Design
We prefer to keep it classic and stylish. So the Mantis fluid edition comes in all black with subtle branding.
Performance at Your Fingertips
Smooth trigger throttle with display that allows for advance customizations like electric braking strength, zero start, or cruise control.
Hydraulic Brakes for superior stopping power that can be operated with just one finger.
Toggle eco/turbo mode and single/dual motor mode during your ride.
Bright lighting package and turn signals make for save riding at night and in traffic.


Buttery Smooth Ride
The dual suspension does an excellent job on any reasonable ground condition. Take your Mantis on rough inner city streets or out on grass and trails!
Most Portable In Its Class
Despite all that power and range, the Mantis is still relatively lightweight with only 65lbs. It folds up quickly and can be carried in one hand.
How it Compares
The Mantis is a high end performance scooter, still portable, with excellent value
ALTERNATIVES:
- Next generation, better display and controls : MANTIS KING GT
- sturdier build, better lighting and design: PHANTOM
- sturdier build, single motor, best in class ride quality: OX
Power
2x 60V 1000W / 3000W peak
Battery
FST 60V 18.2Ah (1092 Wh)
Drive
front & rear wheel drive
Suspension
front & rear springs
Charging Time
10-12h with incl. charger, 4h with opt. fast charger
Physical Brakes
dual disc (cable pulled hydraulic calipers)
Electric Braking
adjustable regen. braking
Lights
bright headlight + white front/side & rear red LEDs
Throttle
trigger throttle
Display
LT01 display (on throttle)
Since range of electric scooters varies greatly by riding style and rider weight, here are some examples for this particular model so you can judge:
33 miles
Optimal Conditions (165 lb rider, 15 mph constant speed)
This is the range you can get under optimal conditions. Usually manufacturers quote this type of range. We expect real world range to be lower since you will not go at constant slow speed.
27 miles
Real World (165 lb rider, normal riding)
This range has been tested by electric-scooter.guide under real world conditions. Quick acceleration, multiple stops, some inclines. All ESG range tests are done by the same rider and on the same circuit.
RECOMMENDED GEAR
Accessories
Customer Reviews
Great balance between cost and performance
I purchased the V2 10/22 and had it delivered w/in the week to the east coast. My last scooter was a GoPed EX, so after 20 years I was ready for the upgrade. The box was delivered in very good shape and assembly was simple. The scooter is solid, quick and rides well. When I compare to my SurRon, besides the ride quality (it's a e-bike), this scooter performs better at half the price - and it's more legal for street use. I'm an older rider (50's) and get these e toys more for fun than anything. I would say the Mantis V2 is a very convenient means of light transportation. The power and motor settings help limit the torque for inexperienced users - which could be a problem. The Sine wave controller delivers smooth and controllable power transition. The dual hydro brakes came adjusted well and get the job done. I max out the weight specs, and still feel the ride quality it great given the tire size. While not inexpensive (especially these days), this is a quality item that I expect to be able to enjoy for many years.
Fluidfreeride Contest Winner
I purchased a horizon e-scooter back in July for my daily commute to work which is about 9 mile round trip. About a month ago I got a chance to enter a contest. All I had to do was post a video what scooter I bought, what I like about it, do I recommend it to people, etc. I got lucky I guess….
Now I have a Mantis V2 and let me tell you…. It's like a flying saucer that can go 40 MPH. I am so glad I made this move from driving my car to riding a E-Scooter due to all the gas prices sky rocketing up. Thanks Fluidfreeride.
Adrian Maciel
Awesome Scooter
Suspension, acceleration and speed work together to produce a safe yet thrilling ride. I am thoroughly pleased with my purchase and keep looking for excuses to hop on this bad boy to tackle errands. I spent a solid day looking for the right scooter given my level of experience and needs. I believe this was the perfect choice. Highly recommended!
R wildman
I have to say this company makes u feel happy to spend ur money unlike most places where u feel cheated when u walk out the door
Awesome Scooter until the dreaded E 10 error...
I had ridden mine less than 26 miles before I got the dreaded E 10 (throttle is not communicating with the controller properly) I was upset about it but so far Fluid Freeride has been good. I had to send pictures of it from all 4 sides and the odometer to prove that I guess I hadn't beat it up. Up until this error 10 fiasco, I was having a blast, for me it's scary to go above 20 mph since I'm relatively new with a scooter with this much power but at 18 mph which was max speed on gear 1 it was super stable and fun to ride. This was supposed to be my commuter back and forth to work and now that it has the error 10 I am back to rentals. So far Fluid Freeride has worked with my wife pretty well on the issue since she bought it for me, they have talked to her. I am sending the 4 sides and ODO pictures in to see what happens. I am hoping for a quick return and replacement or possibly an upgrade to a more expensive one. If I get the same Mantis V2 model back that would be fine to. It's an awesome scooter, with lots of pick up and go, good stopping power at lower speeds and it is a beautiful agile beast of a scooter. I have been riding Lime scooters to work up till this and the Mantis V2 is night and day compared to a rental scooter. I am at 1 star until I find out what the solution is just because getting a scooter and putting less than 50 miles on it and having a serious issue with it is a 1 star issue. The scooter itself deserves 5 stars.
***I am giving it 5 stars because customer service pulled through and are allowing me to return my Mantis V2. I am impressed with their courteous if borderline fetish need for pictures. I had to take pictures of all the sides of the box I was shipping and the receipt that the scooter was being sent. Over all it was a worrisome experience but ended up being a positive one.***
MANTIS V2 - fluid Edition