12 MONTH WARRANTY

All our scooters come with 12 months warranty on all major components for full peace of mind. After your warranty expires, you can make use of our Lifetime Service Program: Parts and Labor are 50% Off for fluidfreeride customers for the lifetime of your scooter.

15 DAY RETURNS

Unpacked your scooter and noticed it is not the right fit? No worries, we will return your unused scooter in original packaging for 15 days after delivery. We will issue you a label and you are only responsible for for return shipping fees.

FREE & FAST SHIPPING

We ship in stock scooters same or next business day. Depending on your location, your scooter will arrive within 2 (West Coast) to 5 (East Coast) business days.

US-BASED SUPPORT

Need a part? Have a question? Our team of experts is there to help. With broad spare parts availability, three self-operated service centers in Brooklyn, Miami, and San Francisco plus many service providers in other states, you can count on help when you need it.
Features
Meet Your Heavy-duty and All-Terrain 50 mph Electric Scooter
SPEED AND CLIMBING POWER

The dual 1200-watt brushless motors provide a top speed of 50 mph and the ability to climb steep inclines.

AVIATION GRADE FRAME

The aviation-grade aluminum alloy frame is forged in one piece. Aluminum is lighter and much more rigid than steel.

LONG RANGE

Count on a realistic range of 30 miles. If you take it slow, you can expect up to 60 miles (eco mode).

HIGH PERFORMANCE SUSPENSION

The front hydraulic tubes and rear spring suspension allow riders to experience a smooth and controlled ride on all kinds of road conditions.

POWERFUL BRAKING SYSTEM

Full hydraulic brakes in combination with the optionally enabled ABS system provide for safe and accurate braking power.

LED LIGHTING SYSTEM

Powerful dual front LEDs light up the night and side and rear LEDs ensure optimal visibility from any direction.
fluidfreeride rating
portability

higher scores mean higher portability: lower weight & smaller footprint when folded

Heavy & Bulky

Ultra Portable

Power

higher scores mean higher power: stronger acceleration & higher topspeed

Range

higher scores mean longer range: the amount of miles you can go on a full charge

RIDE QUALITY

higher scores mean better overall ride quality due to better suspension systems and larger tires (also better off-road capacity)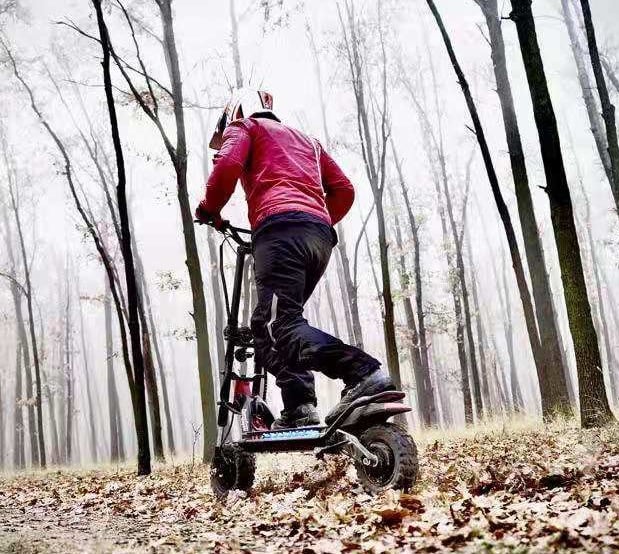 VOTED #1 FOR A REASON
Ultimate On and Off Road Performance
High performance drive train for thrilling acceleration and insane speeds
Motorcycle grade suspension for exceptional stability on rough roads and off road
High quality materials for long term durability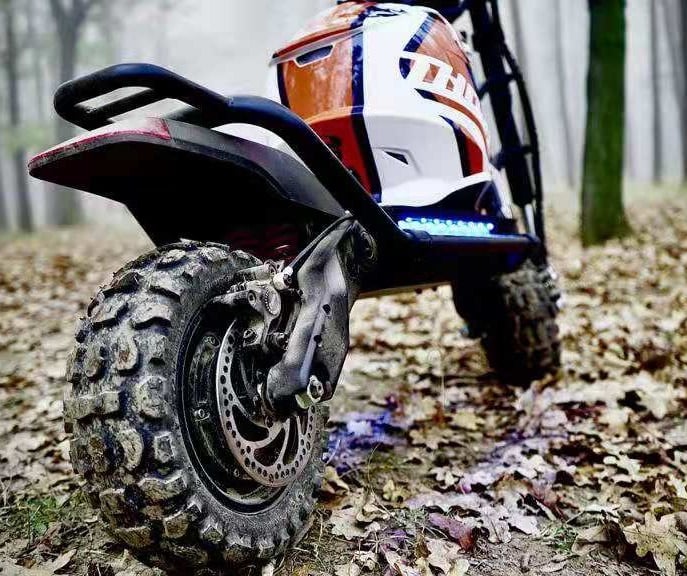 FOR DAY AND NIGHT
Safety Without Compromise
The phenomenal folding mechanism is one of the best in the industry to ensure a zero wobble experience. Dual hydraulic brakes make for super responsive performance at your fingertips and deliver excellent stopping power. Turn on ABS in the Minimotors display to avoid skidding. The best in class front LEDs are the brightest and best illuminating in the game.
Electric Scooter Guide, 2021

"Top 5 scooters for riding in the rain"

"When people think of a scooter for bad riding conditions like water, dirt, mud, or a post-apocalyptic world, they think Wolf Warrior. Its burly hydraulic suspension is one of the best in the beast class, and keeps it glued to the road. It's got the brightest headlights of any scooter we've ever tested, so you can see where you're riding in the rain, and ample deck lighting means you'll also be seen. In our performance test, it has a wet-stopping distance of 3m."

Rider Survey 2021

"Baddest Scooter On the Planet"

Voted Baddest Scooter on the Planet and Best Dual Motor Scooter by reddit and youtube communities in 2019 and 2020. See the award video

EXTREME RIDE REPORT

Proven on a 1300 mile journey through Tibet

For its one year anniversary in July 2019, we sent the Wolf and one lone rider on one extreme journey: from Chengdu to Lhasa through the Tibetan highlands. Wind, rain, snow, and mud, the Wolf mastered all this in 20 days. Have a look at the travel report on the Worlds Longest Electric Scooter Ride. Learn More
How it Compares
The Wolf is a high performance on and off road machine that rides like a tank.
ALTERNATIVES:
- next generation controls, smooth sinewave controller, advanced LED lighting package: WOLF GT PRO
- next level ride quality and feature set with easier and more refined handling: BURN E 2
- smaller 10" version of the Wolf, lighter weight and much smaller chassis and slightly less power: WOLF X
Power
2x 1200W base / 5400W peak
Battery
LG/Samsung 60V 35Ah (2100 Wh)
Drive
front & rear wheel drive
Suspension
front dual hydraulic shocks / rear dual springs
Charging Time
10-12h with 2 incl. chargers, 4h with 2 opt. fast chargers
Physical Brakes
dual disc (Zoom full-hydraulic)
Electric Braking
adjustable regen. braking
Lights
ultra bright front / adjustable side/ rear LEDs + turn signals
Throttle
trigger throttle
Display
EY3 Minimotors display
Since range of electric scooters varies greatly by riding style and rider weight, here are some examples for this particular model so you can judge:
60 miles
Optimal Conditions (165 lb rider, 15 mph constant speed)
This is the range you can get under optimal conditions. Usually manufacturers quote this type of range. We expect real world range to be lower since you will not go at constant slow speed.
30 miles
Real World (165 lb rider, aggressive riding)
This range has been tested by electric-scooter.guide under real world conditions. Quick acceleration, multiple stops, some inclines. All ESG range tests are done by the same rider and on the same circuit.
RECOMMENDED GEAR
Accessories
Customer Reviews