CHECK OUT THE WIDEWHEEL PRO

The Mercane Widewheel 1000W electric scooter has been designed for ultimate riding comfort. Ultra-wide tires with front and rear suspension ensure the most comfortable and smooth ride! This high-powered and foldable electric kick scooter with high-efficiency Lithium-ion battery guarantees strong acceleration, top speeds of 25 mph and 20+ miles on a single charge.
Two powerful 500W motors make this the best electric scooter for hills.
Experience a new feeling of freedom while cruising around on this stylish and powerful machine. Change the way you roll and upgrade your commute!
Available in two variants:
- single 500W motor with 8.8Ah battery, 15+ miles (19 miles claimed)
- dual motors 1000W total with 13.2Ah battery, 20+ miles (31 miles claimed)
Satisfaction guaranteed!
25 mph
26 miles
2x500W
48V 13.2Ah
50 lbs
Superior dual motor power for exhilarating acceleration
Stylish design that will turn heads
Free Shipping
Scooters Ship Free within the Continental US
12m warranty
Plus Lifetime Service (Parts 50% Off for Your Scooter)
us-based
Friendly Service and Support
pay as you ride
Select Affirm for affordable monthly payments
SUSTAINABLE
You Go Green and We Plant Trees
15 Day Returns
Return Your Unused Scooter Within 15 days of Delivery
Features
Your Electric Scooter for Commute & Play
POWERFUL AND FAST

The one or two electric motors have a max output of 800W each for thrilling acceleration and speeds up to 25mph

HILL CLIMBING TORQUE

The dual motor Widewheel will climb any hill and has been proven on the steep streets of San Francisco.

LONG RANGE

the high efficiency Li-ion battery delivers a realistic 20 mile range

COMFORTABLE

The ultra-wide wheels in combination with front and rear suspension deliver a comfortable ride

STYLISH AND DURABLE

The manufacturer's cutting edge die casting method without welding delivers high durability, quality and a seamless appearance

CALIPER REPLACED

We have safety tested all calipers and replaced when necessary to ensure your scooter is safe to ride.
fluidfreeride rating
portability

higher scores mean higher portability: lower weight & smaller footprint when folded

Heavy & Bulky

Ultra Portable

Power

higher scores mean higher power: stronger acceleration & higher topspeed

Range

higher scores mean longer range: the amount of miles you can go on a full charge

RIDE QUALITY

higher scores mean better overall ride quality due to better suspension systems and larger tires (also better off-road capacity)
HIGHLIGHTS
Unique design and dual motor power
powerful acceleration to tackle 30% inclines with ease
seamlessly designed, the batmobile of scooters will turn heads
ultra wide tires and dual suspension for a smooth ride at high speeds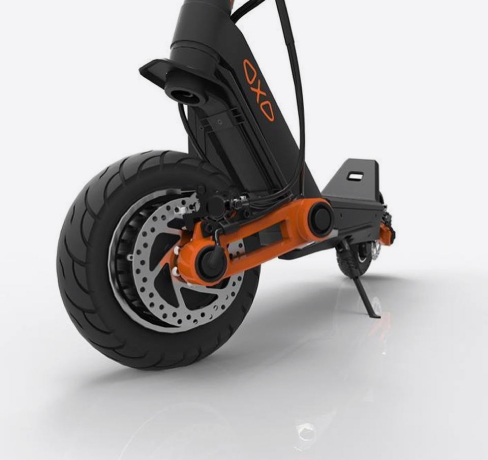 Use Case
Looking For a Fun Commute?
The 2019 Widewheel and its dual 500W motors deliver fast acceleration and high speeds. Exceptionally designed, the batmobile of scooters is perfect for a fun commute in style.
Power
2x 500W base / 1600W peak
Battery
48V 13.2Ah (634 Wh)
Drive
front & rear wheel drive
Suspension
front & rear springs
Charging Time
7-8h with incl. charger
Physical Brakes
rear disc brake
Lights
front and rear LED
Display
voltage display on keylock plus LEDs
Folded
43.1 x 8.6 x 16.1 inch"
Unfolded
43.1 x 21.6 x 43.3 inch
Since range of electric scooters varies greatly by riding style and rider weight, here are some examples for this particular model so you can judge:
26 miles
Optimal Conditions (165 lb rider, 15 mph constant speed)
This is the range you can get under optimal conditions. Usually manufacturers quote this type of range. We expect real world range to be lower since you will not go at constant slow speed.
17.5 miles
Real World (180 lb rider, aggressive riding)
Tested by fluidfreeride on the 2019 WideWheel. Mostly top speed riding on flat ground on a windy day.
RECOMMENDED GEAR
Accessories
Customer Reviews
Thank you
Everything is ok, only the breaks have pronleme, but everything is ok on the scooter.
Thank you. God bless you
Great Scooter
Awesome build quality. Love it, i wish it had a speedometer but otherwise great for the price!
Fantastic Scooter -powerful!
The 2019 widewheel is a fantastic scooter that packs A LOT of power for uphill climbs. I tested this scooter around the SF Bay area and there wasn't a single hill in the city that this scooter couldn't handle. For Bay area folks, this includes the steep hills by the aquatic center/Fort Mason, the hills of the Presidio, and even larger hills around the north bay parks (above Martinez). Another thing about the scooter -the battery lasts for a long time. I'm not sure of the exact mileage, but it lasted at least 20 miles and was not completely drained by the end of the day. The platform has a solid-grippy feel that leaves the rider confident that their feet won't slip off. The tires work great with the suspension system -really this is a great balance as there is no possibility of a flat, and the suspension gives just enough flex to keep the ride comfortable. The wide wheels in combination with the suspension keep the scooter nicely balanced on bumpier sections of pavement. All components seem sturdy and well built. The scooter feels solid all along the neck to the handlebars, which is important to me as I weigh 200 lbs. This scooter handles my weight with ease. On the bumps and up the hills, the widewheel makes for a fast and fantastic all-day ride. I'd recommend this scooter as the 1000 watts of power seems to be pretty much a minimum for tackling hills at speed.
Fun to ride but...
Love riding the wide wheel. It's a nice smooth ride on clean asphalt but otherwise the thin tires can make for a bumpy ride. The only other thing I would change is the kickstand. It struggles to hold the up the weight of the scooter. Would be nice if it was beefed up a bit.
Safana