🚚 FREE SHIPPING NEXT BUSINESS DAY
The Wolf Warrior X GT is everything you want from a Wolf Warrior packed into a smaller and less bulky package with highly attractive features. Its dual 60V 1100W motors  deliver serious acceleration and a top speed of 44 mph. The star of the show is the new 4.2" TFT display which is bright enough to be read in direct sunlight and offers riders an astounding array of information about their scooter, how it is currently functioning and access to adjustments to tailor the Wolf Warrior GT's power to their riding style.
The high capacity 60V 28Ah Battery pack with 21700 cells from LG or Samsung promises a range of 50 miles under optimal conditions. We expect real world range to be in the high 30s.
While rather on the heavy side at 83 lb, it is almost 30 pounds lighter than its bigger brother, the Wolf Warrior King GT, and significantly more portable due to its simple and intuitive cuff based folding mechanism. This Wolf X will fit into your average size trunk.
The sturdy frame which has been lengthened 1 inch vs the Wolf X base model and features the iconic dual stem design with front hydraulic shocks and rear dual spring suspension. The ride feels powerful and very stable since the suspension does an excellent job on rougher roads. Not only can you ride wherever you want to go, you can also do this during most weather conditions with the Wolf X GT offering an IPX5 water resistance rating.
Front and rear Kaabo branded Zoom fully hydraulic disc brakes give full control with minimum force. The adjustable regenerative electric braking recharges your battery every time you brake. The ultra-bright dual headlights, turn signals and motorcycle style horn can be intuitively accessed with your left thumb. For added visibility, the Wolf X features built-in full color RGB tube lights on the sides of the footboard which are fully adjustable though an app on your phone.
The Wolf Warrior X GT has extremely high power output with exhilarating acceleration but is still smooth on the thumb throttle. This is due in large part to it's all new 30A sinewave controllers with their increased signal refinement for easily controllable acceleration. 
There are also two very nice Kaabo designed auto-closing charging ports mounted on the neck of the frame for easy access. Charging time is approx. 8 hours with the two included 2A chargers.
Available with street and offroad tires.
FREE SHIPPING

44 mph

50 miles

2x1100W

60V 28Ah

83 lbs
Strong performance with exhilarating acceleration and long range
Motorcycle style dual front stems for high stability
Free Shipping
Scooters Ship Free within the Continental US
12m warranty
Plus Lifetime Service (Parts 50% Off for Your Scooter)
us-based
Friendly Service and Support
pay as you ride
Select Affirm for affordable monthly payments
SUSTAINABLE
You Go Green and We Plant Trees
15 Day Returns
Return Your Unused Scooter Within 15 days of Delivery
Features
High Performance with Superior Stability in a Compact Package
SPEED AND POWER

The dual 1100-watt brushless motors provide pretty aggressive acceleration and a top speed of up to 44 mph.

STURDY DUAL STEM

While slightly smaller than its bigger brother (Wolf King GT), the dual stem does not compromise on built, provides a sturdy, zero-wobble experience.

COMPACT HIGH-PERFORMER

Featuring a new, simple and intuitive folding mechanism, the Wolf Warrior X is compact enough to fit into a trunk.

SOFT-RIDE DUAL SUSPENSION

The front and rear spring suspension allow riders to experience a smooth and controlled ride on roads with various conditions.

POWERFUL BRAKING SYSTEM

Full hydraulic brakes deliver safe and accurate braking power. Adjustable regenerative electric braking recharges your battery on the go.

LED LIGHTING SYSTEM

Powerful dual front, side and rear LEDs ensure optimal visibility from any direction. Newly implemented turn signals and hazard lights allow you to signal your intentions on the road. Sleek built-in ambient lights are adjustable though an app on your phone and allow you to personalize your ride.
fluidfreeride rating
portability

higher scores mean higher portability: lower weight & smaller footprint when folded

Heavy & Bulky

Ultra Portable

Power

higher scores mean higher power: stronger acceleration & higher topspeed

Range

higher scores mean longer range: the amount of miles you can go on a full charge

RIDE QUALITY

higher scores mean better off road capability: better suspension & smoother ride in all conditions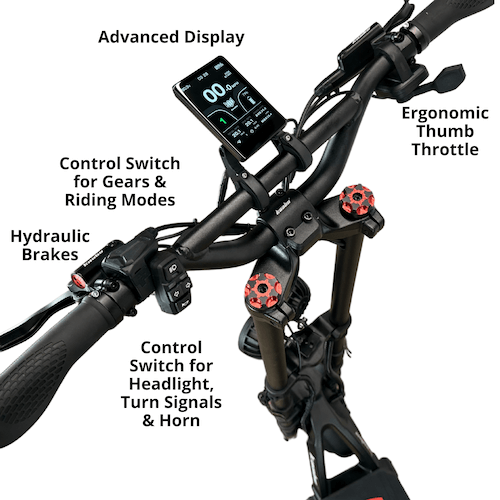 PERFORMANCE AT YOUR FINGERTIPS
All New Cockpit
NEW 4.2" TFT display which is bright enough to be read in direct sunlight and offers you current ride info, diagnostics, and access to adjustments to tailor the Wolf X GT's power to your riding style
Thumb throttle for comfortable grip and smooth acceleration
Easy to access controls for lighting, horn, and riding modes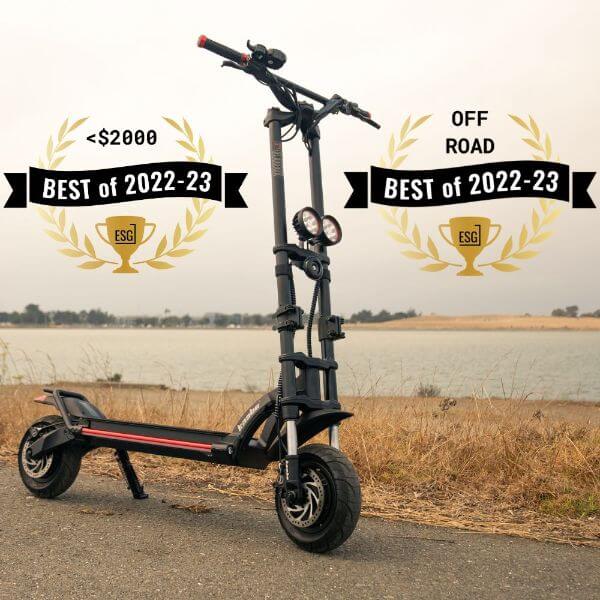 AWESOME JUST GOT BETTER
Amazing Upgrade to the Award Winning Wolf X
In a field of hundreds of competing scooters, the Wolf X (base version) was selected as best overall scooter in the sub $2,000 category due to its excellent riding stability, phenomenal top speed and long range. It also won best off-road scooter thanks to its excellent suspension system. The new Wolf X GT comes with the same features that make the Wolf X one of the best scooters out there. PLUS you get a much larger battery, a new center TFT display and a smooth thumb throttle.
PAUL, ELECTRIC-SCOOTER.GUIDE

"The Wolf Warrior X delivers impressive range, speed, handling, and comfort..."

"In conclusion, the WW X GT is the best off-road platform we've seen AND one of the best long-range light heavyweights, period. It is the Wolf Warrior X we always wanted, because it's got the power and smooth throttle of the base model X and the big name-brand battery from the Pro." Read Review
How it Compares
The Wolf X GT is an upgrade to the popular and award winning Wolf X. Same riding characteristics with larger battery and upgraded cockpit.
ALTERNATIVES:
- the award winning original - smaller battery and lower price: WOLF X
- the bigger brother - more power and higher speed, much larger footprint: WOLF KING GT
- the cadillac of electric scooters - similar power output with more riding comfort: BURN-E 2
Power
2x 1100W / 3500W peak
Battery
60V 28Ah LG/Samsung 21700 cells (1680 Wh)
Tires
10x3" tubed tires with split rim
Drive
front & rear wheel drive
Suspension
front hydraulic / rear springs
Charging Time
~8h with two included 2A chargers
Weight Limit
265 lbs / 120 kg
Physical Brakes
Kaabo branded Zoom front and rear hydraulic
Electric Braking
adjustable regenerative braking
Lights
front / side/ rear LEDs / turn and hazard signals / ambient LED lights
Display
4.2" ultra bright TFT
Since range of electric scooters varies greatly by riding style and rider weight, here are some examples for this particular model so you can judge:
50 miles
Optimal Conditions (165 lb rider, 15 mph constant speed)
Wolf X GT. This is the range you can get under optimal conditions. Usually manufacturers quote this type of range. We expect real world range to be lower since you will not go at constant slow speed.
GEAR UP
Recommended Accessories
Customer Reviews