12 MONTH WARRANTY

All our scooters come with 12 months warranty on all major components for full peace of mind. After your warranty expires, you can make use of our Lifetime Service Program: Parts and Labor are 50% Off for fluidfreeride customers for the lifetime of your scooter.

15 DAY RETURNS

Unpacked your scooter and noticed it is not the right fit? No worries, we will return your unused scooter in original packaging for 15 days after delivery. We will issue you a label and you are only responsible for for return shipping fees.

FREE & FAST SHIPPING

We ship in stock scooters same or next business day. Depending on your location, your scooter will arrive within 2 (West Coast) to 5 (East Coast) business days.

US-BASED SUPPORT

Need a part? Have a question? Our team of experts is there to help. With broad spare parts availability, three self-operated service centers in Brooklyn, Miami, and San Francisco plus many service providers in other states, you can count on help when you need it.
Features
The Ultimate Lightweight Last Mile Solution
EASY FAST FOLDING

Folds in seconds for easy storage or carrying around. The additional trolley wheels allow the scooter to stand vertically to save space.

LIGHT WEIGHT

At only 23 lbs., you can effortlessly carry it up a few flights of stairs to take it to your office or apartment.

RIDE COMFORT

The 6-inch pneumatic front tire and rear spring suspension handles bumps & potholes well, making your ride comfortable.

FAST CHARGING BATTERY

The high efficiency 36V 7.8Ah Li-ion battery can be recharged in just 3-4 hours at any outlet and promises a range of 10 miles.

BEAUTIFUL DESIGN

Sleek lines, subtle branding and high-quality materials ensure you will turn heads as you zip to work or run errands.

INTUITIVE CONTROLS

Uses the familiar thumb throttle and brake controls.
fluidfreeride rating
portability

higher scores mean higher portability: lower weight & smaller footprint when folded

Heavy & Bulky

Ultra Portable

Power

higher scores mean higher power: stronger acceleration & higher topspeed

Range

higher scores mean longer range: the amount of miles you can go on a full charge

RIDE QUALITY

higher scores mean better overall ride quality due to better suspension systems and larger tires (also better off-road capacity)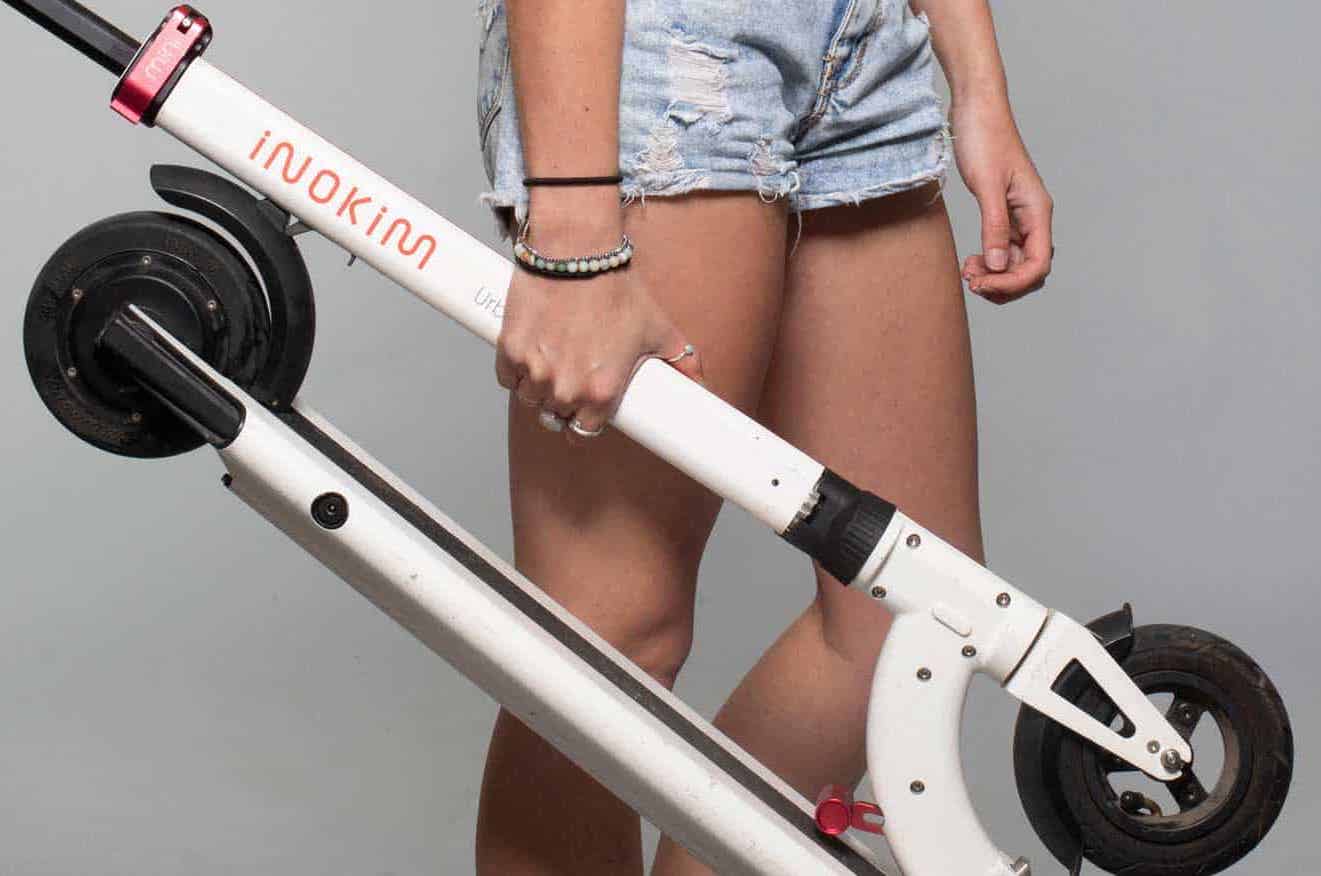 HIGHLIGHTS
Maximum portability and versatility
23lb lightweight with quick folding mechanism
equipped with trolley wheels allowing effective vertical storage
charge your phone on the go with the USB port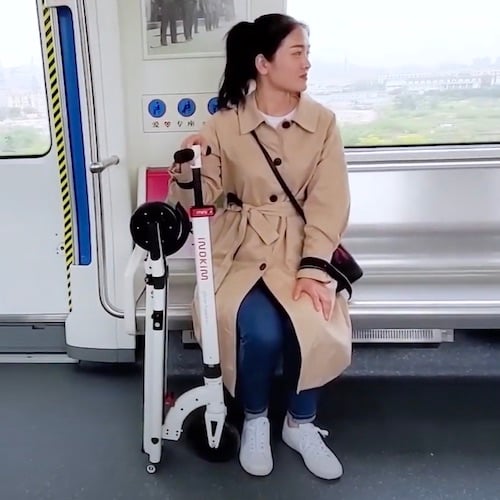 Use Case
The Ultimate Last Mile Solution
The Mini2 is an excellent choice for lightweight riders who need a truly portable last mile solution that ticks all the boxes. Easily foldable, it can be taken on crowded trains or buses without bothering fellow riders. With its iconic design and a surprisingly good ride-quality for such a small scooter, you will comfortably reach your destination in style.
Power
250W base / 450W peak
Battery
36V 7.8Ah (281 Wh)
Tires
front 6" air / rear solid
Suspension
rear polymer damper
Charging Time
4-5h with incl. charger
Physical Brakes
e-brake lever & rear step on
Electric Braking
front electric brake with thumb lever
Lights
reflective stickers
Display
none - battery LED indicator
Since range of electric scooters varies greatly by riding style and rider weight, here are some examples for this particular model so you can judge:
15 miles
Optimal Conditions (165 lb rider, 15 mph constant speed)
This is the range you can get under optimal conditions. Usually manufacturers quote this type of range. We expect real world range to be lower since you will not go at constant slow speed.
RECOMMENDED GEAR
Accessories
Customer Reviews