On a Mission to Improve Short-Distance Travel
INNOVATION PACKED
DESIGNED IN CANADA
HIGH PERFORMACE
LONG RANGE
ABOUT APOLLO ELECTRIC SCOOTERS
Frequently Asked Questions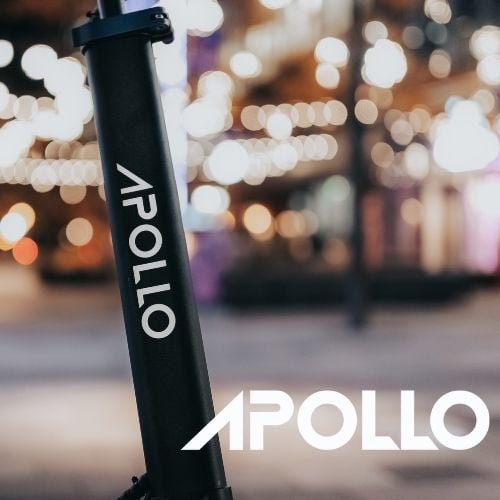 ABOUT APOLLO ELECTRIC SCOOTERS
Frequently Asked Questions
Apollo has fast made a name for themselves in the e-scooter world. Great reviews and feedback from customers as well as specialists. With the Phantom, they launched their first self-developed scooter and there is more to come...
What is the best Apollo scooter for terrain?
The Apollo Phantom is the best allrounder in the Apollo family. It is not an outright off-road scooter but it will tolerate dirt trails and less than super smooth surfaces with ease. Quadruple spring suspension system and high powered dual 1200W motors will make for a fun and sporty ride.
How fast are Apollo scooters?
They are quite fast. The Apollo Explore reaches a top speed of 31mph while the Phantom delivers 38mph.
How does the Kaabo Mantis compare to the Apollo Phantom?
Both scooters are high powered with large batteries. The Mantis has a bit more torque due to its 60V system vs. the Phantom's 52V. The quadruple suspension if the Phantom feels a little sturdier than the Mantis with a bit more bouncier feel. Both scooters can be carried in one hand, but the Phantom is 12 lbs heavier. And last but not least, we think the Phantom is an absolute beauty.