NAMI Electric Scooters
Award Winning Design & Performance
BEST IN CLASS DESIGN
DUAL MOTOR POWER
EXTREME SPEED & TORQUE
LONG RANGE
ABOUT NAMI ELECTRIC SCOOTERS
Frequently Asked Questions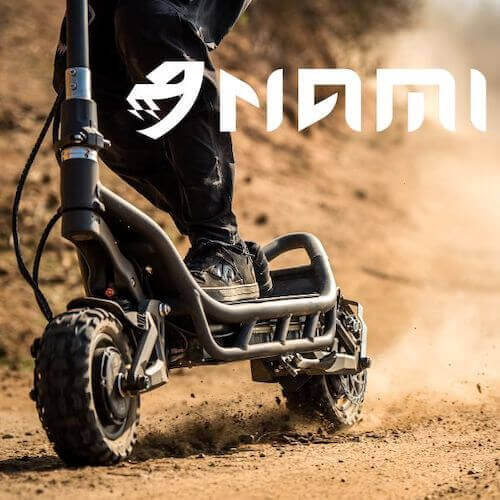 ABOUT NAMI ELECTRIC SCOOTERS
Frequently Asked Questions
Thinking of a NAMI Electric Scooter? You have probably heard about Michael Sha and his quest for building superior scooters.
What is special about NAMI scooters?
NAMI electric scooters are known for best in class design and components. The flagship Burn E model comes with a uniquely designed hand welded tubular aluminum frame for awesome looks and superior durability. Ride quality is better than any other scooter out there thanks to the adjustable suspension systems.
What is the best NAMI scooter for adults?
This really depends on your preferences. The most reviewed and most loved scooters is The Burn-E 2 Max, NAMI's flagship model. It comes with all the bells and whistles and a super huge 72V 40Ah battery. The Burn E 2 could be considered even better since it is priced around $1200 below the MAX and only compromises a little on battery size and power.
Can you ride NAMI scooters in the rain?
Yes, all NAMI scooters come with an IP55 rating for the scooter and IP67 for key components like display and controllers.
Are NAMI scooters good for long-distance?
The Burn E 2 MAX is the scooter with the longest range rating (and biggest battery) in our portfolio. You can expect around 60+ miles with normal riding and over 100 miles under optimal conditions.