🚚 FREE SHIPPING NEXT BUSINESS DAY
Meet the fluid VISTA - a brand new electric scooter for demanding riders looking for quick and powerful acceleration, long range, and indestructible build quality for rough city streets, all at phenomenal value.
Quite unique in this segment, it runs on a punchy 60V system with a quiet smooth-running 1000W rear motor and highly responsive controller set up resulting in ZERO deadzone on the thumb throttle for speedy take offs and quick hill-climbs. The 31mph top speed feel stable and safe. The large 858Wh (14.5Ah) battery gets you 35 miles of range under optimal conditions. 
The extra large center display shows key riding info like current speed, mileage, voltage and power output right where you need it. Three riding modes plus a walking speed option are accessible during your ride. The included App let's you customize your riding profile with options for setting zero start, speed settings for the riding modes, initial acceleration and much more. 
In the spirit of making this a hassle free commuter scooter, we outfitted the VISTA with front and rear solid tires so you will never have a flat. The front and rear preload adjustable suspension compensates for the solid tires and delivers an overall smooth riding experience. 
The VISTA is ready for riding in traffic, during the night and when it rains. The complete lighting package includes a bright front headlight, lateral and rear LED lights as well as turn signals. With no-splash front and rear fenders and an IPx5 rating there is no worry when it rains.
At 60 lbs it is no lightweight but it sits on the road like a tank, giving you confidence at higher speeds. I folds down with a rock-solid lever-style folding mechanism and can be carried in one hand. 
FREE SHIPPING within continental US!
31 mph
35 miles
1000W
60V 14.5Ah
60 lbs
All-round durable commuter scooter for demanding riders with fast acceleration and long range.
Full lighting package, app connectivity, IPx5 rating.
Free Shipping
Scooters Ship Free within the Continental US
12m warranty
Plus Lifetime Service (Parts 50% Off for Your Scooter)
us-based
Friendly Service and Support
pay as you ride
Select Affirm for affordable monthly payments
SUSTAINABLE
You Go Green and We Plant Trees
15 Day Returns
Return Your Unused Scooter Within 15 days of Delivery
Sale price

$1,299.00

Regular price

$1,499.00
Features
Best All-Round Commuter Scooter in its Price Range
DURABLE COMMUTER

Designed with solid tires and strong overall build, the VISTA is the perfect choice for demanding inner city riders.

POWERFUL AND FAST

The rear 60V 1000W scooter motor with a 30A controller delivers max output of 1800W for quick acceleration and a top speed of 31 mph.

READY FOR ALL CONDITIONS

The full lighting package with turn signals and the integrated bell allow for safe participation in traffic and riding in the dark. With an IPx5 rating and no-splash front and rear mudguards, the VISTA can be ridden in the rain.

LONG RANGE

The large 60V 14.5Ah high efficiency Li-ion battery delivers a range of up to 35 miles.

PORTABLE

With its rock solid zero-wobble folding mechanism, you can fold down the VISTA in just three seconds and carry it in one hand.

CUSTOMIZABLE PEFORMANCE

Top speed of the three riding modes plus a walking function are fully customizable in the App, along with electric braking, cruise control, lighting functions, zero start, and much more...
fluidfreeride rating
portability

higher scores mean higher portability: lower weight & smaller footprint when folded

Heavy & Bulky

Ultra Portable

Power

higher scores mean higher power: stronger acceleration & higher topspeed

Range

higher scores mean longer range: the amount of miles you can go on a full charge

RIDE QUALITY

higher scores mean better overall ride quality due to better suspension systems and larger tires (also better off-road capacity)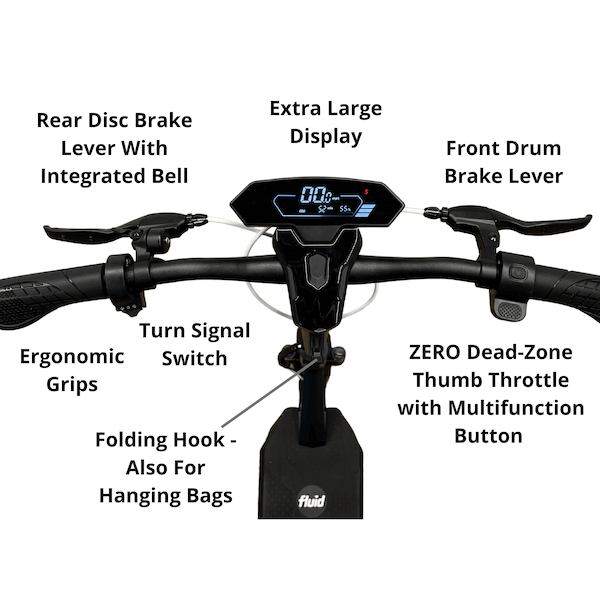 COCKPIT
High Performance & Intuitive Controls
Feature-loaded cockpit for the demanding rider
Responsive thumb throttle without dead-zone
31 mph top speed and 35 miles in range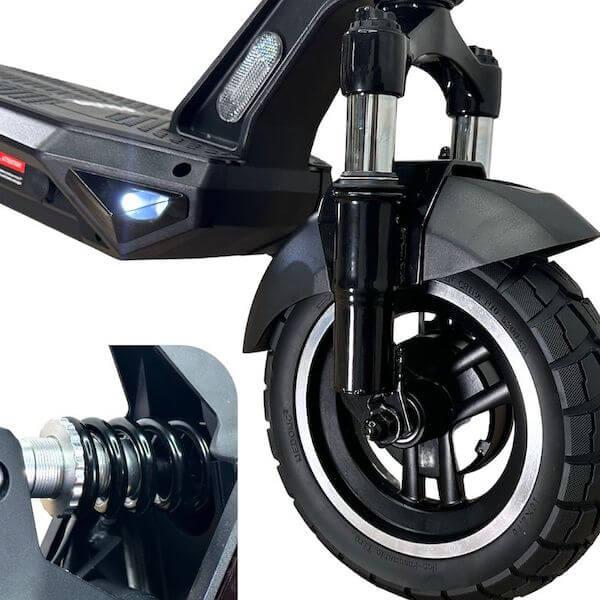 HIGHLY DURABLE
Ride Worry-Free
Unique in this segment, the VISTA is outfitted with front and rear solid 10" tires so you will never have a flat. The dual preload-adjustable suspension does a great job in smoothing out rougher road conditions for overall excellent ride quality. And the solidly built frame promises long term durability.
Explore the fluid Vista
Silent & Smooth
The high performance rear motor runs vibration free and exceptionally quiet. The dual suspension with long travel will soak up bumps on the road and make for a smooth riding experience despite the solid tires.
Advanced Cockpit
The ergonomic cockpit with extra large display is intuitive to use. The smooth thumb throttle is perfectly calibrated with no deadzone for quick and immediate take-offs.
Three Second Folding
The VISTA comes with a solid folding mechanism that enables folding in under three seconds. The steering column locks to the deck enabling one-handed carry.
Ready for Riding at Night
The bright front and rear LED lights are complemented with customizable lateral LED lights for added visibility. The integrated turn signals make for safe riding in traffic.
Power
1000W base / 1800W peak
Battery
60V 14.5Ah (858 Wh)
Suspension
front & rear spring (rebound-adjustable)
Charging Time
7-8h with incl. 2A charger
Physical Brakes
front drum + rear disc brake
Electric Braking
adjustable regen. braking
Lights
front+rear+lateral LED, turn signals
Display
large center display
Since range of electric scooters varies greatly by riding style and rider weight, here are some examples for this particular model so you can judge:
35 miles
Optimal Conditions (165 lb rider, 15 mph constant speed)
This is the range you can get under optimal conditions. Usually manufacturers quote this type of range. We expect real world range to be lower since you will not go at constant slow speed.
RECOMMENDED GEAR
Accessories
Customer Reviews