🚚 FREE SHIPPING NEXT BUSINESS DAY
Meet the NAMI KLIMA - the brand new development from the makers of the record breaking Burn-E. With best in class torque for a speedy take off, fully customizable controls, adjustable suspension, supreme handling and stability, as well as full lighting and waterproofing, all at an attractive price point, this is the contender for the best performance scooter of 2023.
The most notable feature is the supremely designed drivetrain with dual 1000W brushless hub motors, that work in perfect harmony with the dual 40A sine wave controllers. Together they deliver best in class torque straight from take-off, outperforming key competitive scooters. The excellent torque is slightly compromising top speed which still clocks in at an impressive GPS measured 42 mph. Throttle response is smooth enough for a walking speed talk off in full power mode. And, cherry on the top, the motors deliver a silent riding experience.
There are two battery options, the standard version comes with a large 25Ah battery with range expectations of 50 miles while the MAX version comes with 30Ah featuring LG 21700 cells which can deliver up to 60 miles (range under optimal conditions, 165 lb rider, 15-20mph constant speed).
The Riding experience is second to none - the dual rebound adjustable suspension (KKE coil shocks) in combination with the tubeless extra wide 10" tires and the low center of gravity deliver a smooth and stable ride, both at high speeds and going off road. The Logan two piston hydraulic brakes with the 160mm rotors put superior stopping power at your fingertips. Also at your fingertips on the right side are the riding controls from a smooth thumb-throttle, to the loud horn, 2000 lumen ultra-bright headlight and turn signals operating the bright rear facing LED strip. On your left hand side is the riding mode selector that also operates the bright center display which allows for advanced customization of 5 riding modes to fit your preferred riding styles.
Quality build and thoughtful engineering is visible throughout the entire scooter: The one piece aircraft grade aluminum deck is welded to perfection, long enough for a comfortable stance, and comes with a rear-foot rest for better riding stability. The battery is fully sealed inside the deck to be fully waterproof. The waterproof controllers live in an easily accessible, separate casing in the neck above the deck, which, in combination with the integrated cooling fins on the motors, prevent overheating during your most demanding rides. With an overall IP 55 rating and splash-proof front and rear fenders, your new KLIMA is safe to ride in the rain.
If you are looking for a high end performance scooter just over the $2,000 mark with best-in class torque and excellent ride quality, that ticks all the boxes, the brand new NAMI KLIMA is for you!
42 mph
50 miles
2x1000W
60V 25Ah
79 lbs
Phenomenal torque, excellent handling and stability.
IP55 waterproof, full lighting package for safe riding in traffic, adjustable riding modes.
Free Shipping
Scooters Ship Free within the Continental US
12m warranty
Plus Lifetime Service (Parts 50% Off for Your Scooter)
us-based
Friendly Service and Support
pay as you ride
Select Affirm for affordable monthly payments
SUSTAINABLE
You Go Green and We Plant Trees
15 Day Returns
Return Your Unused Scooter Within 15 days of Delivery
TRUE ALL ROUND TALENT
Phenomenal Acceleration With Supreme Handling And Controls
RIDE FASTER

Always get the fastest take off. The two powerful 1000W motors in combination with the two 40A sinewave controllers deliver silent but thrilling acceleration up to 42mph. The smooth thumb throttle enables you to start in walking speed - even in full power settings.

RIDE IN THE RAIN

Don't stress when you hit bad weather. The battery and controllers are securely sealed and fully waterproof. The clever designed fenders prevent water from spraying up. Overall the scooter was IP55 certified.

RIDE AT NIGHT AND IN TRAFFIC

The 2000 Lumen front light illuminates the road ahead. The ultra-bright rear LED strip get's brighter when you brake and include turn signals so you can participate in traffic. The motorcylce style horn clears the way ahead.

RIDE ON YOUR TERMS

Quickly change suspension rebound from bouncy (for rougher grounds) to stiff (for high speed on road stability). The smart display includes 5 different fully customizable riding modes, including settings for front and rear motor torque, electric braking strength, acceleration etc.

RIDE LONG RANGE

Expect 40-50 miles of range (tested by NAMI with a 165lb rider at 28mph average speed). Re-charge quickly in just 6 hours with the included 5A fast charger.

WHEN YOU DON'T RIDE

Fold down your KLIMA in just a few seconds with the rock solid clamp style folding mechanism. It is not made to be carried in one hand but can easily be lifted into your trunk with two hands.
fluidfreeride rating
portability

higher scores mean higher portability: lower weight & smaller footprint when folded

Heavy & Bulky

Ultra Portable

Power

higher scores mean higher power: stronger acceleration & higher topspeed

Range

higher scores mean longer range: the amount of miles you can go on a full charge

RIDE QUALITY

higher scores mean better overall ride quality due to better suspension systems and larger tires (also better off-road capacity)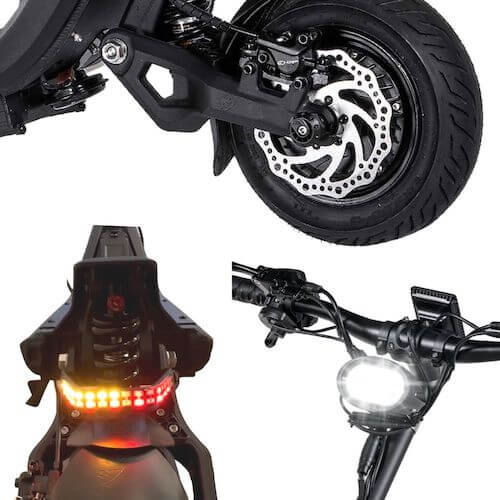 THOUGHTFUL ENGINEERING
The KLIMA is Your Companion for all Conditions
LOGAN full hydraulic brakes with 160mm rotors deliver reliable and direct stopping power whether on or off-road.
Best in class lighting package with 2000 lumen headlight, bright rear light, and turn signals ensure safe riding in traffic day and night.
With and overall IP55 rating, the Burn E can be ridden during any weather. Key components like display, controllers, and connectors are IP67.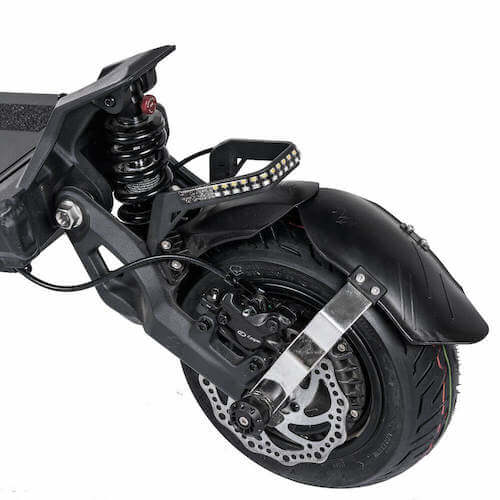 A RIDE LIKE NO OTHER
Best in Class Torque & Smooth Riding Experience
The KLIMA's dual 1000W hub motors work in perfect harmony with the dual 40A sine wave controllers to deliver superior acceleration, outperforming key competitors. It is still easy to tame - the responsive thumb throttle comes on slowly, so you can take off in walking speed - even in full power settings. The ride on the KLIMA is beyond smooth thanks to the adjustable suspension. With just the turn of a dial you can set up the rebound to your liking: highly dampened for high speed on road, or more bouncy for off-road applications.
Explore the KLIMA
Thoughtful Engineering
The KLIMA is truly pleasing on the eye and packs the latest in technology. The one-piece aircraft grade aluminum deck is welded to perfection, the matte black surfaces deliver an elegant shine. All key components like suspension, motors, and controllers have been thoughtfully combined to deliver a truly outstanding riding experience.
Ready for Traffic
The best in class lighting package includes an ultra-birght 2000 lumen front headlight lights up the road ahead of you. The visible rear LED strips not only ensures that you will be seen at night but also double as turn signals and bright rear brake light.
Control At Your Fingertips
Sleek centered display with all riding information available to you. Advanced customization options for 5 fully customizeable modes for speed, electric braking, individual motor torque and much more...
Easily accessible switch for lights, turn signals and horn on your right and gear switches on your left. Toggle pre-configured turbo mode to tease out an extra 10% of performance when you need that extra bit of torque and top speed.
How it Compares
The KLIMA is the most compact scooter from the NAMI portfolio with excellent torque and handling.
ALTERNATIVES:
- next level up in terms of ride quality with larger 11" tires. larger build, and 72V system with 40A controllers: BURN E 2
- Best in class performance (72V system, more powerful drive train (50A controllers, 1500W motors), huge 40Ah battery: BURN E 2 MAX



Battery
60V 25Ah (1500 Wh)
Drive
front & rear wheel drive
Suspension
adjustable front & rear hydraulic coil-shock suspension
Charging Time
~6h with the included 5A fast charger
Physical Brakes
dual disc (LOGAN 2-piston full-hydraulic)
Electric Braking
adjustable regen. braking
Lights
ultra bright front, and rear LED + turn signals
Display
feature-loaded color smart display
Folded
52 x 27.5 x 24 inches"
Unfolded
52 x 27.5 x 54 inches
Since range of electric scooters varies greatly by riding style and rider weight, here are some examples for this particular model so you can judge:
50/60 miles
Optimal Conditions (165 lb rider, 20 mph constant speed)
This is the range you can get under optimal conditions. 50 miles for the 25Ah version, 60 miles for the 30Ah version.
Usually manufacturers quote this type of range following . We expect real world range to be lower since you will not go at constant slow speed.
40/50 miles
Real World (165 lb rider, normal riding)
This range has been tested by NAMI mastermind Michael Sha under real world conditions. 28 mph average(!) speed.
RECOMMENDED GEAR
Accessories
Customer Reviews