12 MONTH WARRANTY

All our scooters come with 12 months warranty on all major components for full peace of mind. After your warranty expires, you can make use of our Lifetime Service Program: Parts and Labor are 50% Off for fluidfreeride customers for the lifetime of your scooter.

15 DAY RETURNS

Unpacked your scooter and noticed it is not the right fit? No worries, we will return your unused scooter in original packaging for 15 days after delivery. We will issue you a label and you are only responsible for for return shipping fees.

FREE & FAST SHIPPING

We ship in stock scooters same or next business day. Depending on your location, your scooter will arrive within 2 (West Coast) to 5 (East Coast) business days.

US-BASED SUPPORT

Need a part? Have a question? Our team of experts is there to help. With broad spare parts availability, three self-operated service centers in Brooklyn, Miami, and San Francisco plus many service providers in other states, you can count on help when you need it.
Sale price

$1,799

Regular price

$2,599
Features
Stylish and Powerful, With a Huge Power Reserve for Urban and Off-Road Riding
POWERFUL PERFORMANCE

The silent high-performance motor delivers smooth acceleration and an incredible top speed of 40 mph.

LONG RANGE

With a realistic range of 36 miles the high efficiency Li-ion battery is designed for long distances. Defensive riding at constant speed will get 50 miles.

FOR ON AND OFF ROAD

With pneumatic tires, a roomy deck, out of this world suspension, and serious power it is equipped for city commutes as well as off-road adventures.

POWERFUL BRAKES AND VISIBLE LIGHTING SYSTEM

Outfitted with front and rear full hydraulic disc brakes for superior stopping power in any condition. Front and rear LED lights ensure you will be seen when riding in the dark.

QUICK FOLDING AND PORTABLE

While certainly not lightweight with 77 lbs, the Oxo folds quickly and the stem locks so it can be carried in one hand.

BUILT TO HANDLE LARGER RIDERS

With its powerful motors and strong built, the OXO can handle adults up to 265 lbs.
fluidfreeride rating
portability

higher scores mean higher portability: lower weight & smaller footprint when folded

Heavy & Bulky

Ultra Portable

Power

higher scores mean higher power: stronger acceleration & higher topspeed

Range

higher scores mean longer range: the amount of miles you can go on a full charge

RIDE QUALITY

higher scores mean better overall ride quality due to better suspension systems and larger tires (also better off-road capacity)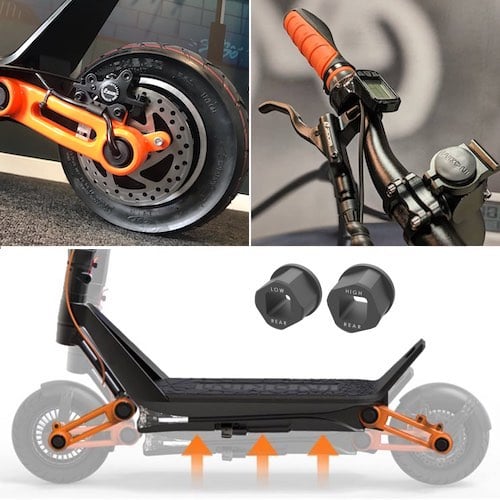 Innovative Technology
A Quality Ride Like No Other
Innovative single swing arm design for awesome looks and easy maintenance
Intuitive cockpit with easy to use thumb throttle
Adjustable suspension for different board heights to suit your riding style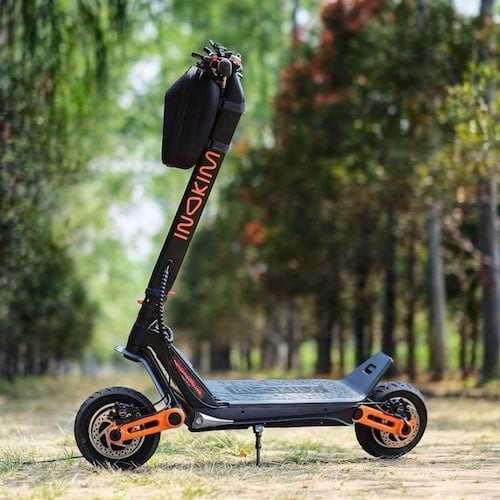 CRAFTED WITH CARE
Superior Build and Ride Quality
Everything from the grips to the advanced suspension to the easy to handle thumb throttle feels like it is meat to be, delivering a smooth and ride that inspires confidence, even at 40 mph. Custom designed parts are working in perfect harmony, making the scooter ultra silent. You can literally feel the attention to detail and quality of the design. The ride quality is superior to everything else we have seen. Stiff at higher speeds and subtle enough to soak up bumps in the road.
How it Compares
The OXO is a beautifully designed high performance scooter with very intuitive handling
ALTERNATIVES:
- lighter weight and higher portability, higher acceleration, more bouncy suspension: MANTIS V2
- better lighting package, faster acceleration, more aggressive looks: PHANTOM
- next level adjustable suspension, more power and torque: NAMI KLIMA
Power
2 x 1000W base / 2600W peak
Battery
LG 60V 26Ah (1560 Wh)
Tires
10" x 2.5" air tires
Drive
front & rear wheel drive
Suspension
adjustable OSAP polymer front & rear
Charging Time
12-14h with incl. charger, 5-7h with opt. fast charger
Physical Brakes
dual disc (full-hydraulic)
Lights
front and rear LED
Throttle
thumb throttle + palm ring
Since range of electric scooters varies greatly by riding style and rider weight, here are some examples for this particular model so you can judge:
52 miles
Optimal Conditions (165 lb rider, 15 mph constant speed)
This is the range you can get under optimal conditions. Usually manufacturers quote this type of range. We expect real world range to be lower since you will not go at constant slow speed.
36 miles
Real World (165 lb rider, aggressive riding)
This range has been tested by electric-scooter.guide under real world conditions. Quick acceleration, multiple stops, some inclines. All ESG range tests are done by the same rider and on the same circuit.
RECOMMENDED GEAR
Accessories
Customer Reviews