🚚 FREE SHIPPING NEXT BUSINESS DAY
The OXO Electric Scooter is the bigger brother of the Inokim OX, featuring the same superior ride quality, intuitive handling and awesome design, with extra power and range.

Two silent dual 1000W brushless motors deliver instant power to the road and enable a top speed of 40mph. The extra large 60V 26Ah LG Li-ion battery allows the OXO to travel up to 52 miles*. With pneumatic tires and adjustable suspension it is perfectly equipped for longer inner city commutes as well as urban and off-road adventures.
The roomy deck enables a comfortable stance and the smartly designed thumb throttle lets you control your scooter over longer distances without fatigue. Folds in 5 seconds for transport or to carry in one hand. Extra power and speed comes with a higher weight of 74 lb.
The OXO is outfitted with front and rear full hydraulic disc brakes for superior stopping power in any condition. Front and rear LED lights ensure you will be seen when riding in the dark. We recommend an additional headlight for better visibility during extended night rides.
A true all round talent with build quality that is second to none. INOKIM takes pride in attention to details and ongoing maintainability so your scooter will last you for many years. fluidfreeride backs this promise with a 12 month warranty.
Charge anywhere with the included charger (12-14h) or get the optional 5A fast charger to reduce charging time by 60-70%.
*optimal conditions, 170 lb rider, 15mph constant speed
FREE SHIPPING within continental US.
40 mph
52 miles
2x1000W
60V 26Ah
74 lbs
Best in class ride quality with adjustable suspension
Most intuitive and easy to use dual motor scooter
Free Shipping
Scooters Ship Free within the Continental US
12m warranty
Plus Lifetime Service (Parts 50% Off for Your Scooter)
us-based
Friendly Service and Support
pay as you ride
Select Affirm for affordable monthly payments
SUSTAINABLE
You Go Green and We Plant Trees
15 Day Returns
Return Your Unused Scooter Within 15 days of Delivery
Sale price

$1,999.00

Regular price

$2,799.00
Features
Stylish and Powerful, With a Huge Power Reserve for Urban and Off-Road Riding
POWERFUL PERFORMANCE

The silent high-performance motor delivers smooth acceleration and an incredible top speed of 40 mph.

LONG RANGE

With a realistic range of 36 miles the high efficiency Li-ion battery is designed for long distances. Defensive riding at constant speed will get 50 miles.

FOR ON AND OFF ROAD

With pneumatic tires, a roomy deck, out of this world suspension, and serious power it is equipped for city commutes as well as off-road adventures.

POWERFUL BRAKES AND VISIBLE LIGHTING SYSTEM

Outfitted with front and rear full hydraulic disc brakes for superior stopping power in any condition. Front and rear LED lights ensure you will be seen when riding in the dark.

QUICK FOLDING AND PORTABLE

While certainly not lightweight with 77 lbs, the Oxo folds quickly and the stem locks so it can be carried in one hand.

BUILT TO HANDLE LARGER RIDERS

With its powerful motors and strong built, the OXO can handle adults up to 265 lbs.
fluidfreeride rating
portability

higher scores mean higher portability: lower weight & smaller footprint when folded

Heavy & Bulky

Ultra Portable

Power

higher scores mean higher power: stronger acceleration & higher topspeed

Range

higher scores mean longer range: the amount of miles you can go on a full charge

RIDE QUALITY

higher scores mean better overall ride quality due to better suspension systems and larger tires (also better off-road capacity)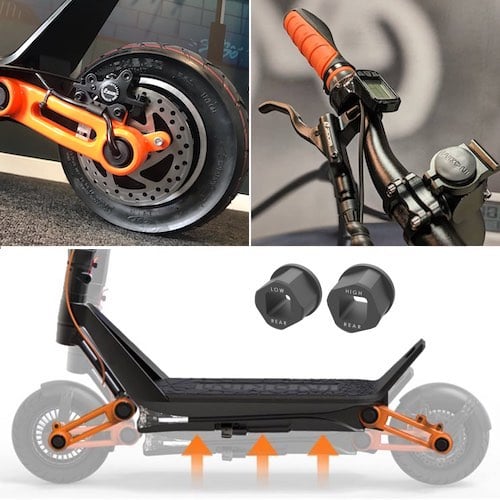 Innovative Technology
A Quality Ride Like No Other
Innovative single swing arm design for awesome looks and easy maintenance
Intuitive cockpit with easy to use thumb throttle
Adjustable suspension for different board heights to suit your riding style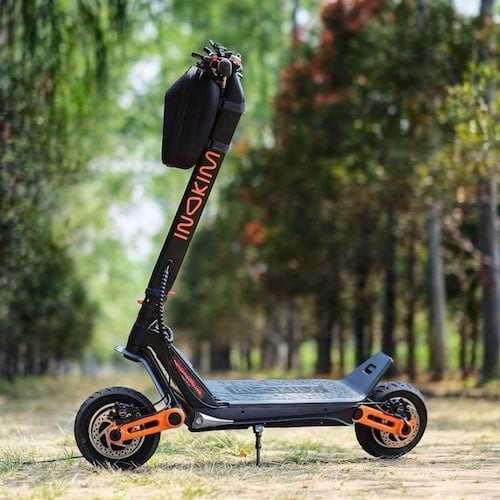 CRAFTED WITH CARE
Superior Build and Ride Quality
Everything from the grips to the advanced suspension to the easy to handle thumb throttle feels like it is meat to be, delivering a smooth and ride that inspires confidence, even at 40 mph. Custom designed parts are working in perfect harmony, making the scooter ultra silent. You can literally feel the attention to detail and quality of the design. The ride quality is superior to everything else we have seen. Stiff at higher speeds and subtle enough to soak up bumps in the road.
How it Compares
The OXO is a beautifully designed high performance scooter with very intuitive handling
ALTERNATIVES:
- lighter weight and higher portability, higher acceleration, more bouncy suspension: MANTIS PRO
- better lighting package, faster acceleration, more aggressive looks: PHANTOM
- same chassis and handling just in less powerful single motor execution with std brakes: OX
Power
2 x 1000W base / 2600W peak
Battery
LG 60V 26Ah (1560 Wh)
Tires
10" x 2.5" air tires
Drive
front & rear wheel drive
Suspension
adjustable OSAP polymer front & rear
Charging Time
12-14h with incl. charger, 5-7h with opt. fast charger
Physical Brakes
dual disc (full-hydraulic)
Lights
front and rear LED
Throttle
thumb throttle + palm ring
Since range of electric scooters varies greatly by riding style and rider weight, here are some examples for this particular model so you can judge:
52 miles
Optimal Conditions (165 lb rider, 15 mph constant speed)
This is the range you can get under optimal conditions. Usually manufacturers quote this type of range. We expect real world range to be lower since you will not go at constant slow speed.
36 miles
Real World (165 lb rider, aggressive riding)
This range has been tested by electric-scooter.guide under real world conditions. Quick acceleration, multiple stops, some inclines. All ESG range tests are done by the same rider and on the same circuit.
RECOMMENDED GEAR
Accessories
Customer Reviews
Oxo
Haven't rode it yet , too rainy. Was in pristine shape when it arrived.
Super stable
Just got this this week and it feels really stable at speed. Like it so far!
Great scooter
Everything I was looking for when I upgraded from my Segway Es4. Great suspension, brakes, fast, sturdy, well-built and fun to ride.
Comfort and Power
The Inokim OXO is easily the most solid, stable, and comfortable scooter I've ever had the pleasure of riding. It's got a massive deck that let's you really stretch your feet out, the battery seems to just go forever, and it has loads of power. It's not the kind on uncontrollable neck-snapping power that other scooters deliver, it has a very controllable and predictable throttle curve that gives you total confidence and control. The real stand-out feature to me is the suspension. I don't know what magic Inokim has worked to achieve this, but it's firm enough to keep the scooter planted in turns and stable at high speeds, but it's plush enough to make the ride VERY comfortable and soak up any bumps or cracks in the road you encounter. This scooter is truly a one-of-a-kind that stands out from the rest with high-end features and a build quality that can't be beat. It's virtually SILENT going down the road, even when the quality of the road is poor. No creaks, squeaks, groans, or any other noises can be heard from the scooter, it's unbelievable.
I'd also like to shine a light on FluidFreeRide for having exceptional customer service. I originally ordered an Inokim Quick 4 Super and had a couple of issues with that scooter (I think that's also a great scooter, but I may have gotten a dud), they didn't hesitate to respond to any of my concerns in a timely manner and offered right away to replace the scooter. I decided that I'd rather upgrade to the OXO which I had already ridden and knew I liked, they were happy to take back the Quick 4 and ship out an OXO. I paid the difference and sent them proof if shipping, they shipped out the new scooter the next business day, long before they even received the other one back. Seriously, this is a business that treats their customers right, I'll definitely be purchasing from them again and wouldn't hesitate to recommend them to others.
All-in-all, I'm extremely satisfied with the OXO and FluidFreeRide. I've already upgraded the grips and handlebars to a wider set and added a storage bag, I'm looking forward to putting in many miles (and smiles) on my scooter.
Great customer service and the OXO is a beast.
Think twice before purchasing your scooter from anyone else. Fluidfreeride backs up what they sell with strong customer service and prompt responses. The primary reason I purchased my scooter from them is their reputation for client care, and they certainly shined for me. I had a couple of issues up front and they moved quickly to get it resolved. I was initially sold on Fluidfreeride when I watched an interview with the owner online. He was straightforward without a hard-sell approach and I believe is very sincere. As for the OXO, what a great scooter! It's crazy powerful and has a better acceleration curve than some other scooters which might slide right out from under you if you are not careful. This thing devours steep hills and the brakes are top-notch and the suspension.....simply best of the best. If you truly care about a comfortable ride, quality control and solid engineering, then think twice about purchasing another high-performance scooter from anyone other than Inokim and Fluidfreeride.