fluid Mosquito Rental Membership
fluid
Sale price

$70

Regular price
Features
Most Powerful Ultra-Portable in the Market
MAX VERSATILITY

Fast folding to a small footprint and weighing only 29 lbs, the Mosquito is perfect for taking on buses and trains, keeping it at your place of work, putting it in your trunk, or even carrying it up a few flights of stairs.

SPEED AND RANGE

The 500W motor with 700W peak output accelerates swiftly to over 25mph and makes this scooter a ton of fun to ride. The Lithium-ion 48V 9.6Ah battery delivers impressive range of over 20 miles and recharges in just 5 hours.

ADVANCED BRAKING SYSTEM

Use the electric brake "throttle" for smooth braking on the front motor, it will recharge your battery on the go. Combine with the rear drum brake for better brake performance, or leisurely cruise along using the rear fender brake with your foot.

READY FOR TRAFFIC

The loud integrated electric horn clears the road ahead of you. The bright handlebar height LEDs are sufficient to light up the road ahead of you. The rear LED and the lateral reflectors ensure you will be seen at night.

RIDE QUALITY

The dual suspension system (rear under the deck and front at bottom of steering column) make for a smooth riding experience, provide for excellent road grip and superior handling.

RELIABILITY

With the solid tires you will never have a flat. The mechanical and electrical components are designed for this model and work in perfect harmony. They are modular and can be easily maintained at home in case something goes wrong. The IP x5 waterproof rating allows for riding in the rain.
fluidfreeride rating
portability

higher scores mean higher portability: lower weight & smaller footprint when folded

Heavy & Bulky

Ultra Portable

Power

higher scores mean higher power: stronger acceleration & higher topspeed

Range

higher scores mean longer range: the amount of miles you can go on a full charge

RIDE QUALITY

higher scores mean better overall ride quality due to better suspension systems and larger tires (also better off-road capacity)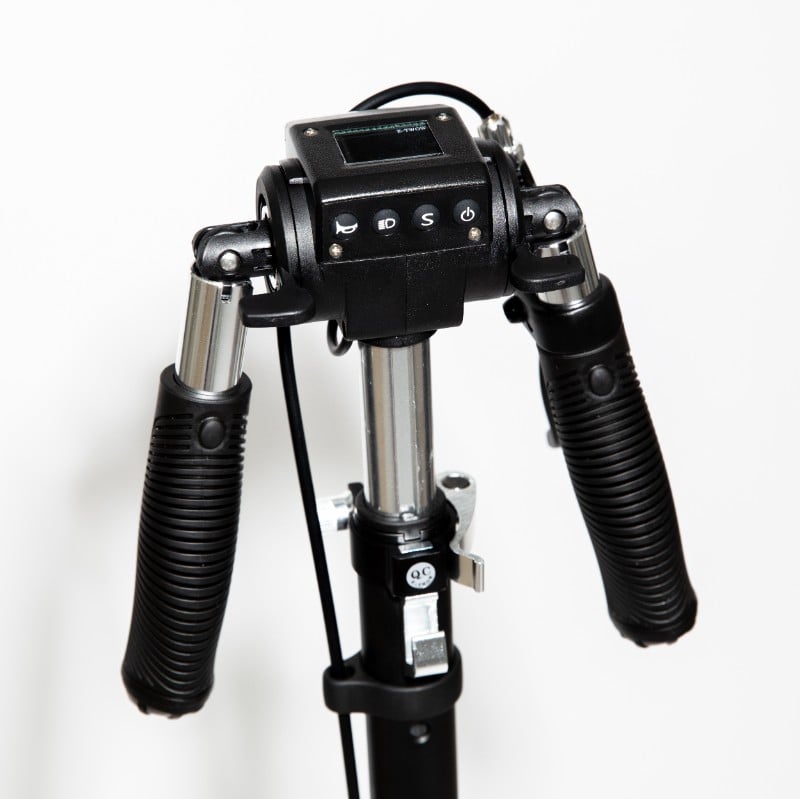 HIGHLIGHTS
Versatile & Stylish Commuter
Amazing specs: 25+mph top speed, 22 miles range, under 30 lbs in weight
Take it anywhere after folding it down in seconds. Easy carry with the included grip.
All black design with chrome accents and subtle branding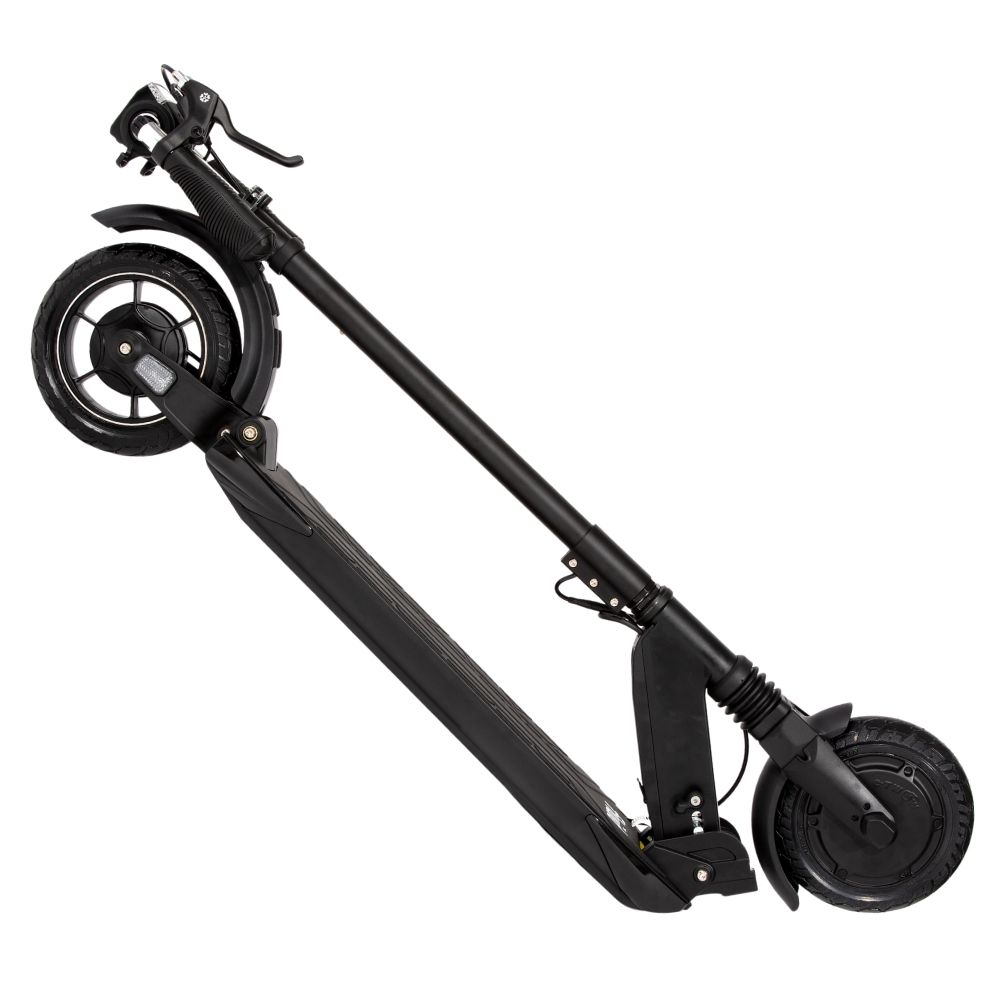 Use Case
Highly Portable & High Performance
The perfect solution for short to medium distances when portability and versatility are a MUST. Get to your destination faster and with more fun thanks to the high top speed. Complement your high powered scooter with a portable solution for shorter rides.
Explore the fluid Mosquito
Fast Folding & Maximum Portability
The Mosquito can be folded down in seconds for a minimal footprint. Super lightweight at just 29 lbs, it can be easily stowed away at your place of work or put into your trunk. The incuded carrying handle balances the scooter perfectly and makes for an effortless carry.
Smooth Ride Even On Rougher Roads
The integrated dual suspension soaks up bumps on the road and makes for a smooth riding experience.
Easy Controls & Bright Lights
The innovative electric brake will recharge your battery on the go. Use the drum brake lever for more stopping power. Bright handlebar height front light and bright rear tail-light that is always on when headlight is turned on. It doubles as a brake light and becomes brighter when braking.
Stylish All Black Design
All black design with subtle branding and chrome accents for a clean look so you can ride in style!
How it Compares
The Mosquito is the highest performance ultra-portable scooter on the market. It is fast, lightweight and comes with dual suspension for a smooth ride.
ALTERNATIVES:
- lower cost, similar weight, lower range & speed: CITYRIDER
- similar ride quality and power profile, higher weight: HORIZON
- equally portable, lower power and lower range: LIGHT2


Top Speed
25+ mph (up to 28mph in gear 5)
Power
500W base - 700W peak
Tires
8" x 2" solid tires
Suspension
dual spring based suspensions
Physical Brakes
rear drum & rear step on brake
Electric Braking
regen. brake "throttle"
Lights
bright front and rear LED
Display
color center display
Since range of electric scooters varies greatly by riding style and rider weight, here are some examples for this particular model so you can judge:
22 miles
Optimal Conditions (165 lb rider, 15 mph constant speed)
This is the range you can get under optimal conditions. Usually manufacturers quote this type of range. This range has been tested in gear 3 (up to 16mph).
19 miles
Real world (160 lb rider)
This range has been tested outdoors in gear 4 (up to 24 mph). Limited stopping and mostly constant speed up to 24 mph.
12 miles
Real World (240 lb rider, aggressive riding)
This range has been tested by one of our team members. Aggressive riding in traffic. Full throttle whenever possible. For a 240 lb rider, this range is excellent.
RECOMMENDED GEAR
Accessories
Customer Reviews