🚚 FREE SHIPPING NEXT BUSINESS DAY
Meet the brand new INOKIM Quick 4 - an all round commuter scooter with beautiful design that perfectly balances power, range, and portability.
The large 52V Samsung 16Ah rechargeable battery promises a range of up to 35 miles so you can ride without range anxiety. It recharges in 7-8 hours.
The powerful 600W rear motor delivers excellent bottom end torque and a top speed of 25 mph.
It folds down in seconds to a small footprint and is easily portable with just 47 lb. It comes with a handle in the rear of the board for quick lifts.
Overall highly versatile to take it on public transport or put into your trunk so it can accompany you wherever you go.
The large bright display in the center of the handle bar shows all important stats at a glance: speed, level of acceleration, battery charge / voltage, and mileage. It allows for three convenient speed settings ("gears"), and offers cruise control.
Ease of use, ride quality and safety are key advantages:
Thumb throttle with good travel and a smooth acceleration curve
Dual damper suspension in combination with the 10" air filled tires make for a very smooth ride on road and packed trails or grass.
Dual drum brakes for superior stopping power
Bright front and rear LEDs light up the road and ensure you will be seen in the dark.
Ultra wide board for a comfortable stance.
The INOKIM Quick 4 is the culmination of continuous improvement and relentless testing. First launched in 2011 under the brand MYWAY, the grandfather of the INOKIM QUICK 4 was the first truly portable electric scooter worldwide, winning lots of design and innovation awards. With the Quick 4, you will get a proven yet innovative all round electric scooter that convinces with stylish design, durability, and an extra punch of power.

FREE SHIPPING

25 mph

34 miles

600W

52V 16Ah

47 lbs
Performance combined with high portability
Innovative and durable scooter with stylish design
Free Shipping
Scooters Ship Free within the Continental US
12m warranty
Plus Lifetime Service (Parts 50% Off for Your Scooter)
us-based
Friendly Service and Support
pay as you ride
Select Affirm for affordable monthly payments
SUSTAINABLE
You Go Green and We Plant Trees
15 Day Returns
Return Your Unused Scooter Within 15 days of Delivery
Sale price

$1,399.00

Regular price

$1,699.00
Features
The INOKIM QUICK 4 is an all-round commuter scooter that perfectly balances power, range, and portability
QUICK AND EASY FOLDING

Folds easily and quickly into a compact footprint. Also, comes with a carrying handle.

DESIGNED FOR BEAUTY

The clean design features an ergonomic matte aluminum silver body accented by the orange suspension arms.

POWERFUL AND FAST

The powerful 600W rear motor delivers excellent bottom end torque and a top speed of 25 mph.

LONG RANGE

The efficient 16 Ah SAMSUNG LI-ion battery gets ranges of up to 34 miles.

QUALITY RIDE

The large tires and dual suspension help absorb the shock of riding over larger bumps to deliver a comfortable ride.

LARGE BRIGHT DISPLAY

An easy-to-read display is positioned exactly where you need it, to see all relevant details of your scooter's performance.
fluidfreeride rating
portability

higher scores mean higher portability: lower weight & smaller footprint when folded

Heavy & Bulky

Ultra Portable

Power

higher scores mean higher power: stronger acceleration & higher topspeed

Range

higher scores mean longer range: the amount of miles you can go on a full charge

RIDE QUALITY

higher scores mean better overall ride quality due to better suspension systems and larger tires (also better off-road capacity)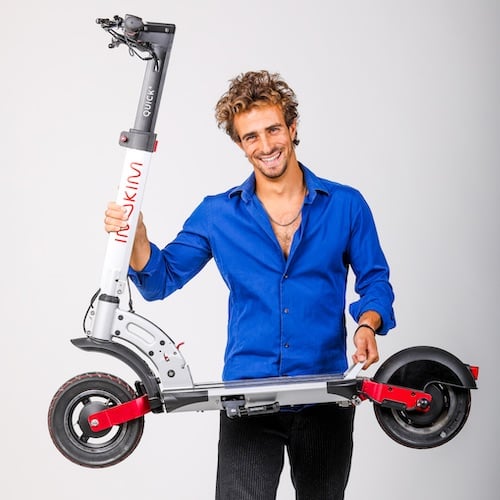 COMPACT CITY PERFORMANCE
Perfect Balance of Power, Range and Portability
excellent bottom end torque and 25 mph top speed
highly portable and lightweight with quick folding mechanism
despite low weight the battery is large enough for long rides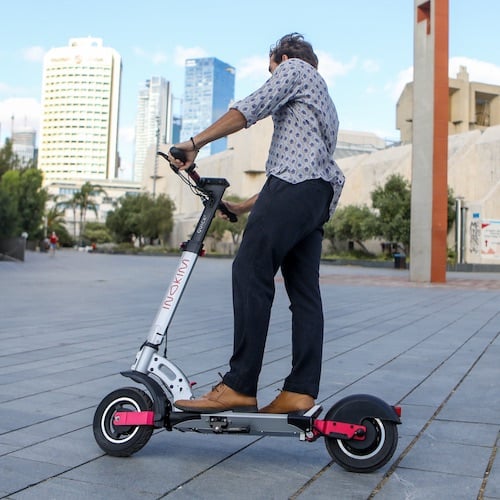 FOR DAILY USE
Easy Urban Commute
Intuitive to ride, the Quick 4 offers a comfortable ride through its dual damper suspension, 10" air filled tires and an ultra wide board for a comfortable stance. Bright front and rear LEDs and dual drum brakes for superior stopping power enable a safe ride day and night.
How it Compares
The Quick4 is a powerful commuter that is still the most portable in its class with only 47lb. Recommended for shorter riders up to 5-10.
ALTERNATIVES:
- great all-round commuter with more power but also more weight: EXPLORE
- better ride-quality and overall larger build: OX
- better ride quality and dual motor with double the power: MANTIS
Power
600W base / 900W peak
Battery
Samsung 52V 16Ah (768 Wh)
Tires
10" x 2.5" air tires
Suspension
front sring, rear polymer damper
Charging Time
8-10h with incl. charger
Physical Brakes
front & rear drum brake
Lights
front and rear LED
Display
sleek center display
Since range of electric scooters varies greatly by riding style and rider weight, here are some examples for this particular model so you can judge:
32 miles
Optimal Conditions (165 lb rider, 15 mph constant speed)
This is the range you can get under optimal conditions. Usually manufacturers quote this type of range. We expect real world range to be lower since you will not go at constant slow speed.
24 miles
Real World (165 lb rider, aggressive riding)
This range has been tested by electric-scooter.guide under real world conditions. Quick acceleration, multiple stops, some inclines. All ESG range tests are done by the same rider and on the same circuit.
RECOMMENDED GEAR
Accessories
Customer Reviews