🚚 FREE SHIPPING NEXT BUSINESS DAY
Meet the new Jubel electric scooter, the newest addition to the Mercane lineup. It is an excellent choice for your daily commute or fun trips around town. Its unique design is as eye catching as it is comfortable so you can ride in style all day long.
These design aspects include a wide rubber coated deck for sure-footed stability, comfortable handlebar grips for good support and control, and a large and bright display for all your important ride info. The unique extra large 12 inch air tires deliver a very smooth and highly stable ride that is immediately convincing. The large tires eliminate the need for extra suspension, thereby improving stability and eliminating weight to enable a still very lightweight electric scooter with only 48 lb.
The powerful 800W motor compliments the great design with the performance you want, whether cruising at 25 mph top speed or climbing hills. This performance does not come at the expense of range with the Jubel delivering up to 40 miles between charges thanks to its high quality 15Ah battery.
It also has plenty of stopping power with a reliable and easy-to-maintain front drum brake and a powerful rear disc brake.
The Jubel is not just all specs, it is also is a ride to tailor to your preferences with a brilliant white that is accented with black details that gives off a chic and modern appearance. There is also a Slate Grey with subtle white details which is classy and understated.
The well-integrated bright lighting is an excellent blend of form and function to be admired as your ride takes you into the night. It also utilizes a tried and trued easy hand dial folding system coupled with folding handlebars that makes transporting the Jubel or storing it a breeze.
FREE SHIPPING
25mph
40 miles
800W peak
48V 15Ah
48 lbs
Easy to ride with high stability and 12" wheels
Efficient and comfortable with long range
Free Shipping
Scooters Ship Free within the Continental US
12m warranty
Plus Lifetime Service (Parts 50% Off for Your Scooter)
us-based
Friendly Service and Support
pay as you ride
Select Affirm for affordable monthly payments
SUSTAINABLE
You Go Green and We Plant Trees
15 Day Returns
Return Your Unused Scooter Within 15 days of Delivery
Features
High Stability and Long Range for the Daily Commuter
SMOOTH ACCELERATION

Buttery smooth acceleration up to 25mph that is easy to manage and worry free for the daily rider and commuter.

LONG RANGE

The high quality 48V 15Ah battery offers an impressive range of up to 40 miles.

DEPENDABLE BRAKES

An easy-to-maintain and stong front drum brake coupled with a confident and powerful rear disc brake

EXCELLENT RIDE QUALITY

12" pneumatic tires, a stiff frame, and wide deck create a package that ensure a smooth and comfortable ride even at higher speeds and on rougher road conditions.

HIGHLY STABLE AT ALL SPEEDS

Whether you want to cruise around on the sidewalk or zip along at 25 mph the Jubel feels stable and safe to ride.

VERSATILE AND PORTABLE

With only 48 lb and easily foldable stem and handlebars, the Jubel is one of the most portable scooters in its class.
fluidfreeride rating
portability

higher scores mean higher portability: lower weight & smaller footprint when folded

Heavy & Bulky

Ultra Portable

Power

higher scores mean higher power: stronger acceleration & higher topspeed

Range

higher scores mean longer range: the amount of miles you can go on a full charge

RIDE QUALITY

higher scores mean better overall ride quality due to better suspension systems and larger tires (also better off-road capacity)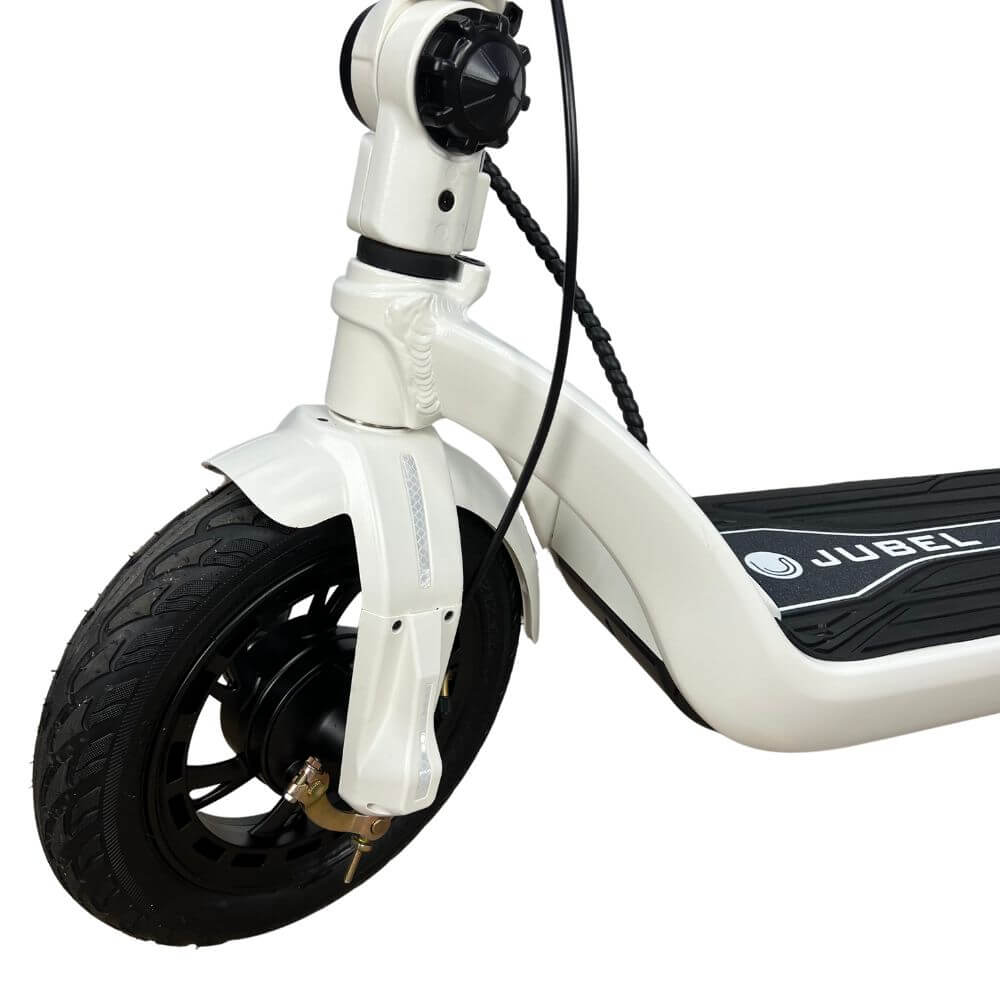 HIGHLIGHTS
A Truly Unique Ride
12" pneumatic tires make for a smooth and stable ride even over larger obstacles that other scooters would not handle
Folds down in seconds and is surprisingly lightweight at only 48 lb.
Smooth and manageable acceleration up to 25mph PLUS 40 miles of range so you can ride without anxiety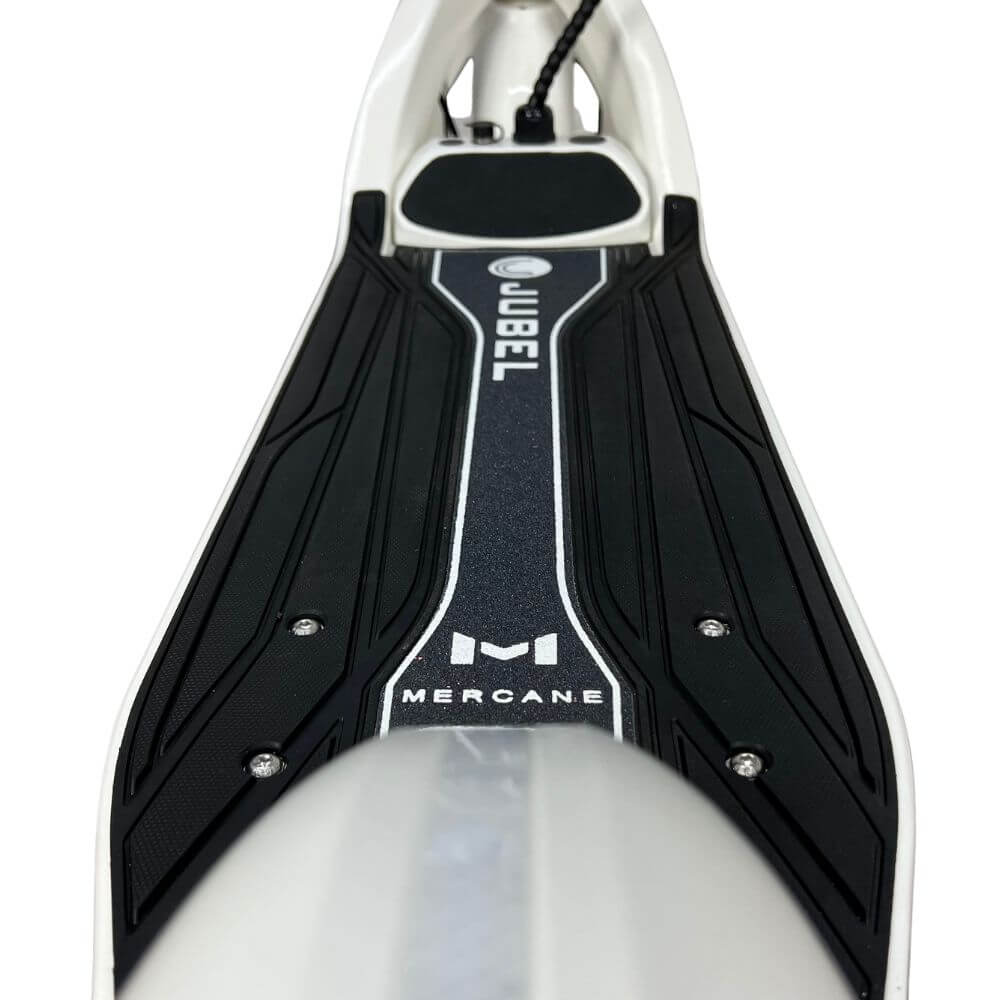 Who is it for?
Stability and Style for the Daily Rider
While other scooters can feel a little shaky with small wheels and wobbly suspension, the Jubel convinces with excellent riding stability thanks to its 12 inch wheels and the extra wide rubber coated deck. The riding experience is effortless and feels safe at all speeds, making the Jubel an excellent choice for beginners and riders who feel unsafe on other scooters.
How it Compares
The Jubel is quite unique with 12" wheels, decent top speed, long range and high portability.
ALTERNATIVES:
- much more portable and smaller footprint: MOSQUITO
- higher top speed, similar range, but less stable to ride: EXPLORE
- similarily excellent ride quality and ease of use but lower portability: OX
Power
500W base / 800W peak
Tires
12x2.125" pneumatic tires
Suspension
12" air tires deliver a smooth ride
Charging Time
8-10h with incl. charger
Physical Brakes
front drum brake + rear disc brake
Electric Braking
regen. braking
Lights
high mounted LED headlight and rear fender mounted LED taillight strip
Display
Mercane Dashboard
Since range of electric scooters varies greatly by riding style and rider weight, here are some examples for this particular model so you can judge:
40 miles
Optimal Conditions (165 lb rider, 18 mph constant speed)
This is the range you can get under optimal conditions. Usually manufacturers quote this type of range. We expect real world range to be lower since you will not go at constant slow speed.
35 miles
Real World (165 lb rider, normal riding)
This range has been by road tested by fluidfreeride on flat roads in Miami under real world conditions. Lot's of uniterrupted riding at moderate speeds.
RECOMMENDED GEAR
Accessories
Customer Reviews