The 5 Best Urban Electric Scooters For Your Commute

Do you commute to work? Ah... the question we have heard so many times; is an urban electric scooter the answer to upgrading your commute? And if you live in a densely populated urban area, as 54% of the world's population already do, (estimated to rise to ⅔ of all the people on the planet within the next 15-30 years)...your answer usually begins with a sigh… and..." yes"....followed by the explanation as to how you travel, and all the hassle that brings.

Be it sitting in traffic in your car, or waiting for the bus, which always seems to be accommodating more people than it was designed for, or the subway, which, when traveling at peak hours, is standing place only, if your city even has a subway that is. Of course, you can bike to work people say. True, but usually that means you arrive at work out of breath and sweating as if you've just been on the bike at the gym, which you basically have, and that is not a very attractive option for a lot of people.
SHOW ME THE BEST SCOOTERS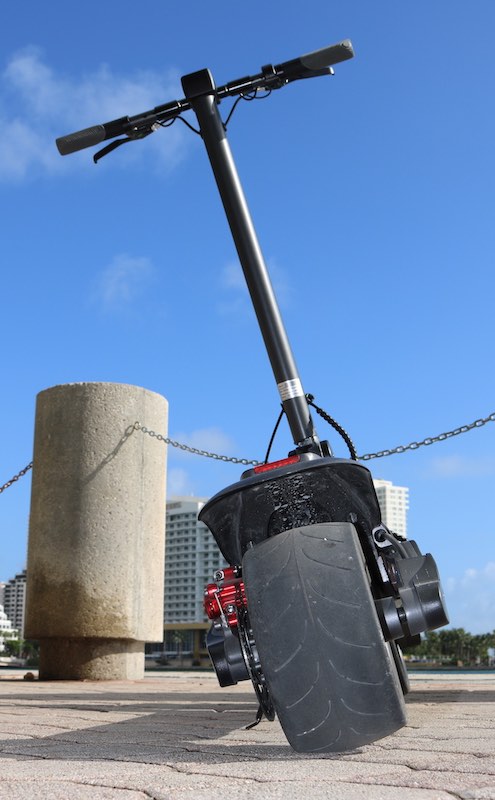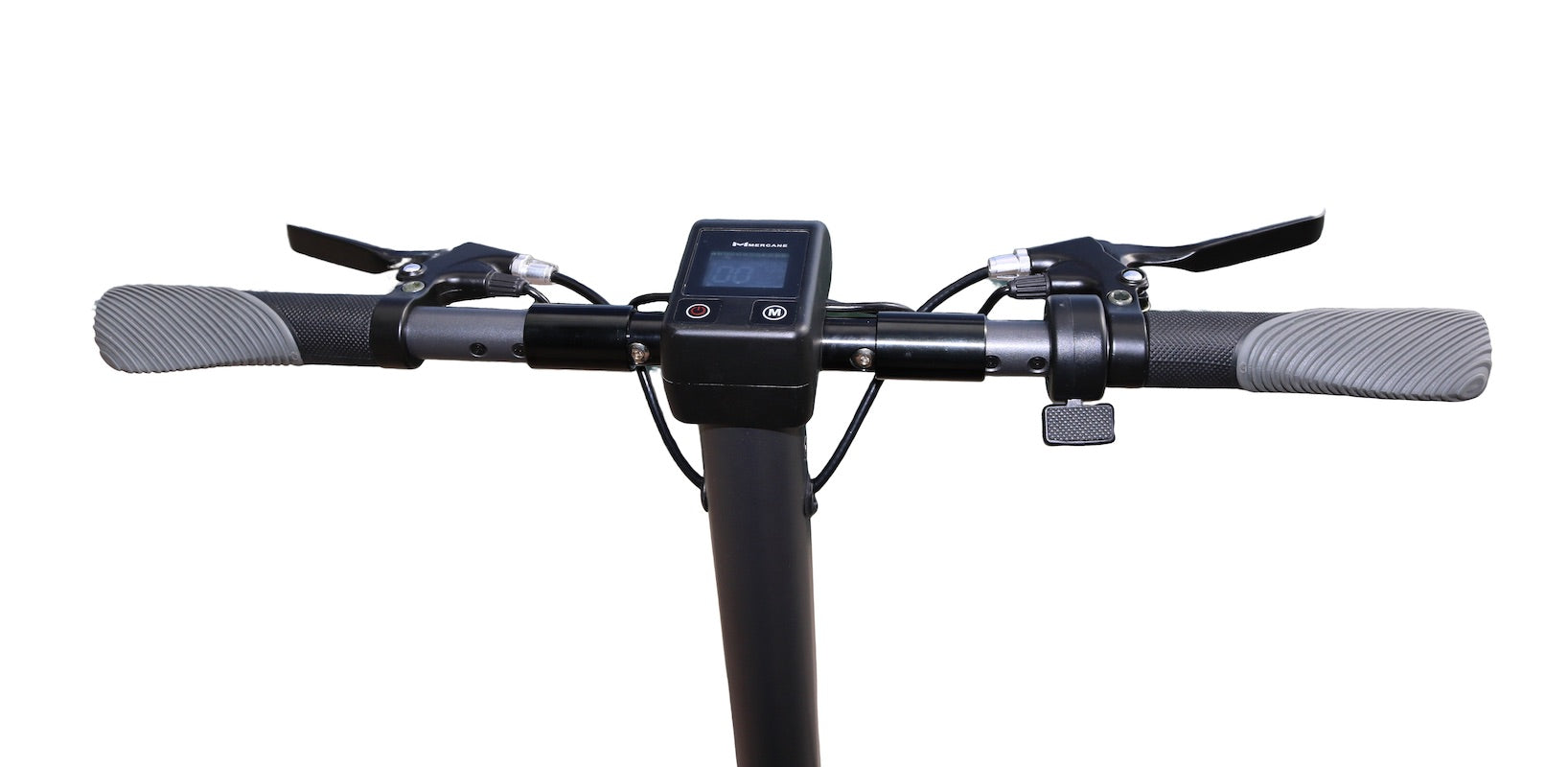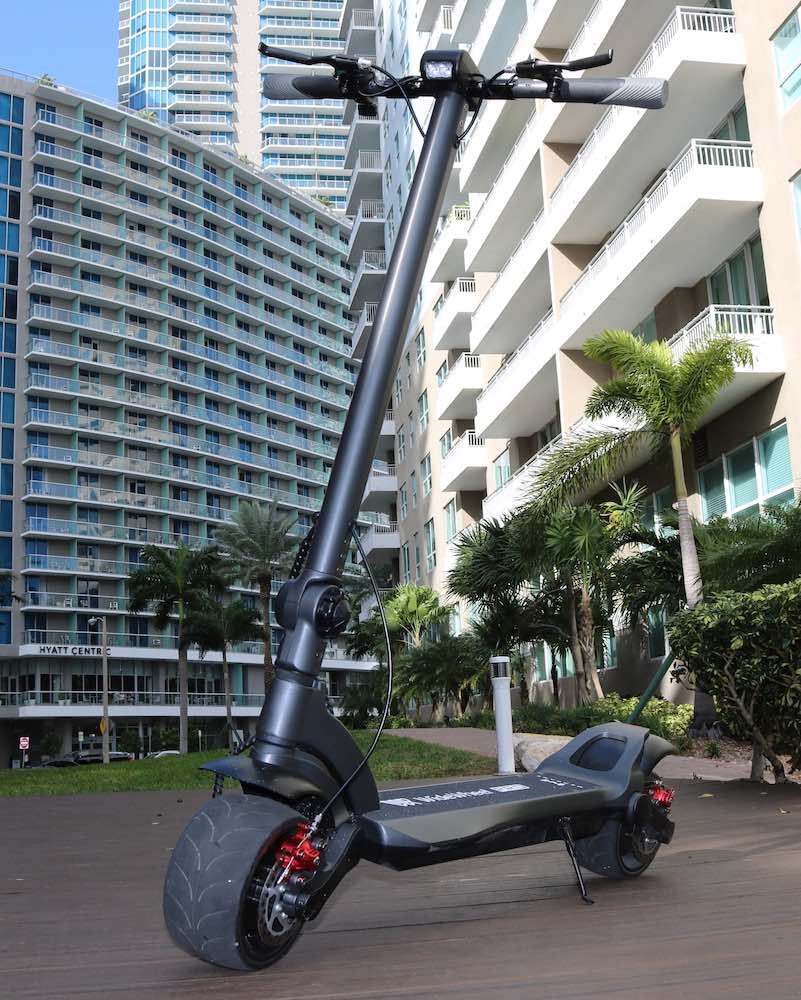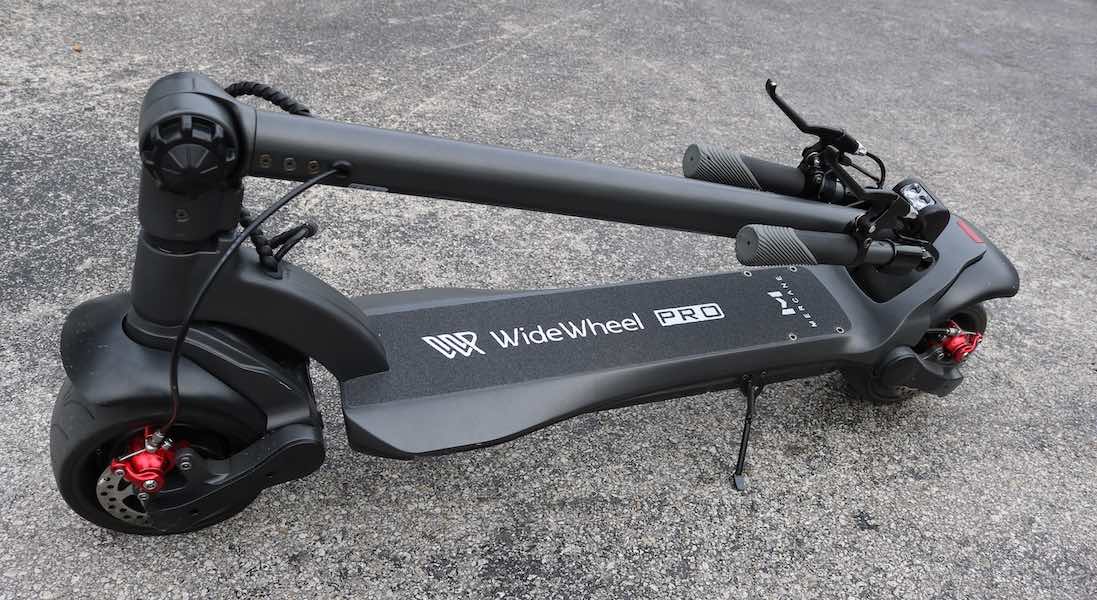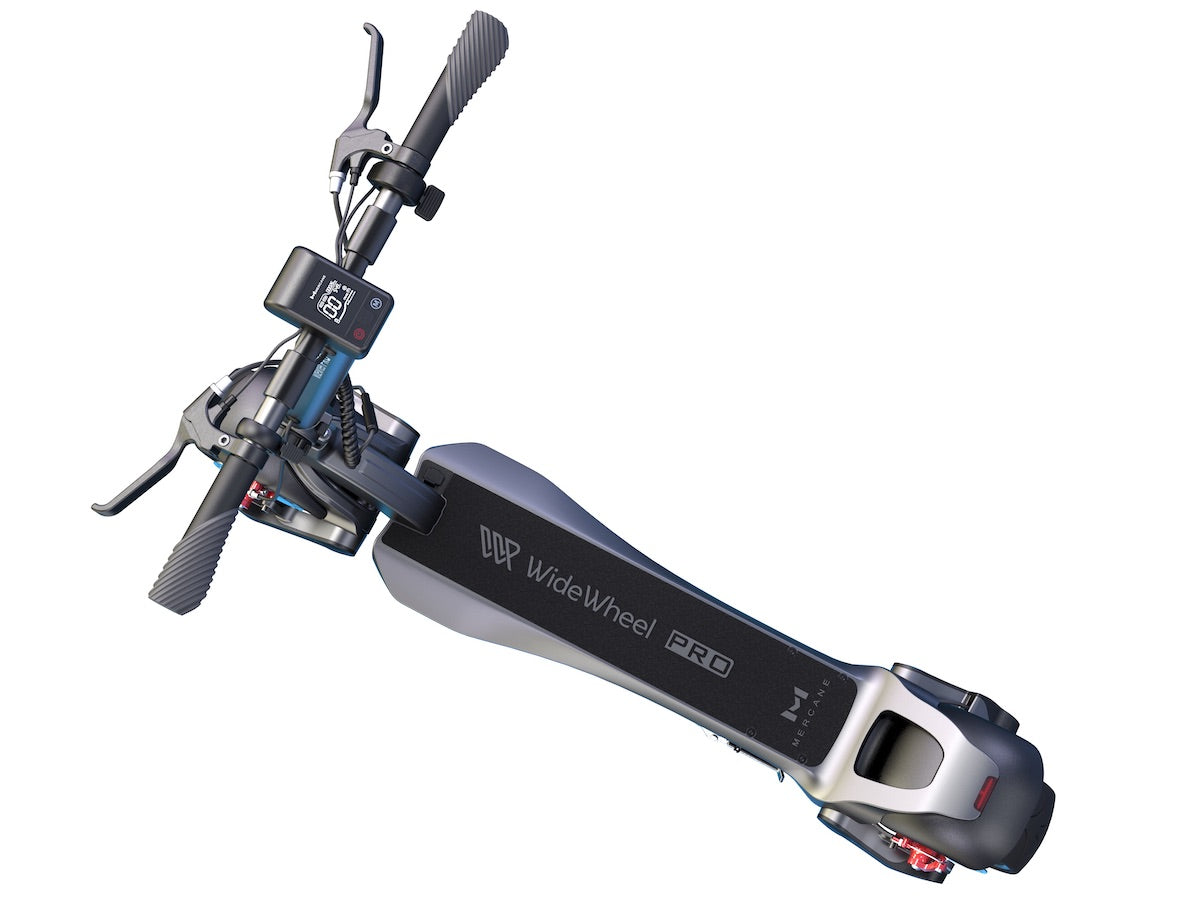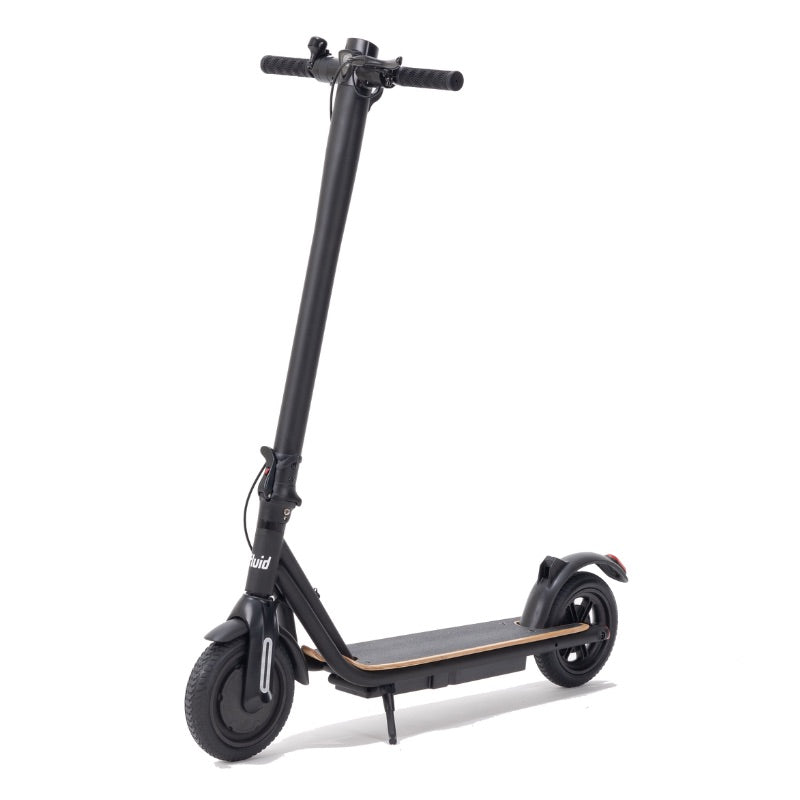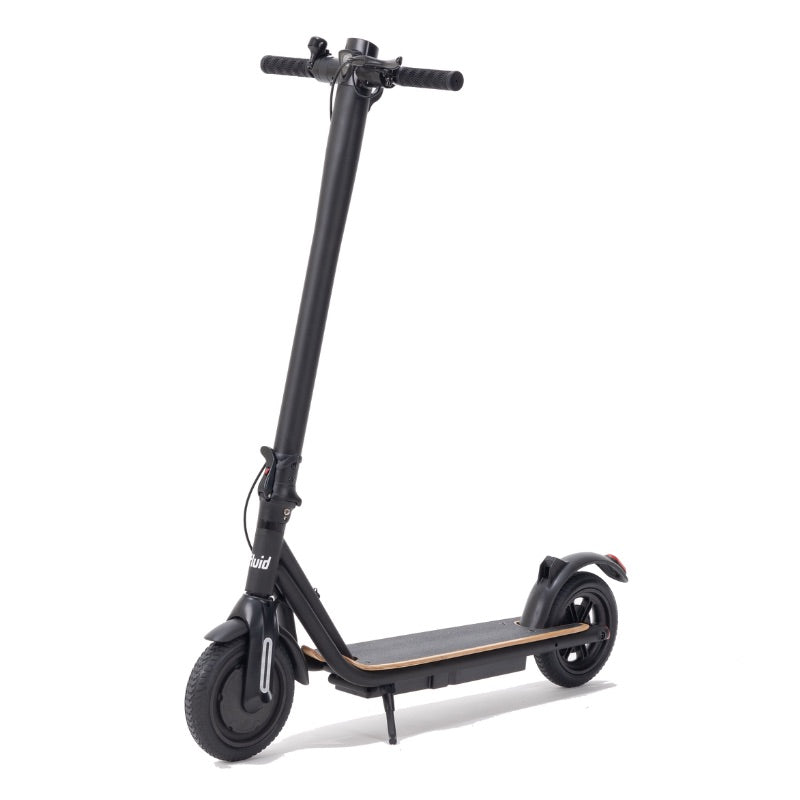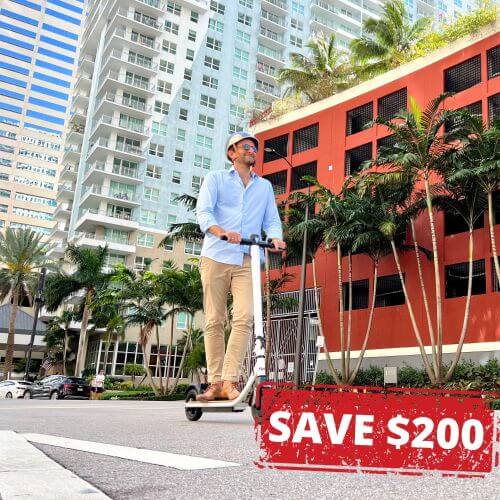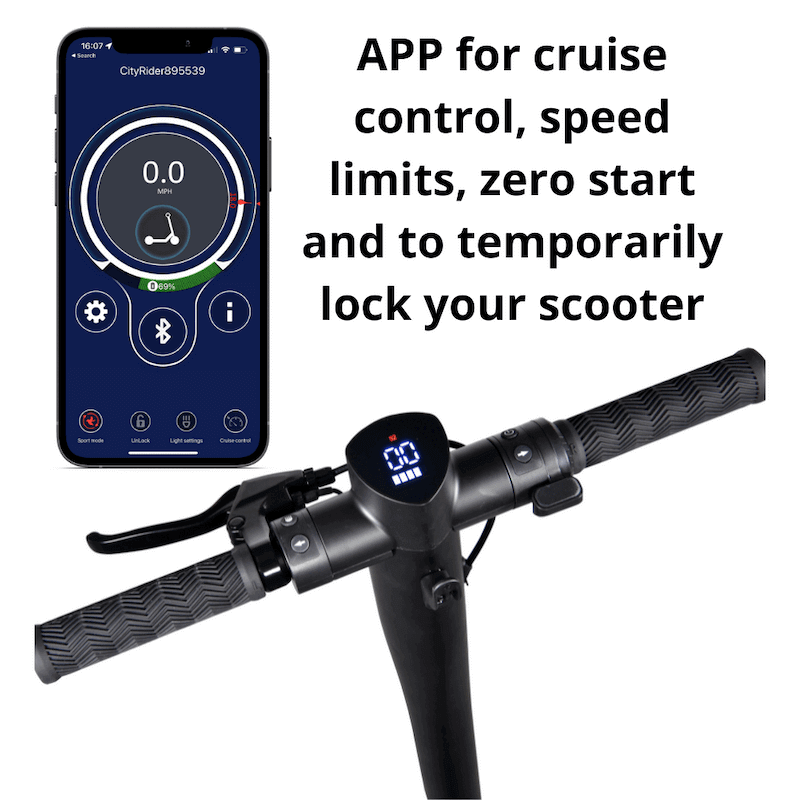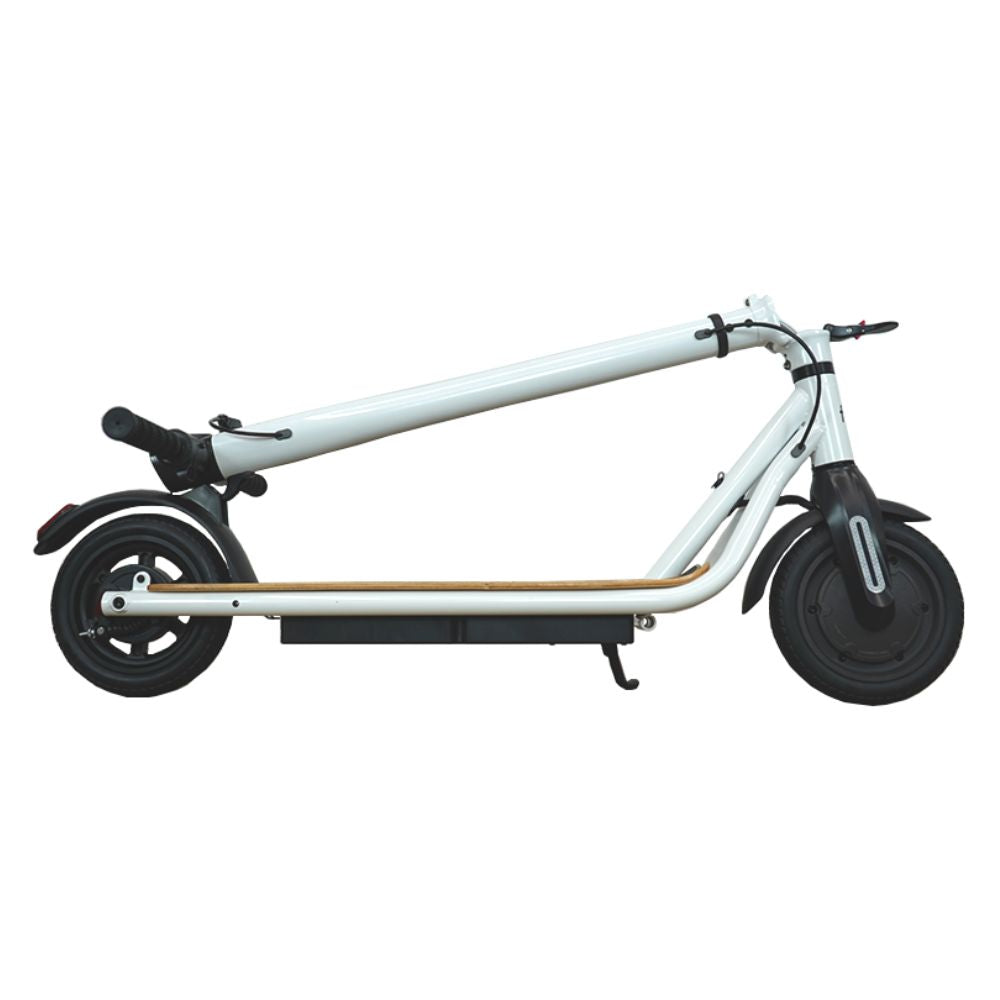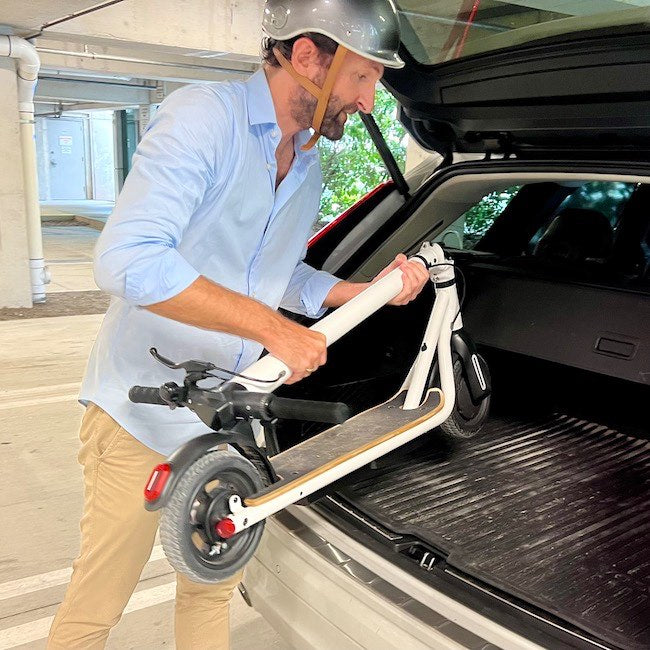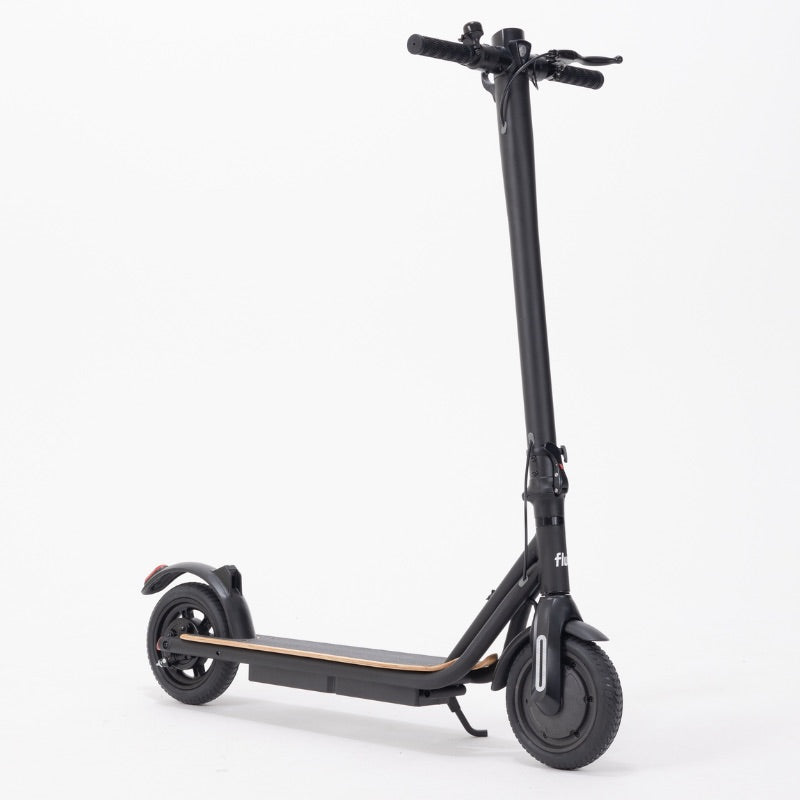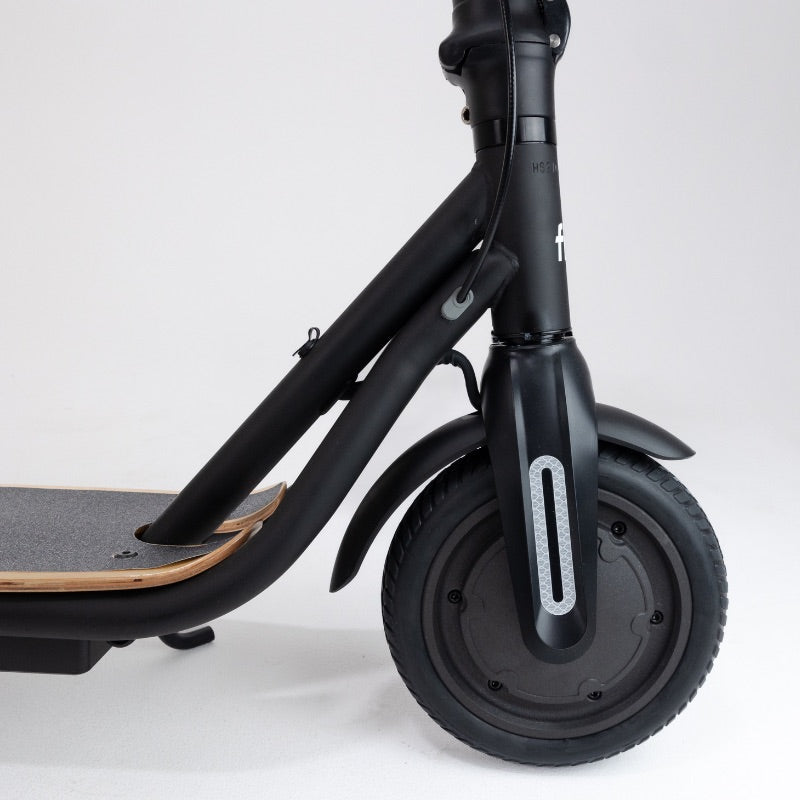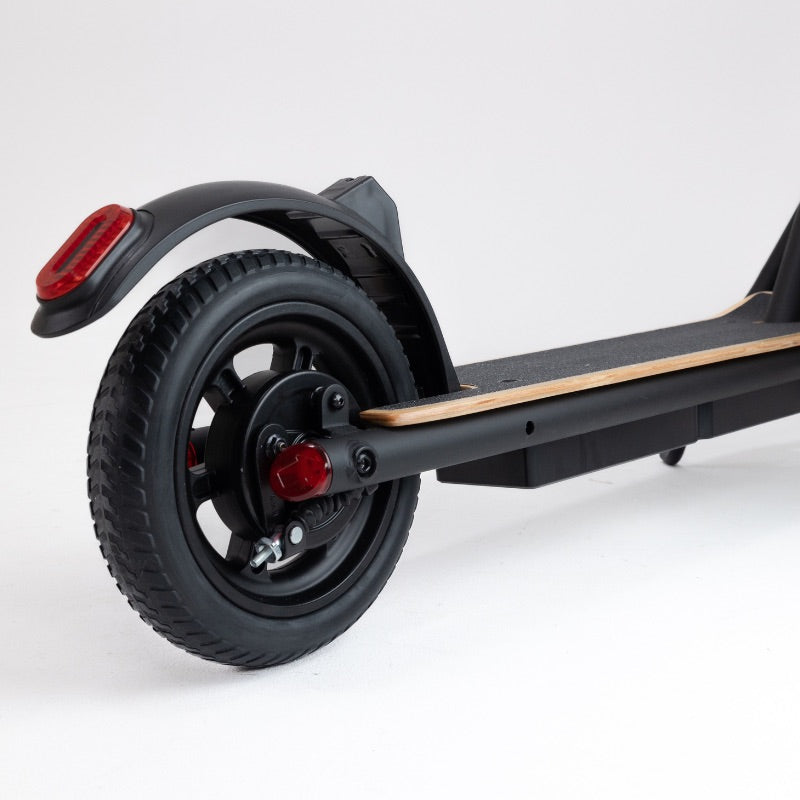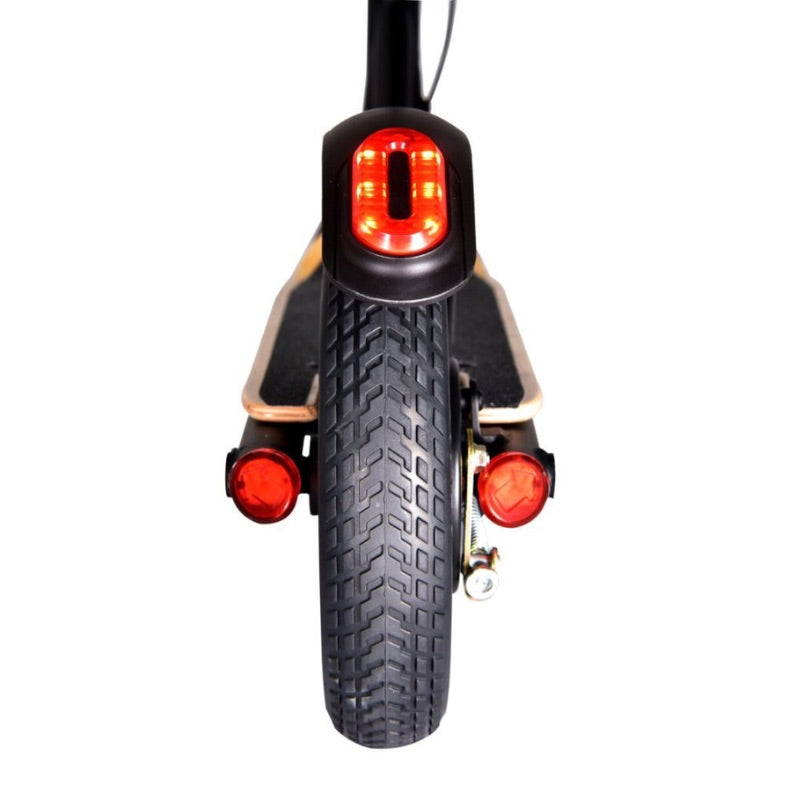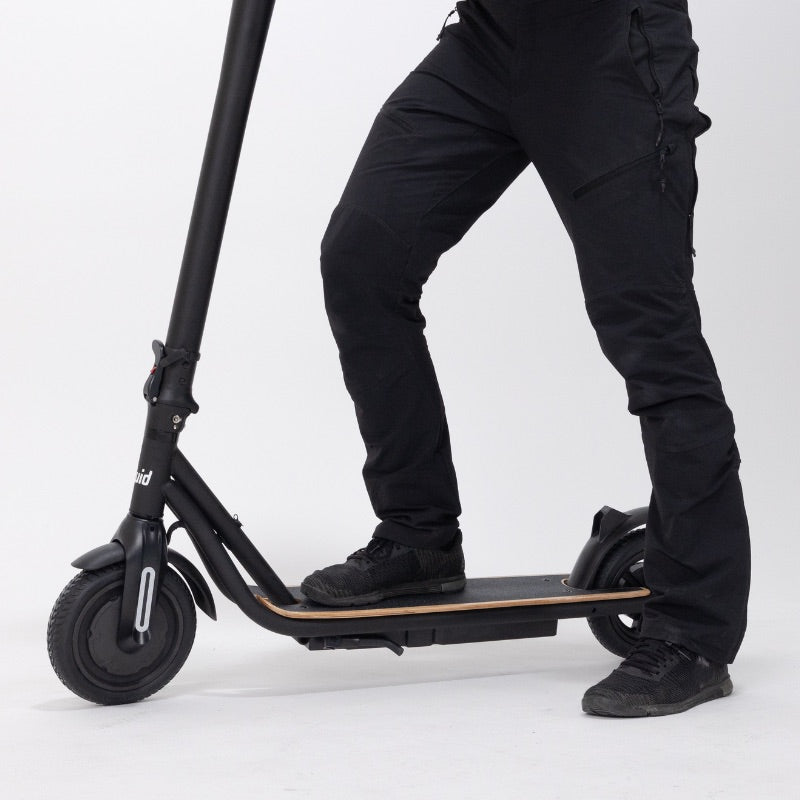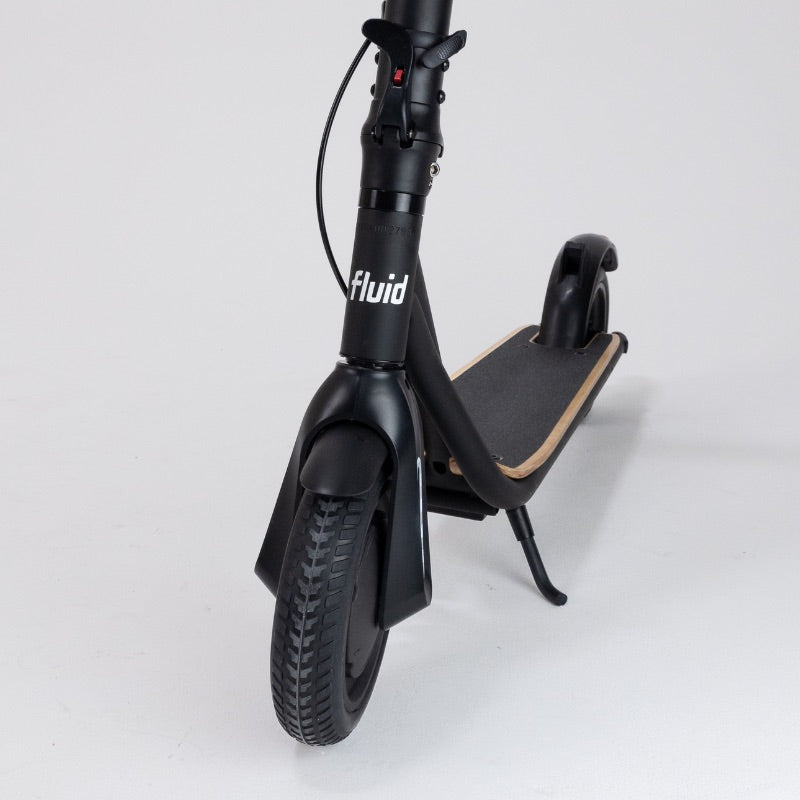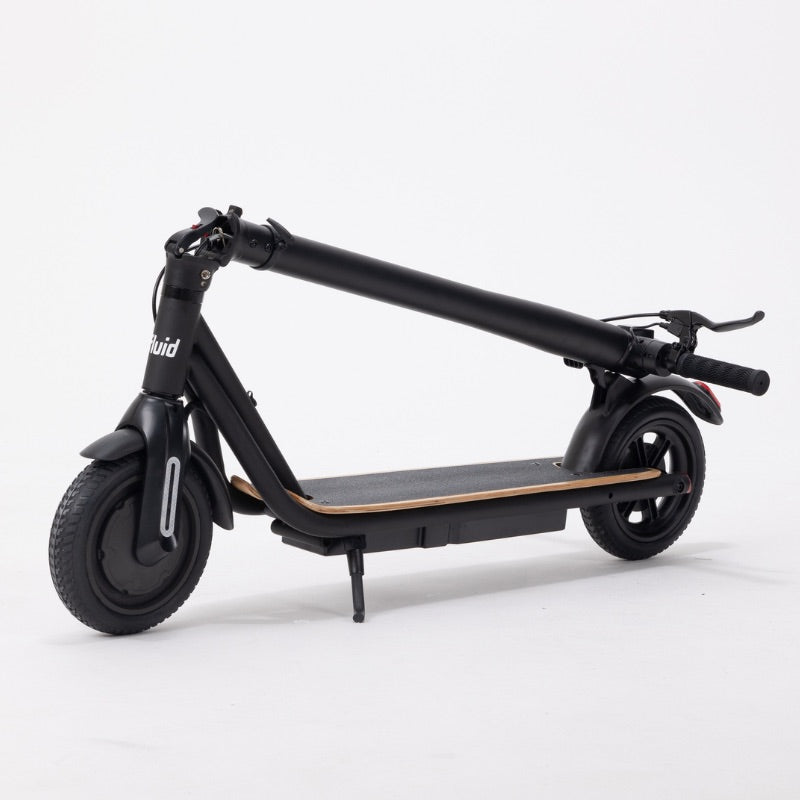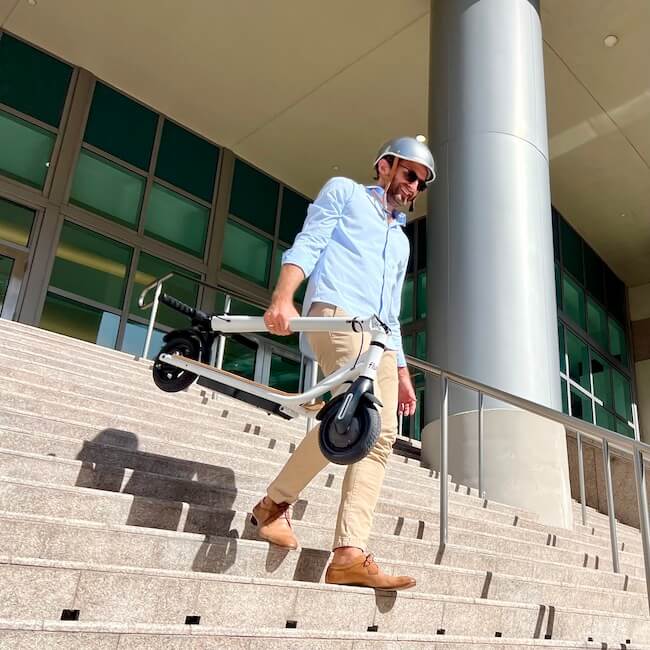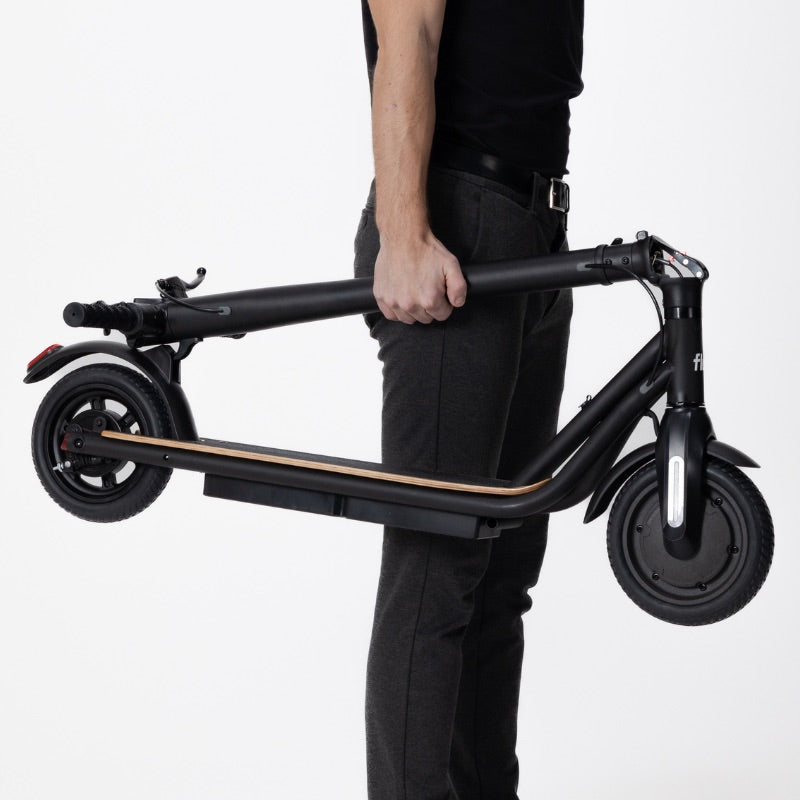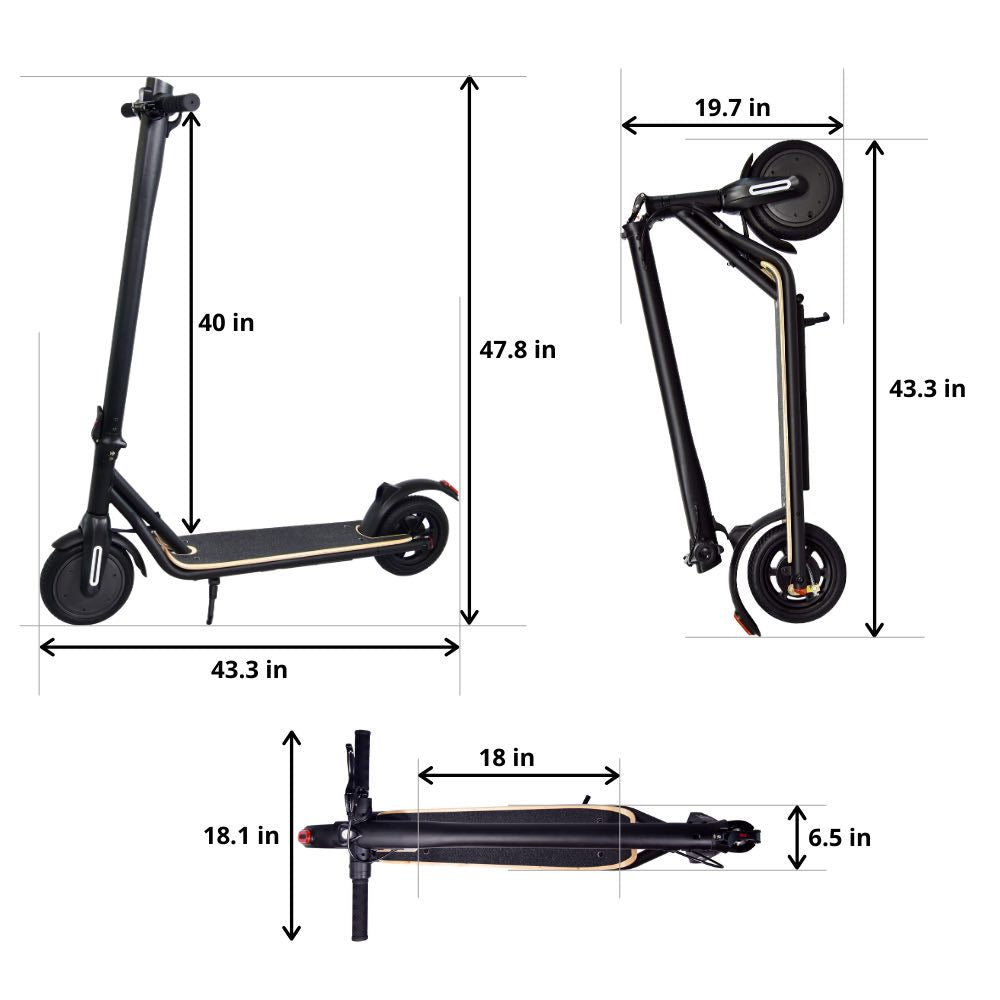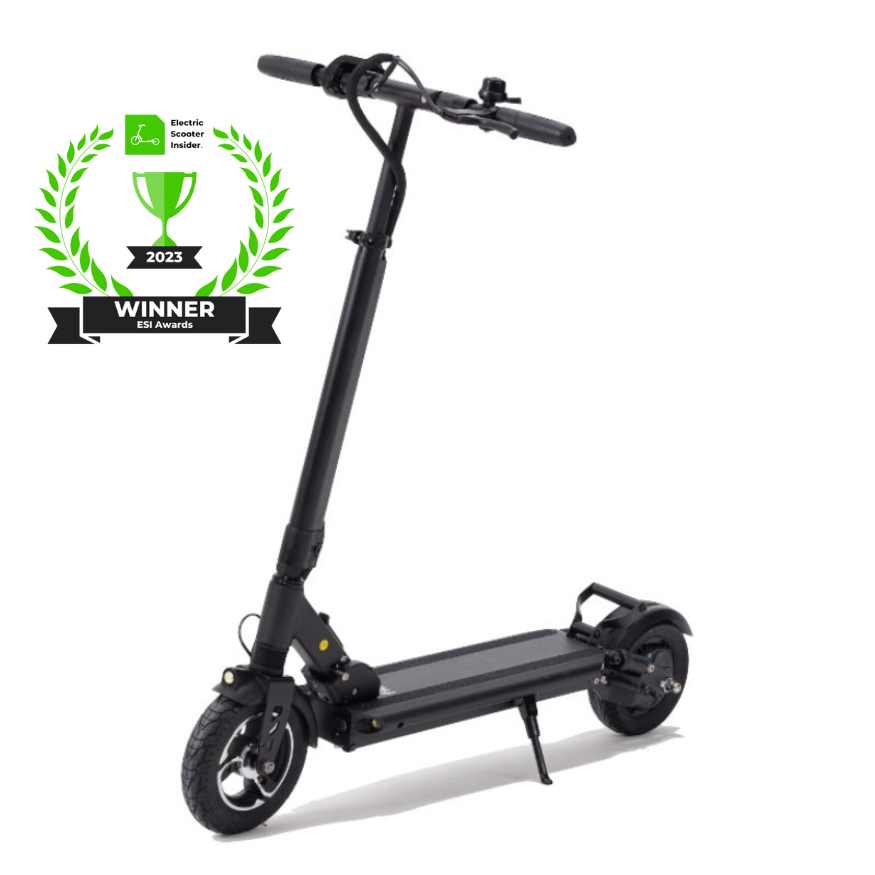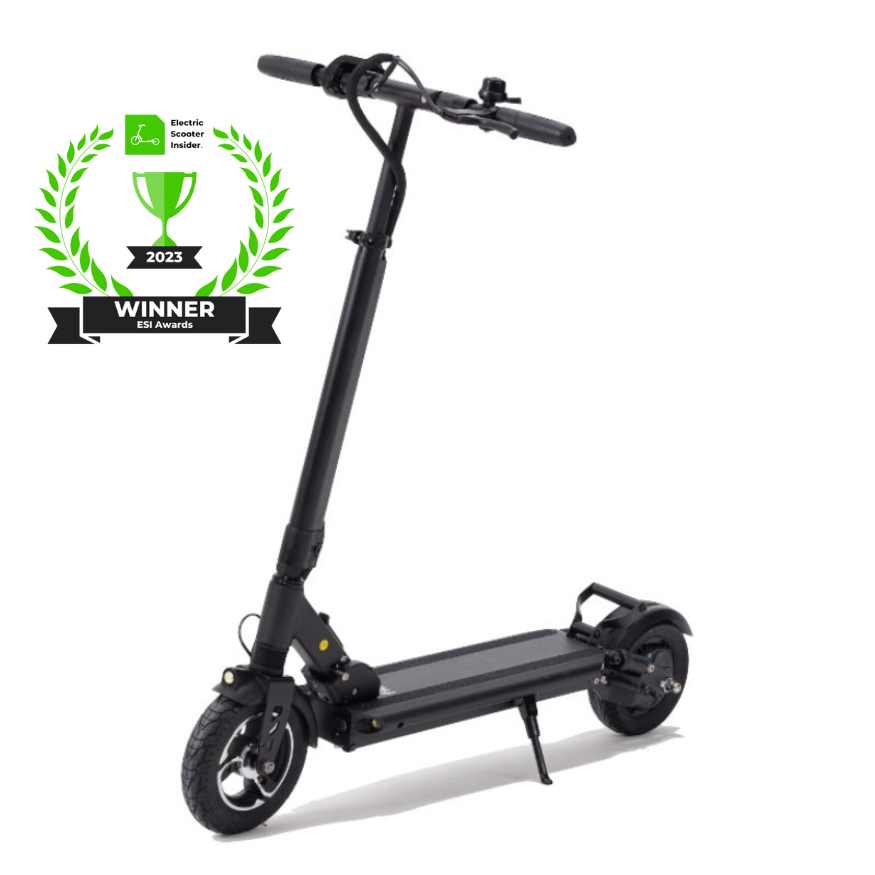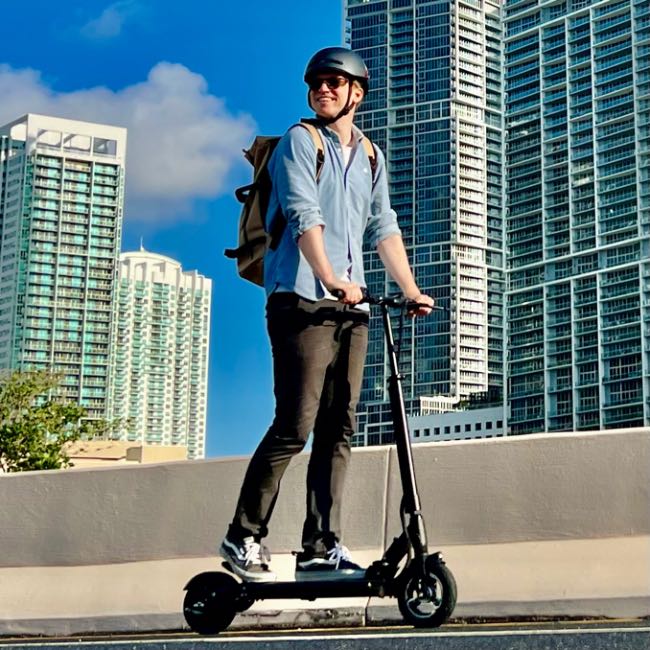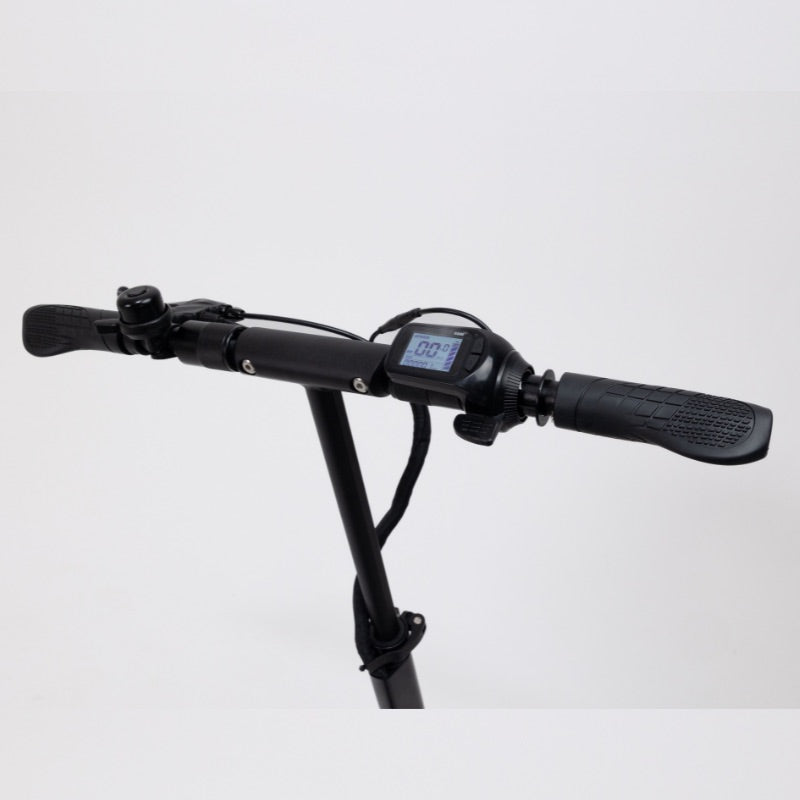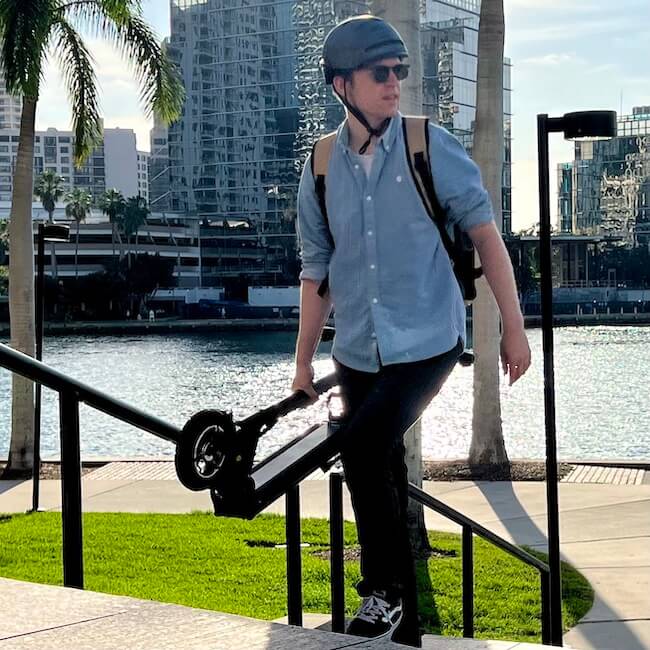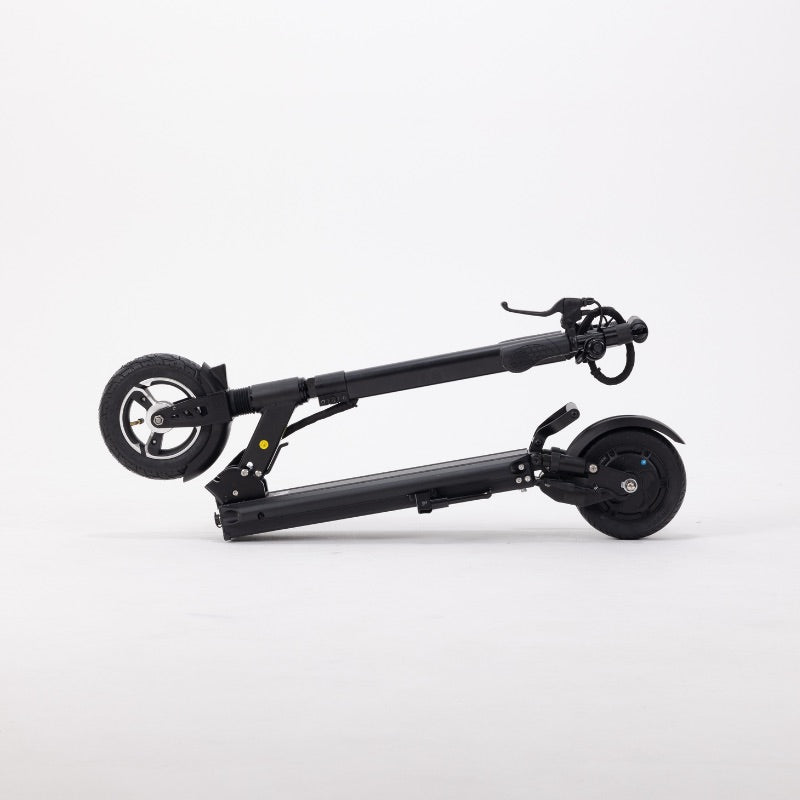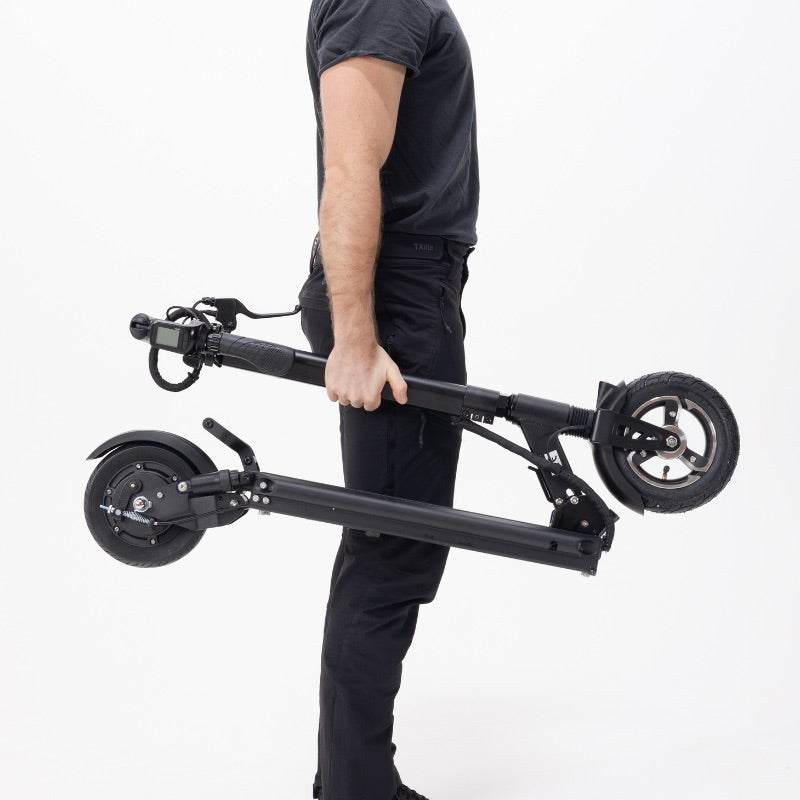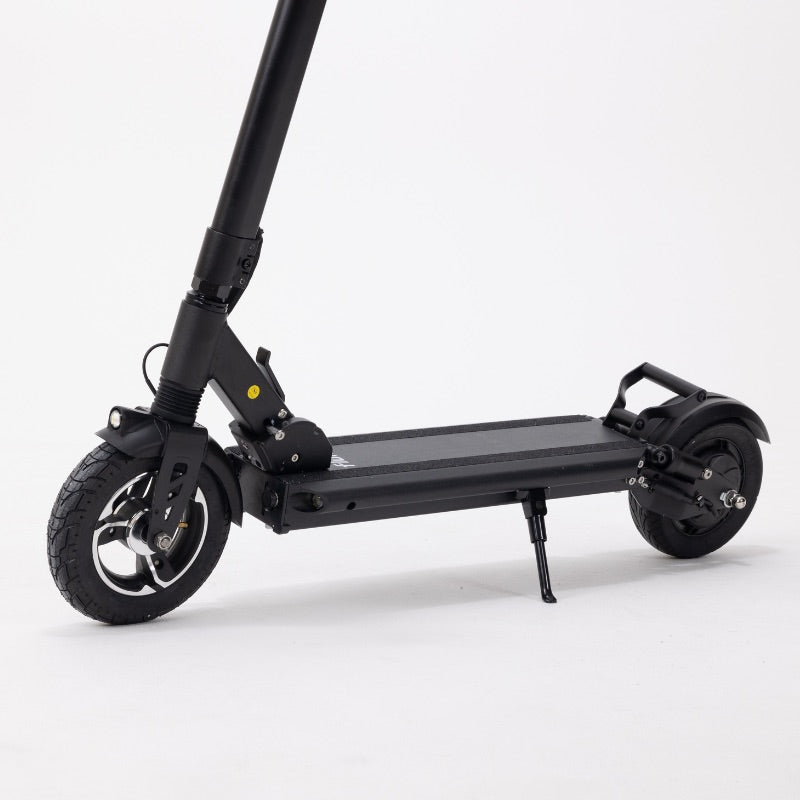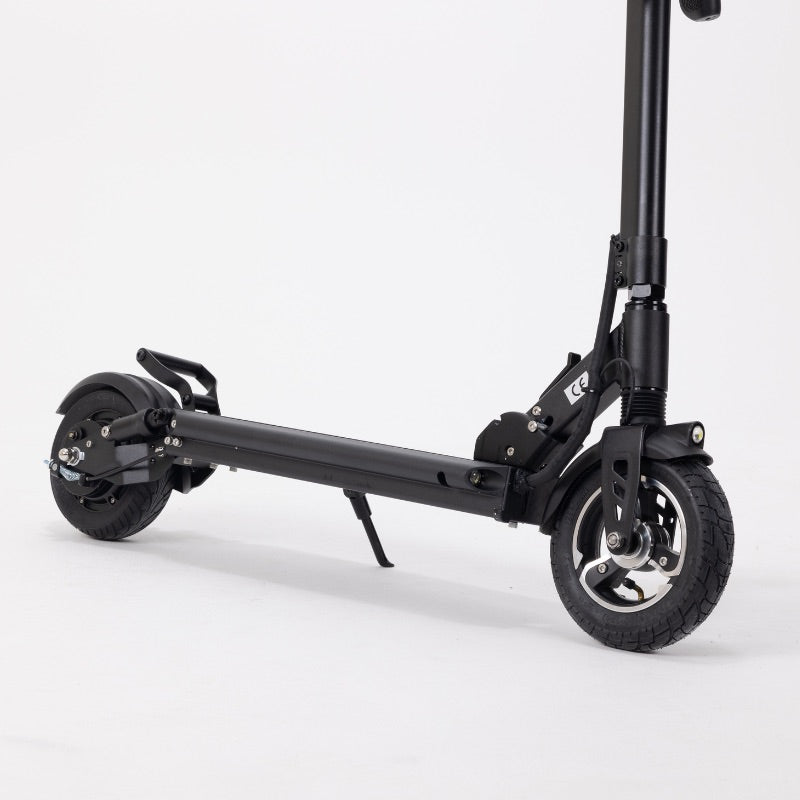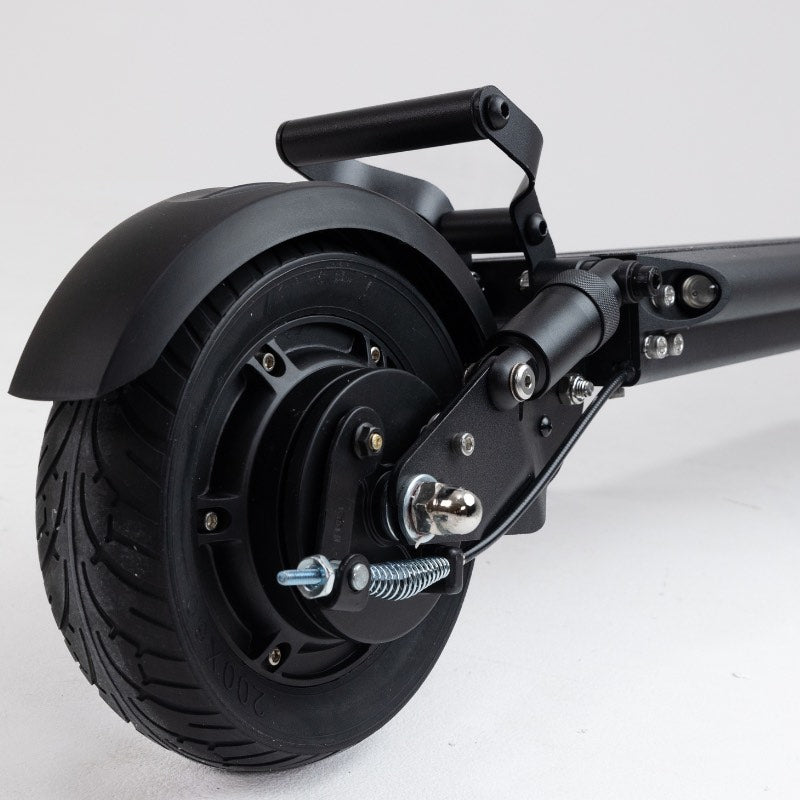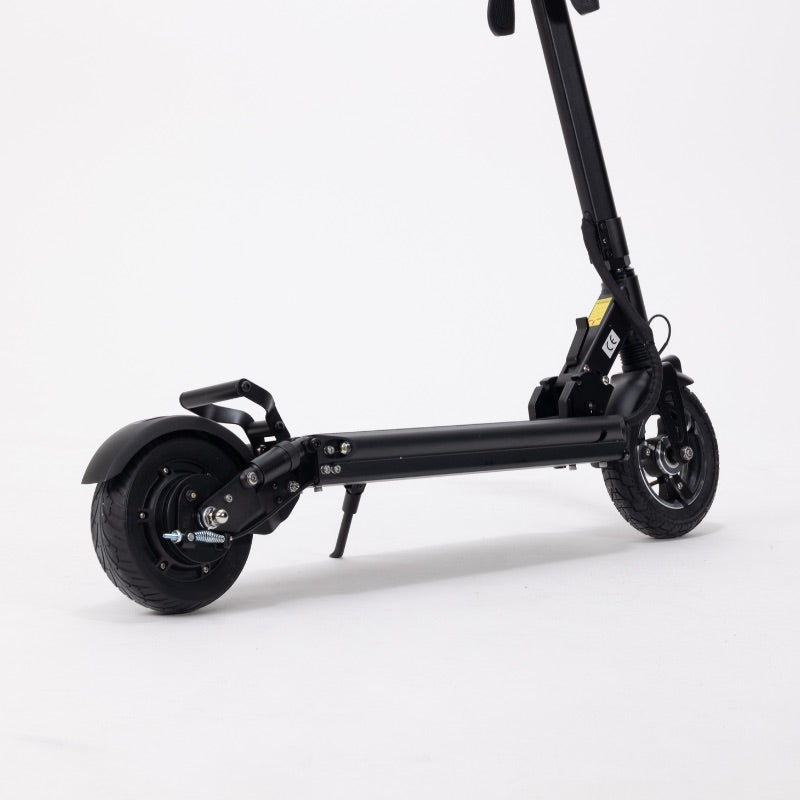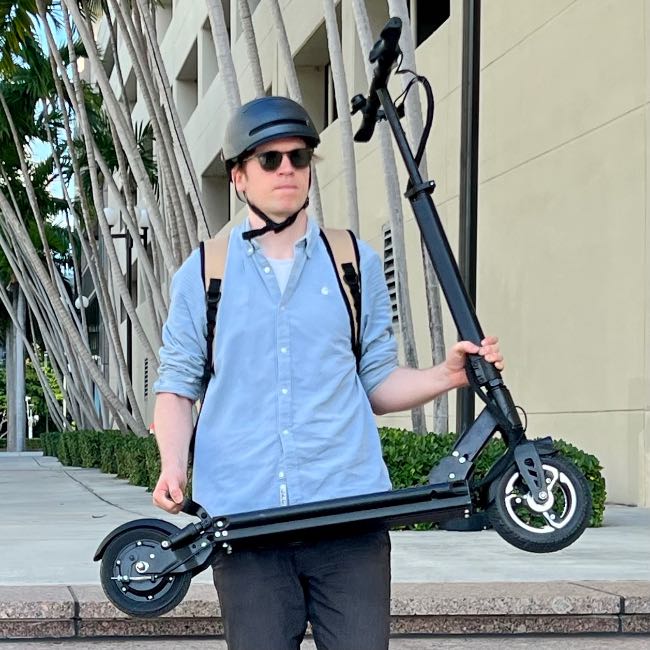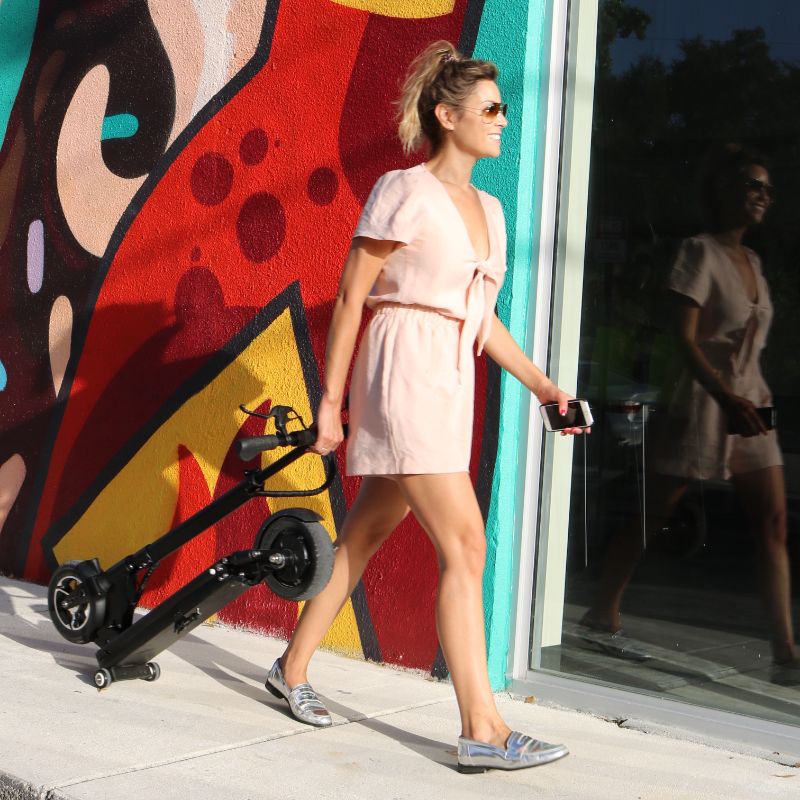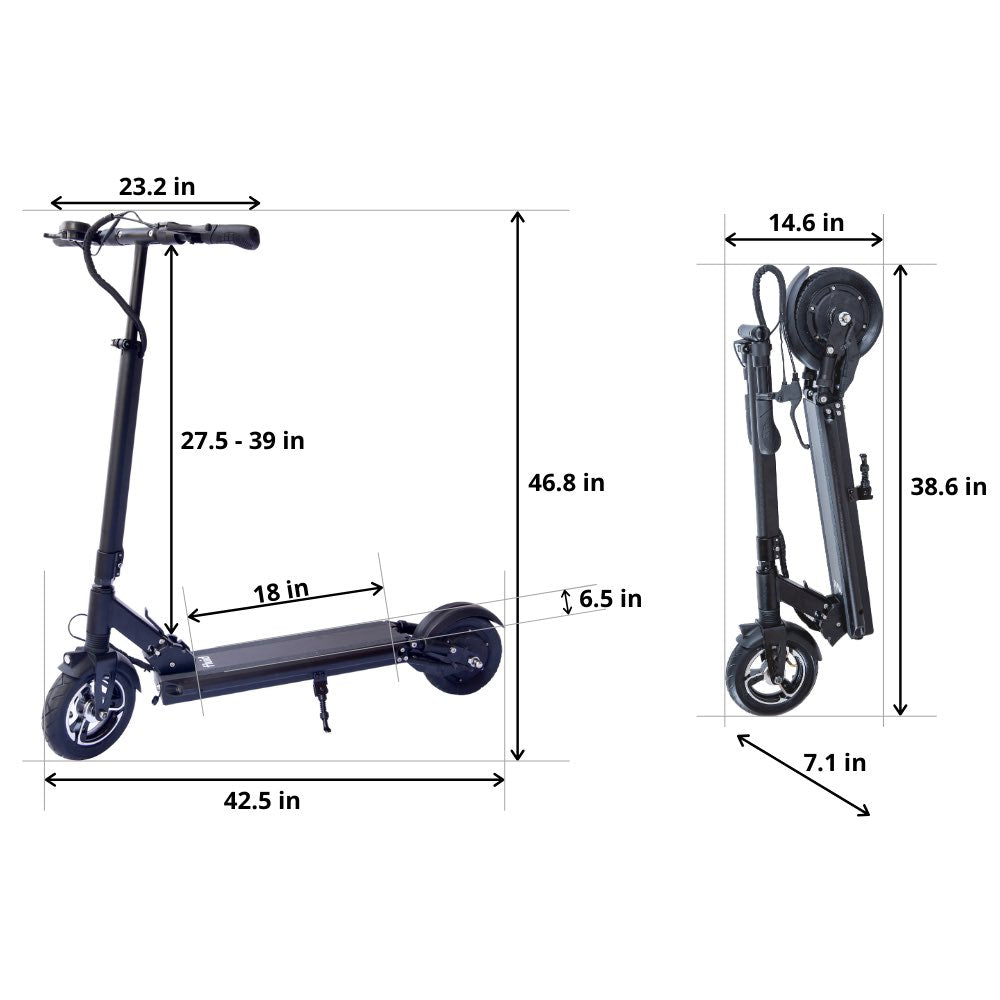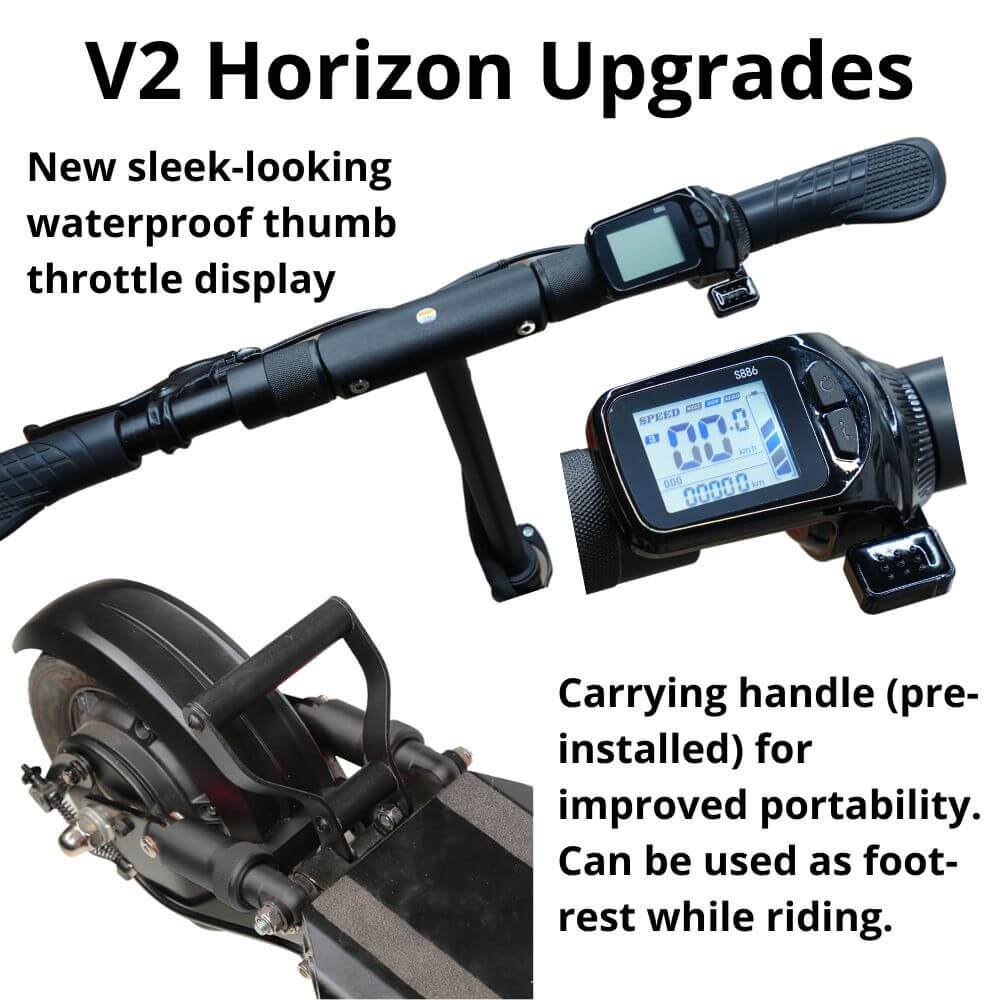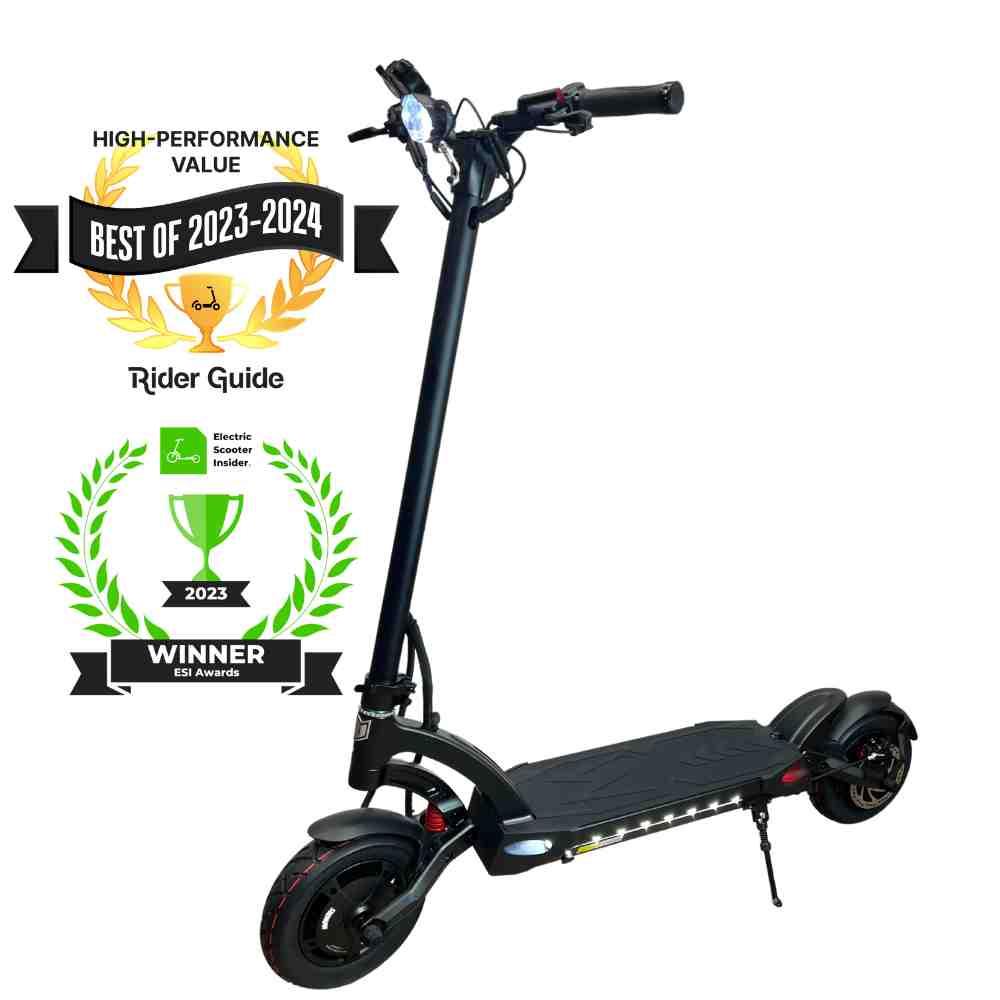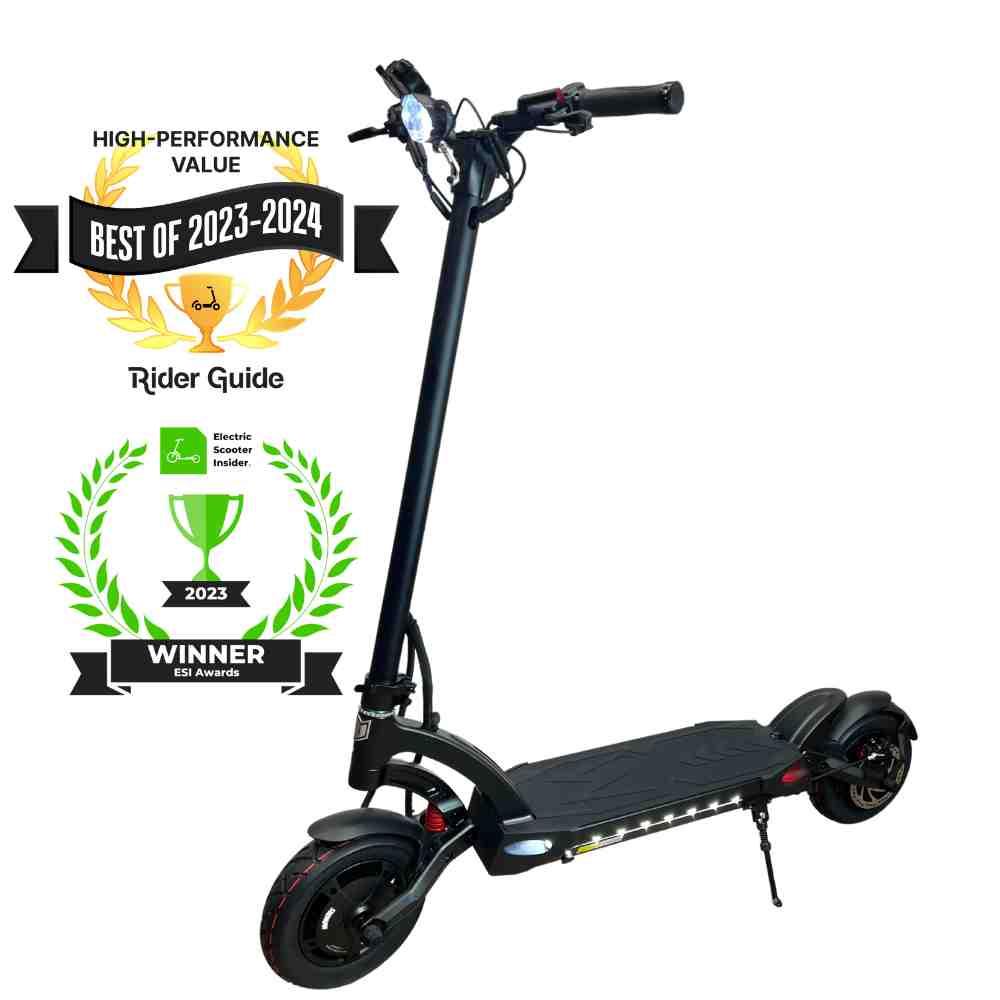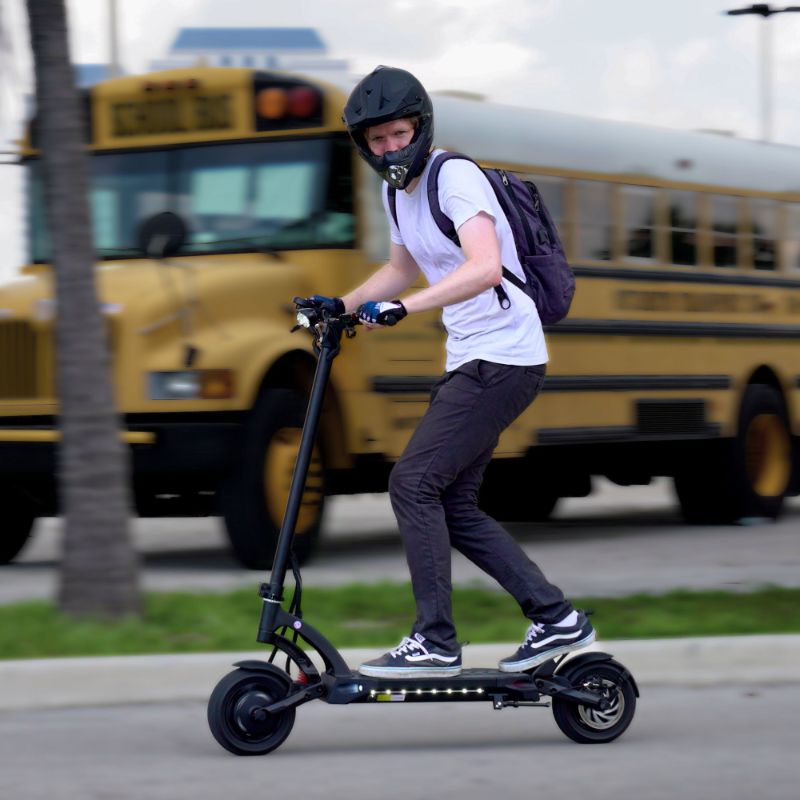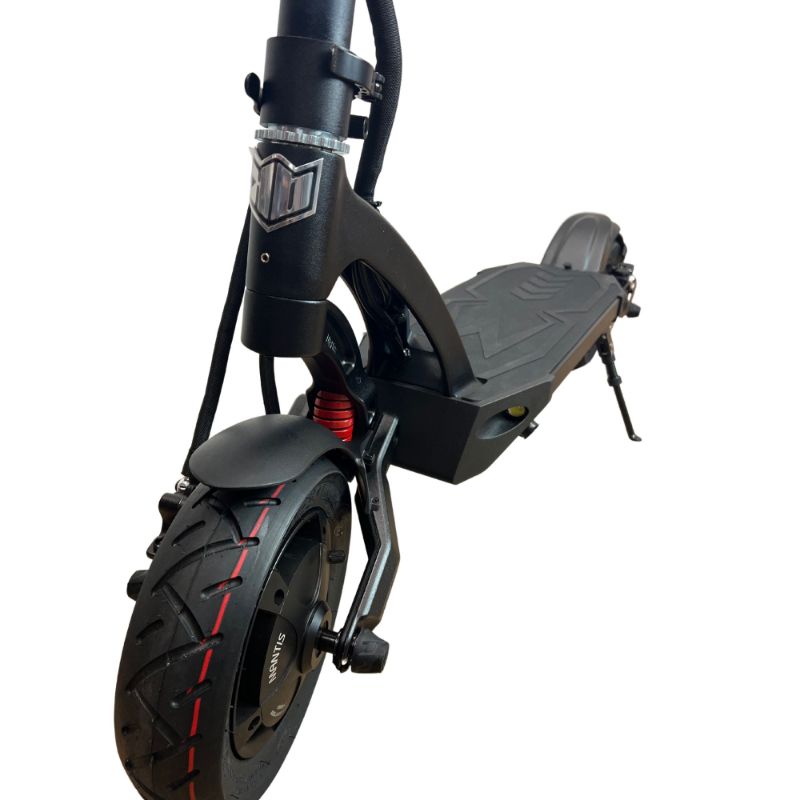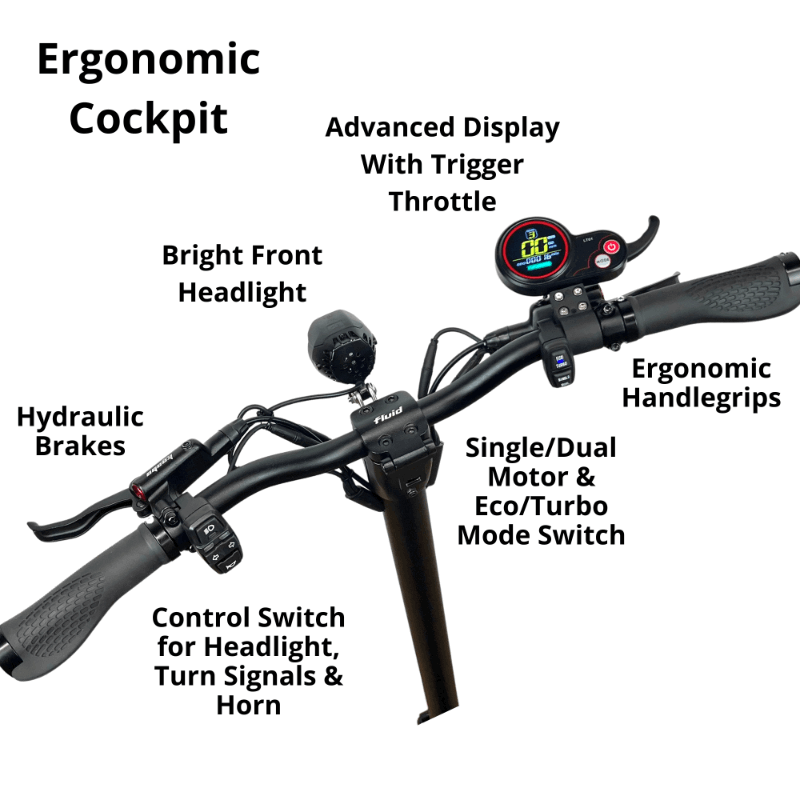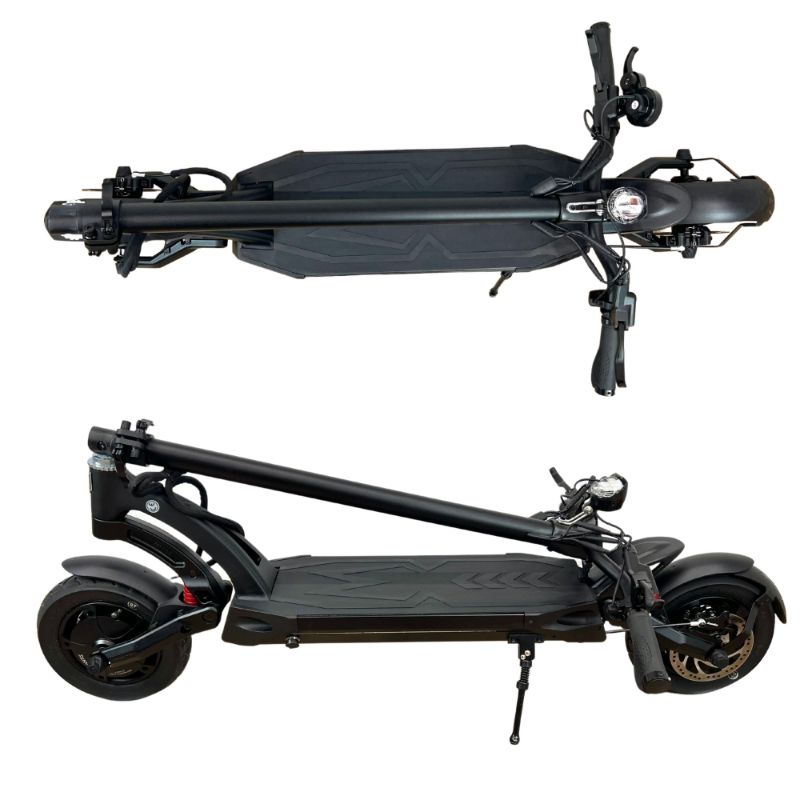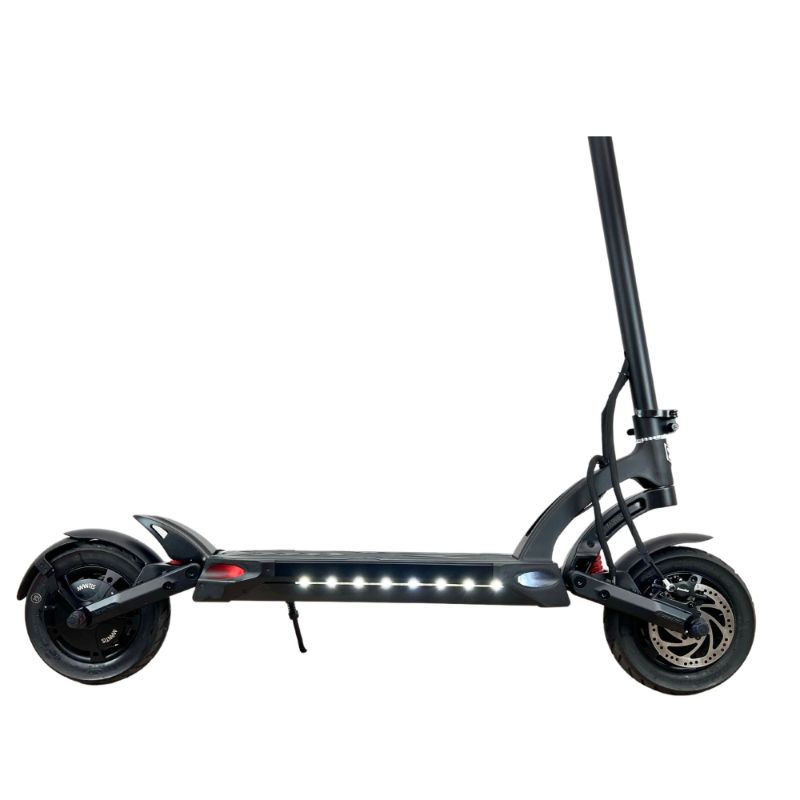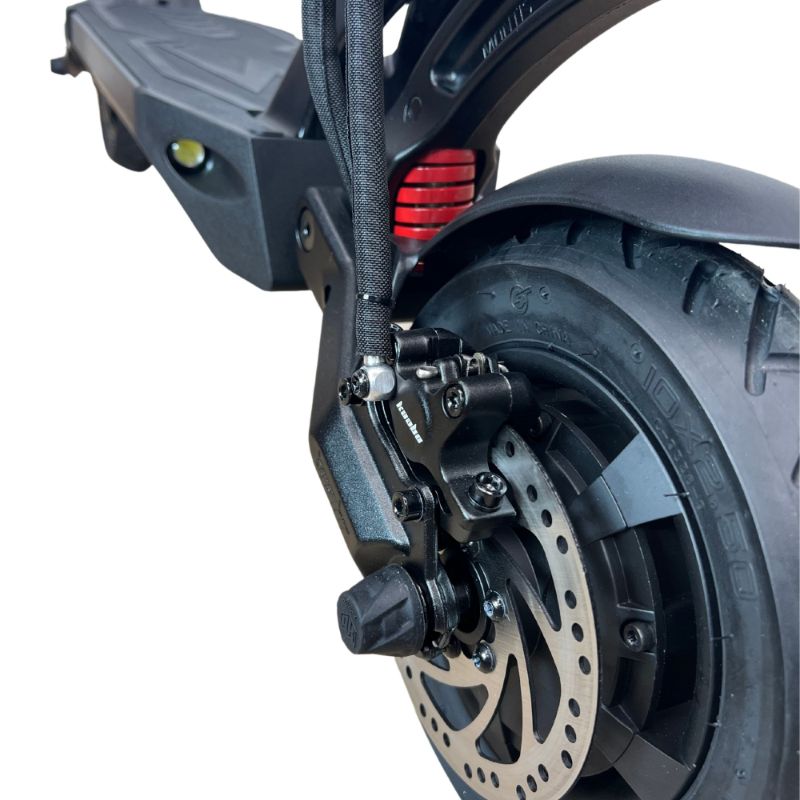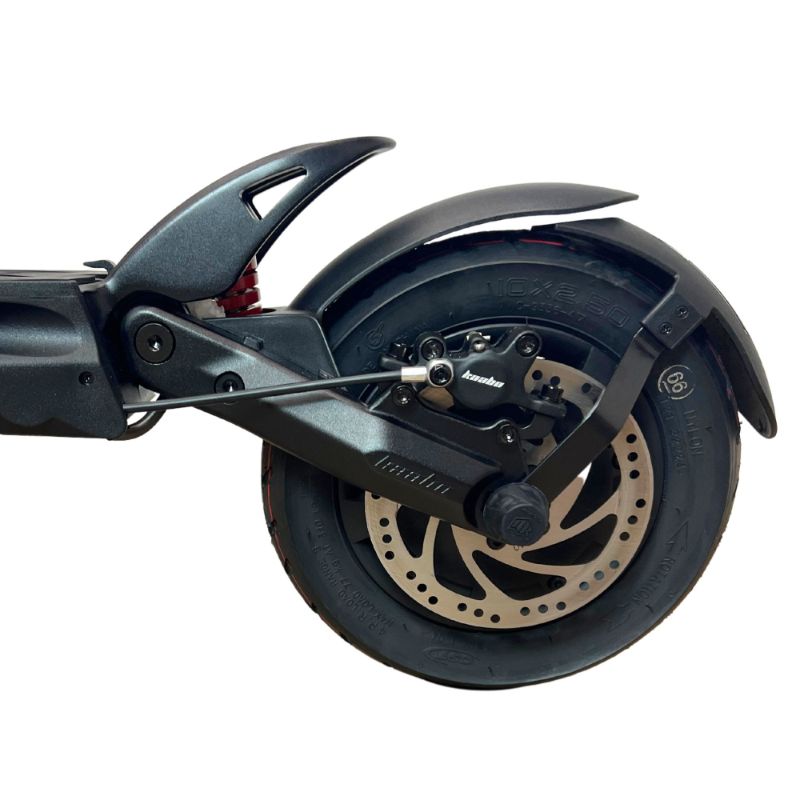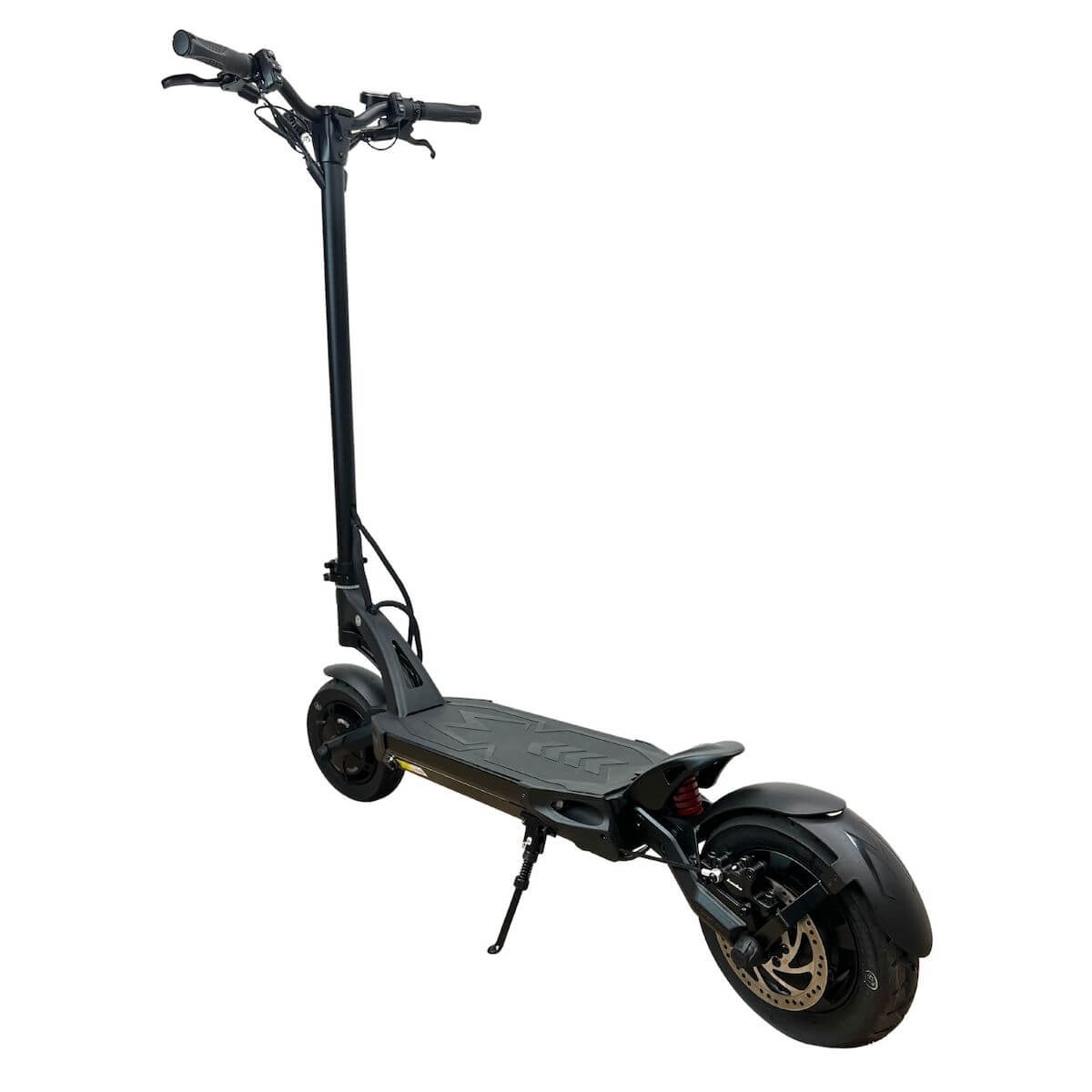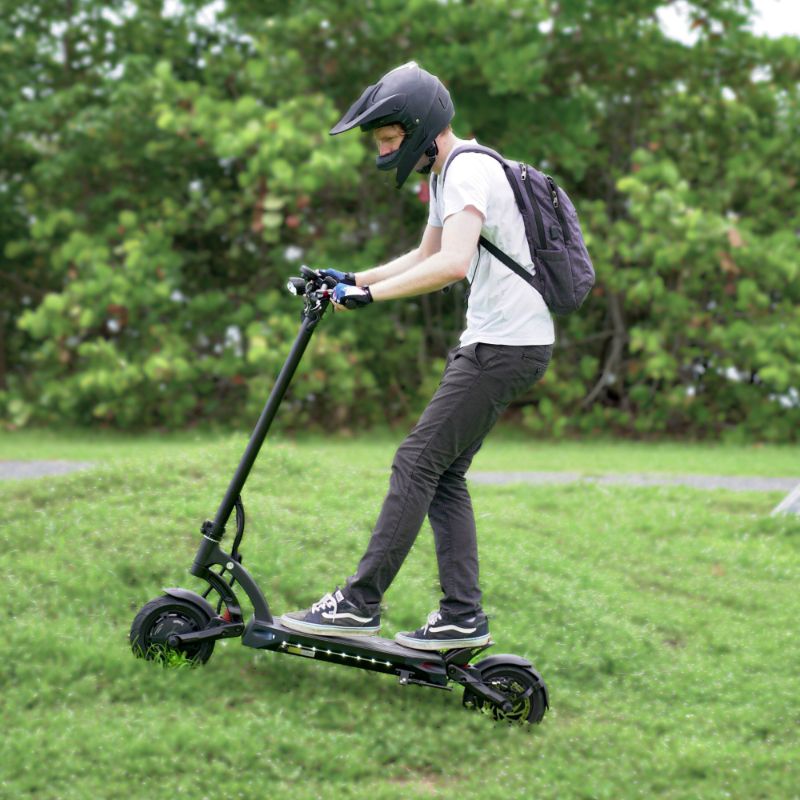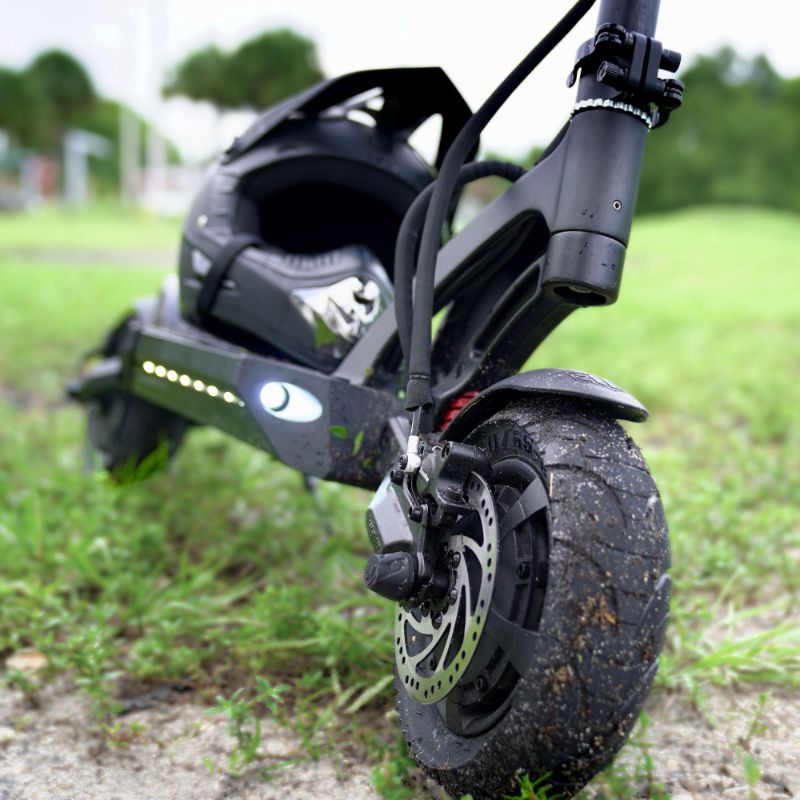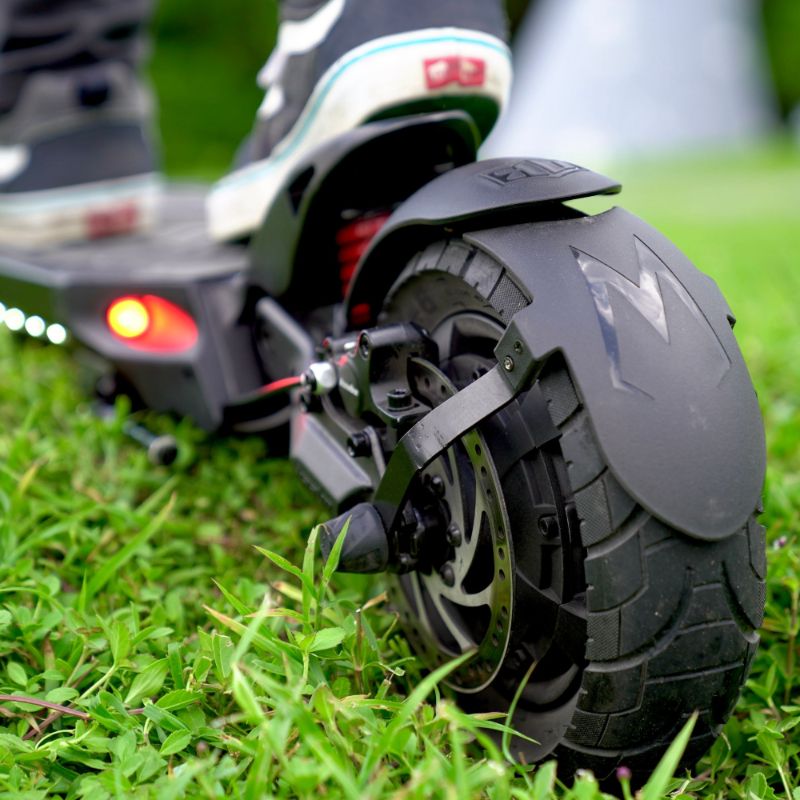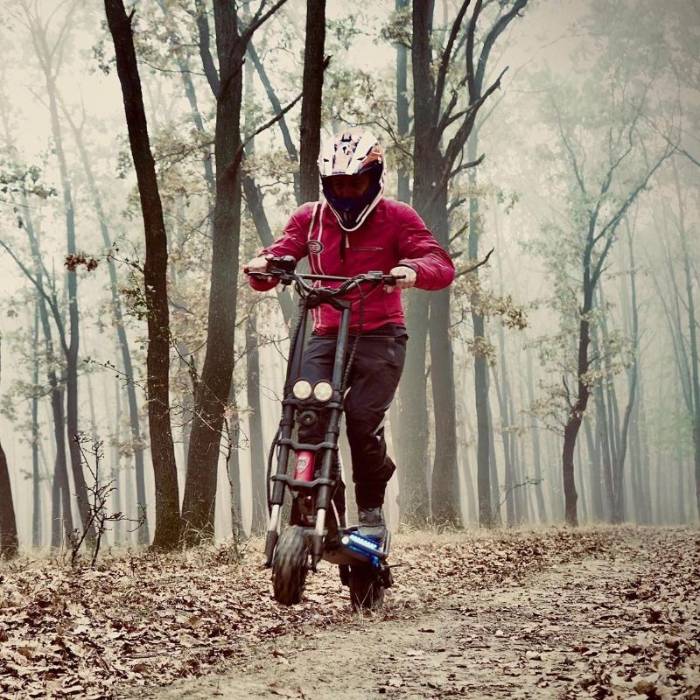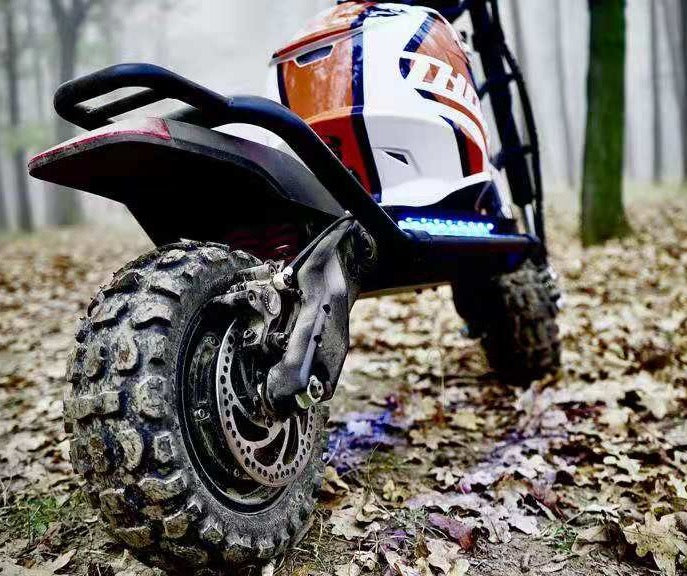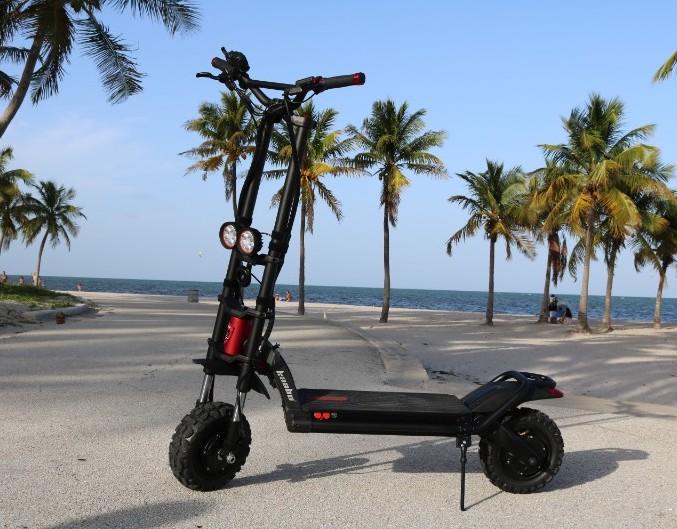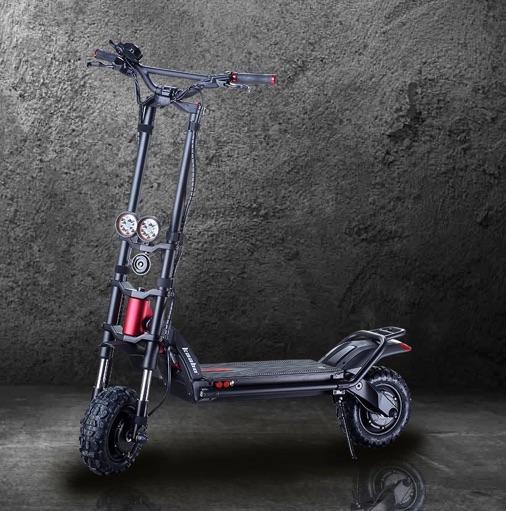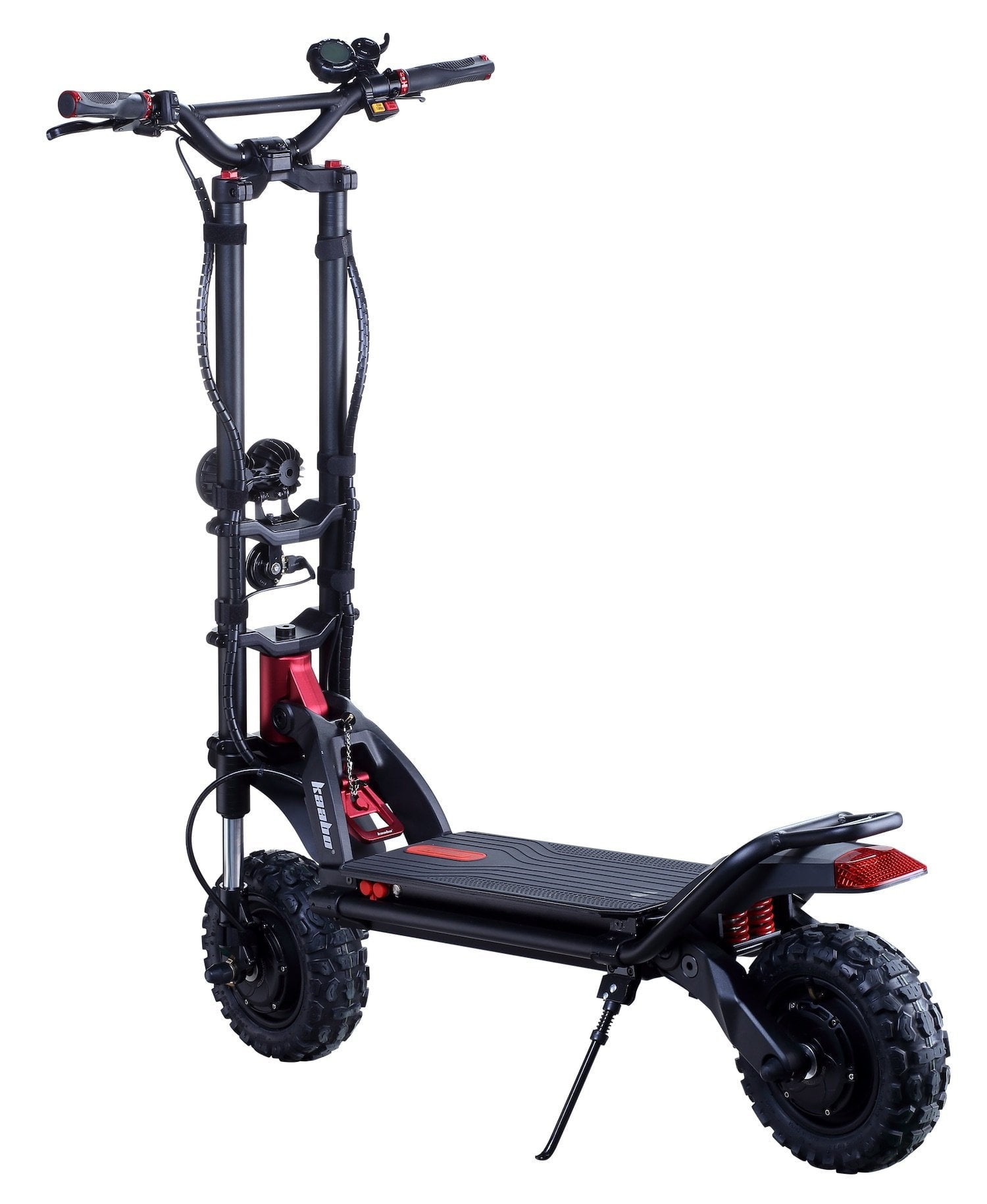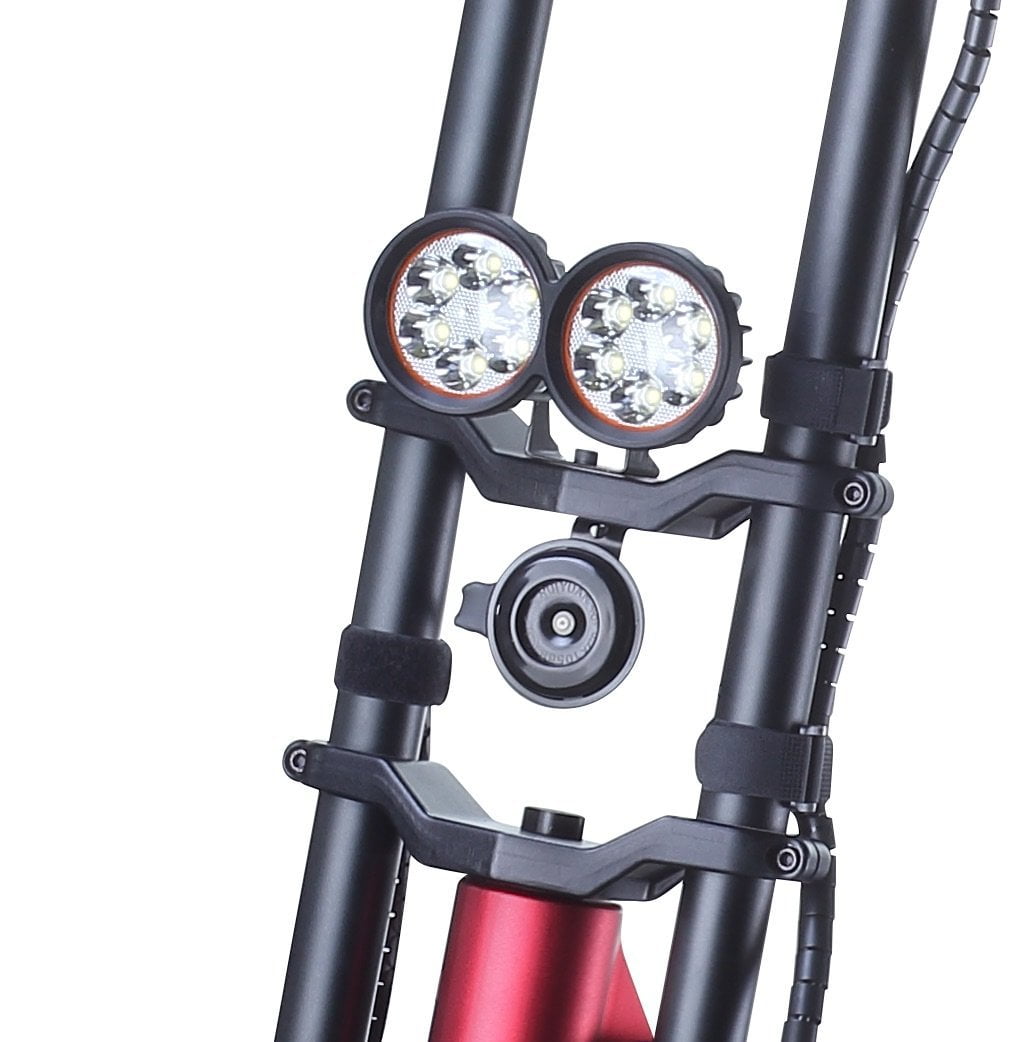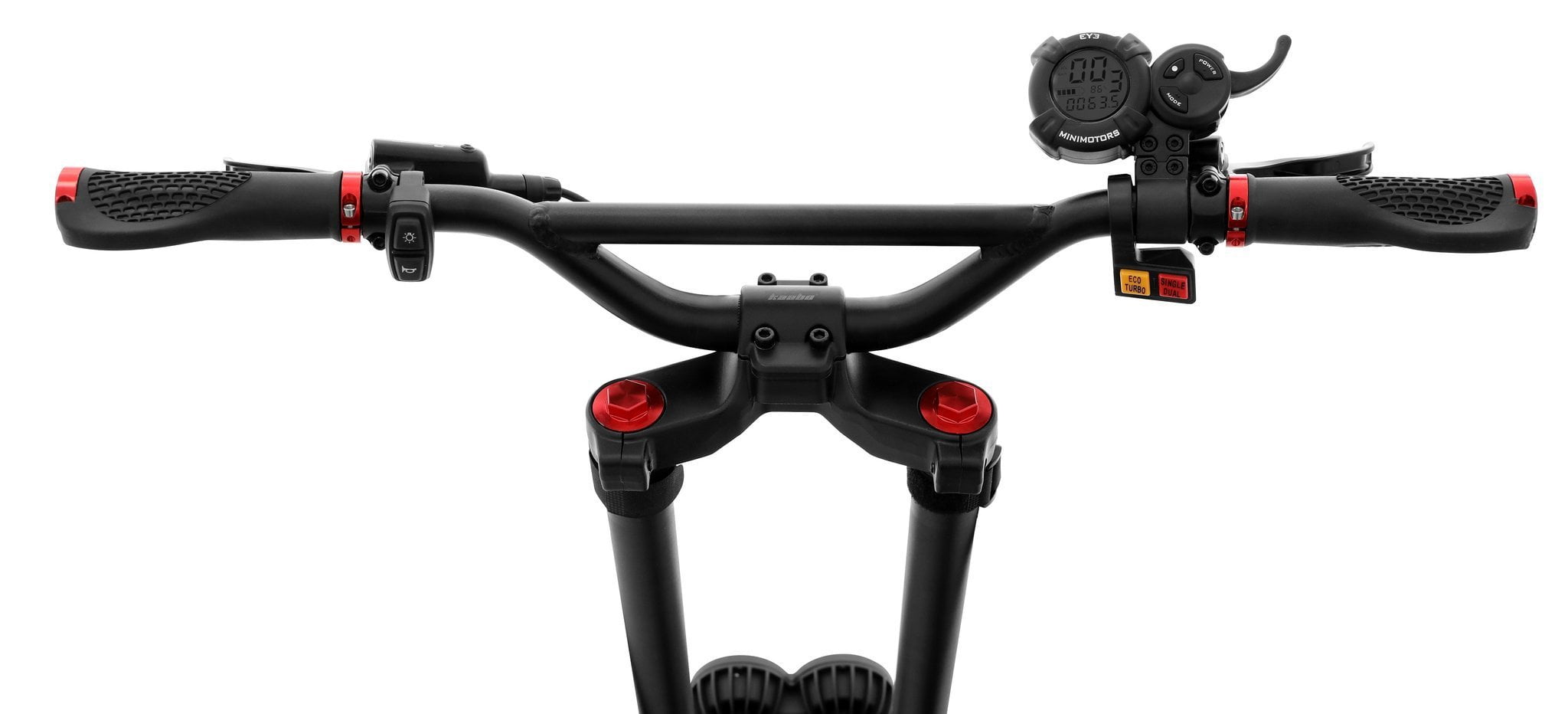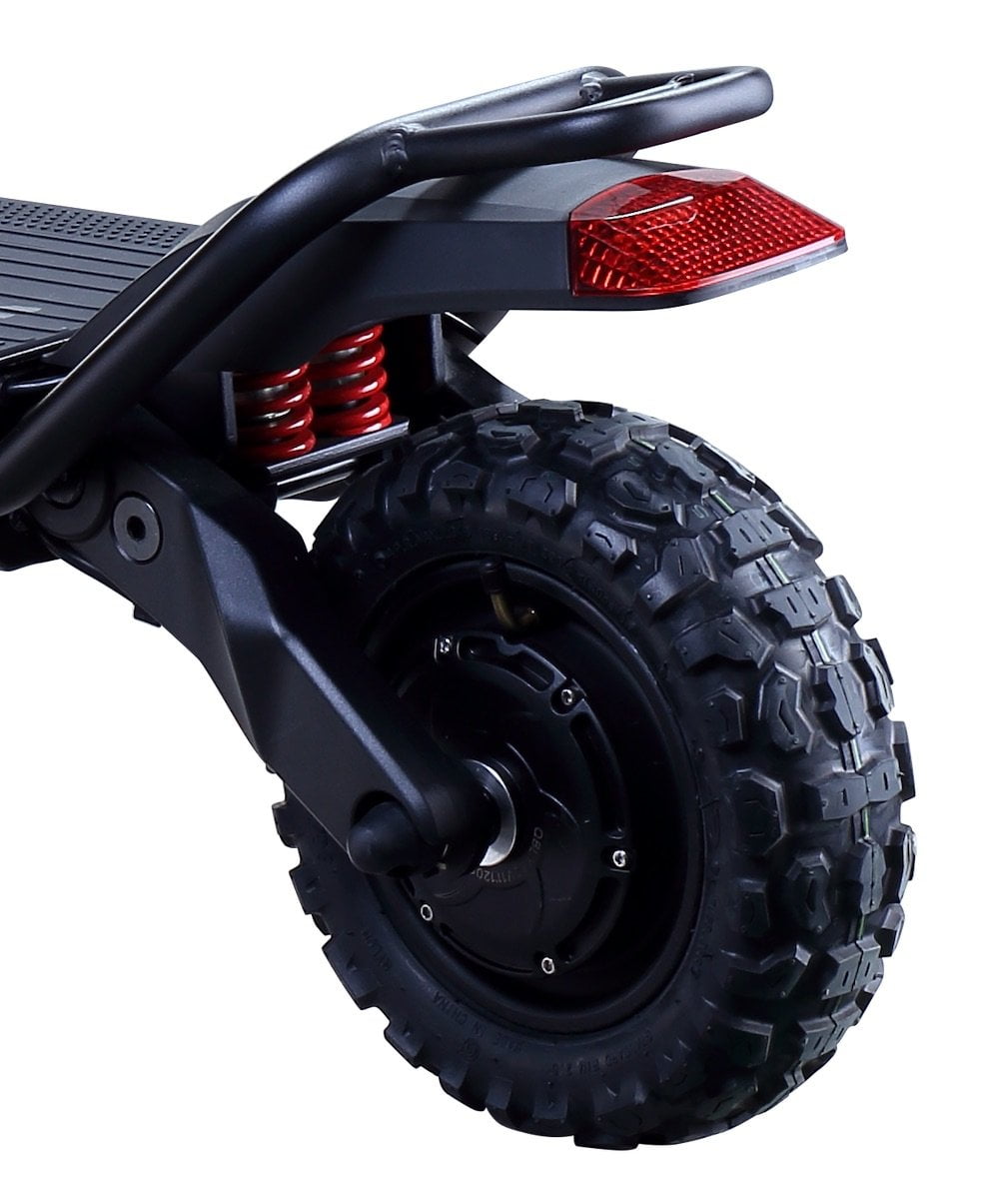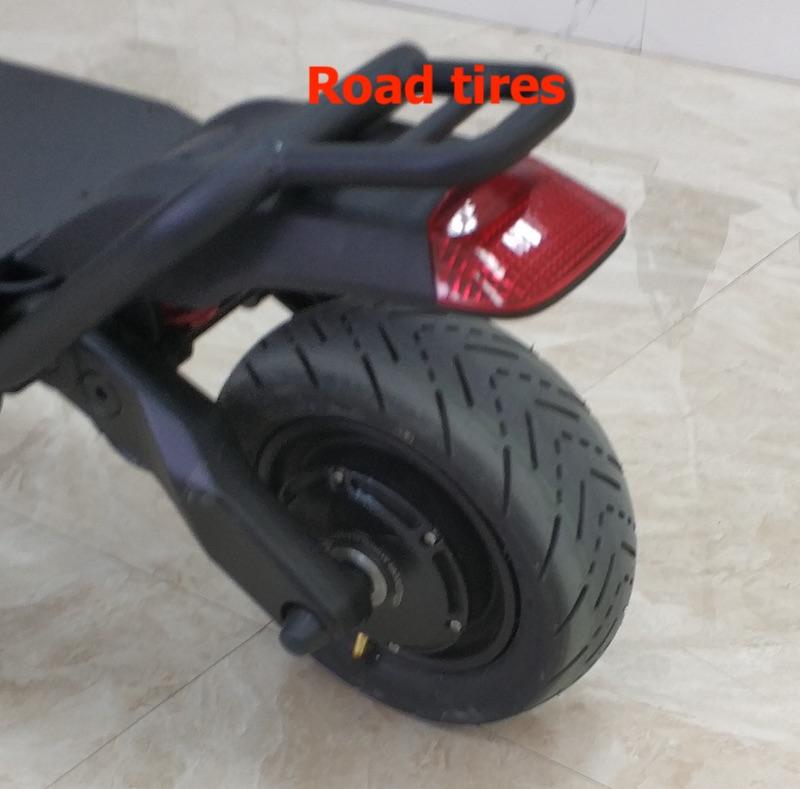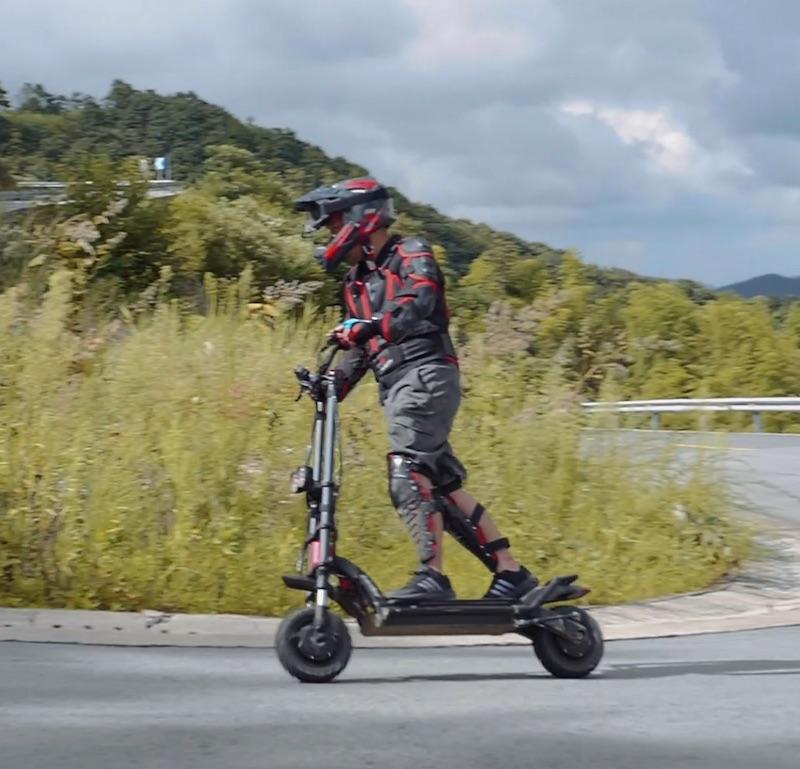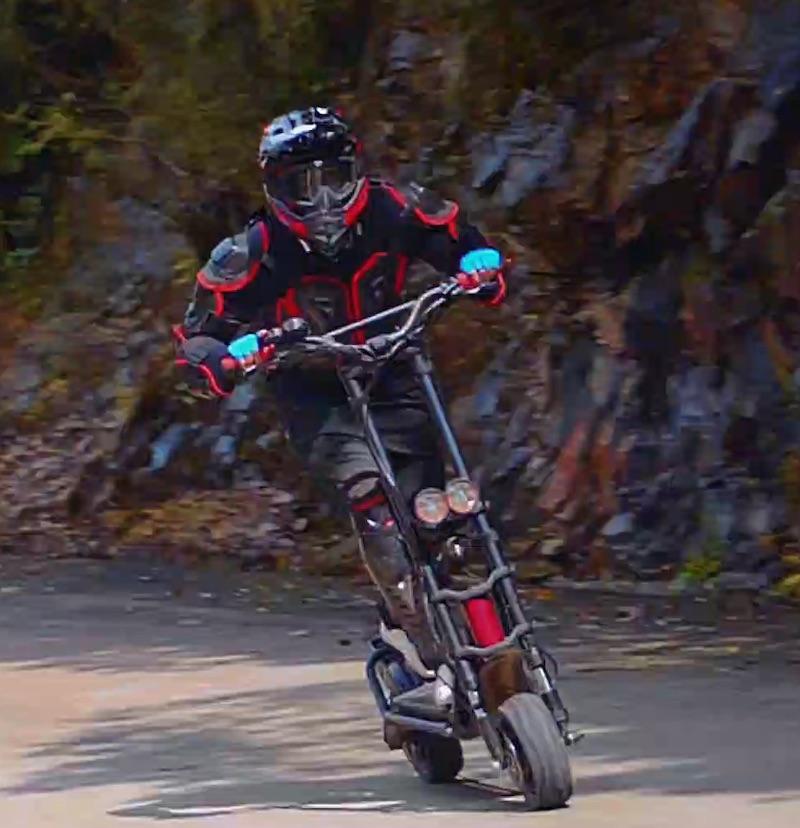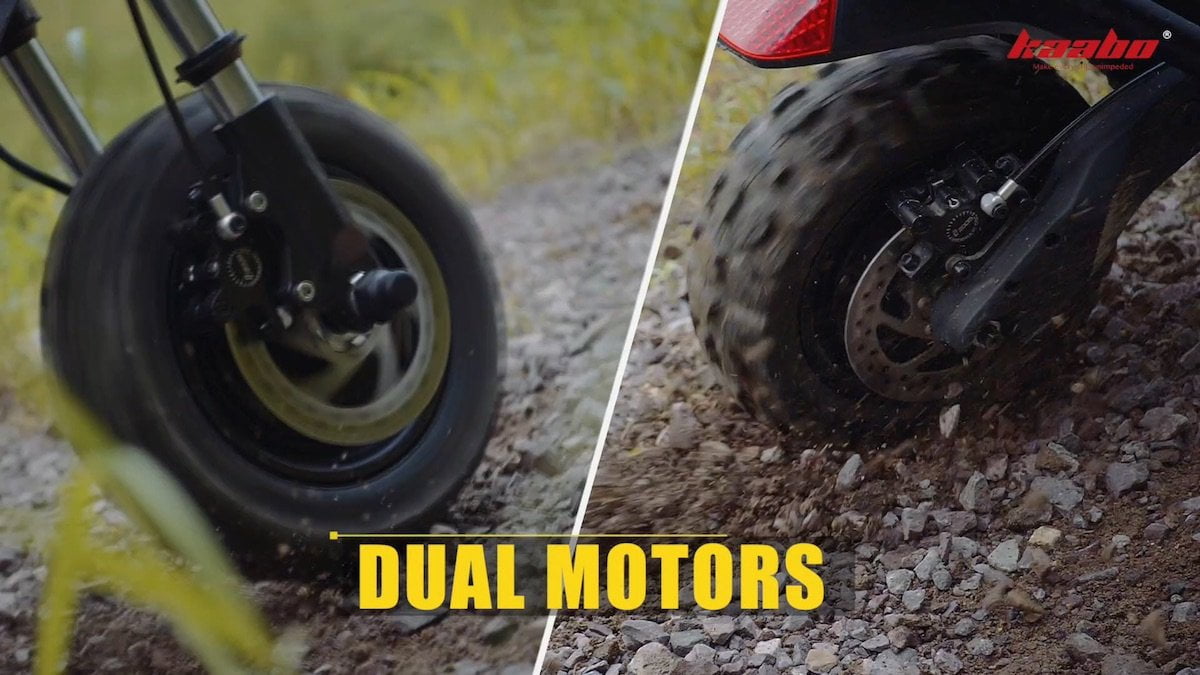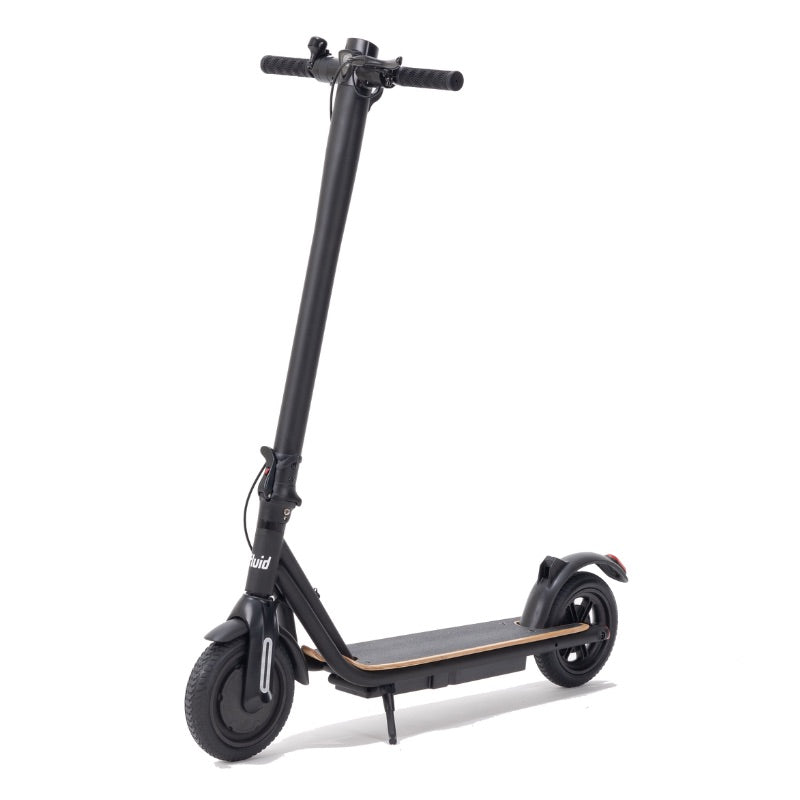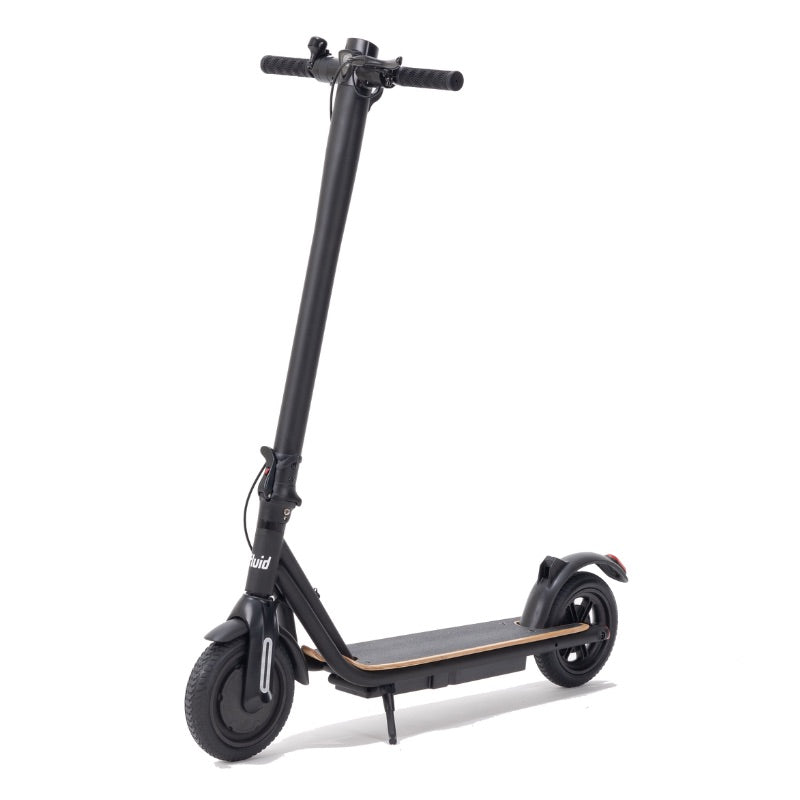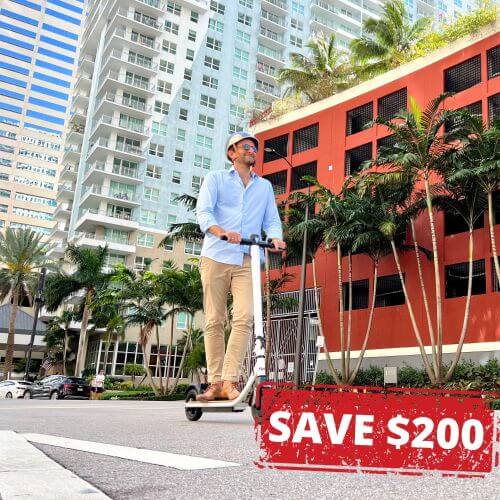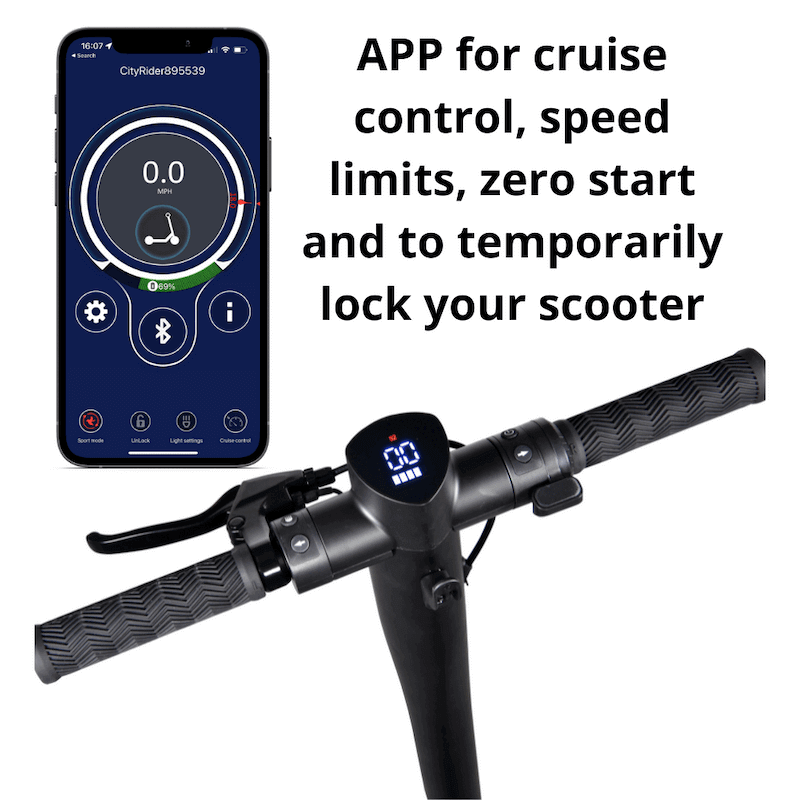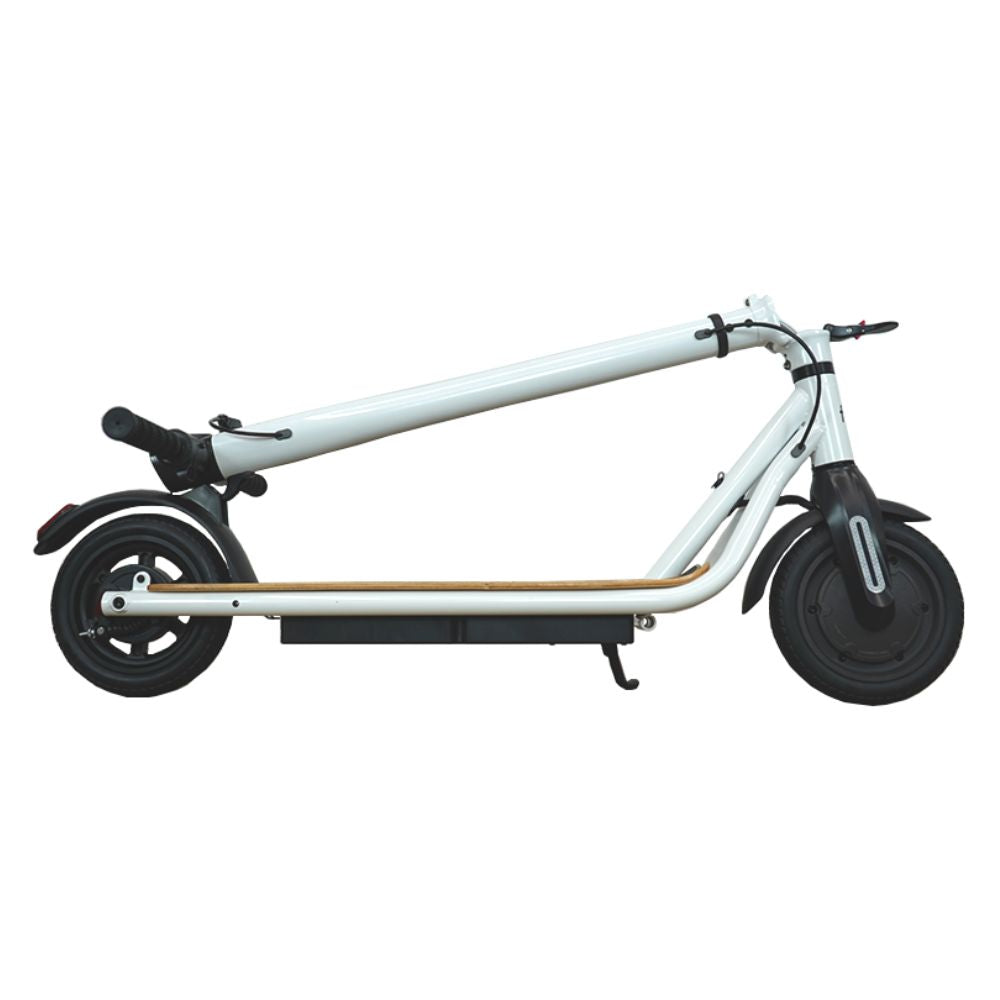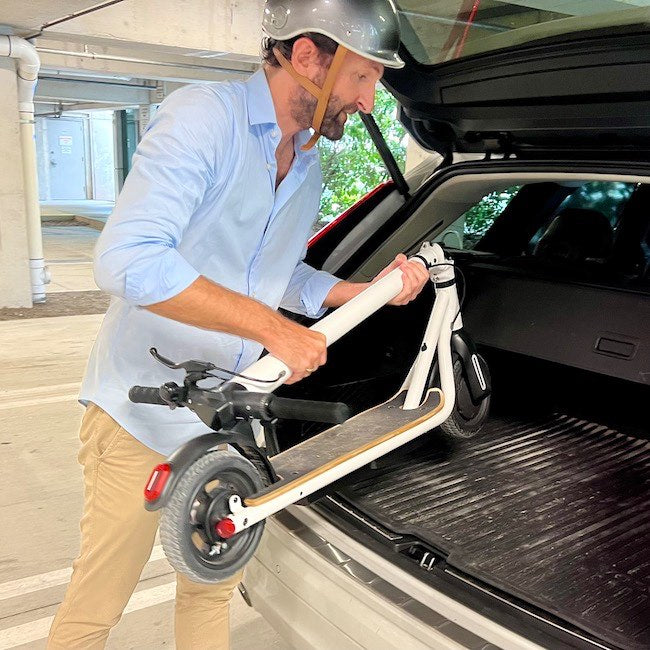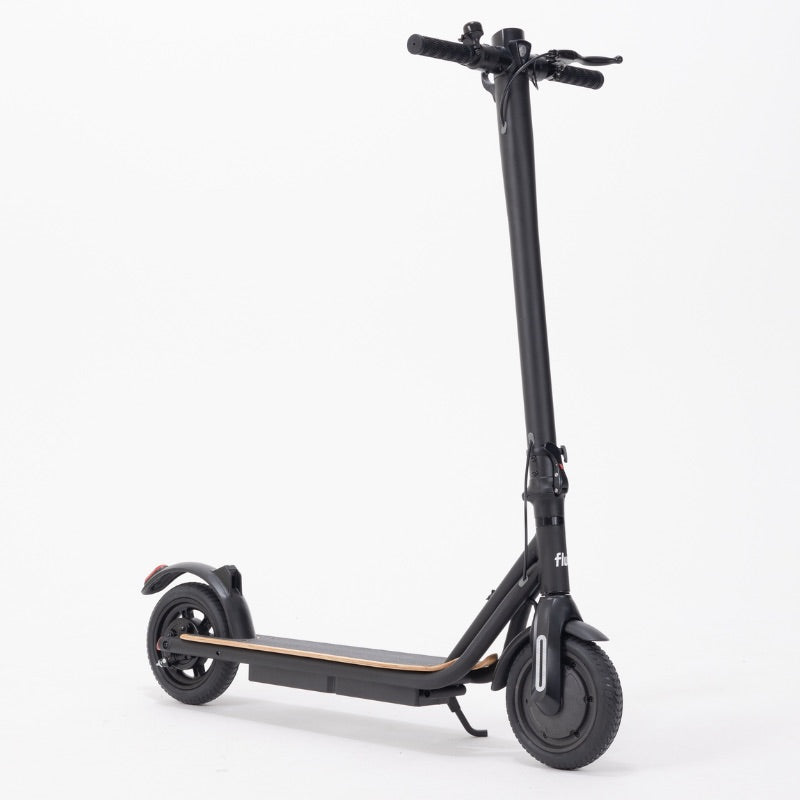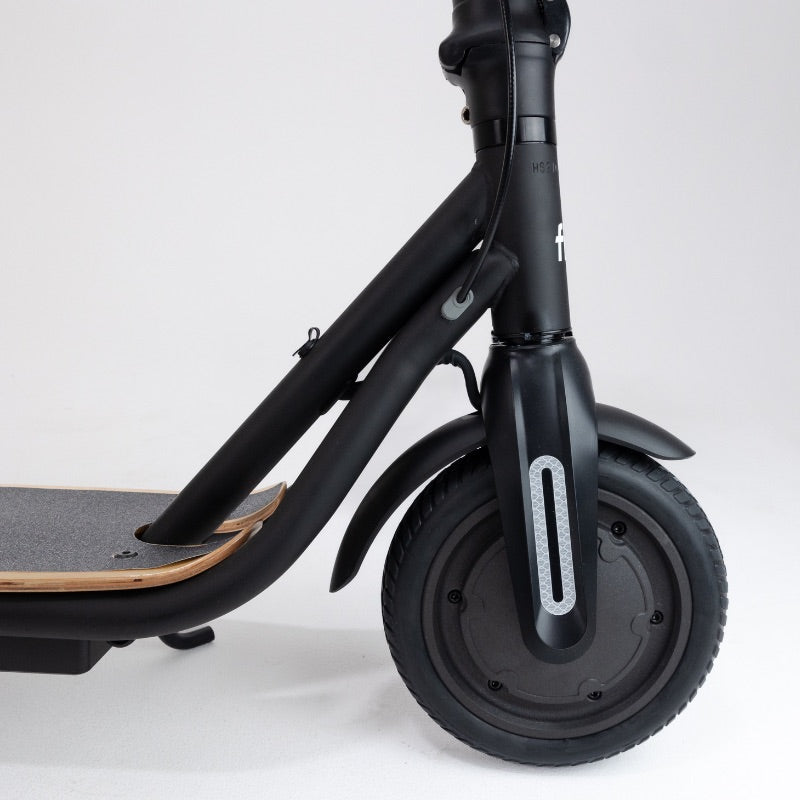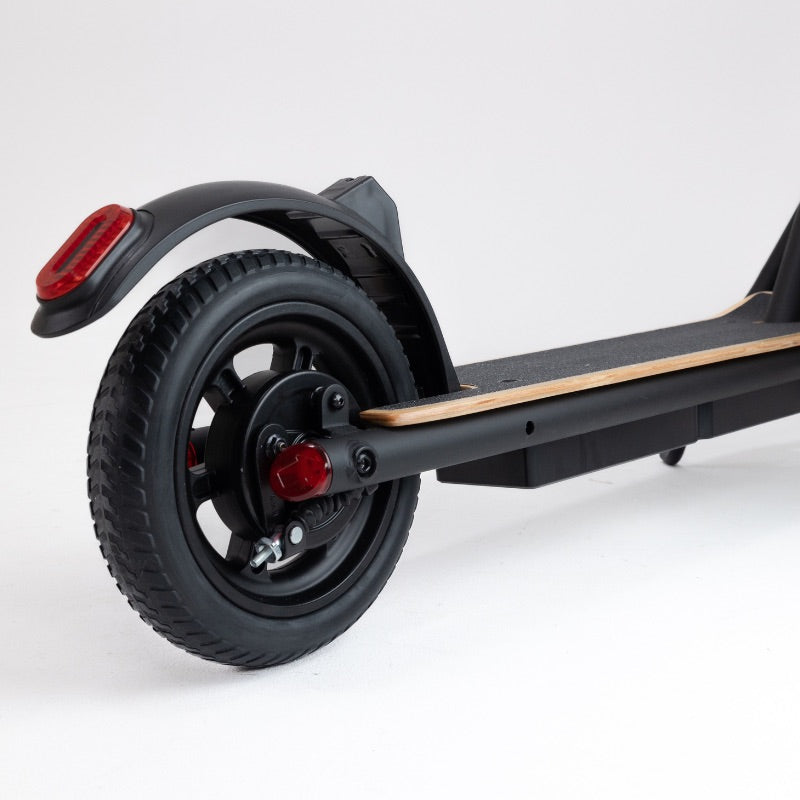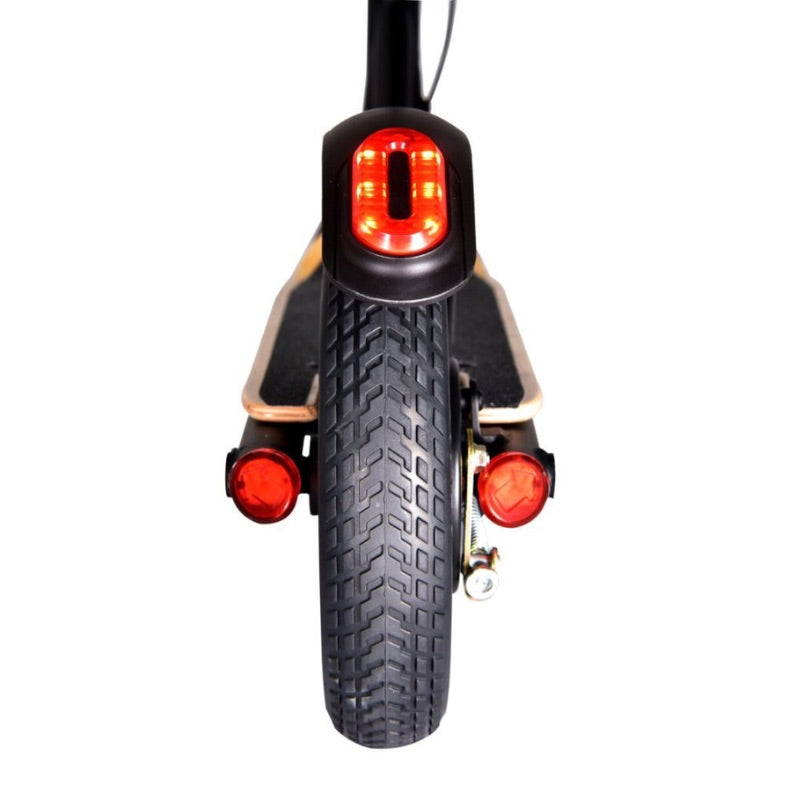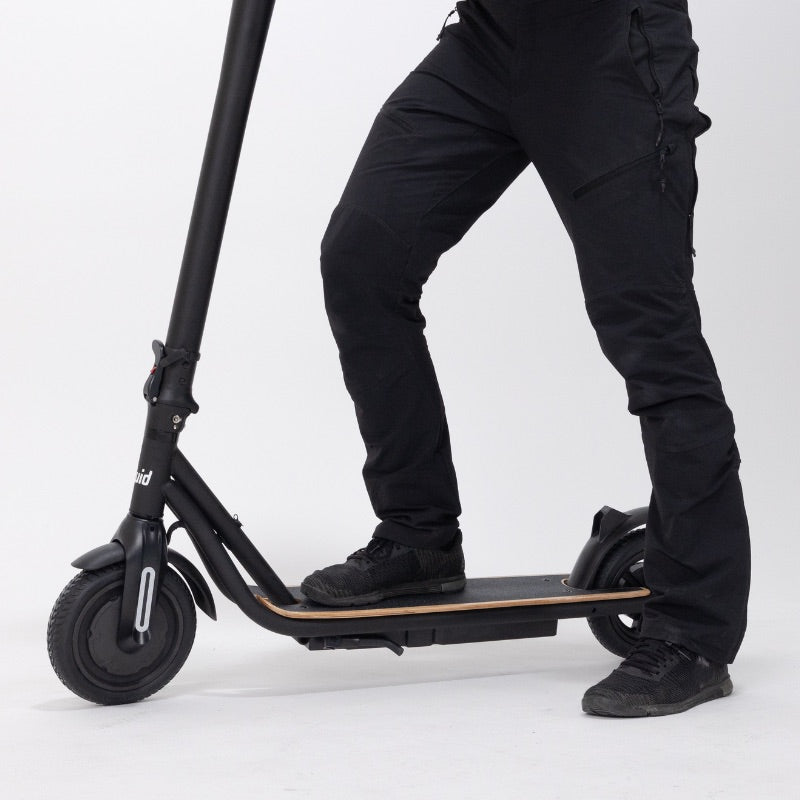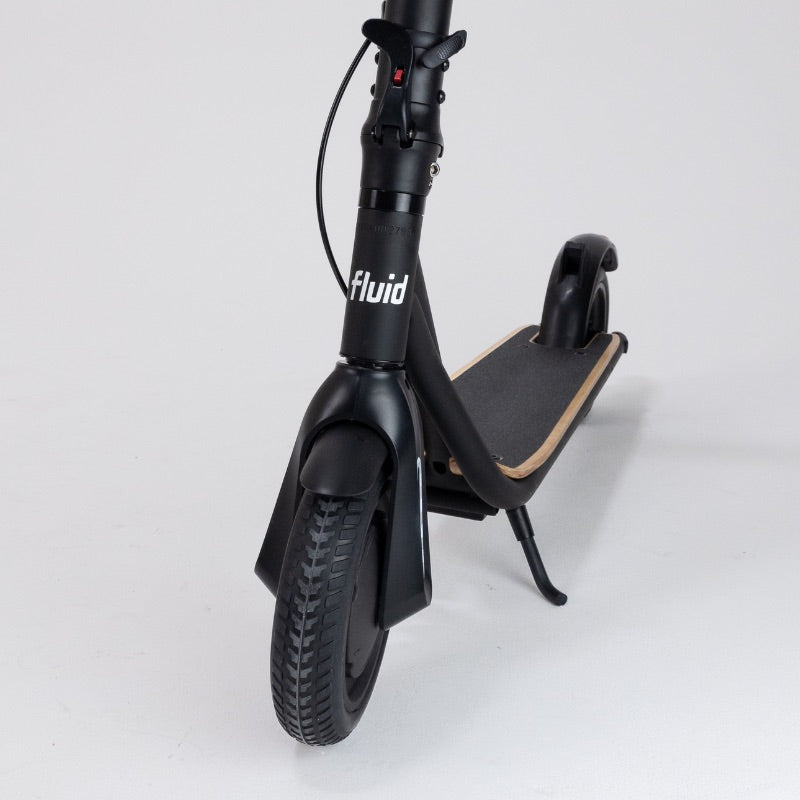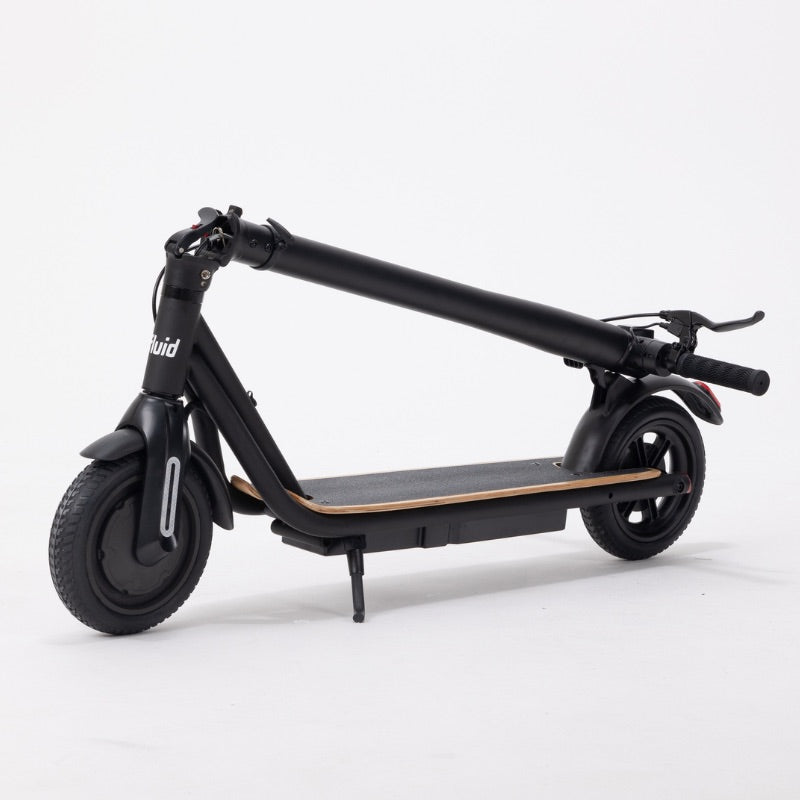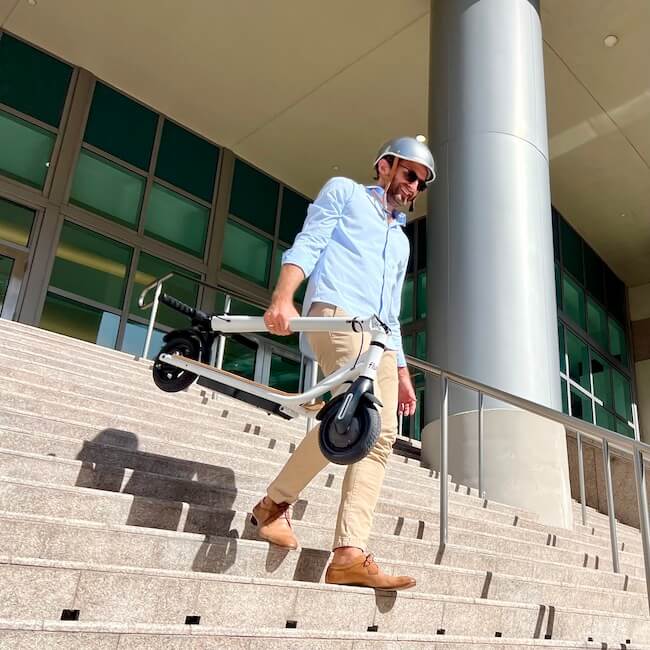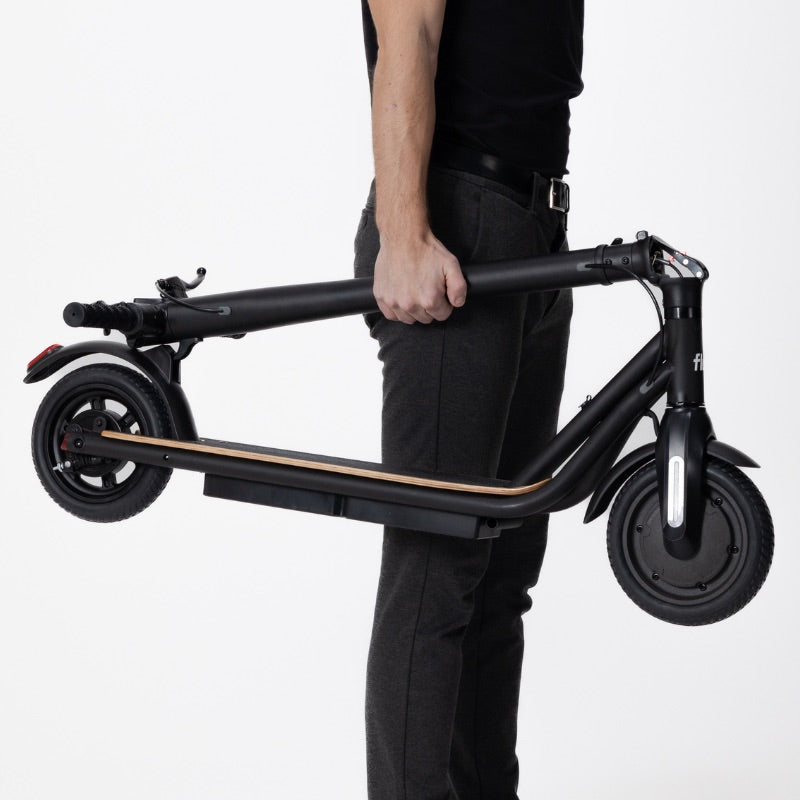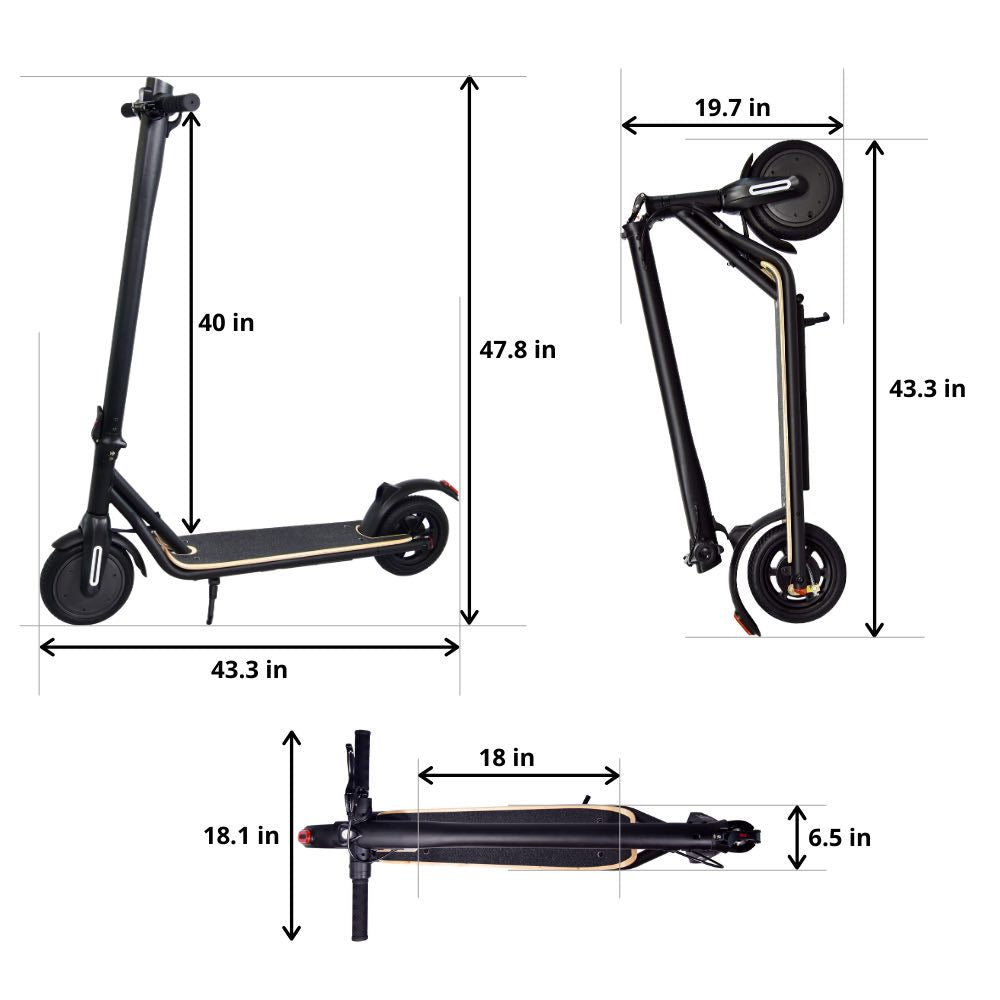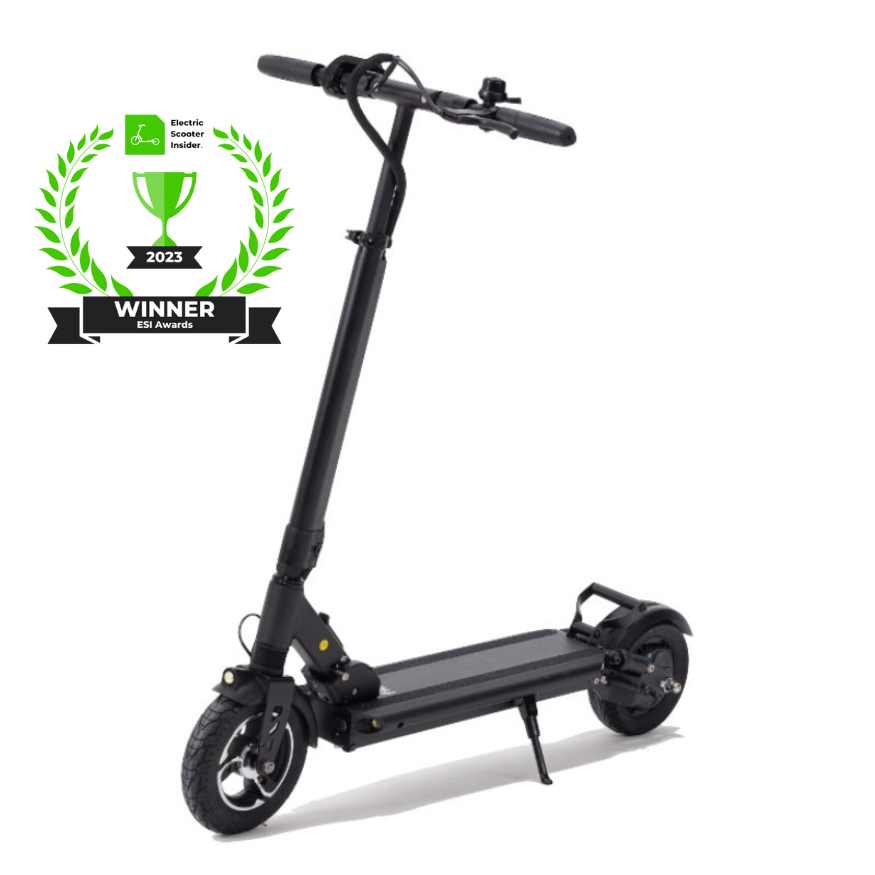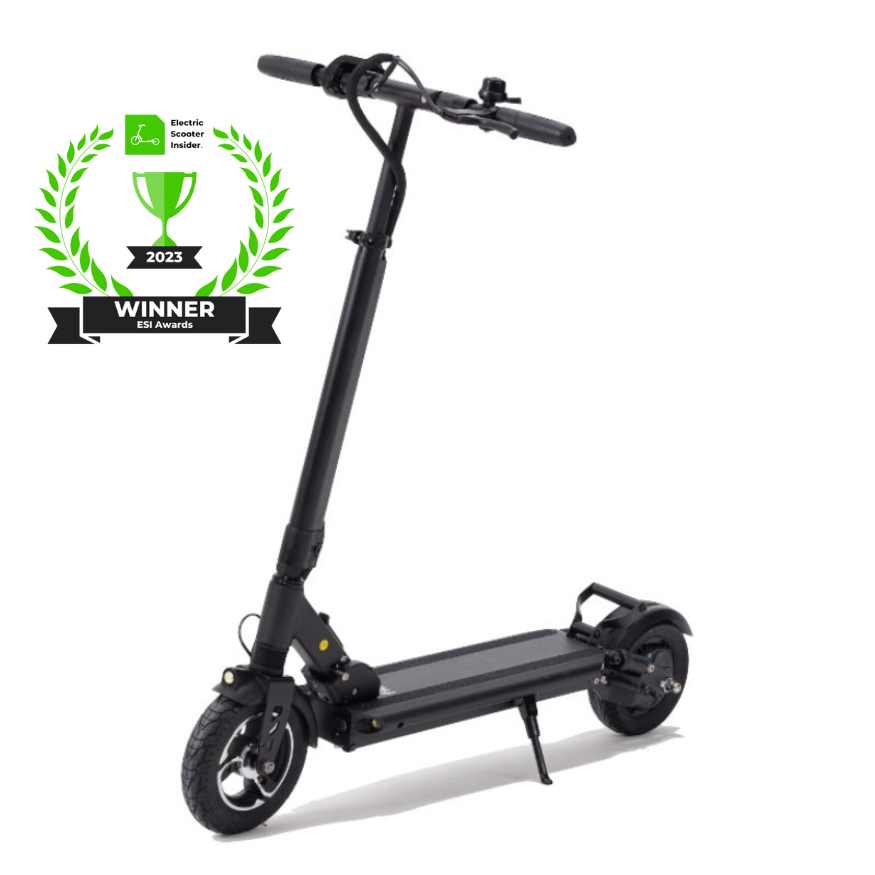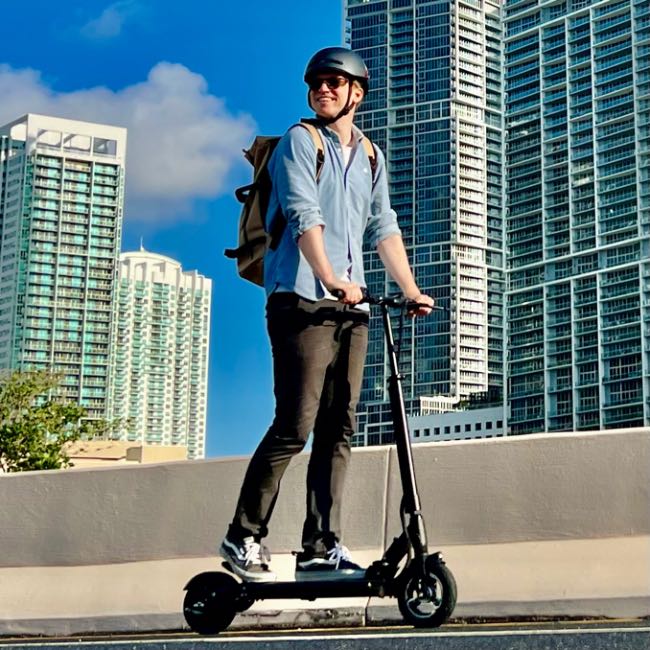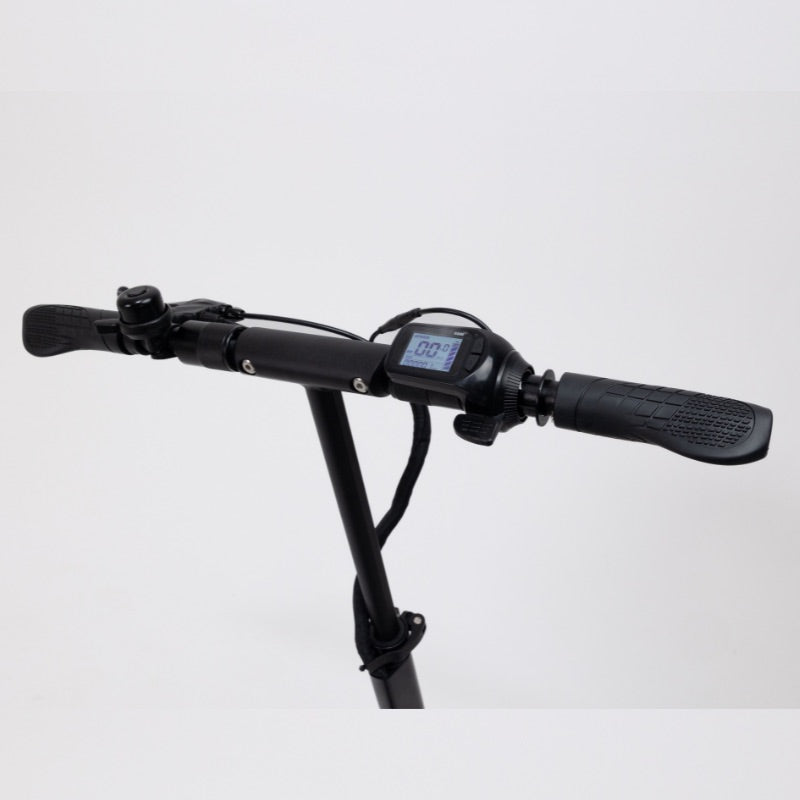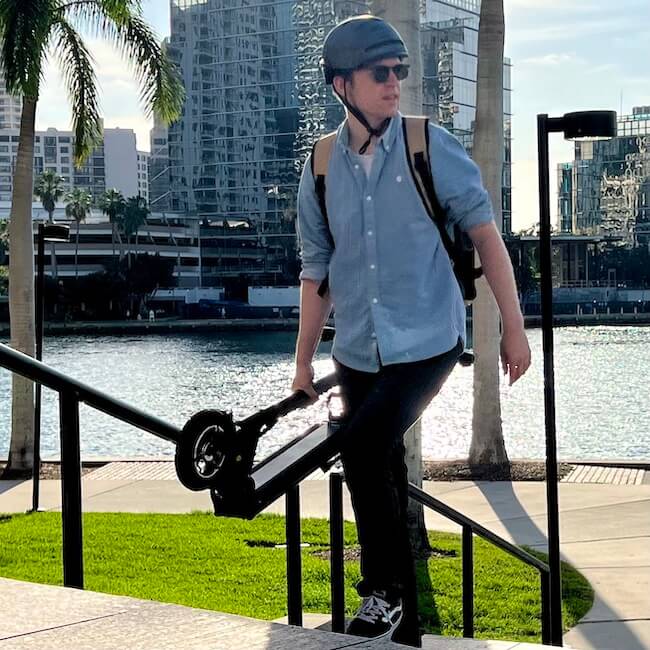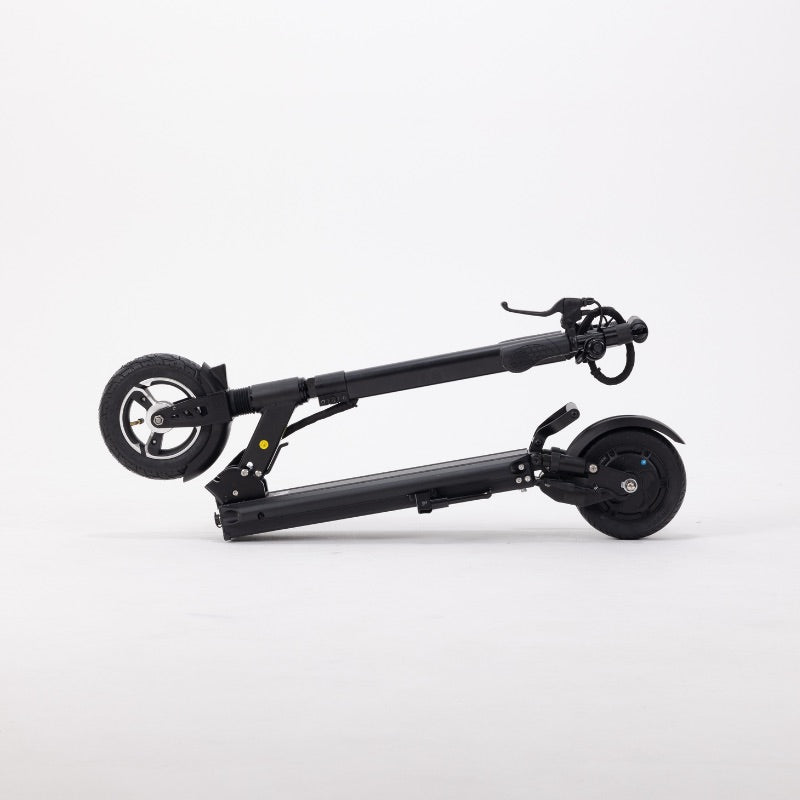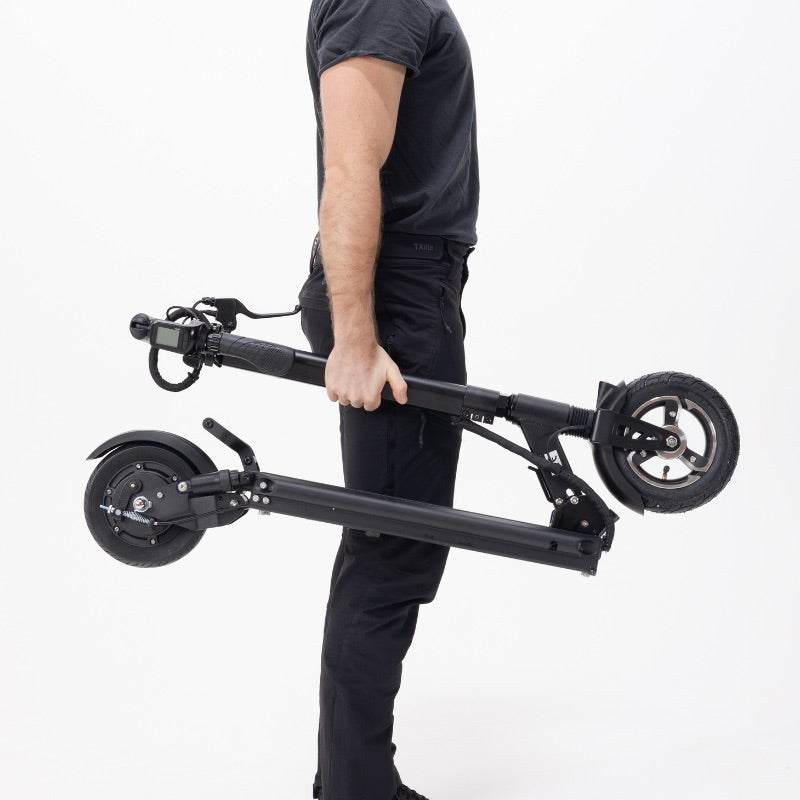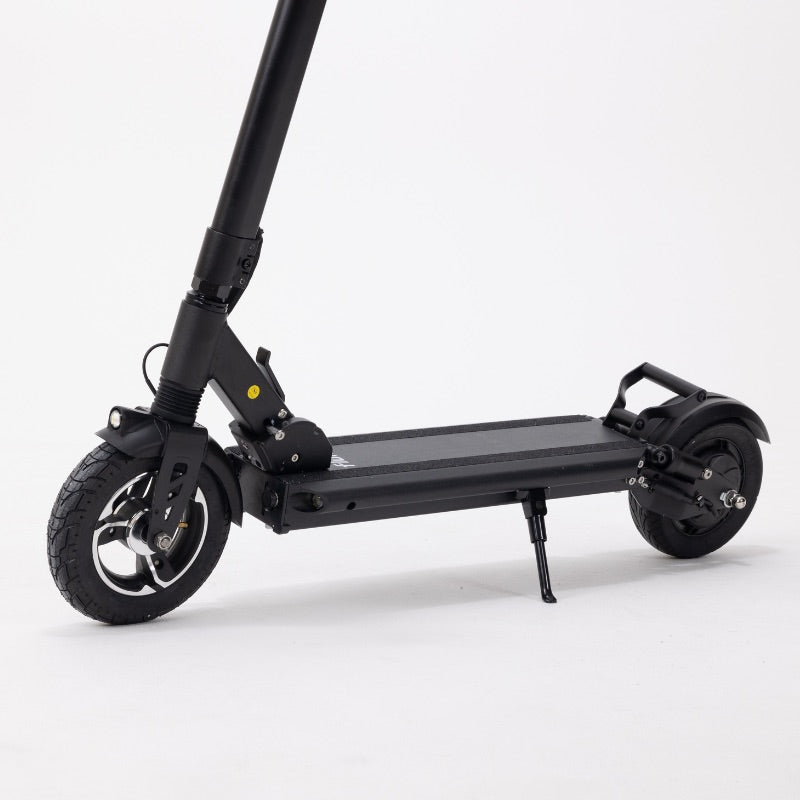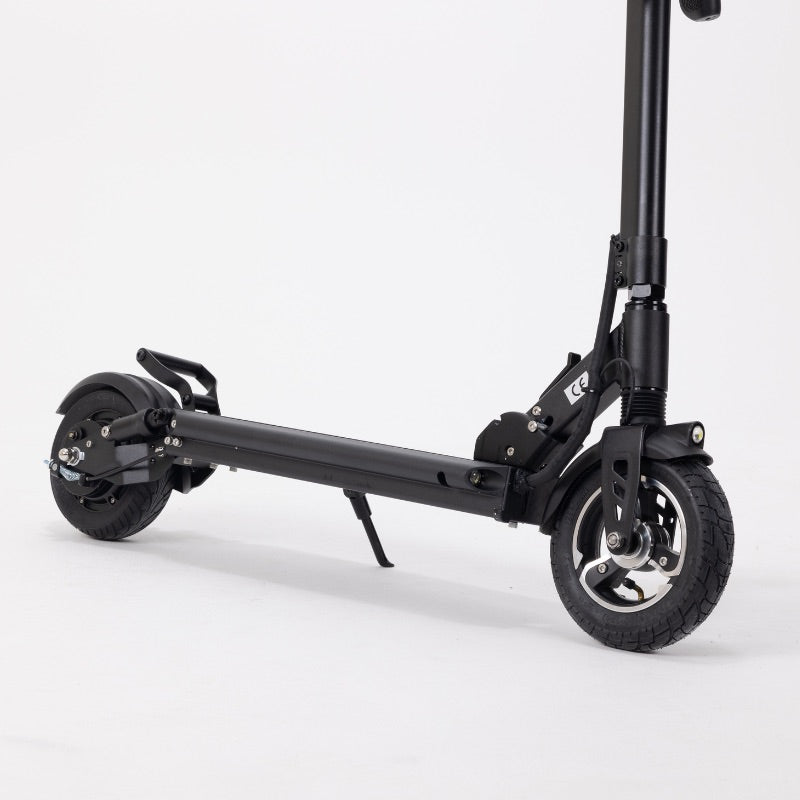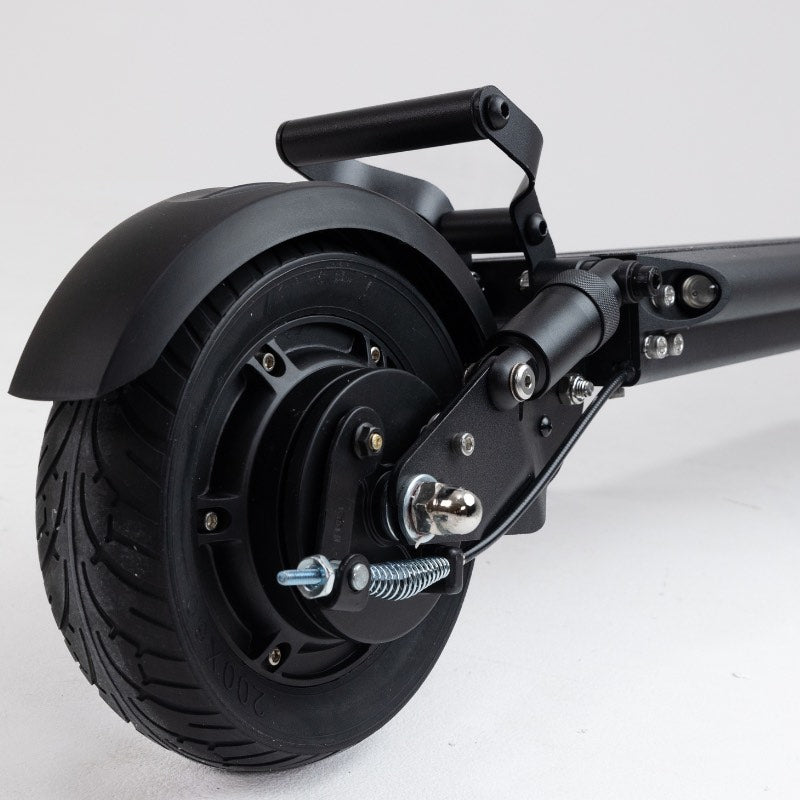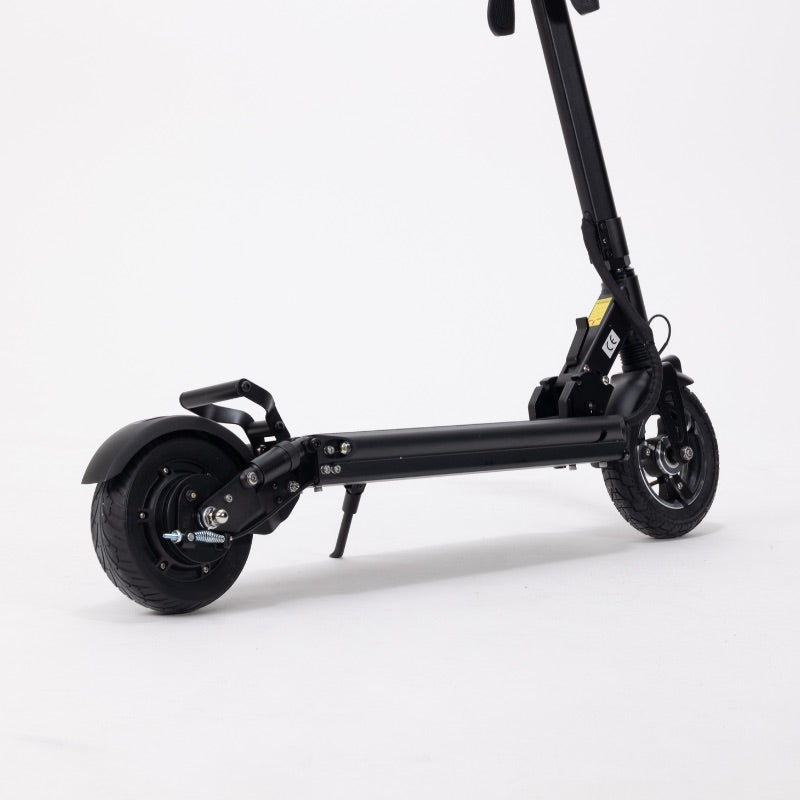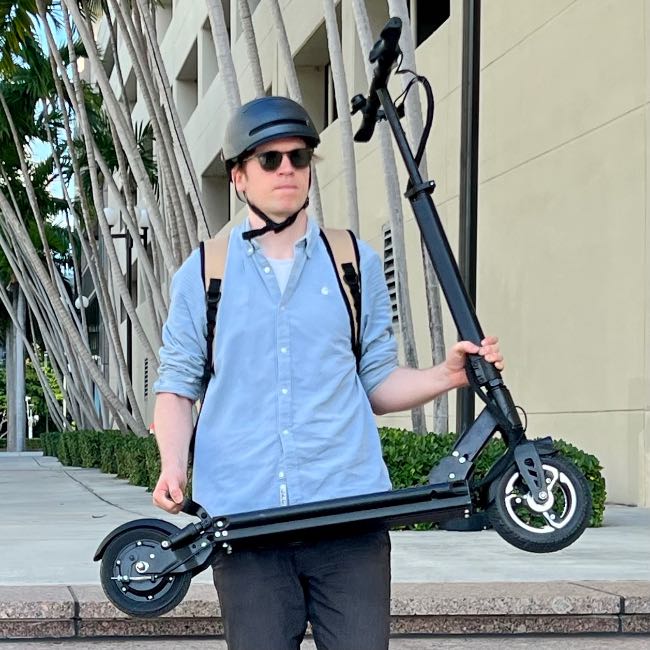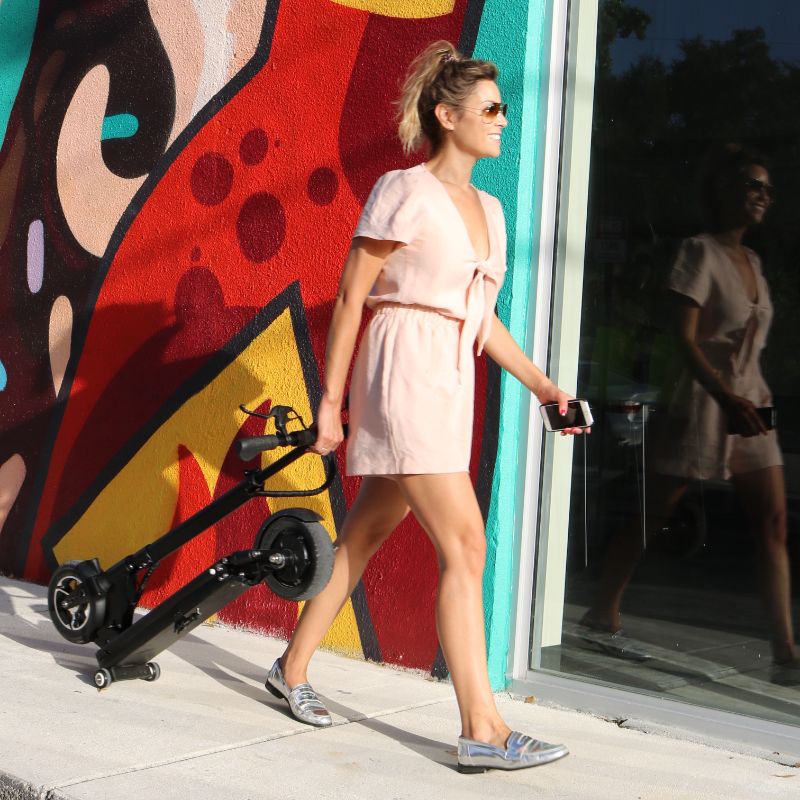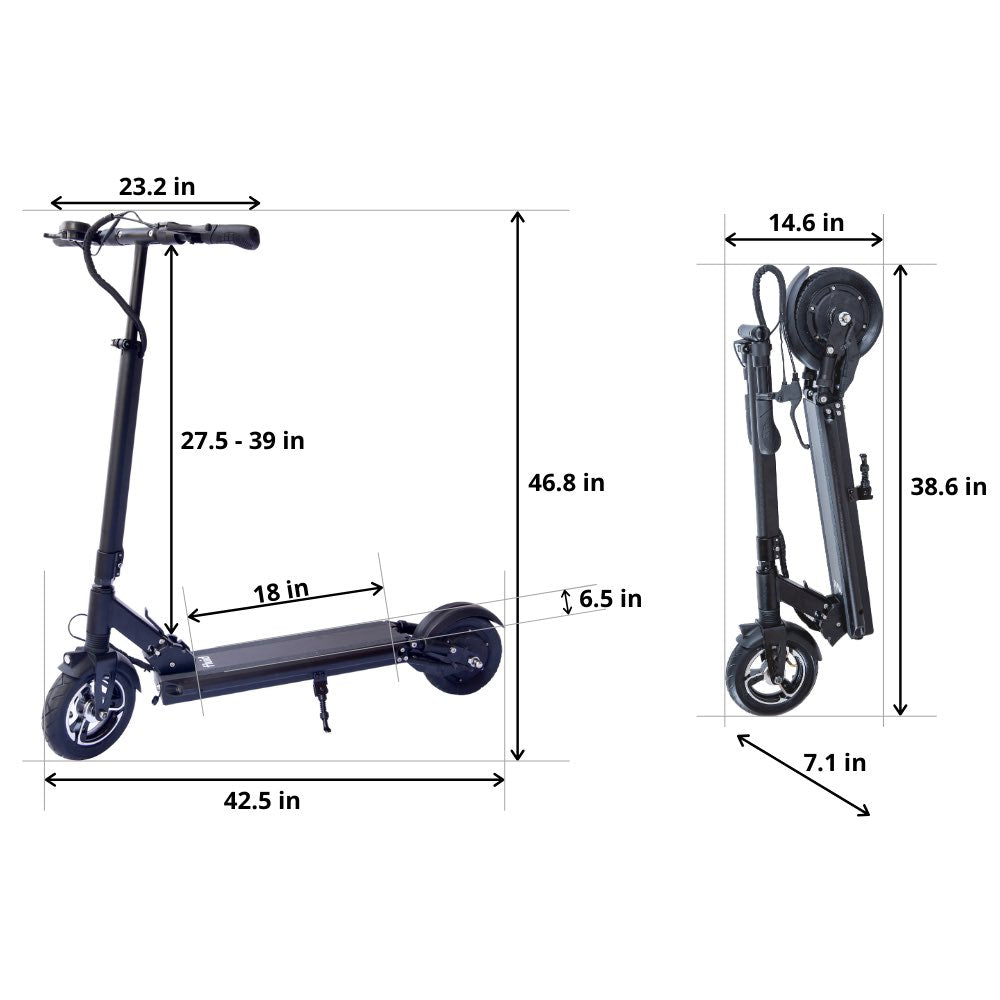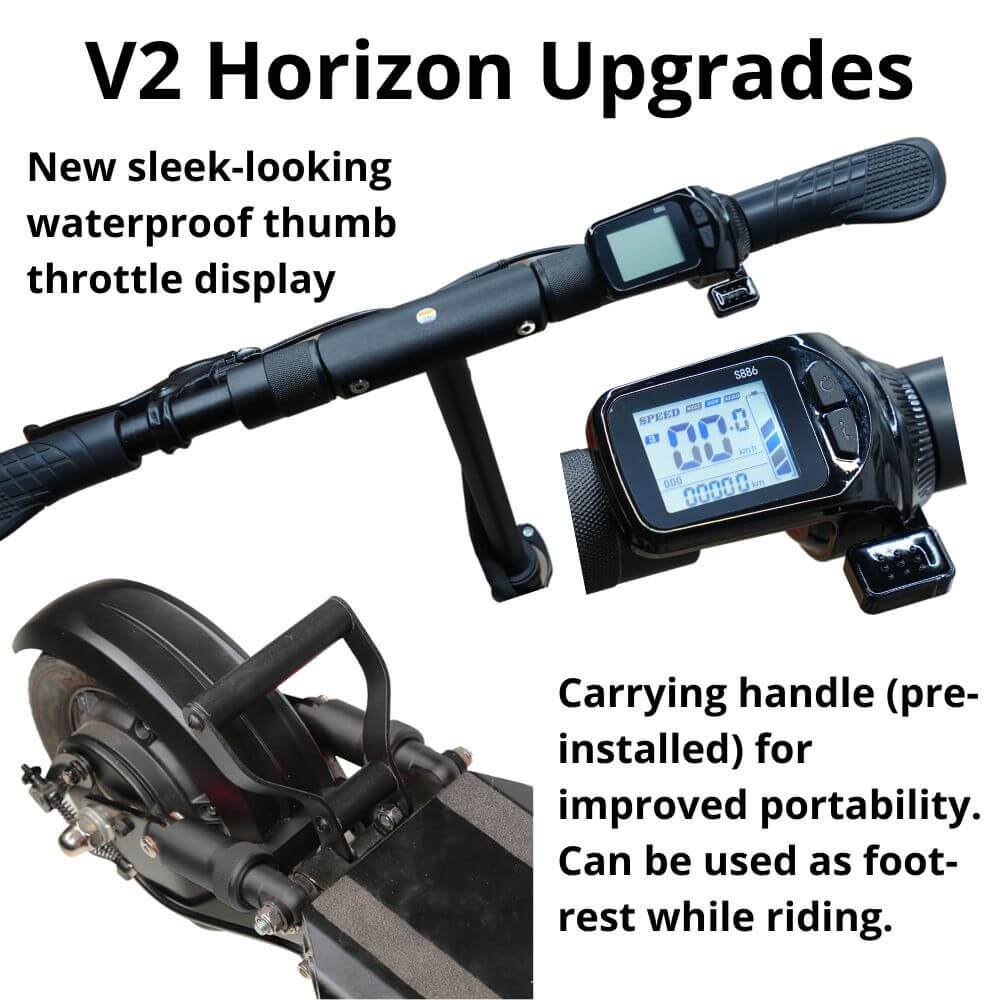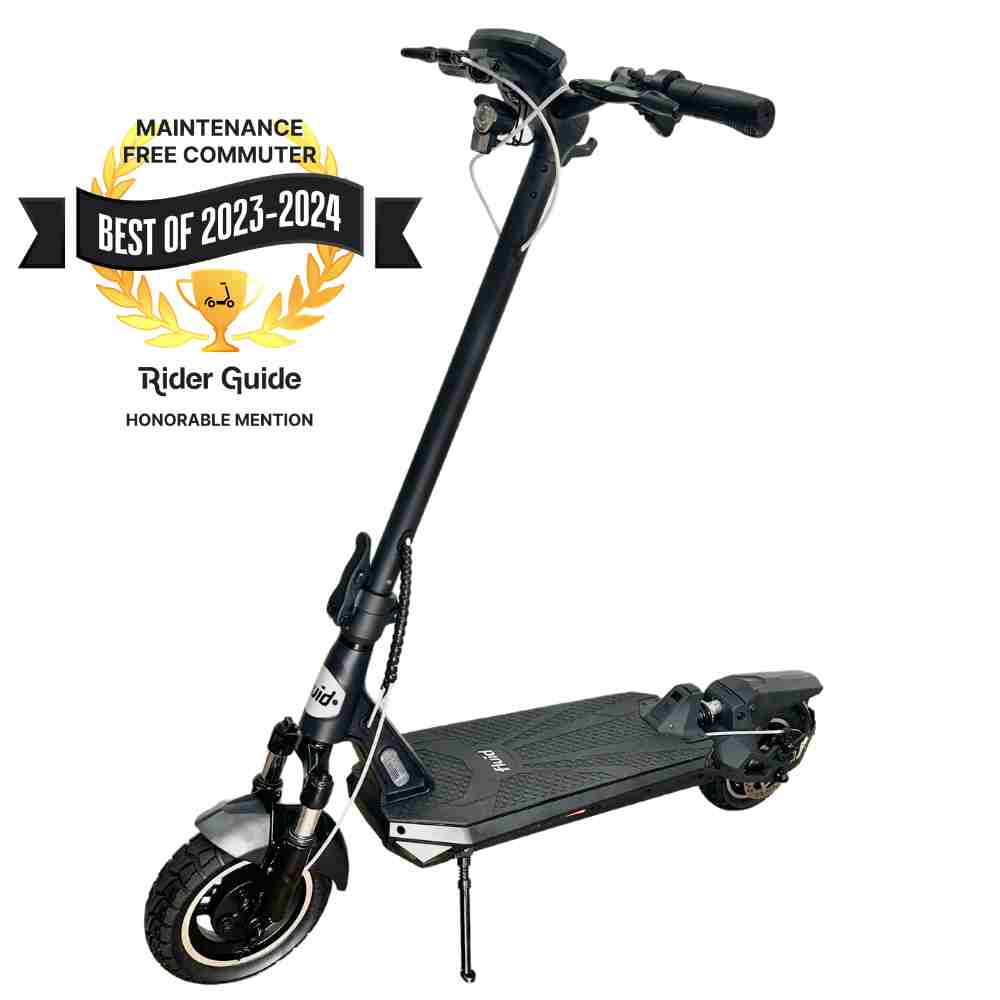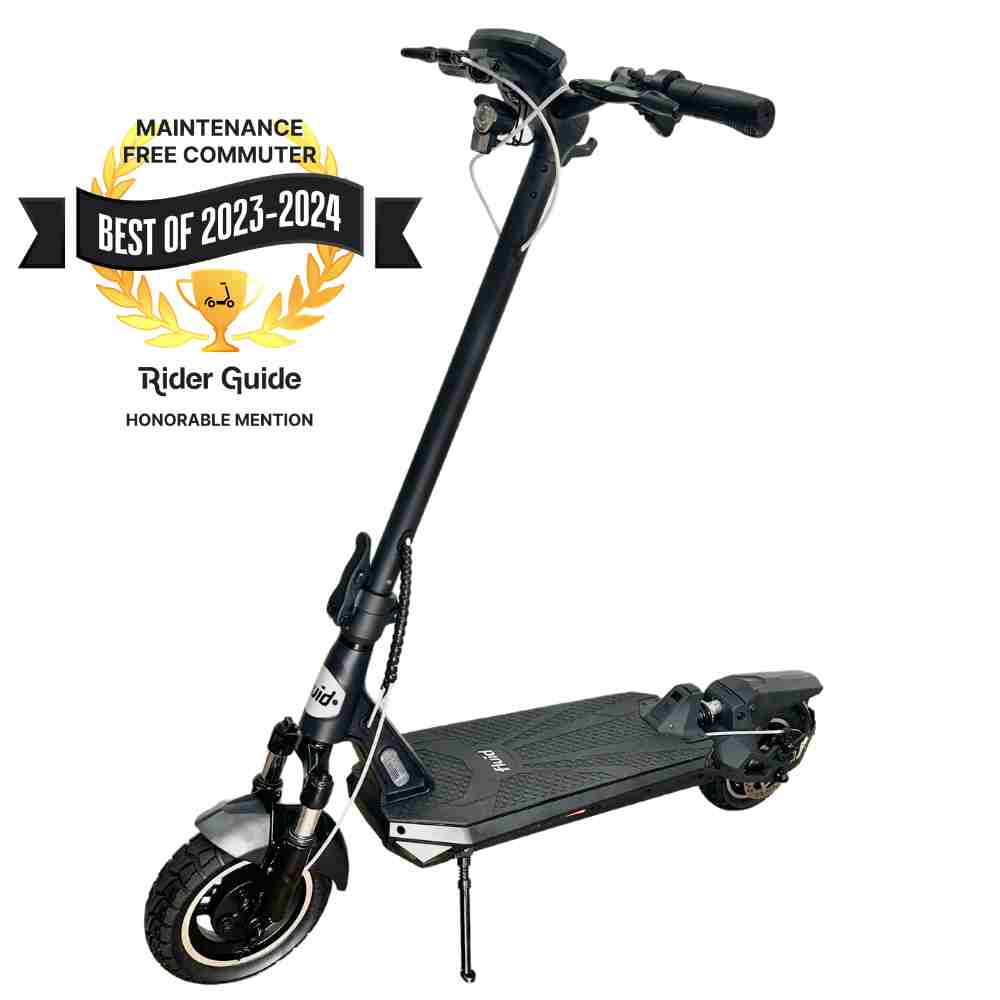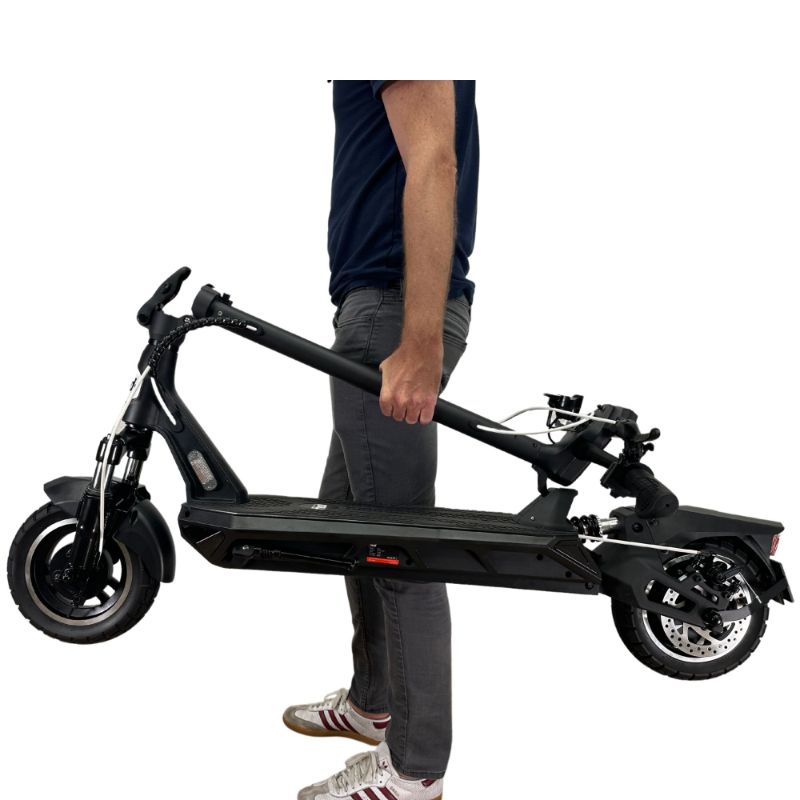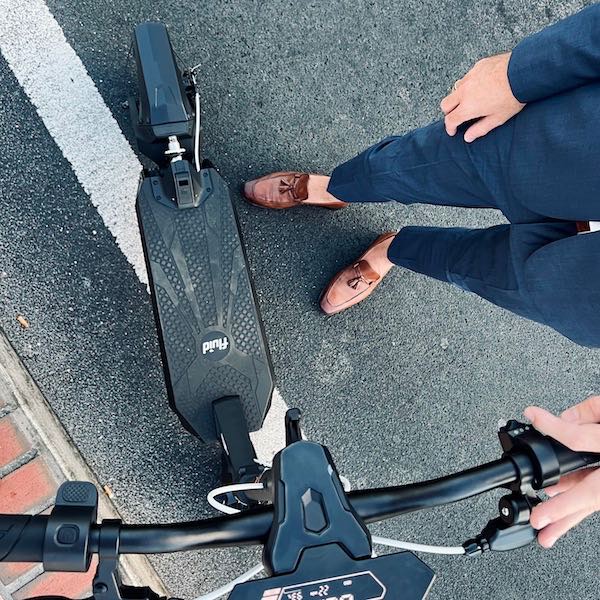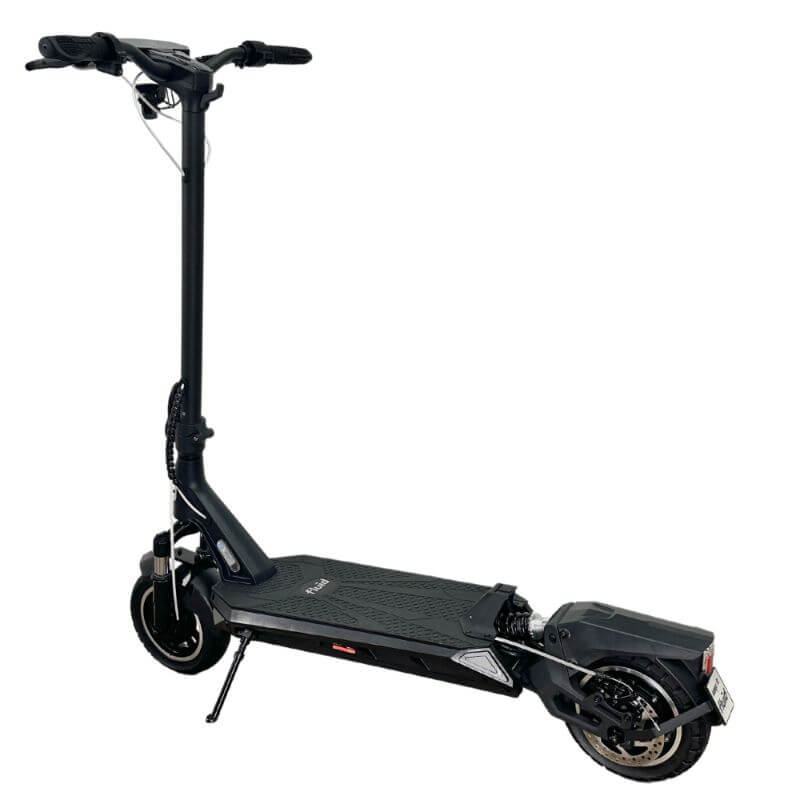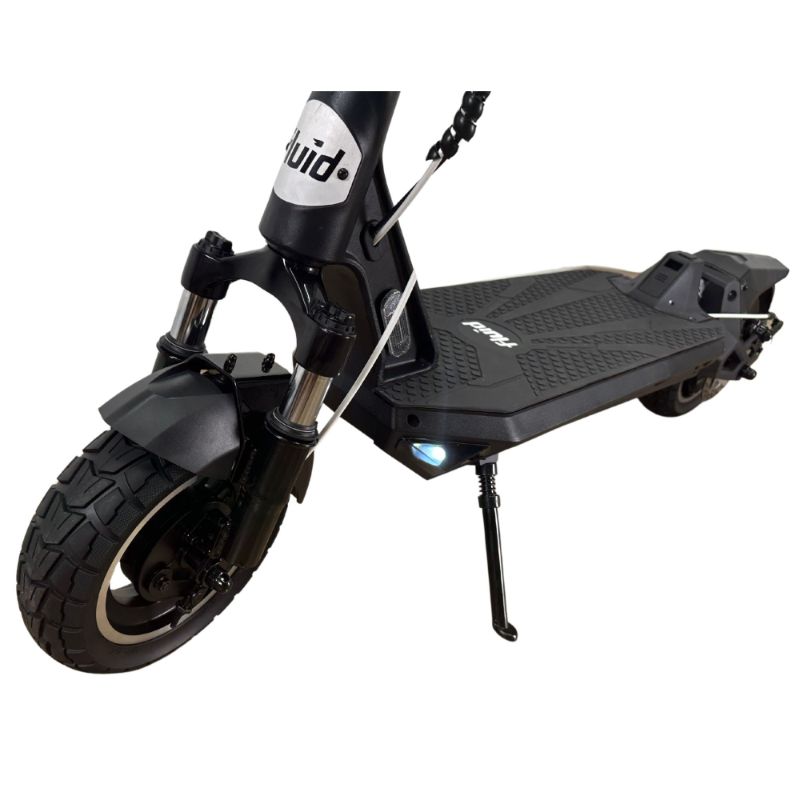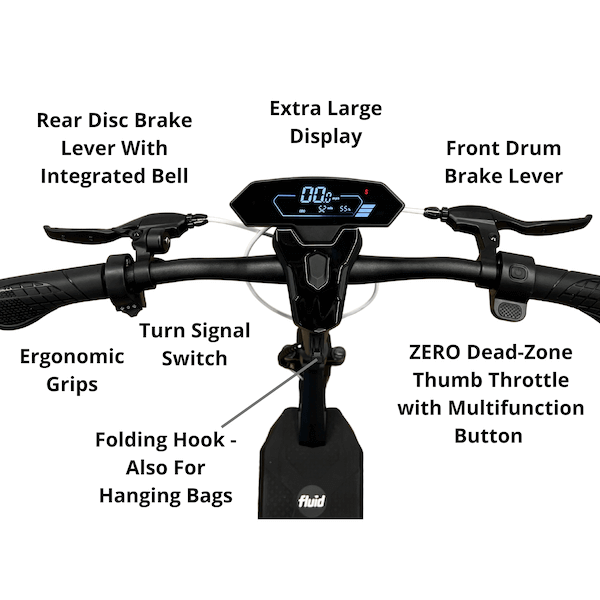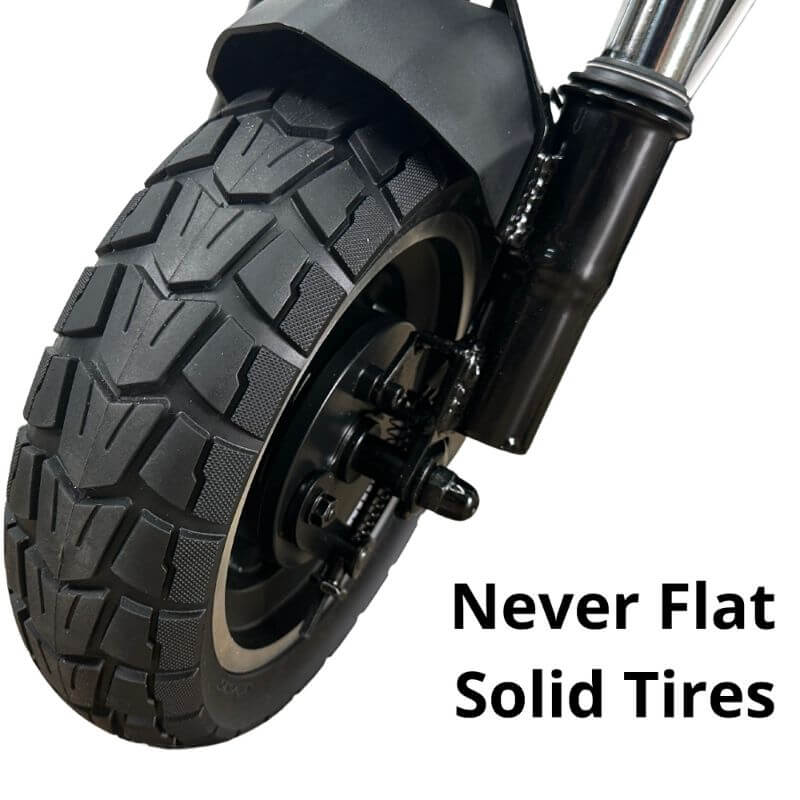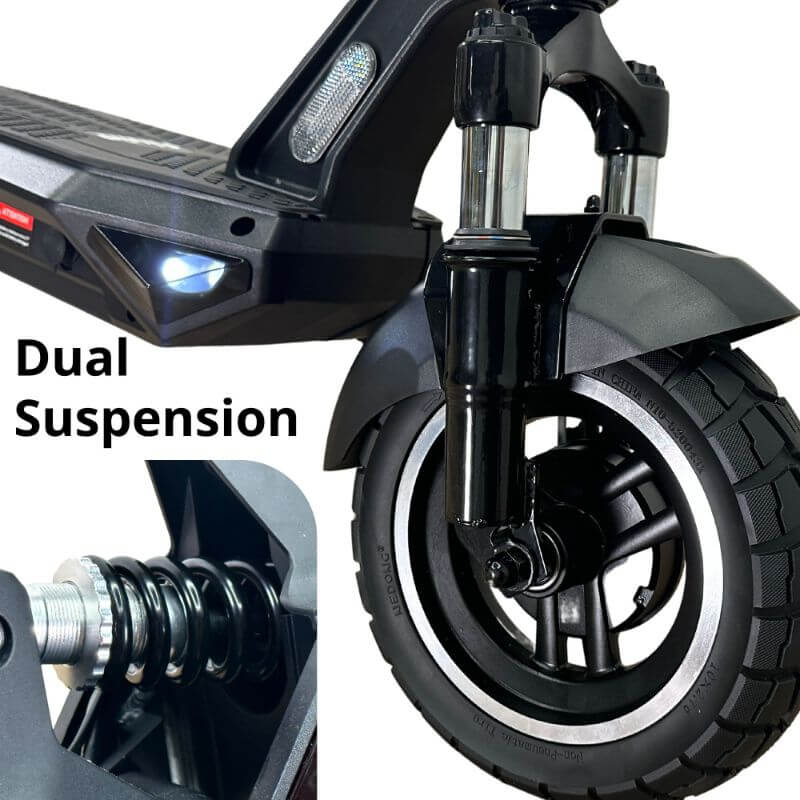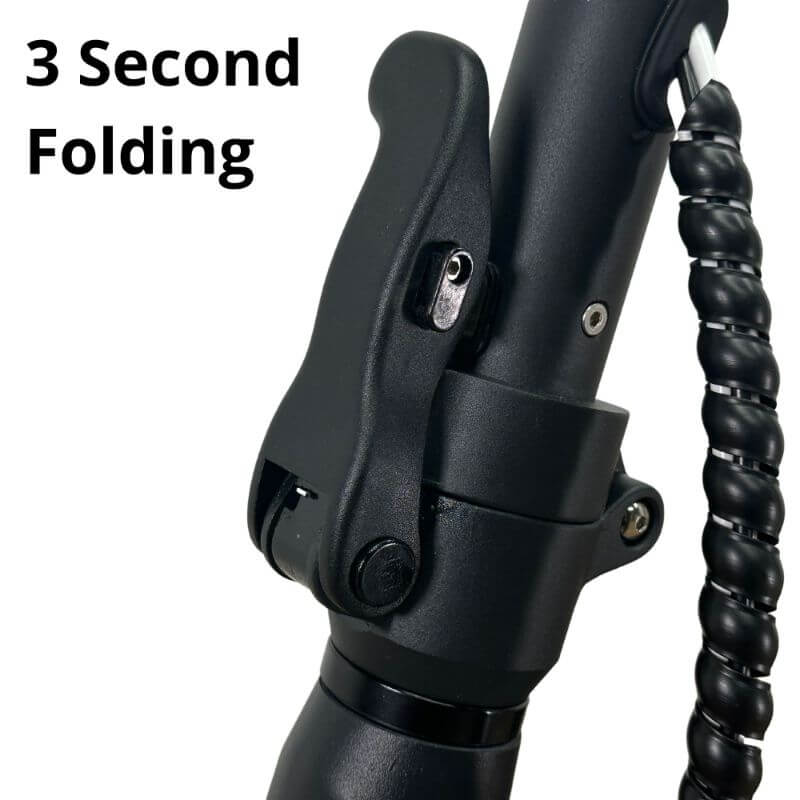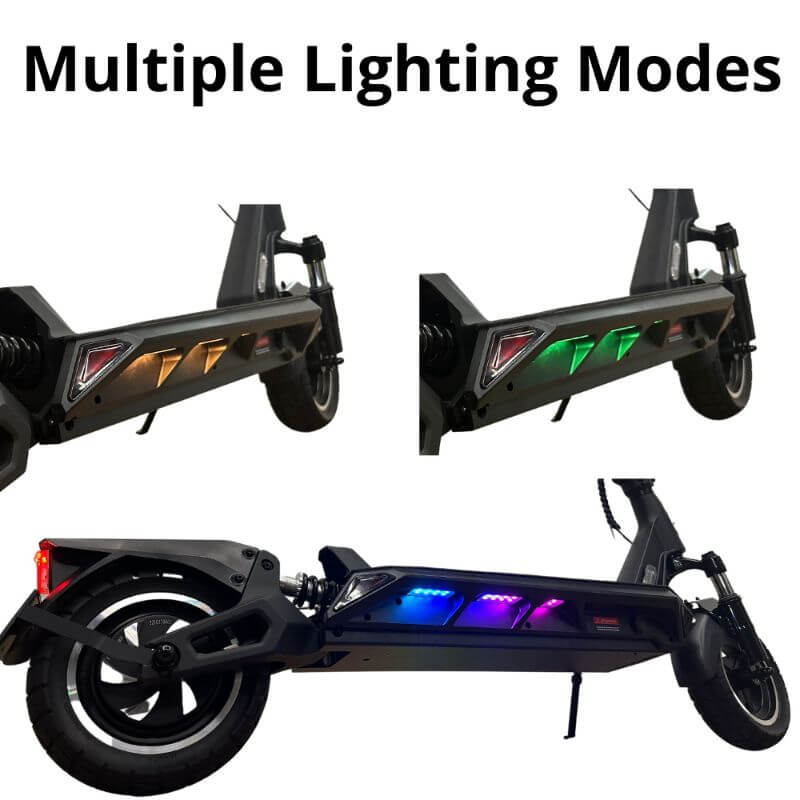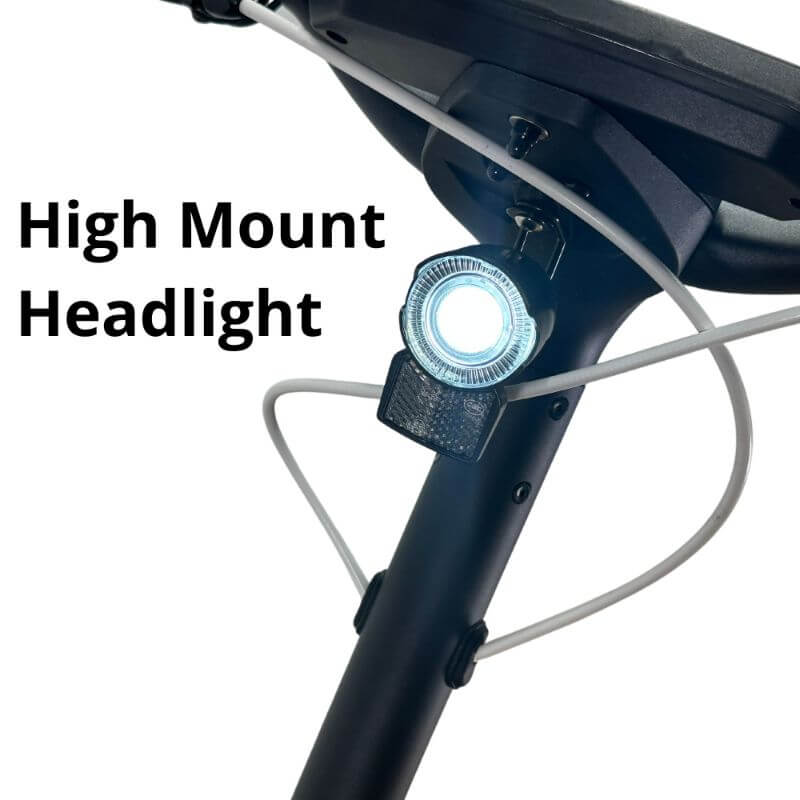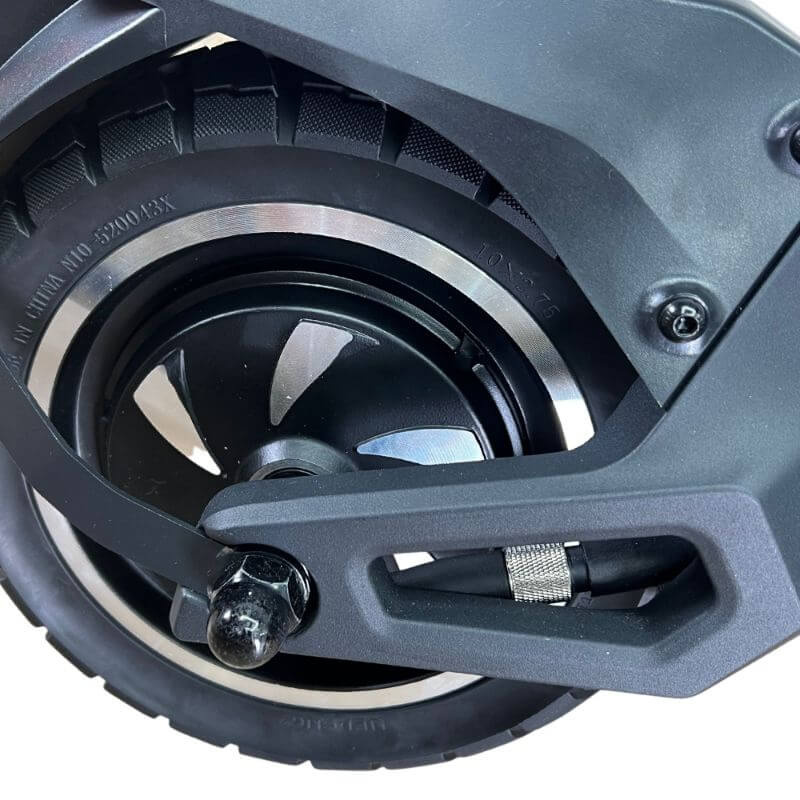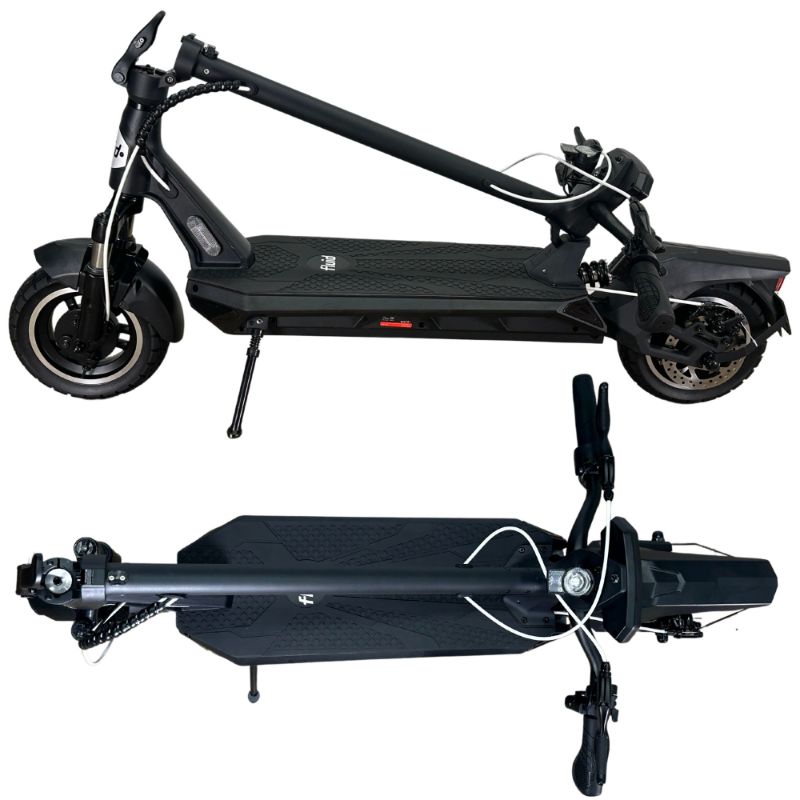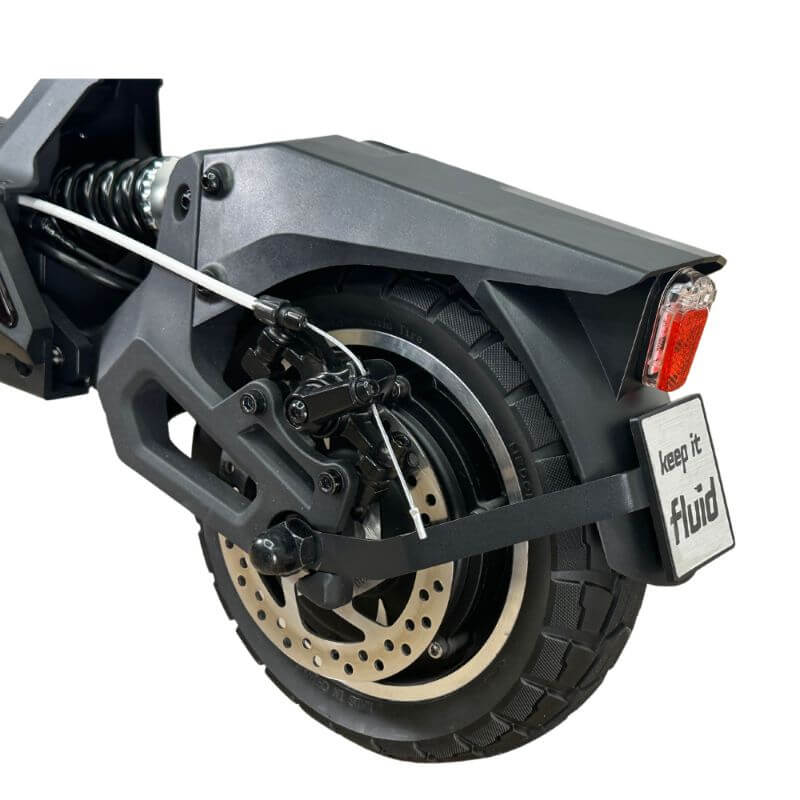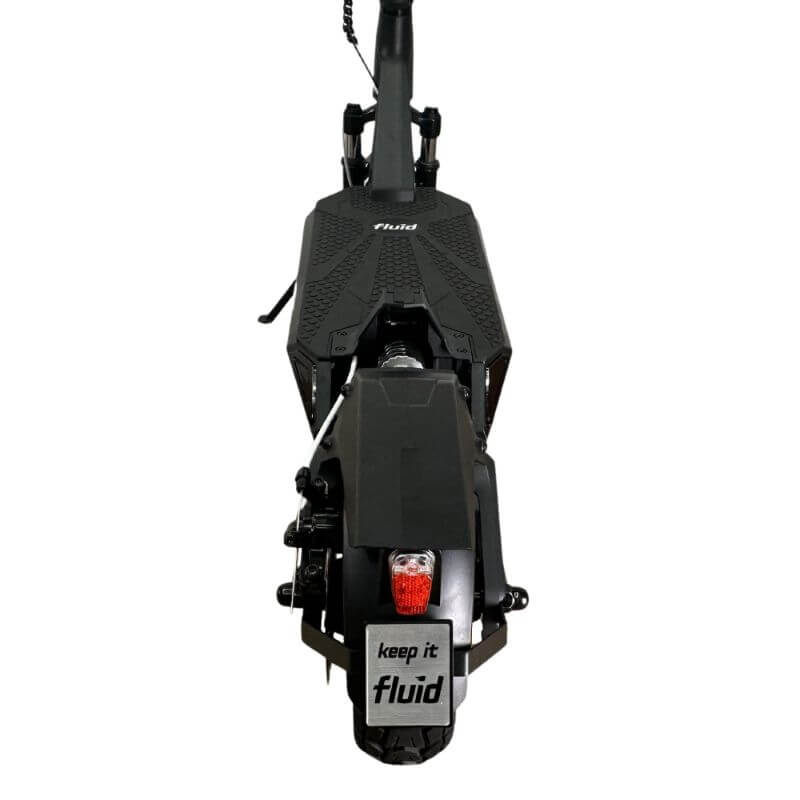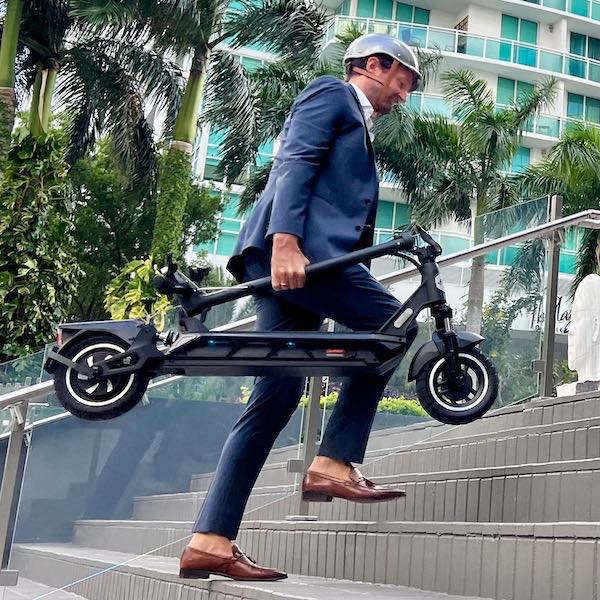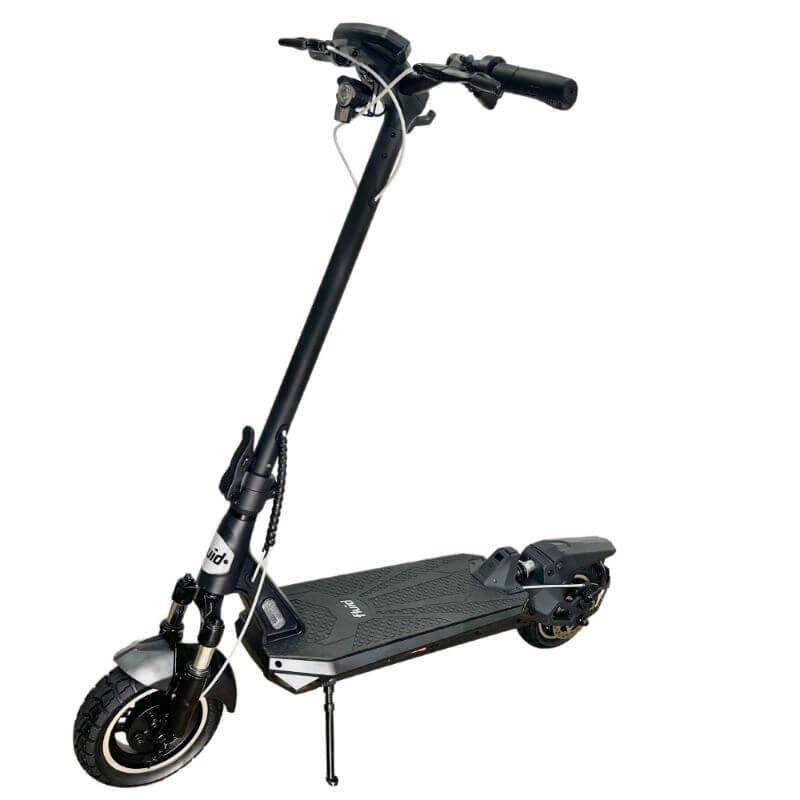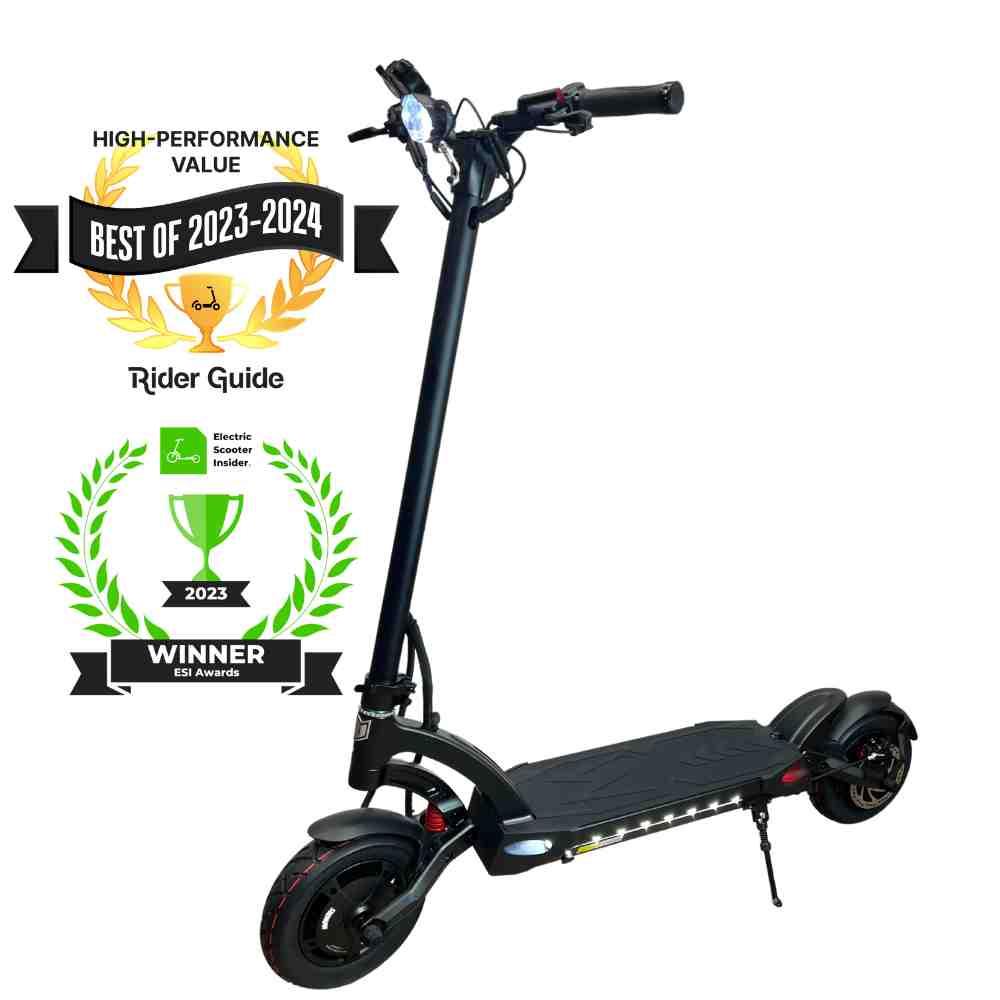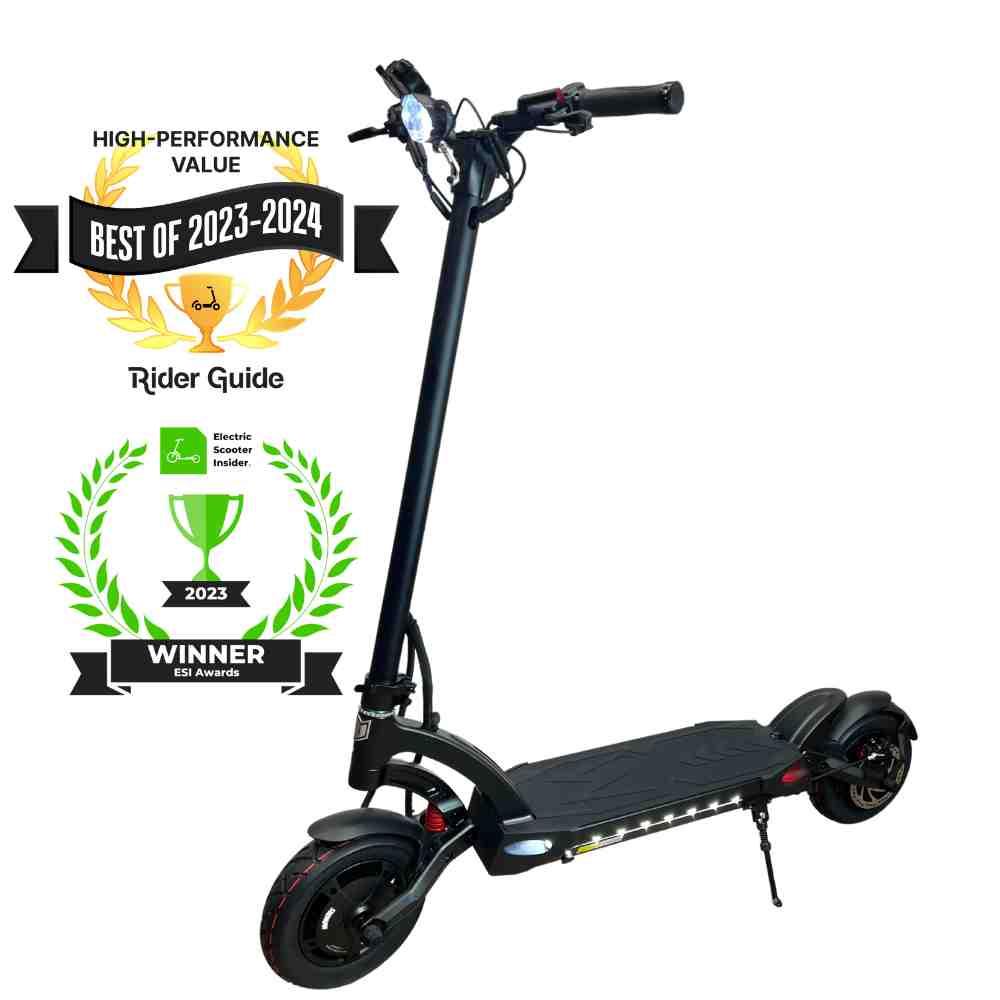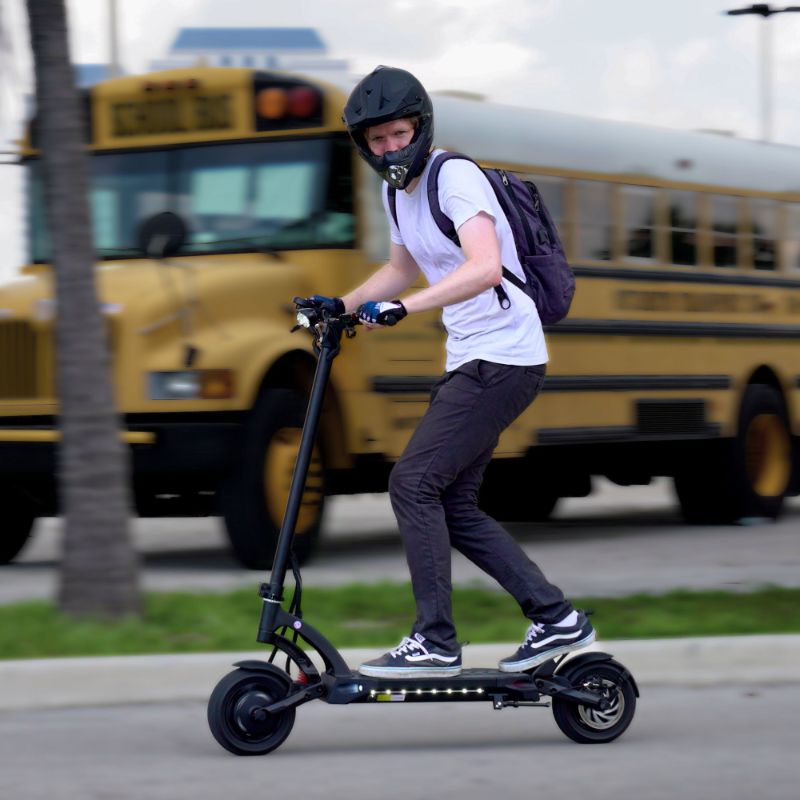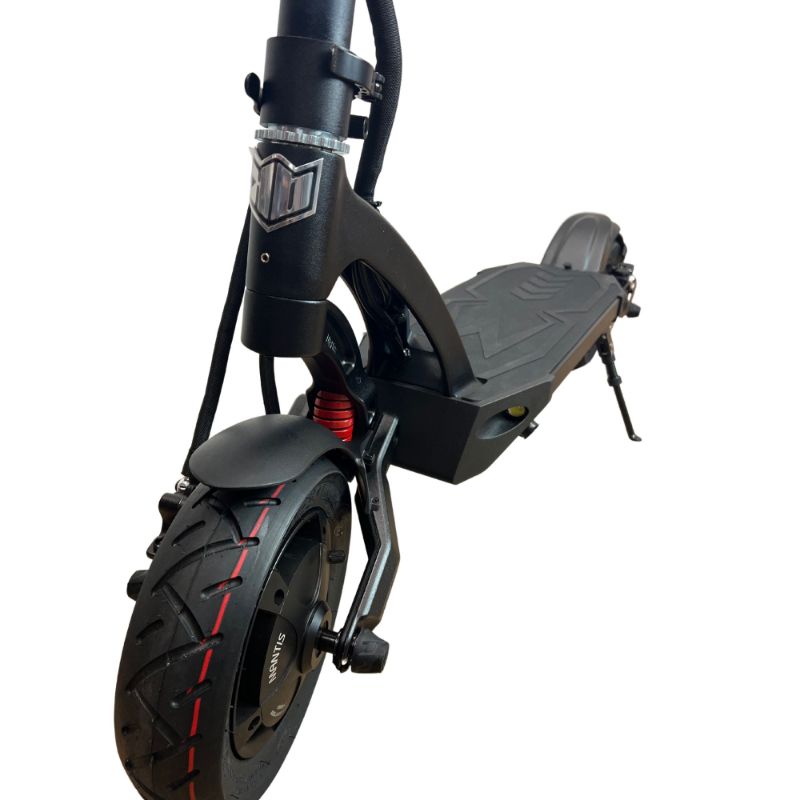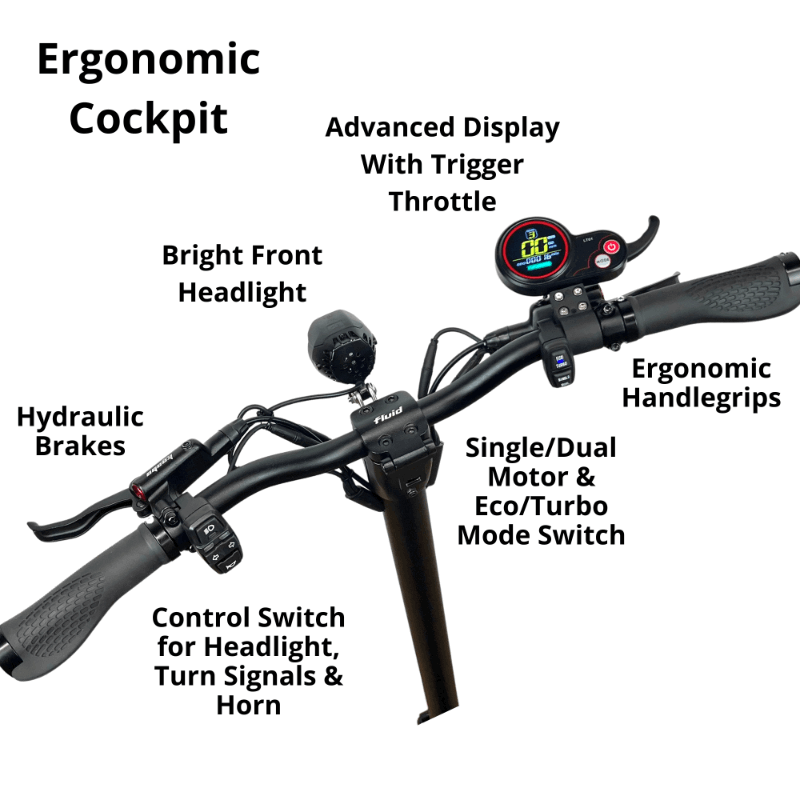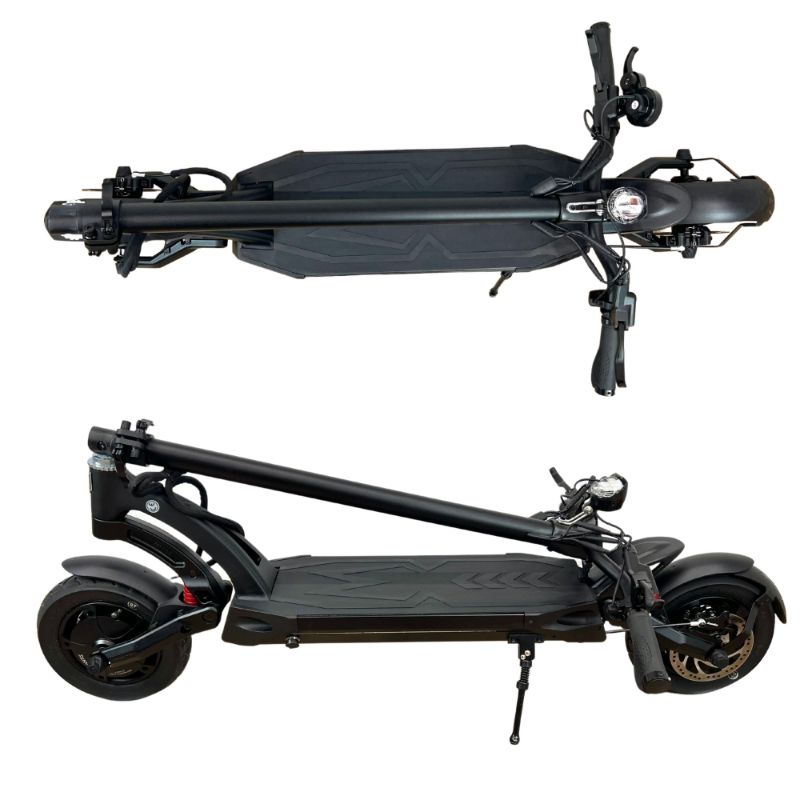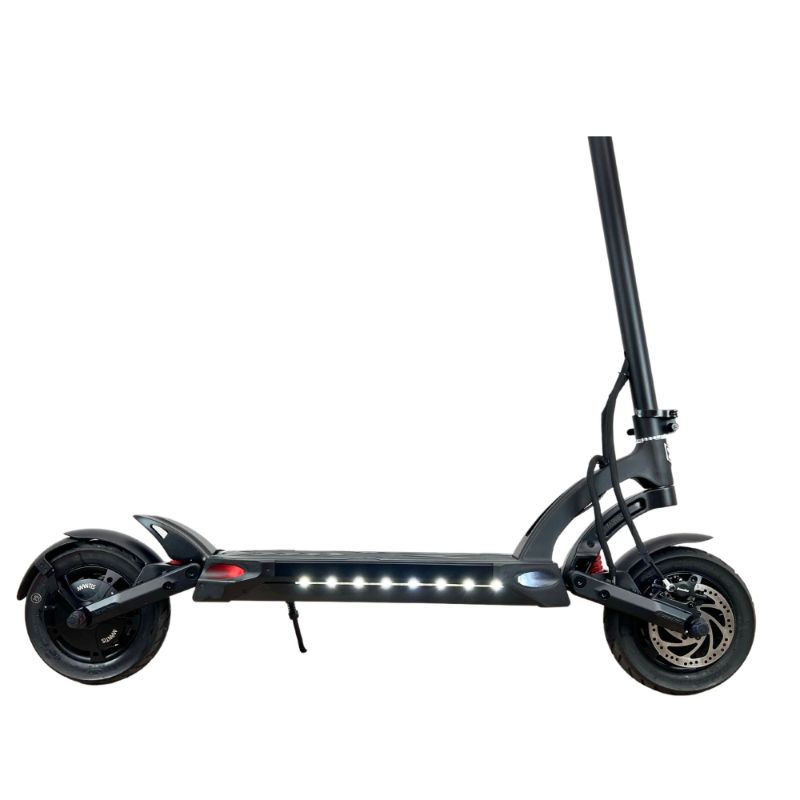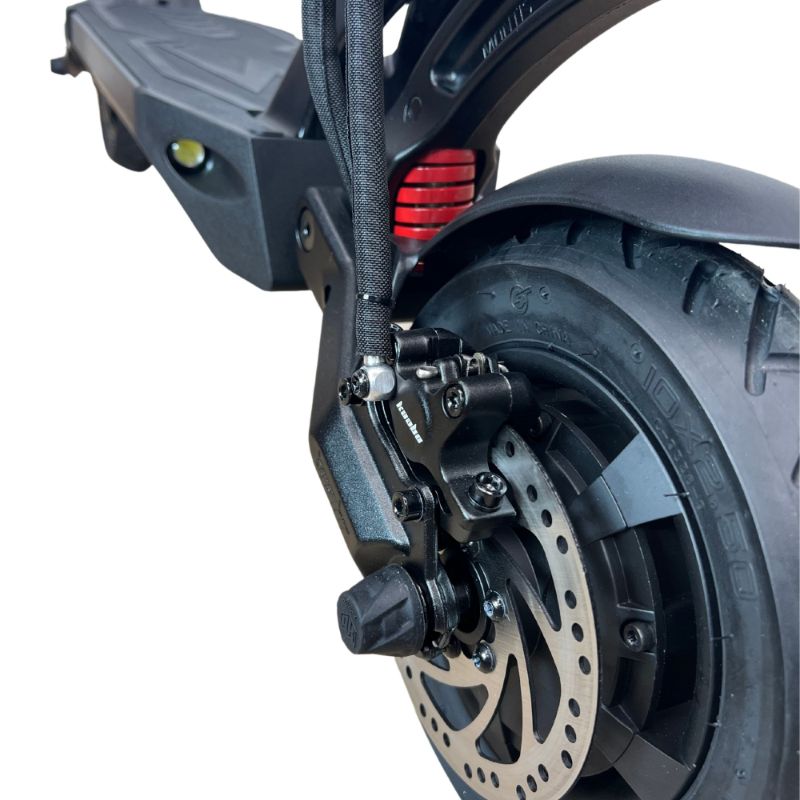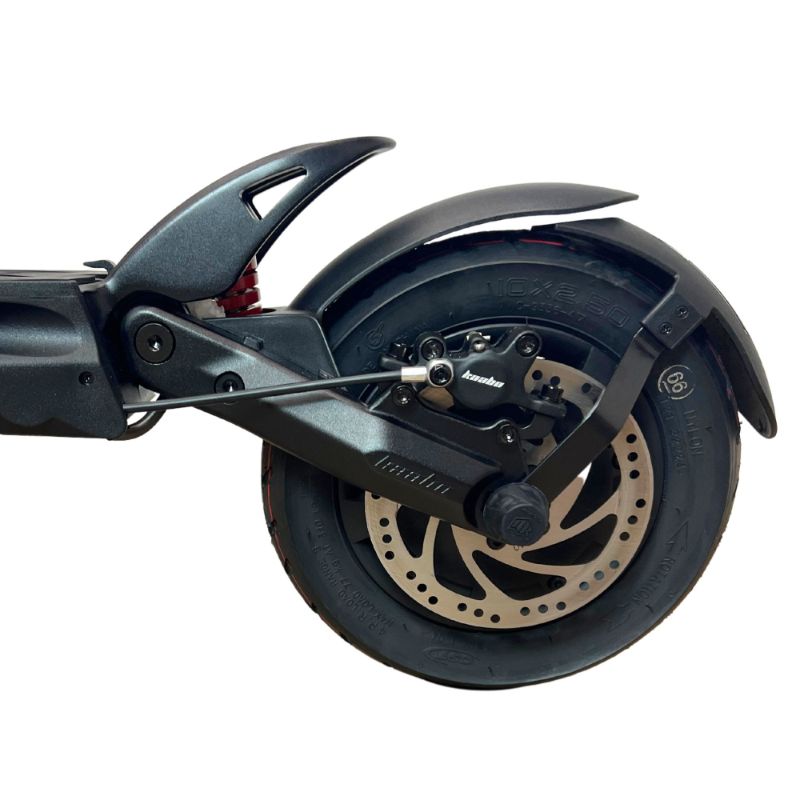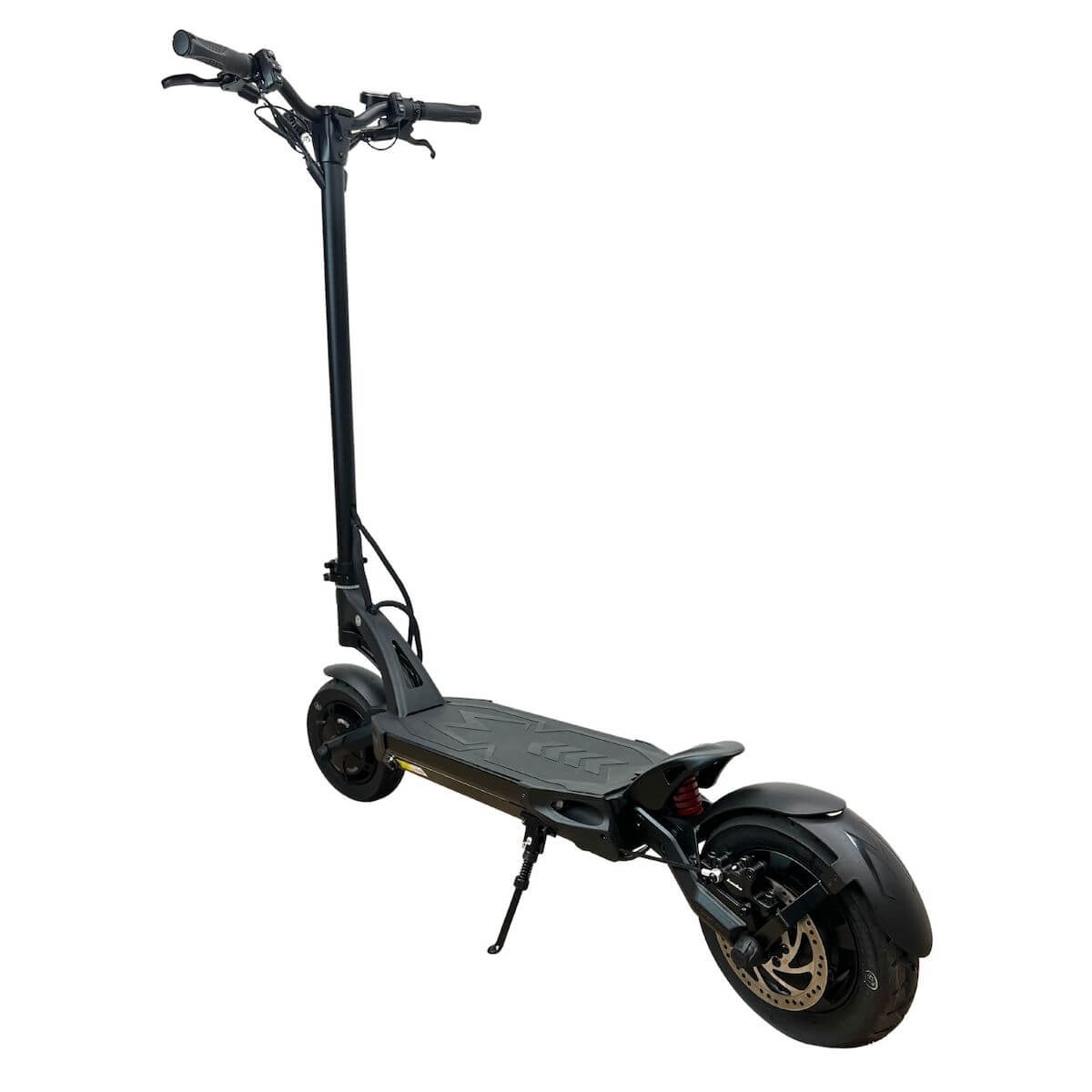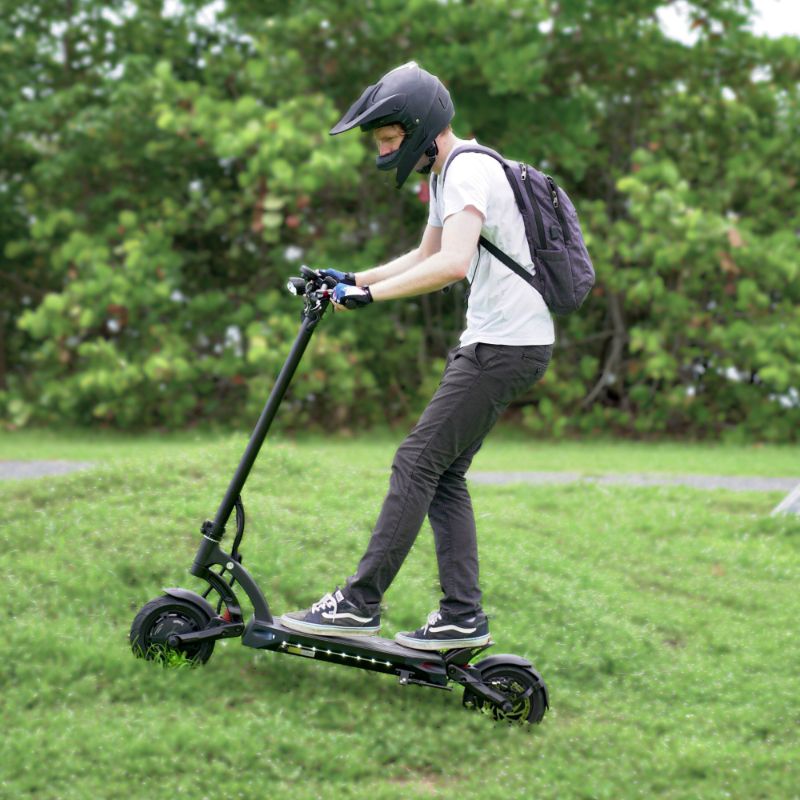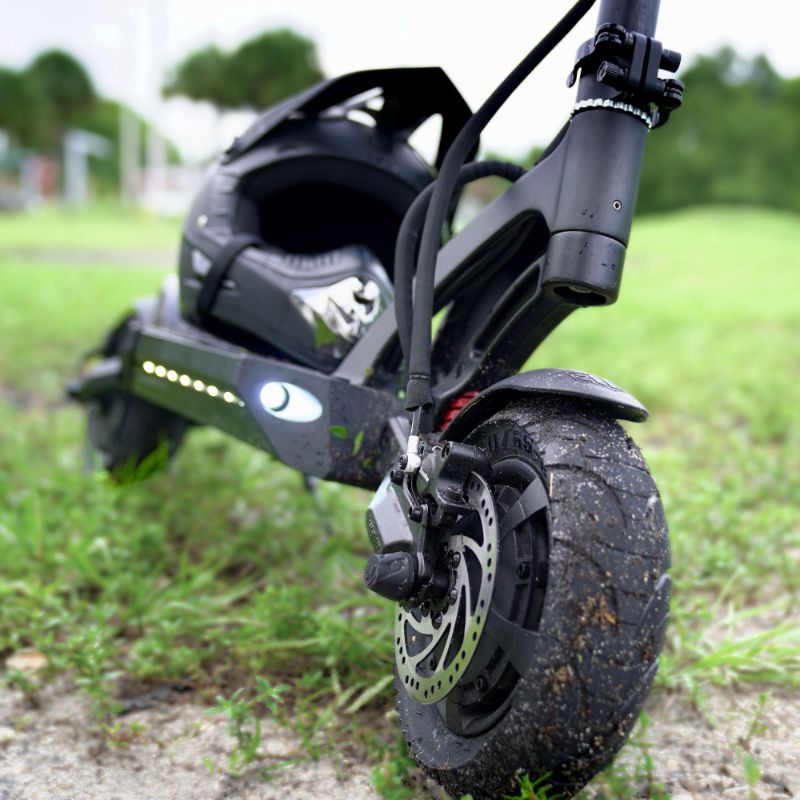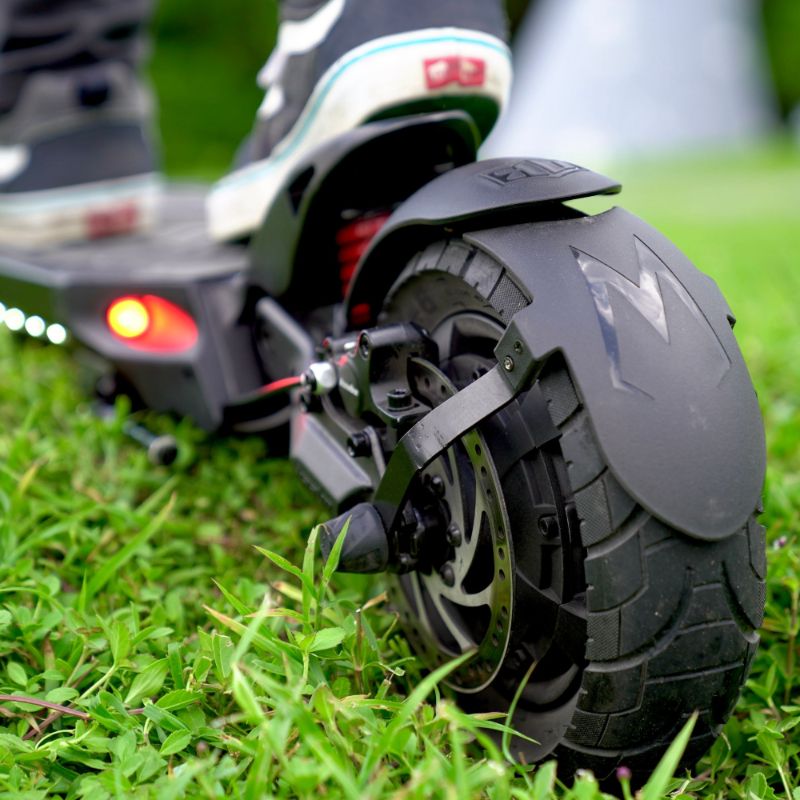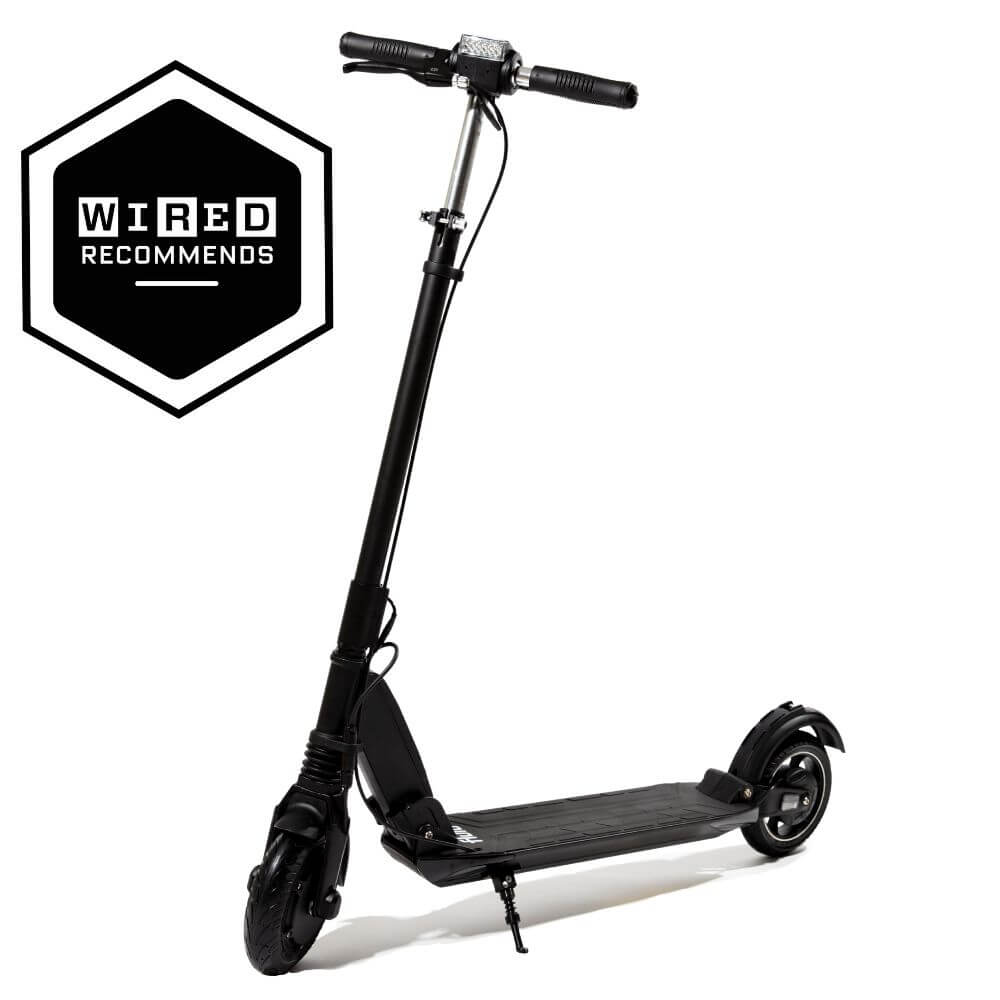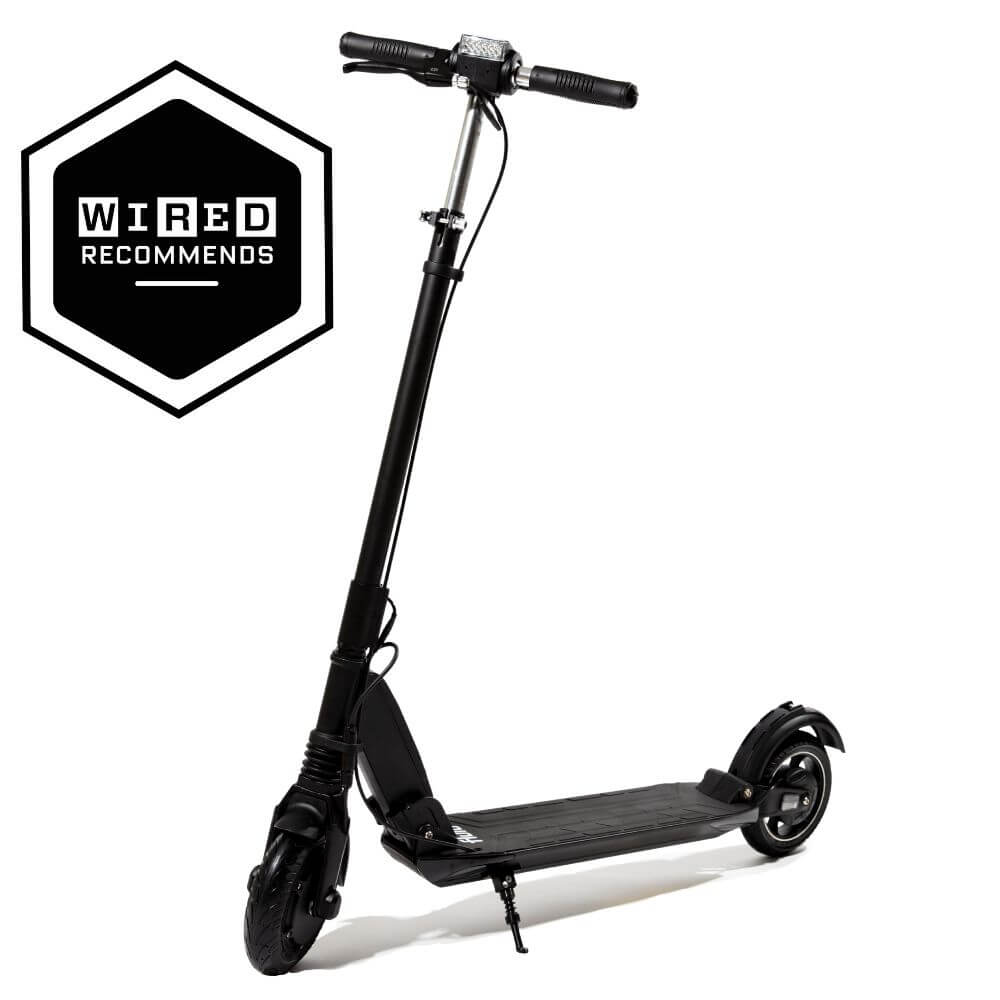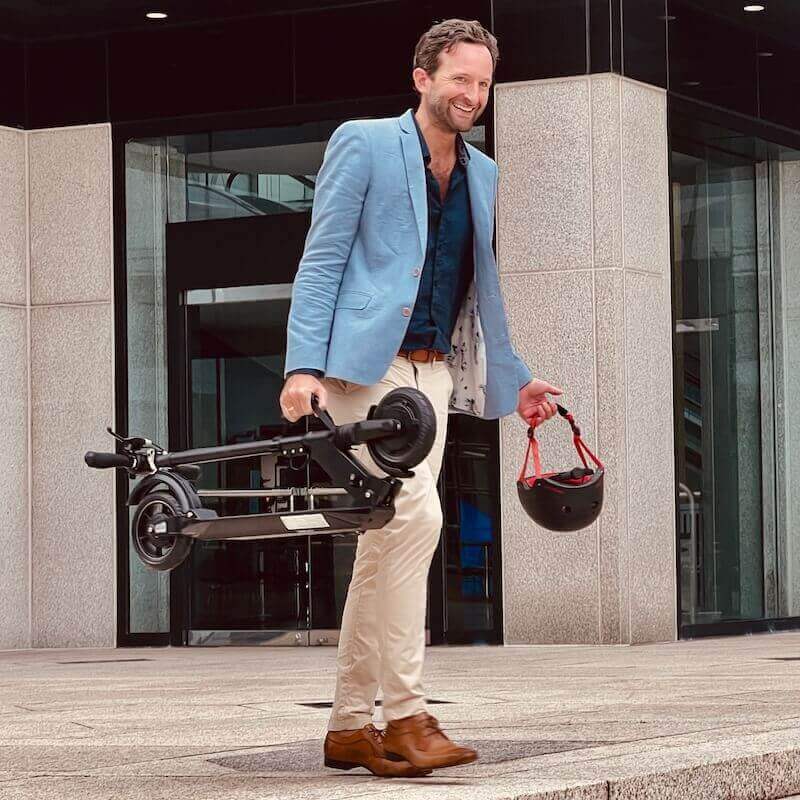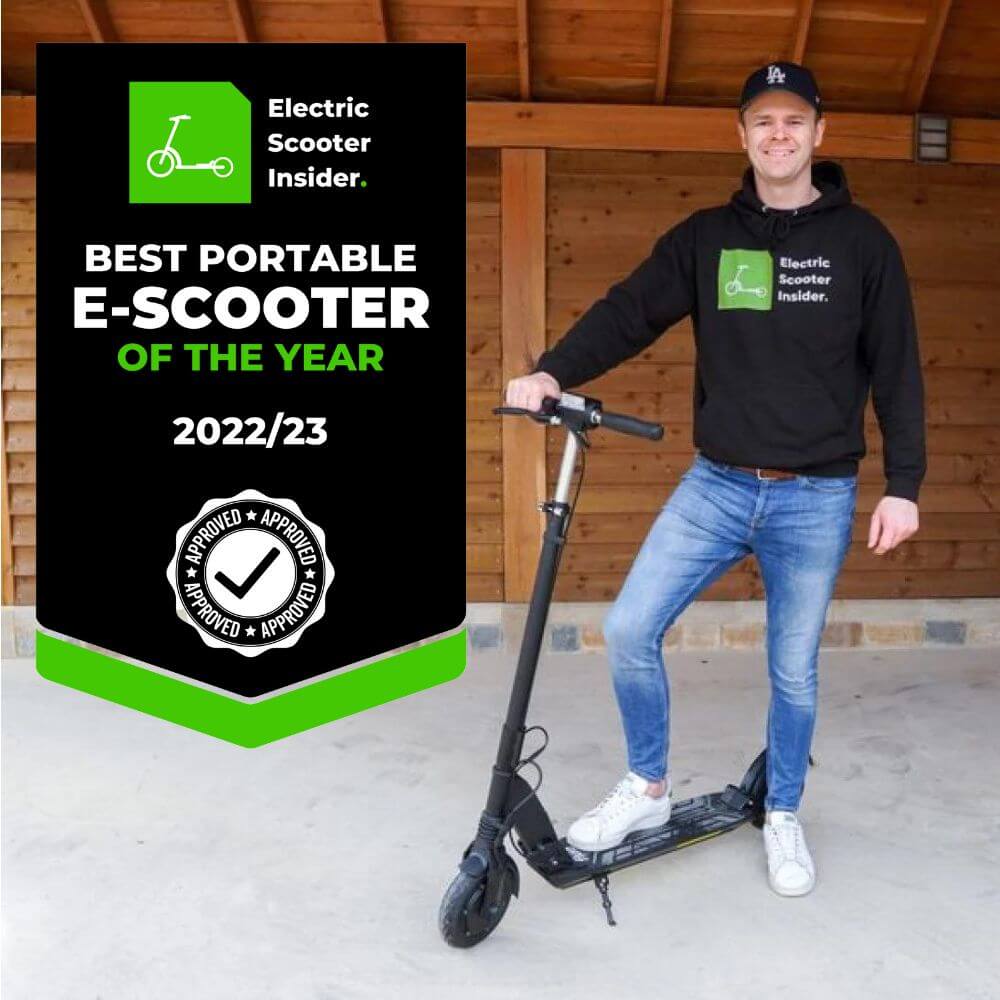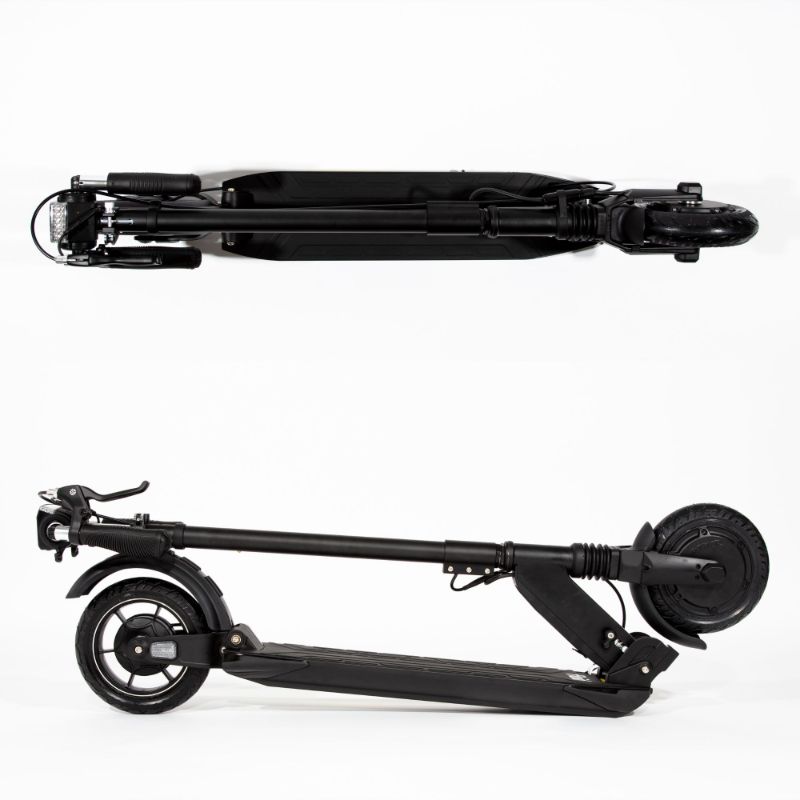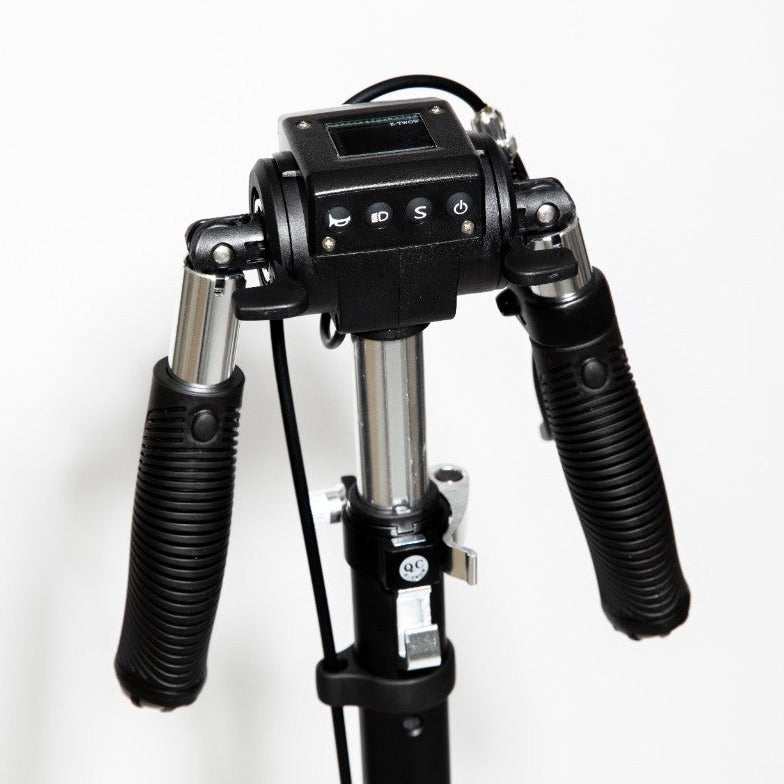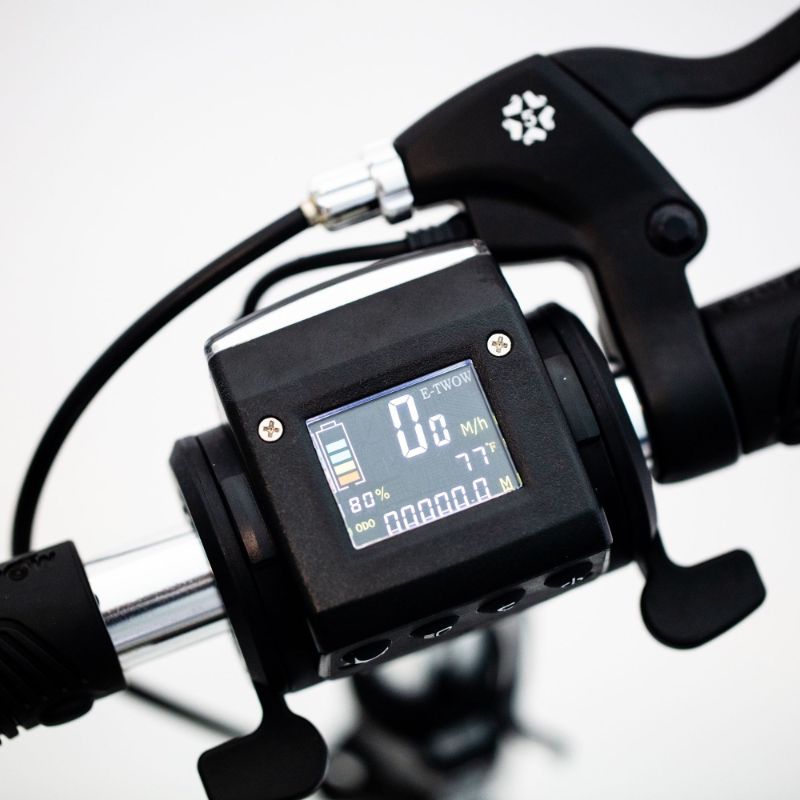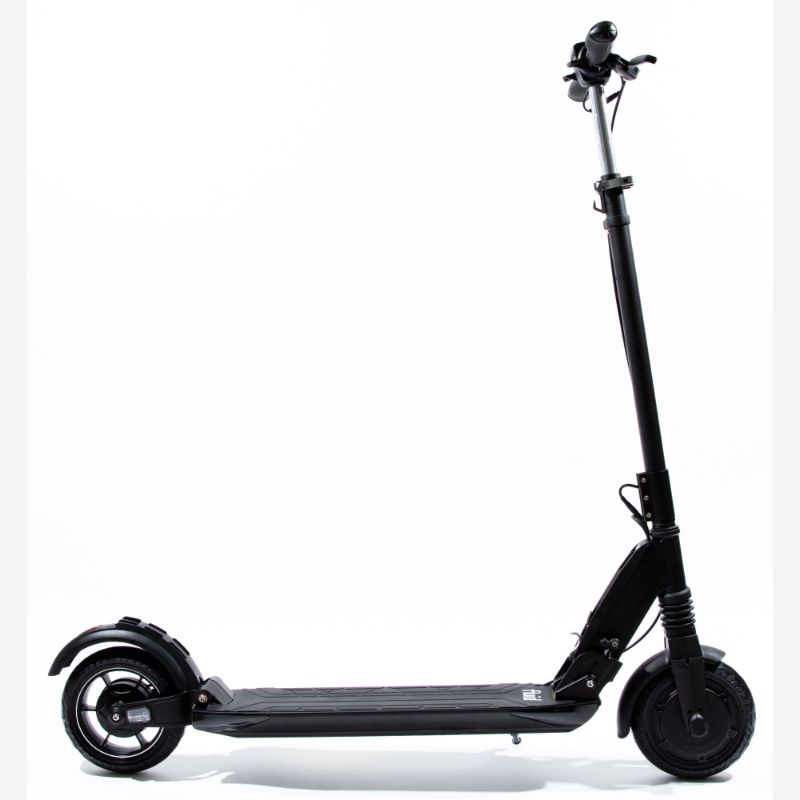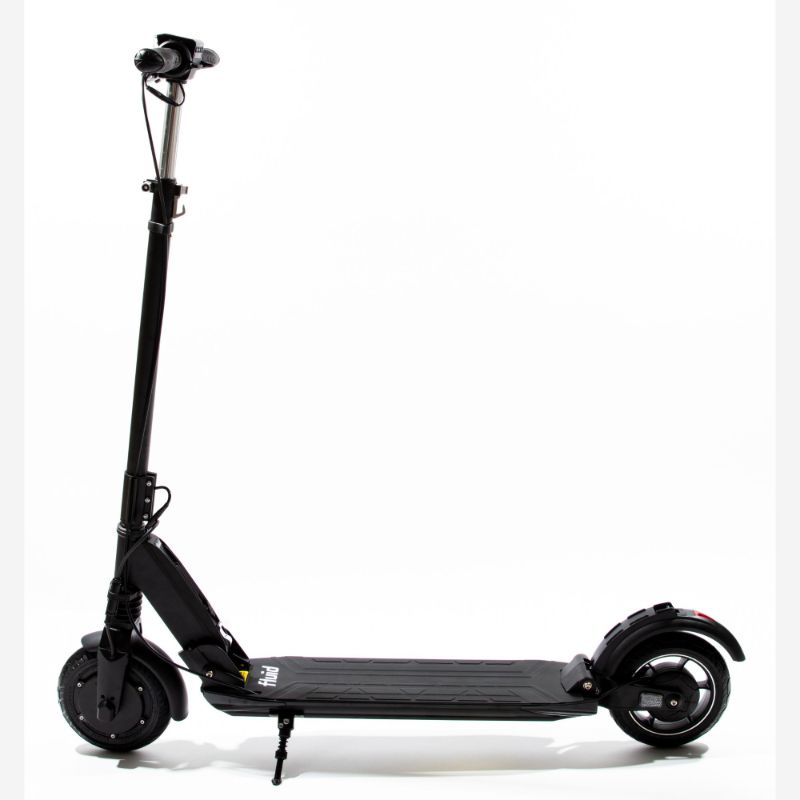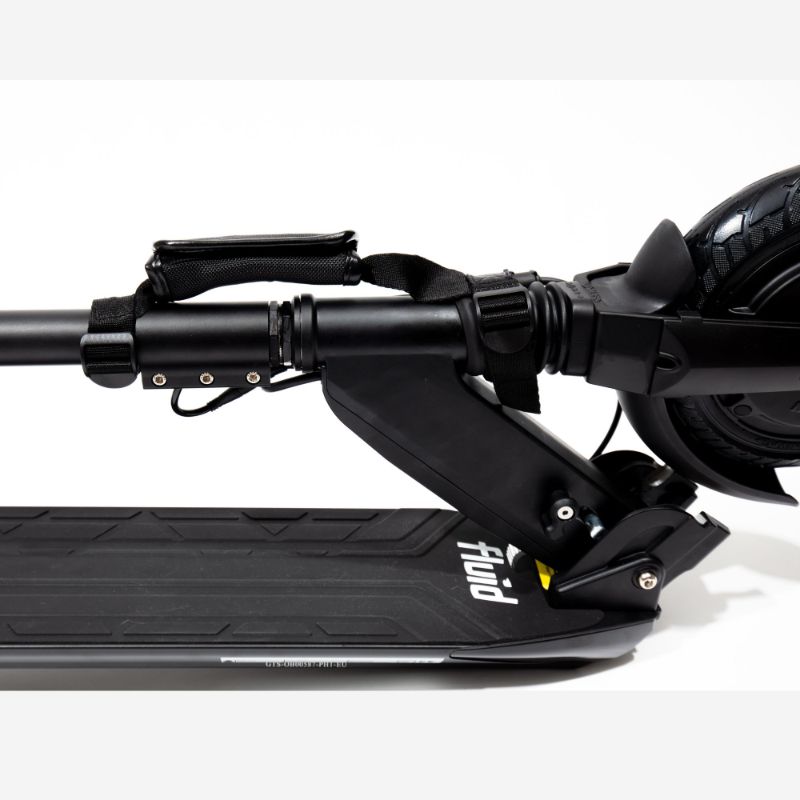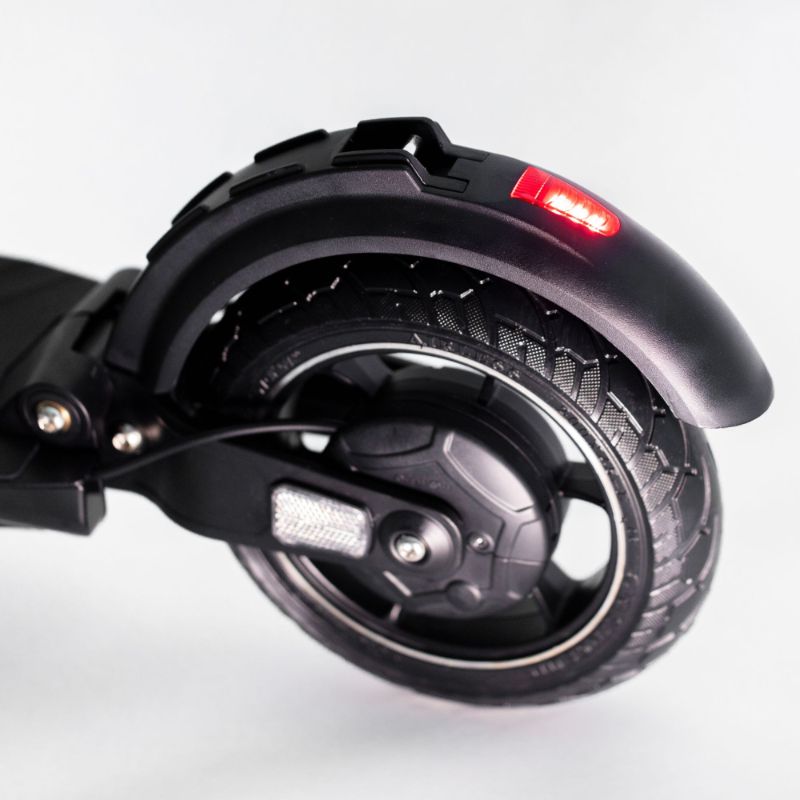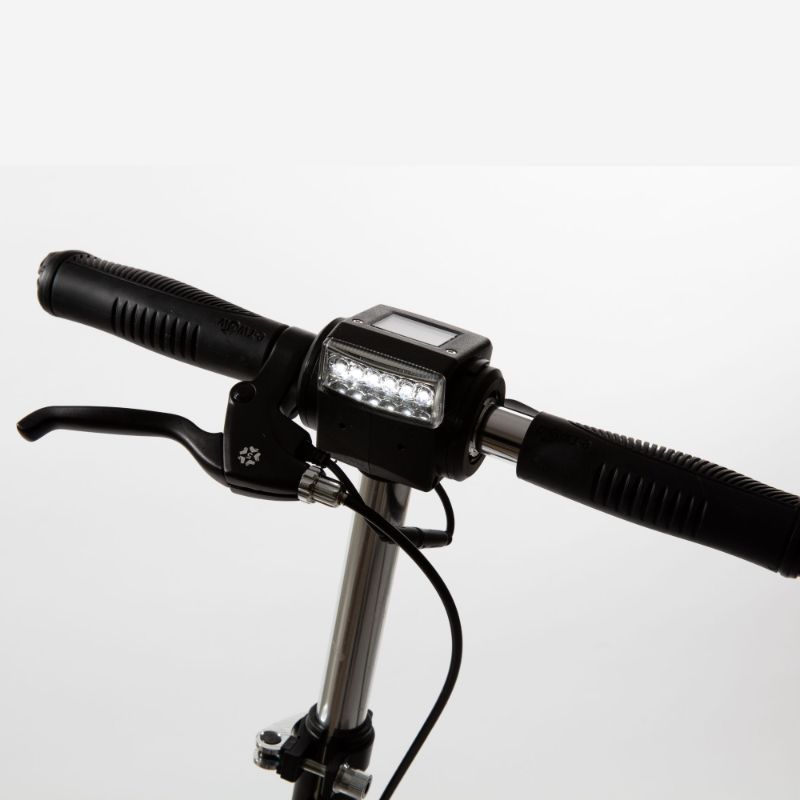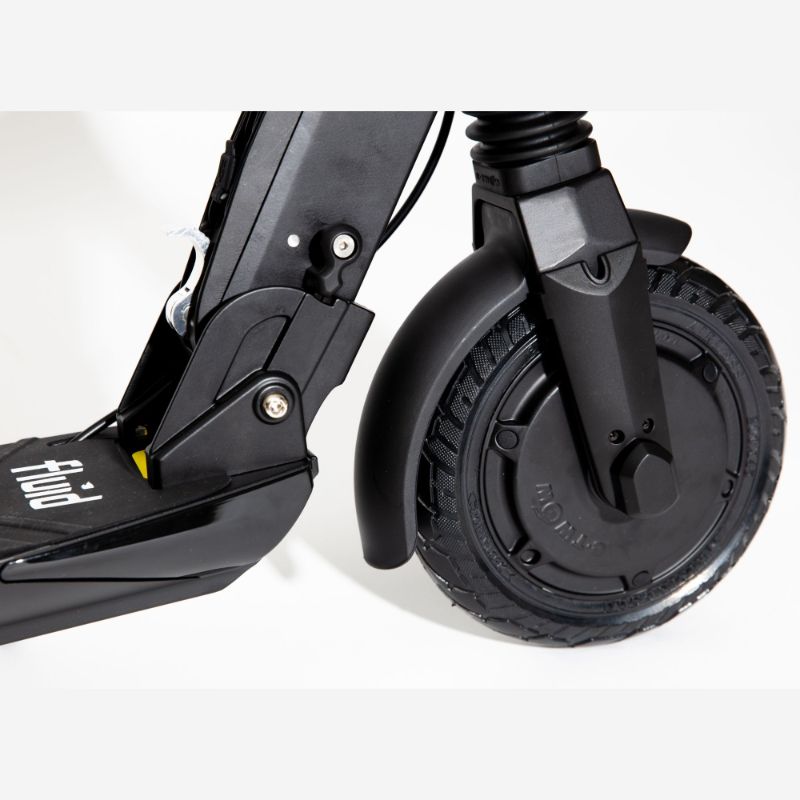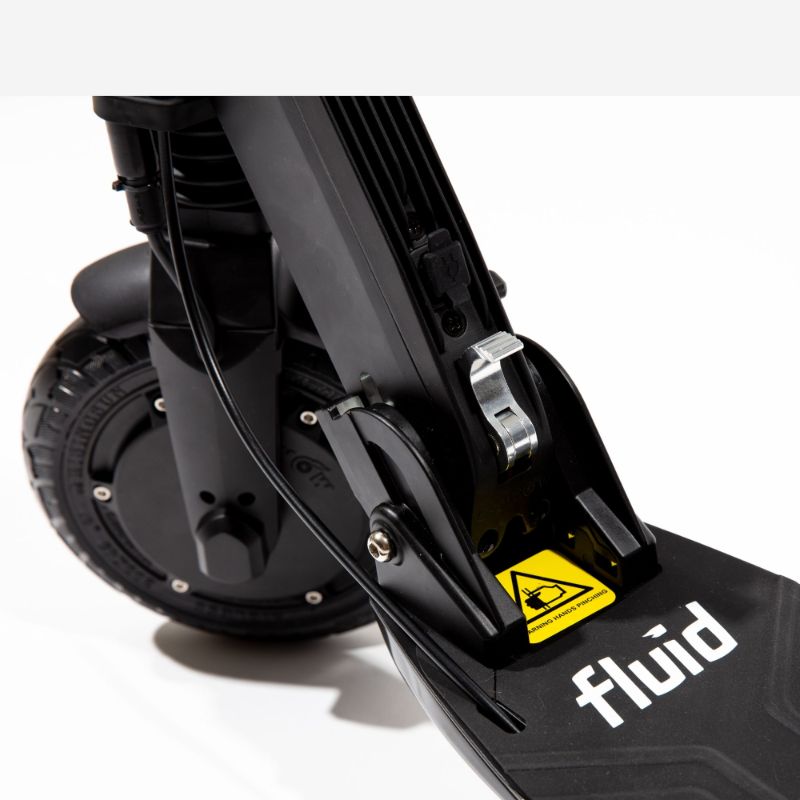 Why buy an urban electric scooter
No wonder then, that we are always looking for a way to cut the commute time and make it as convenient as possible. Not to mention cutting another monthly cost to a minimum. Enter the urban electric scooter.

Few things on the human transportation side have grown as quickly and strongly as the adult electric scooter market. If you'd like to see the full range of what adult electric scooters have to offer then check out this other in-depth guide, this article will mainly focus on electric scooters suitable for an urban environment.

Here then, maybe is the answer to a lot of the problems in daily city commutes. We see them all over already, much to the chagrin of a lot of people as they lie scattered about, and in all honesty... it is not a pretty sight. One must ask oneself the question of how long the authorities will allow for this "use and throw to the side" way of moving around. The "rent share scooters" might be convenient but they do look flimsy and they are obviously not top of the range quality. So you might want to consider investing in your own one. And in so doing, you will want to make sure you obviously get the best one at the best price.
Questions you might ask yourself regarding your urban daily commute are things like, how far is it to my workplace? How much time do I spend (lose) on public transport? How much does my everyday commute cost me? How convenient can my way of transportation be, the accessibility, etc?

When reviewing these questions, most would find out that if... the human body could transport itself, with reasonable speed, without any physical straining effort, not be bogged down in traffic, and not polluting the city air and….at a minimum monthly cost...it would be magic. The answer is the urban electric scooter. Once you've decided this is an option for you, other things to consider are, build quality, weight, battery pack, charging times, safety features, brakes, lights, and of course, price. Below is a buyer's guide to some of the best options on the market now.
Discover the Lightweight Cityrider
Motor:

 350W

Tires:

 8.5" x 2" honeycomb solid tires


Dimensions:

 43.3x18.1x47.8 inches

Battery:

 36V 10.4Ah (360 Wh)

Suspension:

 honeycomb tires provide decent suspension

Folded Dim:

 43.3x18.1x19.7 inches

Range: 15

 Miles

Brakes:

 minimal regen. braking & rear drum & rear step on brake

Weight:

 31 lbs

Top Speed:

18 Mph

Lights:

bright front and rear LED + turn signals

Drive:

Front Wheel

Weight Limit:

265 lbs
Display: sleek center display + phone APP

Battery Position: 

Under Board
The Cityrider is a lightweight foldable scooter that might be an option if you don't need to commute very far, you are looking for something that is not too heavy to carry and is not too pricey. It weighs 28,5 lbs (12,9 kg), with a clever quick folding of the stem that makes it easy to carry in one hand. It has a range of 10 miles /16 km before recharging is needed. It has a 36V/300W brushless hub motor that drives the front wheel and will reach a top speed of 18 mph (30 kph) so plenty enough for your urban commute.

The rear drum and rear step on brake are sufficient enough for good stopping power. It has integrated front and rear LED lights as well as indicators which is a safety feature not to be discarded when dark outside. It has honeycomb solid tires, which is fine and assures you never get a flat tire, but obviously can't compete with inflated tires for comfort. If you live in San Francisco, or a very undulating area, this one might not be the best option as you would need more power to cruise up hills without too much effort.
PROS
Very portable

Unique and stylish design

Customizable App
CONS
Handles bars does not fold
"Easy to operate, Love the ride with the no-flat tires...and the cruise control is awesome! For a scooter at this price point to have a regen front wheel, cruise control, no flat tires, phone integration and a solid build quality this is the best scooter I've been able to find. Oh, and don't forget the support if it's ever needed. I'm a believer in Fluid Free and they didn't pay me to write this review. If someone does me a solid, the least I can do is show appreciation for it."

View All the Cityrider Reviews
Discover the ultra portable fluid Mosquito
Motor:

 500W base - 700W peak

Tires:

 8" x 2" solid tires

Dimensions:

 44.25x15.75x45.5 inches

Battery:

 48V 9.6Ah (461 Wh)

Suspension:

 dual spring based suspensions

Folded Dim:

 41.5x5.65x13 inches"

Range: 22 

Miles

Brakes:

 Rear drum & rear step on brake & regen. brake "throttle"

Weight:

 29 lbs

Top Speed:

25+ mph (up to 28mph in gear 5)

Lights:

bright front & Rear LED

Drive:

rear wheel drive

Weight Limit:

265 lbs
Display: color center display

Battery Position: 

Under Board
The indisputable king of ultraportable pocket rockets is the fluid Mosquito. This is a lightweight scooter that manages a 25 mph (40 kph) top speed yet looks like a child's kick scooter at first glance. It only weighs 29 lbs (13 kg).

When you fold it the dimensions are, 13 x 6 x 42 inches (33 x 15 x 107 cm). It resembles an umbrella more than a scooter once folded. Bringing this with you on any type of other transportation or into a workplace is super convenient.

Yet it packs a serious punch and has even managed to incorporate an impressive braking system. A rear drum and rear step on brake, as well as adjustable regen braking via the throttle, also recharge the battery when used.

The main purpose of the Mosquito is shorter inner city rides. It has a 48V 9.6Ah battery with a realistic long range of 20+ miles (32+ km) if you ride economically and not using full throttle all the time.

Even the ride is acceptable although we never expect such a specific commuter scooter to blow us away when it comes to ride comfort. After all, the tires are solid making sure you never run flats, yet it does have a dual suspension system. The main focus and idea behind the Mosquito is minimum weight and maximum utility. Adding a high performance suspension system would go against that idea. And yet, it does its job and larger bumps and imperfections in the road are dealt with.

Due to a 500W/700W peak power front wheel motor, it is even strong uphill and will beat other similar scooters with ease. Acceleration is also impressive with zero to 15 mph (24 kph) taking around 5 seconds.

If you want the lightest, fastest, most portable, and most practical electric scooter you can get your hands on, then the Mosquito has no competitor at the time of writing.
PROS
Ultra light weight

Fastest top speed in its range

Extremely portable
CONS
Somewhat long braking distance at max speed
"I have zero complaints, it's as advertised, it gets me to work, short rides only no long rides because this isn't a scooter for traveling far, I never use the fold option to carry it but it's a cool feature, the solid tires that are absolutely fantastic for never popping or going flat but are sooo harsh you feel everything on the road while riding, it charge's really fast which is great because it doesn't have the best battery life for long rides, like I said it's a short ride scooter, it's ok to ride in LIGHT rain and absolutely avoid riding in heavy rain and any puddles NOTE - ride very slow in the rain, solid tires with FWD can be very slippery and I've almost fallen a few times because of the fwd but that's only happened in a parking lot with slippery pavement, THE SUPPORT SYSTEM IS THE BEST OF THE BEST they was so helpful with understanding my issues I had and given me a replacement, I'm so grateful for that, overall the fluid mosquito is a fantastic city scooter to get you to point A to B, this is my first time riding and purchasing an electric scooter,l so I've learned a lot, if I could fix anything about the scooter I would make it RWD and have better lighting with turn signals along with a more stable handle bar."

View All the Mosquito Reviews
Discover the practical fluid Horizon
Motor:

 500W base / 800W peak

Tires: 

8" rear solid, 8.5" front air

Dimensions:

 42.5 x 23.2 x 46.8 inch

Battery:

 48V 10.4Ah (499 Wh)

Suspension:

 front spring & rear dual spring

Folded Dim:

 38.6 x 7.1 x 14.6 inch"

Range: 23 

Miles

Brakes:

 rear drum brake + regen & adjustable regen. braking

Weight:

 42 lbs

Top Speed:

23 Mph

Lights:

Front & Rear LED

Drive:

rear wheel drive

Weight Limit:

265 lbs
Display: QS-S4 (on throttle)

Battery Position: 

Under Board
Upping your budget to just shy of double that of the Cityrider, you will step into the next level category of performance. The Horizon is a perfect urban commuter for those looking for a bit more options regarding range and maybe speed.

Now we have a 10.4 Ah battery that will give you 20 miles (32 km) range or, you can opt for the larger 13 Ah battery and extend your range to 25 miles (40 km). And this is actually one of the scooters that deliver on the promise of range. In tests, and in comparison to other scooters, many of them fail to achieve the promised range from the manufacturer. This one actually exceeded the range by one mile in real live world testing! It has a 48V 500W brushless hub motor that can deliver peak power bursts of 800W. This is perfect if you live in a hillier area as the extra power will easily tackle 15% inclines without losing performance. The top speed is 25 mph (40 kph), and it has a high weight capacity, of 265 lbs (120 kg).

The power delivery is less focused on quick acceleration but delivers more of a smooth start, which after all, is no bad thing as it's not a drag race to get to work is it? A really smart feature is the folding of the stem, which allows for the folding of handlebars as well, making it a neat package of 40 lbs (18 kg) or 42 lbs (19 kg) if you opt for the more powerful version of battery. It is heavier than the Cityrider but not by much.

It should be easy enough to carry up some stairs or into your workplace for storage when not in use. The Horizon is rear wheel drive with rear drum brakes and a regenerative braking system. The front wheel is pneumatic whereas the rear is solid. This is something that needs to be taken into account. It's easy to slide the rear when braking and for those who are into drifting, this can be fun….but also a bit risky if a quick stop is necessary. The overall ride is relatively smooth due to the suspension.

The front suspension is above the front wheel and this, in combination with the air filled front tire, soaks up the road surface well enough. Cleverly, the rear has a dual hydraulic system that is attached to the standing platform from the wheel. This is much needed as the solid rear wheel has no flex whatsoever, but with the suspension, it feels like it does. It has three front and two rear LEDs with brake lights that will blink red to let people behind you know you are slowing down. It even has a USB port that you can plug your phone into for charging. How cool is that? It is available at $729 and is definitely a candidate to consider amongst others.
PROS
Best in class rider quality

Strong power to weight ratio

Trolly wheels available for easy carrying
CONS
Board deck somewhat narrow
Wow ... Fluid Free Ride ... the Company and Julian are the best. I am specifically a Bicycle rider ... but looked into e-scooter ... I tried out a couple but had to return them ... sorry about that ... they were not what I really needed. I bought the Horizon for my wife but she said it was not for her so I took it over and love it ... it has all the performance I need and portability ... OBTW ... I ordered the Mosquito for my wife ... I am hoping it works out for her. There are a lot of scooters out there but I love fluid free ride helping me pick out the one I need and was patient with me when I had to return it. I really want to stick to a Fluid Free Ride Scooter ... I see the Vista came out and will get that next in the future .... I want to wait for all the reviews to come out on it. Thanks again Fluid Free Ride for the Outstanding Customer Service you provide.

View All the Horizon Reviews
Discover very reliable fluid Vista
Motor:

 1000W base / 1800W peak

Tires:

 10" solid
Dimensions: 49.5 x 25.5 x 50 inch


Battery: 

60V 14.5Ah (858 Wh)

Suspension:

 front & rear spring (rebound-adjustable)

Folded Dim:

 49.5 x 25.5 x 24 inch"

Range: 45 

Miles

Brakes:

 front drum + rear disc brake & adjustable regen. braking

Weight:

 60 lbs

Top Speed:

31 Mph

Lights:

 front+rear+lateral LED, turn signals

Drive: rear wheel drive

Weight Limit:

265 lbs
Display: large center display

Battery Position: 

Under Board
If you liked what you read above about the Horizon but are looking for something offering a bit more of a punch, yet still very practical and portable, the fluid Vista might be the ticket.

It weighs 60 lbs (27 kg) which indicates that it is a bit bigger than the Horizon yet the handlebar and stem folds making it portable, although maximum portability is not the key performance indicator for the Vista.

The focus has been on creating an everyday dependable commuter with low maintenance whilst easy and fun to ride.

A rear wheel 1000W/3000W peak power motor has strong acceleration and a top speed of 31 mph (50 kph) and even though it is a single motor scooter, it is strong uphill and will easily manage 10% inclines.

A part of making it easy to live with on a daily basis is the braking system which is consistent and powerful yet less aggressive than other scooters can be. You get a very smooth braking feel from the front drum brake, rear disc brake, and regen brake that are well dialed in right out of the box.

If you ride in eco mode you should be able to get 45 miles (72 km) of range from the 60V 14.5Ah battery.

It does have solid tires but they are less rigid than other similar tires and that fact, paired with a front and rear adjustable spring suspension system as well as adjustable rebound dampening is a great setup for a comfortable ride even if you are at the max weight limit of 265 lbs (120 kg).

The deck is spacious measuring 17,5 x 9,0 inches (44,5 x 23 cm). And the 39 inch (100 cm) stem as well as the wide handlebars help create a very good ergonomic riding position.

The cockpit features a big display placed center position showing all the info you need and then some. You can customize your riding profiles, acceleration settings, etc.

A good light package includes bright forward light, brake light, turn signals, and lateral swag lights.

Great build quality, IPX5 rating, fun and comfortable to ride, and an asking price just north of $1000, the Vista is a top choice.
PROS
Very durable

Solid tires (never get a flat)

Very long range
The scooter is absolutely phenomenal. It's acceleration is perfect for intermediate riders in sport mode, and I can say that the suspension allows the solid tires to be a benefit instead of a drawback. The suspension really takes care of most imperfections on whatever you're scooting on. The only con I have is that the app clearly needs a redo. The display, however, takes care of everything that I need on a daily basis so I don't have to deal with the app much.

View All the fluid Vista Reviews
Discover the WideWheel Pro
Motor

:

 2x 500W base / 1600W peak

Tires:

 8" x 3.9" never-flat foam filled

Dimensions:

 43.1 x 21.6 x 43.3 inches

Battery: 48V 15Ah (720 Wh)

Suspension:

 front & rear springs

Folded Dim:

 43.1 x 8.6 x 16.1 inches"

Range: 30

 Miles

Brakes:

 front & rear disc brake

Weight:

 54 lbs

Top Speed:

26 Mph

Lights:

Front & Rear LED

Drive:

front & rear wheel drive

Weight Limit:

220 lbs
Display: center display 

Battery Position: 

Under Board
One of the strongest candidates on the market to consider is definitely the Whidewheel. Think Sportscar of e scooters, if that is not a too crazy comparison. Whereas the Cityrider and Horizon are more cruisers. This is a power package that is strong, fast, looks cool and has a lot going for it.

It is not for any type of off road or gravel surface, hence the sportscar analogy. But on a smooth paved road, the ride feel is unique. A bit like carving on a snowboard.

The dual motor version has a 15Ah 500 watt motor on each wheel, so a total of 1000W. Focus on this scooter has been performance and unique design. It will give you a max speed of 26 mph (40 kph) and a range of 20 plus miles (32 km) on a single charge. The name of course is based on it having very wide foam-filled wheels that will never puncture. Apart from looking cool, they give a certain "sporty" feeling and a sense of more control of the journey then narrower tires do.

The folding mechanism of the stem is maybe not the quickest one on the market as it is a turning knob version, but the reason for this is again, focus on performance, and with this system, you will get a stem that is tight and without any risk of play or looseness in it. Handlebars can also be folded which is a great feature once you need to carry it or stow it somewhere.

Front and back spring suspension is sturdy with a well balanced set up, and a front and rear disc brake makes sure you stop in time. It does weigh a bit more with dual motors and now the scale stops at 50 lbs (22,7 kg).

A high positioned front LED headlight, as well as a rear light with brake indicator, is good, but maybe not the most illuminated scooter on the market if you plan on riding a lot in the dark. Bringing extra lights as you would on a bike for instance is recommended. On eco mode riders have claimed to get 30-40+ miles on a single charge. If you're looking for an electric kick scooter that can combine daily commuting and offer the fun speed for the weekends this might just be the perfect electric scooter for you.
PROS
Long Range

Trolly wheels available for easy carrying
CONS
Board deck can be a bit limited for some people.
"I absolutely love this electric scooter! This is my first electric scooter after months of reading about this one and that one! I am very happy that this is the one I got! I love the WIDE wheels and have already thanked my lucky stars that the tires were wider than other designs. I feel much more stable on it with these tires. I also love leaning more to turn with these wide tires and carve back and forth like I do on my skate board or on a snow board. The sensation is similar but just with a lot more power! This scooter is powerful! With a full charge it goes 25mph down the road in traffic! Most of the time I keep it in eco mode because it is far powerful enough just in that mode alone. If I had a complaint of any sort it would be the sporadic feel and operation of the power accelerator. It could be better and more accurate. I am wondering already if there is an upgrade for this part? Overall I love and I am riding it everyday after work. When people see it they know they are seeing a bad ass scooter! The Bat Cycle of scooters!"

View All the WideWheel Pro Reviews
Discover the Mantis V2 fluid Edition
Motor:

 2x 60V 1000W / 3000W peak

Tires:

 10"x2.5" air tires

Dimensions:

 49 x 24 x 50 inches

Battery:

 LG/Samsung 60V 24.5Ah (1470 Wh)

Suspension:

 front & rear springs

Folded Dim:

 49 x 24 x 19 inches"

Range: 45

 Miles

Brakes:

 Dual disc (cable pulled hydraulic calipers) & adjustable regen. braking

Weight:

 65 lbs

Top Speed:

40 Mph

Lights:

bright headlight + white front/side & rear red LEDs

Drive:

front & rear wheel drive

Weight Limit:

265 lbs
Display: LT01 display (on throttle)

Battery Position: 

Under Board
If the Whidewheel is the golf GTI of the bunch, then the Mantis is the BMW 7 series. This one is for the serious electric scooter user who needs to make sure to arrive comfortably and with power enough to climb steep hills effortlessly, be able to ride over rougher terrain….and fast as hell!! It seems this one has most of everything covered to accommodate its user. Like with the Whidewheel, there are two versions to choose from.

The Mantis V2 fluid edition is available with battery options, the 18,2 Ah 33 miles 17,5 Ah 40 mile (53 km) range option, and a bigger battery version with 24,5 Ah 45 mile (72 km) range. This is the one we will focus on here. The larger battery version has dual 1000W motors. You can choose to conserve battery and drive on one motor only, (eco mode) or with both for more performance. In eco mode, the range will easily be 50 miles(80 km), and in full power mode 30 miles(48 km) which is actually quite astonishing. Maximum speed is 40 mph (64 kp/h) which is also astonishing if not to say slightly on the mad side of all things electric scooter wise. This is a full helmet and protective gear scooter. Make no mistake about that.

The mantis is a great option for if your urban commute is not all bike lanes and smooth surfaces, but rather a lot of pot holes and rough terrain. The Mantis is built to handle certain off road conditions.

The dual front and rear spring arm suspension works wonderfully and again makes you feel like you are in a higher division of e scooters. This in addition to bigger wheels fitted with 10"x 2,5" air filled tires, makes for a very comfortable ride and one that will not shy away from dirt roads, curbs and other smaller obstacles if not too extreme. Offroading on weekends in rougher terrain is a possibility with this scooter. Weight will obviously climb with a bigger package such as this hits the scale at 65 lbs (29 kg).

Apart from front and rear, It has really cool underdeck LED lighting as well that makes sure you are seen at night. Fully hydraulic dual disc brakes are what will make sure you stop in time if needed. It will take between 8-12 hours to recharge so that needs to be planned for. At $2299 it is not the cheapest out there, but as with BMW, you get what you pay for. The display is easy to operate and gives you the options with the press of a button to go eco mode or turbo….turbo is the most fun of course and most likely that's where it will stay.
PROS
Incredible ride quality

Excellent acceleration & top speed

Very long range
Fantastic power scooter!
The Mantis is the perfect blend of low weight with powerful motors. The engendered steering makes the scooter feel light and nimble at low and high speeds. It feels light and maneuverable at sub 10mph just like a smaller scooter and rock solid at 40mph without any of the twitchy tendency's other scooters in this class have. It's also at the perfect price point. I like the hook for the stem when it's folded down. This keeps it from swinging around. The size of the Mantis is perfect for RV'ers that want a compact mode of transportation that can travel at normal road speeds but takes up a small amount of space. The suspension is great for a person of my weight (190lb). It's smooth and eats up the bumps. I could go on and on. What are you waiting for? Just buy one!
View All the Mantis Reviews
Discover the Inokim Light 2
Table header 0

Table header 1

Table header 2

Motor:

 350W base / 650W peak

Tires:

 8.5" x 2" front air / rear foam filled never flat [front tire without motor is easy to change]

Dimensions:

 42.5 x 41.3 x 18.1 inches

Battery:

 36V 10.4Ah (374 Wh)

Suspension:

 --

Folded Dim:

 37.4 x 14.2 x 9.8 inches"

Range: 20

 Miles

Brakes:

 front & rear drum brake

Weight:

 30 lbs

Top Speed:

21 Mph

Lights:

Front & Rear LED

Drive:

rear wheel drive

Weight Limit:

220 lbs
Display: INOKIM display

Battery Position: 

Under Board
At the other end of the spectrum of the Mantis, and if you don't care about top speed, acceleration, or other high performance specs you will find the Inokim Light 2. This is a premium lightweight electric scooter where portability and quality make it a top pick of choices. It looks really cool and is very well built oozing of high quality. That comes at a price though, and as far as lightweight scooters go, it is not exactly cheap. But probably worth every penny.

The immediate stand out feature when riding it is the very low positioned deck. This is great as a low center of gravity improves the handling and is a great feature for a city commuter. Power comes from a 350 Watt rear hub electric motor and it is a kick start e-scooter meaning there is no zero start function. This is for safety reasons and also acts as an energy-conserving feature. And where some other rivals like the popular Xiaomi Mi M365 has the same system, it is not as refined and leads to a lot of jerky false starts. Not so on the Inokom Light 2, it is superbly adjusted, and kick-starting it is not a problem.

The acceleration is tuned for a smooth ride and you notice it pulls slightly stronger up to its top speed, 21 mph (32 km/h) rather than shooting off from a standstill. All with the intention of providing the best commuter scooter experience for busy streets and inner-city traffic. Even though it is not a super-powerful electric scooter it will climb some hills if not too steep. It has a 374 Watt-hour 36V 10.4 Ah lithium-ion battery, that provides a range of between 15-20 miles (24-32 km/h) and that makes it the longest ranged lightweight scooter on the market.

Not many ultra-lightweight electric scooters can boast a dual brake system, but trust the Inokim to deliver. Front and rear drum brakes provide great stopping power. It lacks suspension but does come with pneumatic tires that will absorb some rough surfaces, but it is best suited for roads in good repair.

It is obviously foldable and weighs a mere 30 lbs (13 kg) so easy to pick up and carry. Once folded it measures 37 inches in length (94 cm) and 7.5 inches wide (19 cm) which makes it one of the most compact packages available. Handlebars also fold.

It has one of the best thumb activated throttles we've ever tried. Holding it down for longer periods of time is very easy and not tiring at all. A very good LCD display that also saves your settings, means you don't have to reset everything between rides. Low mounted front and rear lights are good, but maybe you need a higher one for extra safety in the dark.

The Inokim Light 2 is definitely one of the best electric scooters in its class out there today. It has interesting features such as the stem with its blade-like design, that provides more stability and strength when riding. Because the stem is elongated in the direction you pull on the handlebars, it helps the stem not to twist, something other round stems have a tendency to do. Even the fenders are well thought through in its design and not just something added as an afterthought almost. The Inokim Light 2 sets the bar for lightweight commuter scooters.
PROS
Comfortable and Secure Ride

Beautiful Design & Color Options

Beautiful Design & Color Options
I got sick of paying to park in order to work so did a ton of research on electronic scooters and this one won me over due to the color options. There was another brand I probably would have gone with but not by much. I've had 5 rides on it so far and love it. It's very smooth (Michigan roads suck), easy to carry up a flight of stairs to my office, and I feel very safe on it with how the braking feels. The only thing that is an issue is the accelerator keeps getting stuck which is not safe. I know it's doing it now so I make sure my hand is on it but I'd love a permanent fix. I loosened the handlebars and repositioned them after I found that on YouTube but I don't want to do that each ride. Also FYI - there isn't anything in the manual about tightening the handle bars. I was so confused on how I was supposed to ride it with them easily moving but thank you again YouTube.

View All the Inokim Light 2 Reviews
Urban Electric Scooter commuting
Urban Electric Scooters
Still not convinced from the models you've seen or perhaps have some more questions about the best electric scooters for commuting? Read our full article on commuting with electric scooters where we compare the different methods, combining scooters with public transport, how much you can save per month by using an electric scooter, ideal scooters for rider weight, charge times when at home and at work and other brands like Segway, Razor, Glion Dolly, Gotrax GXL and much more.