🚚 FREE SHIPPING NEXT BUSINESS DAY
With the brand-new Wolf King GT, Kaboo built yet another high-performance scooter designed for anybody who wants to ride the famed Wolf, with even more power and speed, delivering the ultimate on and off-road experience. With dual 2000W motors and two 50A sine wave controllers, the King GT delivers raw power and exhilarating high speeds combining the advantages of the Wolf GT with even more power. Its motorcycle grade inverted hydraulic front shock absorbers and rear spring enable a smooth ride on any terrain.

Full hydraulic brakes in combination with the optionally enabled ABS system provide for safe and accurate braking power to tame this beast. In every aspect the Wolf King puts safety first: See and be seen with powerful dual front LEDs lighting up the night, front and rear turn signals enabling a ride in traffic and stylish under-deck LED lights which will ensure optimal visibility from any direction.
On paved road, this 62mph electric scooter delivers insane acceleration and top speed (road tires recommended for high-speed road use). The huge 72V 35Ah LG or Samsung battery can last for up to 90 miles under optimal conditions but also delivers extra long range for those thrilling high-speed rides.
The Wolf King GT features a brand-new cockpit with a comfortable thumb throttle and a centered 4.2" TFT-display, letting you check your speed, milage, driving mode, etc. at a glance, even on bright and sunny days.
With 120 lbs this high-speed electric scooter is certainly not made for portability. It nevertheless folds down for easy transport in your trunk to travel to your favorite off road spots.
Charge in 13-15 hours with the 2 included chargers or in 5 hours with an optional 6.5A fast charger and one of the included chargers.

Available in two variants:
- with self-repairing road tires installed
- with self-repairing off road tires installed
FREE SHIPPING to continental US.
62 mph
90 miles
2x2000W
72V 35Ah
120 lbs
Electric Scooter Muscle Car with extreme performance and exhilarating acceleration
Excellent build with quality parts designed for high speeds and durability
Free Shipping
Scooters Ship Free within the Continental US
12m warranty
Plus Lifetime Service (Parts 50% Off for Your Scooter)
us-based
Friendly Service and Support
pay as you ride
Select Affirm for affordable monthly payments
SUSTAINABLE
You Go Green and We Plant Trees
15 Day Returns
Return Your Unused Scooter Within 15 days of Delivery
Features
Thrilling Top Speed and Extreme Acceleration in a Heavy-Duty Scooter
EXTREME POWER

The dual 2000-watt brushless motors with 50A sine wave controllers produce 7200W peak output and provide a top speed of 62 mph. If you are up for the challenge to tame this beast you can climb the the steepest inclines and master the toughest off road.

ADVANCED CONTROLS

The all new 4.2" center display is bright and puts all stats right where you need them. The highly responsive thumb throttle and other handle bar controls like indicators, honk and gears put you in full control of this advanced performance scooter.

LONG RANGE

In real world conditions (165lb rider, aggressive riding) you will get about 60 miles of range. If you need more, switch to a lower gear and get up to 90 miles with defensive riding.

STIFF SUSPENSION

The motorcycle style dual hydraulic shocks in front and the dual rear spring suspension are relatively stiff, giving excellent stability on asphalt and when it gets rough.

SMART BRAKING SYSTEM

Full hydraulic brakes make for safe and accurate braking power with minimal strength applied to the levers. Configurable regenerative braking recuperates energy and recharges your battery whenever you brake.

LED LIGHTING SYSTEM

Powerful dual front LEDs light up the night, front and rear turn lights let you participate in traffic and side and rear LEDs ensure optimal visibility from any direction.
fluidfreeride rating
portability

higher scores mean higher portability: lower weight & smaller footprint when folded

Heavy & Bulky

Ultra Portable

Power

higher scores mean higher power: stronger acceleration & higher topspeed

Range

higher scores mean longer range: the amount of miles you can go on a full charge

RIDE QUALITY

higher scores mean better overall ride quality due to better suspension systems and larger tires (also better off-road capacity)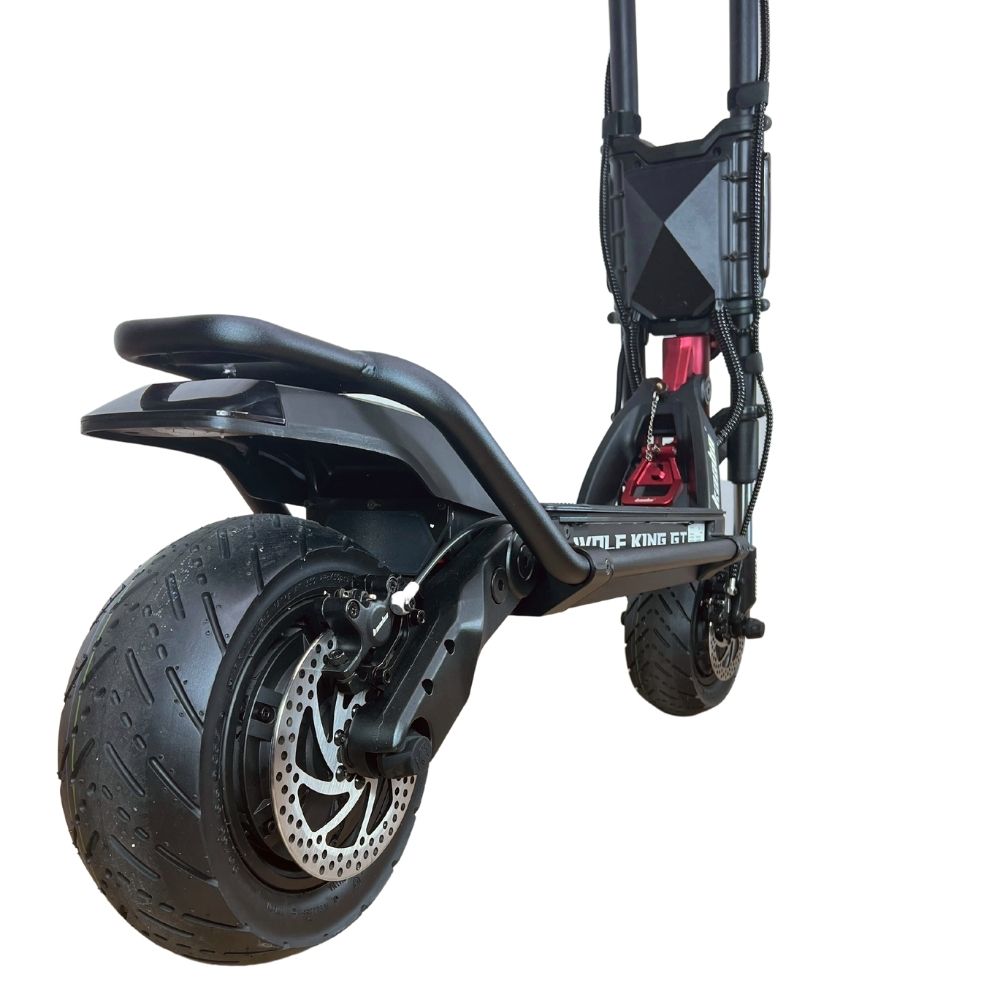 RAW POWER
Meet Your Electric Scooter "Muscle Car"
The two 50A sinewave controllers deliver a peak output of 7200W for insane acceleration and top speeds of over 60mph.
Dual front motorcycle grade hydraulic front suspension to master all road conditions.
Longer stem and extra wide handlebars for better control while taming this beast.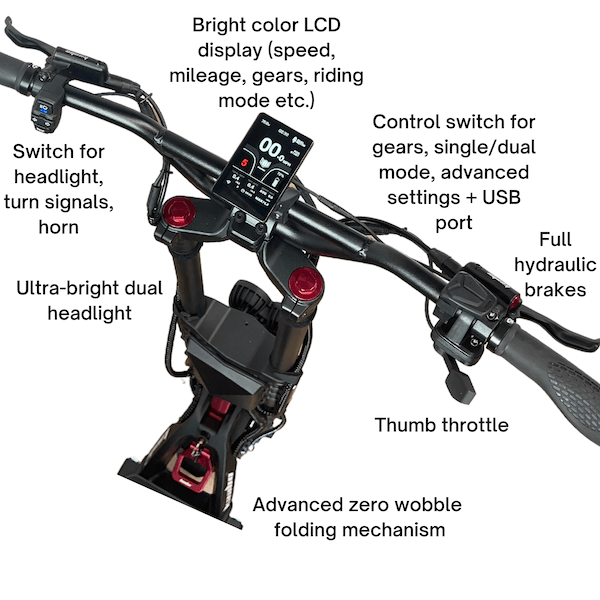 PROFESSIONAL COCKPIT
Advanced Features At Your Fingertips
With an all new cockpit, the Wolf GT puts all controls right where you need them. The smooth thumb throttle allows for accurate power transmission. Gears and riding mode are conveniently accessible on the right side of the handlebar. Switch on your headlights or operate turn signals and horn with your left thumb while riding. The full color center console display shows speed, mileage, riding modes and allows for advanced customizations like electric braking strength or controller settings. The package is completed by the responsive hydraulic brakes for effortless operation and excellent stopping power.
How it Compares
The Wolf King GT is like a Muscle Car - ultra powerful and fun to ride
ALTERNATIVES:
- same frame with longer stem and wider handlebars, more manageable power profile: WOLF GT PRO
- next level ride quality, similar power with easier and more refined handling: BURN E 2 MAX
- smaller 10" version of the Wolf GT, lighter weight and much smaller chassis and less power: WOLF X




Battery
72V 35Ah LG / Samsung
Tires
11" tubeless (self-repairing)
Drive
front & rear wheel drive
Suspension
front dual hydraulic shocks / rear dual springs
Charging Time
13-15h with incl. charger, 5h with opt. fast charger
Physical Brakes
Front and rear Zoom hydraulic brakes
Electric Braking
Adjustable regenerative braking
Lights
ultra bright LED headlights / side LEDs / front and rear turn signals
Display
4.2" center TFT display
Since range of electric scooters varies greatly by riding style and rider weight, here are some examples for this particular model so you can judge:
100 miles
Optimal Conditions (165 lb rider, 15 mph constant speed)
This is the range you can get under optimal conditions. Usually manufacturers quote this type of range. We expect real world range to be lower since you will not go at constant slow speed.
55 miles
Real World (165 lb rider, aggressive riding)
This range has been tested by electric-scooter.guide under real world conditions. Quick acceleration, multiple stops, some inclines. All ESG range tests are done by the same rider and on the same circuit.
46 miles
Real World (212 lb rider, aggressive riding)
This range has been tested by Vitalie from the Electric Vehicles YouTube channel under real world conditions in NYC. 5th gear riding with high speed.
RECOMMENDED GEAR
Accessories
Customer Reviews