🚚 FREE SHIPPING NEXT BUSINESS DAY
Meet the Mantis 8 PRO electric scooter with wide 8 inch tubeless tires. Available in the stylish all-black fluid edition. Amazing dual suspension and strong power characteristics in a slightly smaller and lighter package than the original Mantis 10.

This electric scooter is designed for the demanding rider who wants it all: Swift inner city commutes with strong acceleration, excellent trail performance for those fun weekend rides, large batteries to master up to 40 miles between charges, and still allows carrying in one hand.
The PRO version sports dual motors for the rider who wants extra power and top speed (33 mph), longer range, and insane acceleration. Switch to single motor mode for extended range or turn on dual motor mode for maximum power. With Minimotors display for advanced torque configurations, cruise control and ABS. The dual hydraulic disc brakes deliver a more direct brake response, and the extra large LG or Samsung battery (24.5Ah) can run for up to 40 miles. All while still portable at 60 lb.
The dual 800W motors deliver fun acceleration and advanced hill climb abilities. The firm front and rear advanced swing arm spring suspension delivers a smooth ride on any terrain. Ride over grass or on packed dirt trails, jump a curb in the city, this electric scooter can handle pretty much any reasonable ground condition.
Front and rear LED lights, lateral LED strips, and the NEW turn signals make this safe for rides in the dark. We recommend an attachable headlight for longer rides at night.
14-16h charging time with included charger. 5A Fast Charger available to reduce charging time by 60-70%.
FREE SHIPPING next business day!

33 mph

40 miles

2x800W

48V 24.5Ah

60 lbs
Dual Motor power in a slightly smaller and lighter package than the original Mantis 10
Allround on and off road use with a range of up to 40 miles
Free Shipping
Scooters Ship Free within the Continental US
12m warranty
Plus Lifetime Service (Parts 50% Off for Your Scooter)
us-based
Friendly Service and Support
pay as you ride
Select Affirm for affordable monthly payments
SUSTAINABLE
You Go Green and We Plant Trees
15 Day Returns
Return Your Unused Scooter Within 15 days of Delivery
MANTIS 8 PRO - fluid edition
KAABO
Sale price

$1,899.00

Regular price

$2,199.00
Features
High Performance in a More Compact Format
POWERFUL MOTORS

Swift acceleration and high speed. Can handle any reasonable hill and has a top speed of 35+ mph.

LONG RANGE

The large LG or Samsung 24.5Ah Li-ion battery can get a range of up to 40 miles.

SMOOTH RIDE

Dual suspension delivers smooth acceleration and deceleration for the ultimate ride comfort and responsive control.

POWERFUL BRAKING SYSTEM

Front and rear full hydraulic disc brakes provide full control and strong stopping power during your ride.

COMPACT

A little smaller than its larger brother, the Mantis 10, it is more portable and easier to manouver.

INVITES TO PLAY

The wide 8" tubeless tires are quick turning, provide high stability and traction, and make you want to go on trails or jump a curb.
fluidfreeride rating
portability

higher scores mean higher portability: lower weight & smaller footprint when folded

Heavy & Bulky

Ultra Portable

Power

higher scores mean higher power: stronger acceleration & higher topspeed

Range

higher scores mean longer range: the amount of miles you can go on a full charge

RIDE QUALITY

higher scores mean better overall ride quality due to better suspension systems and larger tires (also better off-road capacity)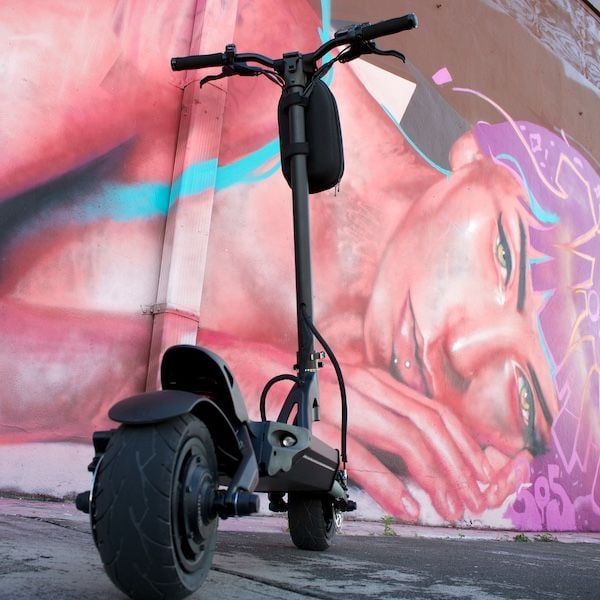 Use Case
Compact commuter for allround use
The Mantis 8 PRO is made for the advanced rider who wants extra power, longer range and insane acceleration. Switch between single and dual motor mode for extended range or maximum power. The front and rear swing arm suspension makes for a smooth and comfortable ride on city commutes and weekend trail rides.
Electric Scooter Guide, 2021

"The Most Fun per Dollar"

"Okay, fun per dollar isn't an actual category but if it were, this scooter would win. We've never ridden a scooter that begged to be jumped off of speed bumps more. Its acceleration is smooth, but not head snapping, and it loves to carve. Just thinking of cornering on this scooter makes us smile. The build is super solid, and it's a great value."
Power
2x 48V 800W / 2600W peak
Battery
LG/Samsung 48V 24.5Ah (1176 Wh)
Tires
8"x3.1" tubeless air tires
Drive
front & rear wheel drive
Suspension
front & rear springs
Charging Time
12-14h with incl charger, 5-6h with opt fast charger
Physical Brakes
dual disc (Zoom full-hydraulic)
Electric Braking
adjustable regen. braking
Lights
white front/side & red rear LEDs
Throttle
trigger throttle
Display
EY3 LCD Minimotors display
Since range of electric scooters varies greatly by riding style and rider weight, here are some examples for this particular model so you can judge:
40 miles
Optimal Conditions (165 lb rider, 15 mph constant speed)
This is the range you can get under optimal conditions. Usually manufacturers quote this type of range. We expect real world range to be lower since you will not go at constant slow speed.
27 miles
Real World (165 lb rider, aggressive riding)
This range has been tested by electric-scooter.guide under real world conditions. Quick acceleration, multiple stops, some inclines. All ESG range tests are done by the same rider and on the same circuit.
RECOMMENDED GEAR
Accessories
Customer Reviews