🚚 FREE SHIPPING BY DEC 20
The newest addition to the family, the Wolf Warrior X, is everything you want from a Wolf Warrior packed into a smaller and less bulky package. Its dual 1100W motors  deliver serious acceleration and top speed over 40 mph. The lower priced standard versions come with a 60V 21Ah battery for up to 40 miles, while the PRO model with a huge 60V 28Ah battery with LG/Samsung cells delivers up to 52 miles between charges.
While rather on the heavy side with 79 lb, it is 24 pounds lighter than its bigger brother, the Wolf Warrior 11, and significantly more portable due to its simple and intuitive folding mechanism. This Wolf X will fit into your average size trunk.
The sturdy frame features the iconic dual stem design with front hydraulic shocks and rear dual spring suspension. The ride feels powerful and very stable since the suspension does an excellent job on rougher roads. 
Front and rear Zoom hydraulic disc brakes give full control with minimum force. The adjustable regenerative electric braking recharges your battery every time you brake. The ultra-bright dual headlights, turn signals and motorcycle style horn can be intuitively accessed with your left thumb. For added visibility, the Wolf X features built-in ambient lights on the sides of the footboard which are fully adjustable though an app on your phone.
The two available variants mainly differ in battery size and display (see below). Both scooters have extremely high power output and over 40mph top speed, however the PRO version, with it's 27A Minimotors controller puts out slightly less acceleration and top speed than the standard variant with 30A Kaabo sinewave controllers.
- Wolf X Street or Offroad tires - 60V 21Ah Li-Ion battery - standard display, 30A Kaabo controller - 10-12 hours charge time
- Wolf X PRO Street tires - 60V 28Ah LG Li-ion battery - EY3 display, 27A Minimotors controller - 14-16 hours charge time. 
The scooter has two charge ports. With our recommended 5A fast charger, if used in combination with the included 2A charger, you can reduce charging time by 70%.
44 mph
40 miles
2x1100W
60V 21Ah
79 lbs
Strong performance with exhilarating acceleration and long range
Motorcycle style dual front stems for high stability
Free Shipping
Scooters Ship Free within the Continental US
12m warranty
Plus Lifetime Service (Parts 50% Off for Your Scooter)
us-based
Friendly Service and Support
pay as you ride
Select Affirm for affordable monthly payments
SUSTAINABLE
You Go Green and We Plant Trees
15 Day Returns
Return Your Unused Scooter Within 15 days of Delivery
Features
High Performance with Superior Stability in a Compact Package
SPEED AND POWER

The dual 1100-watt brushless motors provide pretty aggressive acceleration and a top speed of up to 44 mph.

STURDY DUAL STEM

While slightly smaller than its bigger brother (Wolf Warrior 11), the dual stem does not compromise on built, provides a sturdy, zero-wobble experience.

COMPACT HIGH-PERFORMER

Featuring a new, simple and intuitive folding mechanism, the Wolf Warrior X is compact enough to fit into a trunk.

SOFT-RIDE DUAL SUSPENSION

The front and rear spring suspension allow riders to experience a smooth and controlled ride on roads with various conditions.

POWERFUL BRAKING SYSTEM

Full hydraulic brakes deliver safe and accurate braking power. Adjustable regenerative electric braking recharges your battery on the go.

LED LIGHTING SYSTEM

Powerful dual front, side and rear LEDs ensure optimal visibility from any direction. Newly implemented turn signals and hazard lights allow you to signal your intentions on the road. Sleek built-in ambient lights are adjustable though an app on your phone and allow you to personalize your ride.
fluidfreeride rating
portability

higher scores mean higher portability: lower weight & smaller footprint when folded

Heavy & Bulky

Ultra Portable

Power

higher scores mean higher power: stronger acceleration & higher topspeed

Range

higher scores mean longer range: the amount of miles you can go on a full charge

RIDE QUALITY

higher scores mean better off road capability: better suspension & smoother ride in all conditions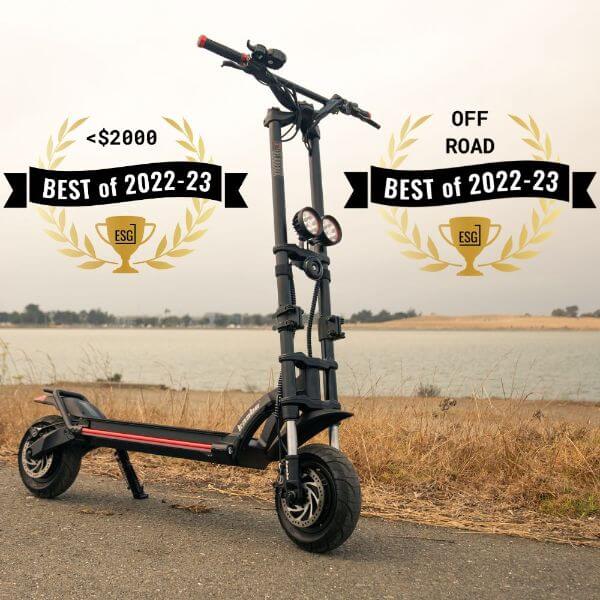 AWARD WINNIG PERFORMANCE
Best Scooter Under $2000
The Wolf X is an overall convincing package. In a field of hundreds of competing scooters, it was selected as best overall scooter in the sub $2000 category due to its excellent riding stability, phenomenal top speed and long range. It also won best off-road scooter thanks to its excellent suspension system.
PAUL, ELECTRIC-SCOOTER.GUIDE

"The Wolf Warrior X and X Pro deliver impressive range, speed, handling, and comfort..."

"It's challenging to summarize the Wolf X scooters without gushing. They have nearly the same top speed and stability as a Wolf Warrior 11+ but better range. They pass the trunk test like a Mantis Pro but handle better. They're mid-priced and right out of the box; each is a complete package for riding at night and safety, including out-stopping just about everything. So if the Wolf X and X Pro haven't been on your radar, they definitely should be..." Read Review
How it Compares
The Wolf X is the smaller brother of the popular Wolf Warrior 11. Almost as much power in a more compact and more portable package.
ALTERNATIVES:
- Nextgeneration Wolf X - with larger battery and all new cockpit: WOLF X GT
- Lighter, much more portable, more slender and agile, yet similar power profile: MANTIS
- the original Wolf - 11" tubeless tires, even more roomy board and more stability: WOLF
Top Speed
44 mph (Standard), 41 mph (PRO)
Power
2x 1100W / 3500W peak
Battery
FST 60V 21Ah (1260 Wh)
Tires
10x3" tubed STREET tires with split rim
Drive
front & rear wheel drive
Suspension
front hydraulic / rear springs
Charging Time
12-14h with incl charger, 2 ports in deck, 4h with opt fast charger
Weight Limit
265 lbs / 120 kg
Physical Brakes
Zoom front and rear hydraulic
Electric Braking
adjustable regenerative braking
Lights
front / side/ rear LEDs / turn and hazard signals / ambient LED lights
Throttle
trigger throttle
Display
LT01 (standard) or Minimotors EY3 (PRO)
Since range of electric scooters varies greatly by riding style and rider weight, here are some examples for this particular model so you can judge:
40 / 52 miles
Optimal Conditions (165 lb rider, 15 mph constant speed)
Wolf X / Wolf X PRO. This is the range you can get under optimal conditions. Usually manufacturers quote this type of range. We expect real world range to be lower since you will not go at constant slow speed.
32 / 41 miles
Real World (165 lb rider, normal riding)
This range has been tested by electric-scooter.guide under real world conditions. Quick acceleration, multiple stops, some inclines. All ESG range tests are done by the same rider and on the same circuit.
Customer Reviews
Faster than I'll ever need.
Honestly, at first, I thought the kaabo wolf king GT was going to be the one I needed. I'm a larger rider at 250 pounds. Decent experience, riding motorcycles, scooters and other two wheeled vehicles. Honestly, the moment you throw this into turbo mode as well as dual motor you're talking about something that can throw you off of it in 3 seconds if you make one wrong move. I only say that to let you know that this has more than enough power than 90% of people on the market would want the only reasons I see to upgrade to larger models is for more space on the foot area I would have enjoyed more room there, but honestly I've adjusted to it and it bothers me none. Sidenote, big shout out to fluidRide after buying my scooter which arrived with no damage, I found that I had a $75 coupon. They were nice enough to take 75 off the cost this is definitely who you wanna buy the scooter from. Honestly, the RGB lights are a little gimmicky, but nobody hates them and yet I still get endless compliments, my only real gripe is that the charger port is hard to reach with fat fingers lol
Wolf Warrior X - OCT 22
This scooter is awesome!! I've had it about 2 weeks and am using it to commute about 5 miles round-trip, to and from work. It easily does 35-40mph in dual motor/turbo mode. Allows you to stay with the flow of traffic (in a 35mph zone). Lighting is excellent - front and back....you are easily seen in low light/darkness. Working turn signals and flashing brake light system-outstanding. I am recharging about every 3 trips (~15 miles)...but that's riding fast in dual motor/turbo mode. Haven't tried single-motor for mileage efficiency. Love the weight and maneuverability too...easy to lift and put in the car for transport and light enough to move around within building for parking/recharge. Perfect tail-grab bar. Dual-fork system feels very stable and easy to maneuver the scooter. Excellent hydraulic brakes. Ride platform is great size. Great customer service from the FluidFreeRide Team. A personal text right after ordering, and a follow up email after delivery. They shipped immediately, and I had the scooter in 5-7 days. Great experience....great scooter for a great price (under $2k). I already want another one!!
Brilliantly fun, urban commuting solution
If you're old enough to remember what it was like moving from VHS to DVD or to your first smartphone from a blackberry; that's pretty much the feeling you get when you ditch your gas guzzling, morning traffic jam for a Kaabo. Only, with more adrenaline involved.
I bought a Wolf Warrior X after riding an equally rated, under $2k, 35+mph competitor for a month. The Kaabo, at OVER 40 mph, has stood up to my zipping around Boston city streets, hitting deep potholes, ridiculously uneven pavement and frequent off-road travel through high construction areas. The Wolf Warrior X's main competition suffered countless flats, breaking issues, had a constant need for repair and had MUCH less torque—something the Wolf Warrior X has in spades. Almost frightfully so.
For a fun ride that is reliable in uneven terrain, a Kaabo is your go to. Cruz in Econ mode for long rides, but enough power to still be quick in the bike lanes. Then turn off Econ and hold on for dear life as turbo in gear 3 rockets you to work in the coolest way possible. Don't forget to nod to all the chumps in cars sitting in queue for the light as you pass them by, while wearing that thick, gaudy gold chain you bought with all the money you saved on gas.
Now you're rollin'!
Great scooter and Excellent customer service!
I ordered the Wolf Pro on back order. The company kept me up to date with it's status and shipped as soon as it arrived. The scooter was programmed for economy mode from the factory but the customer service agent helped me through the reprogramming the control for maximum enjoyment. The scooter does 40 plus mph with me weighing 225. At that speed it feels very comfortable but you tend to question your own existence going that fast. Currently I have 50 miles on it and has never had an issue, other than the kick stand bolts loosening, keeping my fingers crossed no other issues pop up. Seems very well built!